Section Branding
Header Content
Alcovy's Culture Change Leads To School's First Region Title
Primary Content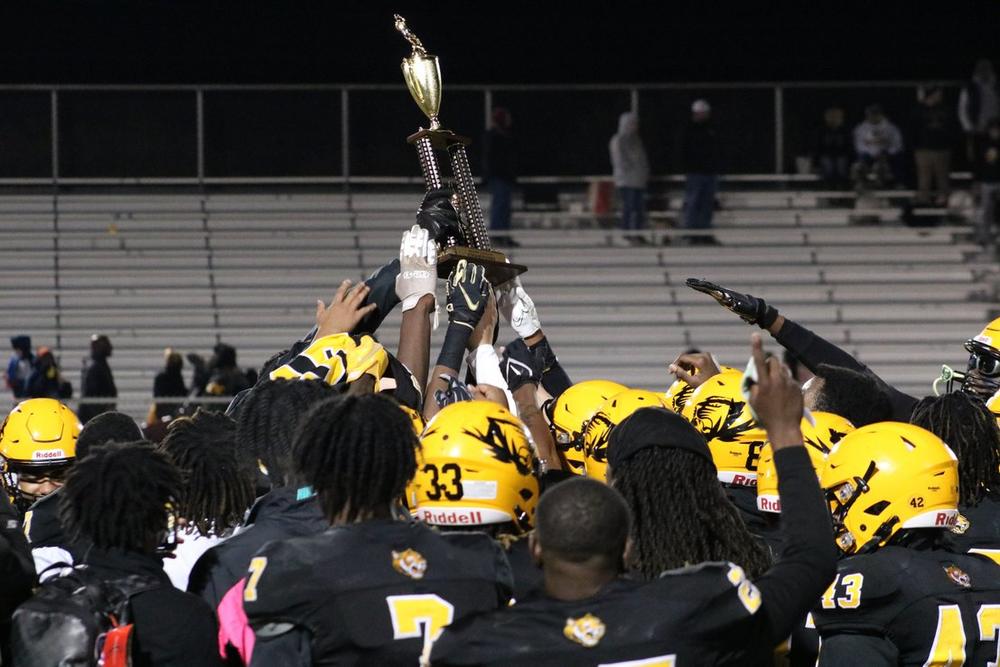 This will go down as a historic year for football at Newton County's Alcovy High School. The Tigers beat Evans Saturday night to claim the school's first region football championship. Alcovy pulled out the 28-25 victory in the final quarter of the final game on the final day of the 2021 regular season.
Jason Dukes is in his third year as head coach at Alcovy. When I spoke with him earlier this week I asked if he had gotten tired of hearing his team being called region champs.
"No, I haven't," exclaims Dukes. "When I got here the school was on a 3-4 year drought of not winning a region game at all. We had to engage in a full-out mindset change, a culture change. It hasn't been easy, but fortunately we have gotten the buy-in from our kids and the second year we won some more region games and got the chance to play Evans in a high-stakes game."
After dropping their first five games in 2020, Alcovy came into the final game of the season with a chance to win the region title and earn the top seed for the state playoffs. The Knights beat the Tigers 40-30, creating a bitter memory that lingered with Dukes' team.
"The winner of this game last year would be the region champion, and we fell short," recalls Dukes. "All of our kids remember that. It was in the back of their minds this time and in their preparation leading up to this game. We studied them for quite a while. We expected that it was going to come down to Evans and us at the end of the year. We knew we would have to come out and play our absolute best to beat them. We played some very, very difficult games earlier in the year, against some very good football teams. We struggled to put four quarters together, and that is something we had really concentrated on in the last week of preparation."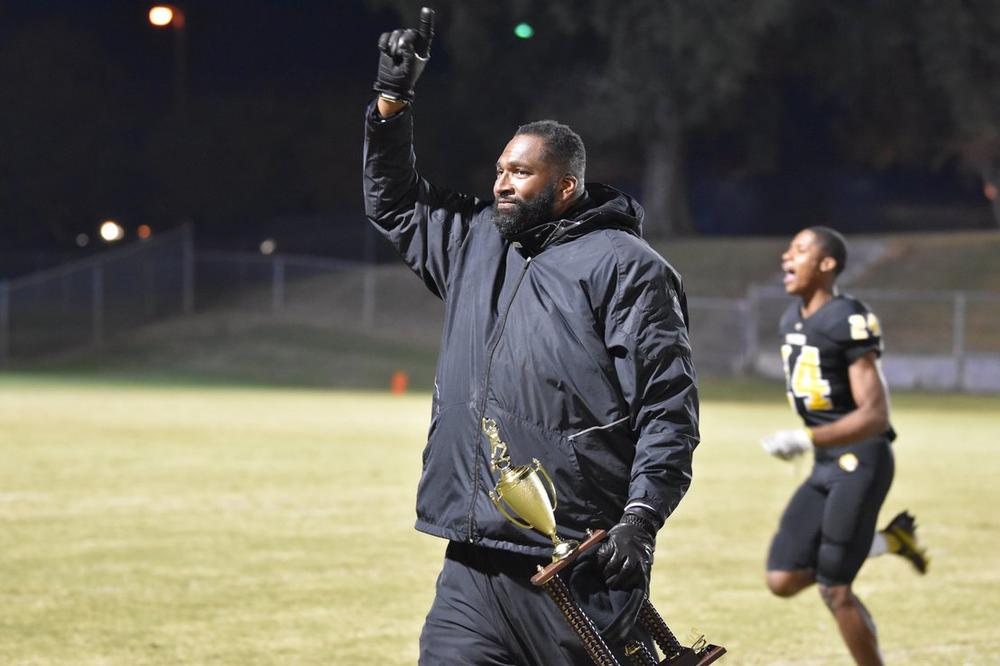 Things were a bit different this time around as the Tigers came into the game riding a three-game winning streak. The extra preparation seemed to pay off early.
"The first half we were up," remembers Dukes. "But we knew that they were going to make some adjustments and come back. We started the second half going three-and-out. They got the ball back and scored. We had a couple miscues on offense and gave the ball back to them. They scored again, and all of a sudden, we found ourselves down."
Down but not out. It was getting late in the fourth quarter, but there was still time for a response. The Tigers needed some big plays, first from their defense and on offense from junior quarterback Ashton Evans.
"We were able to make a key stop on defense and get the ball back," recalls Dukes. "We had an opportunity. Anytime you have a player like Jamel Johnson on the outside, with his speed and his pass catching ability you have a chance. Ashton had a really good day throwing the ball and we got him good protection up front. He got off a great pass, we caught it and scored. They say in order to win a championship you have to play great defense and our defense went out and shut them down."
The three-point win completed a perfect, unblemished record in Region 3-6A. It also confirmed a belief that Dukes had when he orchestrated a schedule that included back-to-back road trips to face state championship contenders from Class 7A.
"Call me crazy," says Dukes. "But I have to believe that schedule helped prepare us for a daunting region schedule. When you can look at a North Forsyth and a Lowndes and a Colquitt on your schedule you can really, in good faith, tell your kids that we have played some tough competition. That means we should not shy away from tough competition coming down the stretch in region play."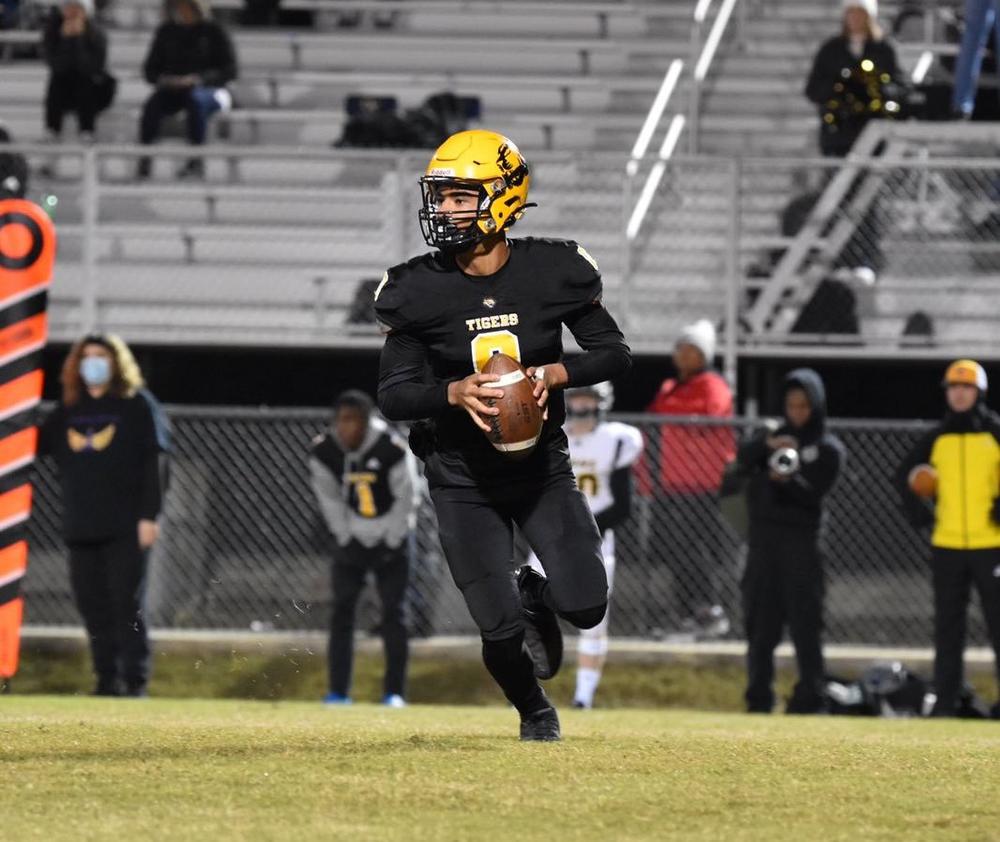 It worked. The tough tests early in the schedule prepared the Tiges for region play. The Alcovy offense has been consistent and productive in region play.  Evans completed 10 of 16 attempts for 172 yards and two touchdowns against Evans. His play has made a difference.
"He has grown by leaps and and bounds this year," says Dukes. "The first thing he has learned is not to put the ball in danger. He did throw a pick Saturday night, but if you look back at the games before, he had gone several games without doing that. His leadership has really increased."
The Tigers present a balanced attack on offense. The running game has been reliable this season. Senior Tristan Mayweather has rushed for more than 700 yards and eight touchdowns, one of them coming early in the Evans game.
"Mayweather and Bryson Virgle have been very consistent and have avoided putting the ball of the ground," remarks Dukes. "A team that loses the turnover battle usually loses the game. The offensive line had some holes to fill going into the year. As the season has progressed, we have gotten better and better up front. Paying with confidence and playing clean with fewer penalties. The defense has gotten better. Lakeside (Evans) scored 27 points against Evans. We held them to three points. We have played well in stretches when we have kept our focus."
If Dukes sounds like a man who is confident and at peace with his life decisions, you would be reading him correctly. I've known Coach Dukes for some time, covering him as an All-CSRA standout at Richmond Academy in Augusta. That was before he was a four-year starter at Georgia Tech and played in the NFL. Dukes coached Alpharetta to a pair of region titles, before taking a coaching job in Alabama. Then came an opportunity to coach in Louisiana.
" I took a two- year stint at Catholic High in Baton Rouge," says Dukes. "It was an amazing coaching staff. I really learned a lot being on a staff with some amazing men. It convinced me that I didn't know as much as I thought I knew and it recharged my batteries. When I heard about the opportunity at Alcovy, I felt like this is an opportunity for me to really put my stamp on a program -- a whole culture change. When I came, I discovered we had good athletes that were at the school, and we had some good athletes that were supposed to be at the school. I wanted to use the saying from Field Of Dreams, instead of 'If you build it they will come' make it 'If you build it they will stay.' Accountability is at the top of the list and we are moving in the right direction."
As the top seed from Region 3-6A the Tigers were to face the No. 4 seed from Region 1-6A. Region 1 has only four teams and one of them is Valdosta, who is ineligible for postseason play. That gives Alcovy a first-round bye and a second-round matchup with the winner of this week's Creekview-Carrollton game.
"Coming out and winning when a lot is on the line, including some serious playoff seeding ramifications was big for our kids," says Dukes. "This week will be spent working on ourselves. Of course we played a good game against Evans, but it wasn't error-free. We will try to go back and clean some things up. We will have to use it as a rehab week to get some guys back healthy and we will also do film study of both of our possible opponents. That is a going to be a big game between two great teams."
The first postseason edition of Football Fridays In Georgia will feature a Class 5A showdown between Coffee and Creekside. It all starts with Recruiting 2021 at 7 p.m. on the great GPB!
Secondary Content
Bottom Content