Section Branding
Header Content
Football Fridays In Georgia: The Playoff Push and a Coaching Milestone in Jackson County
Primary Content
On this week's Football Fridays in Georgia podcast, GPB Sports' Hannah Goodin and Jon Nelson run through last week's games and the playoff implications. Jackson County's Rich McWhorter also stops by to reflect on the significance of his 300th win.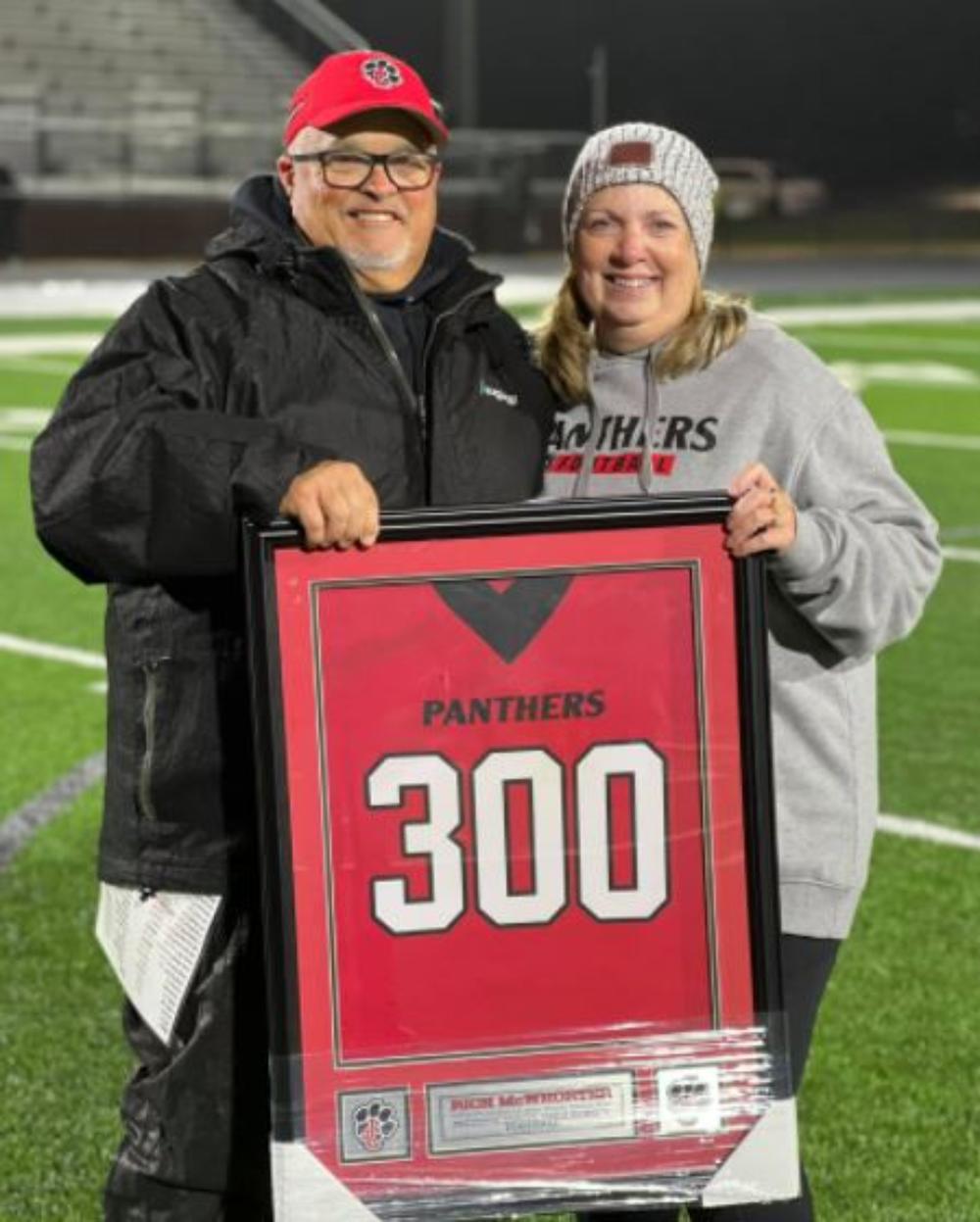 TRANSCRIPT
Jon Nelson: Welcome to another round of the Football Fridays in Georgia podcast here at Georgia Public Broadcasting. Thanks for accessing us however you are doing so, large device or small, on your favorite pod catcher, GPB, the GPB YouTube channel, GPB Sports, on the GPB Sports App available iOS and Android. Jon here, Hannah there, and this week's guest, I'm just going to say it was a hoot to have at this particular guest on. 
Hannah Goodin: It was a hoot. It was just a straight hoot. We had Jackson County head Coach Rich McWhorter on. 
Jon Nelson: Yup. 
Hannah Goodin: And he is just as excited as he is, would be like if he was a first time head coach. I mean, he is just thrilled.
Jon Nelson: Twenty-nine years at Charlton County. This is his third season at Jackson County. 
Hannah Goodin: Third season, best season. 
Jon Nelson: And, for those that don't know geography, and I'm having to go back to my Georgia history class here, it's the same county that Jefferson high school is in for those of you that know geography that way. So it's up, I85 toward Chateau Elan, past Chateau Elan. And then you turn right into Braselton. It is like it's Mill Creek and Winder, Barrow, but more Northeast. So it's like right there in that little.
Hannah Goodin: I know Chateau Elan. So, you had me there. 
Jon Nelson: So that, that section of Barrow County and Gwinnett County it's right there, Jackson County is like right there in that little notch. And so it's not quite Jefferson high school for the city school. It's the county school for that particular county in Jackson county. So, Coach Rich McWhorter got his 300th win this past week. And so it was great to catch up with him to kind of ask about how things are at his new gig in that third season there at Jackson County in a region that is a mess going into the last week of the regular season. 
Hannah Goodin: Yeah. Can't wait for you guys to hear that interview. I'm going to use some of Jon's words, no dilly, no dally. We have so much to get to on the podcast today. Let's start by recapping our Football Friday game of the week. It was Calhoun versus Cartersville at Weinman stadium. It was pretty much domination by the Purple Hurricanes, the whole game, senior Amari White rushed for 195 yards on 28 carries and got his second career touchdown pass. They were up 14-nothing at the half, Jon. Never trailed in the 21 to 14 win. And with the win, Cartersville remains undefeated at 9-0, 5-0 region play and clinch the region 7 5A title. 
Jon Nelson: And it was great to have all of you there with me in the downpour. It was, it was tremendous to have each and every one of you there sharing the experience with me, knowing that you, Matt, and Wayne got as wet as I did. And as, as wet as the crew that was there at Weinman stadium in Cartersville.
Hannah Goodin: As jealous as I am not being in the atmosphere of the Friday night lights.
Jon Nelson: I wasn't jealous. 
Hannah Goodin: I am never going back. I get to be in the cozy studio. I mean, it's chili in the studio, but it's cozy. It's dry. Just watching you just get soaked out there. Just probably brought bad PTSD. 
Jon Nelson: So, Commander Sandy. So she's basically saying that there is no way that she will ever. And I mean, ever.
Hannah Goodin: I mean, I think I, if I need it for my paycheck.
Sandy Malcolm: I think she said never.
Jon Nelson: She said never. So she's never going outside ever again. And you know, it was the mother nature couldn't make up her mind what she wanted to do. It would be a downpour at one point. And then it would be like not doing anything the next minute. And that would be when the passing game would pick up. And that was legitimately, this is what happened. No lie. It was raining for most of the first half. It was a seven-nothing defensive game. And you had two great defenses, and I will still maintain that Calhoun as a two seed will give folks problems in the playoffs in 5A. But literally last drive of the first half, the rain quit. And you get that touchdown pass right there to make it 14-0 right before the half. And I think that that was that extra piece of momentum that Conor Foster needed to get into the half. 
Hannah Goodin: And then you end up with a 21-7 and then it was a long touchdown pass Cole Speer, finally getting involved in the Calhoun offense to make it 21-14. They hang on. So what you saw was two great defenses first and foremost, and then you saw from Cartersville a different way for them to win a game. And I had mentioned this on the air that I think that I don't know, it must just be the games that we have on GPB, where you're not putting up 50 or 60 points, if you're Cartersville, you're winning grinders. And I think you need to do that obviously to get a success in the season, but the fact that you can win games in different ways. I think it speaks well to Cartersville, obviously being the top ranked team in 5A.
Hannah Goodin: Yeah. We've had a lot of games similar to this on our airwaves this year. Next up for both of them is the playoffs though. 
Jon Nelson: That is correct. Region done. 
Hannah Goodin: One and two. Done.
Jon Nelson: three and four. And Blessed Trinity is the three in that region after they be Cass 34-13. BT was up 34-0 at the half.  Justice Haynes had 190 and two on 11 carries last week.
Hannah Goodin: Nice. All right. Well, it is November, I cannot believe I'm saying that.  
Jon Nelson: November. I had to do that in like an official voice, you know.
Hannah Goodin: Is that the November voice, Jon? 
Jon Nelson: It's like NFL films or something? It's like it's November, November, November. It's like a sale or something. That's going on. It's post season football coming up around the corner. You have to do it in that authoritative playoff voice. 
Hannah Goodin: Well, I'm going to make you use your November voice for the whole rest of this next segment. Okay.. 
Jon Nelson: Right. I feel like we're at Countdown to Kickoff and she's punishing me again. 
Hannah Goodin: Oh, I'm going to do that. That is the punishment Thursday on kind of on the kickoff. If you say the word.
Jon Nelson: Whatever the word is, you say the word you have to talk in your November, 
Hannah Goodin: November for the rest of the show. That's amazing. That's done. That's another thing I don't have to think about this week. So, week eleven is in the books. 32 teams have clinched region championships, seven teams clinched the week before. So we've already talked about them
Jon Nelson: The region champs. 
Hannah Goodin: Yeah. Yeah. We've already talked about them extensively. So we'll, stick to some of the teams that won this past Friday. One more week to go in the regular season. Let's talk about who's in and who's out. So starting with who's in yup. And starting with 7A. Lowndes, North Cobb Brookwood, Collins Hill are in. 
Jon Nelson: Collins Hill with the big win over Mill Creek. Brookwood, we saw them on Football Fridays two weeks ago and they solidified their region championship, North Cobb with their win, they're in now. Also, Lowndes is your 1-7A champ. And you look at those, you look at those four teams. And I know that a lot of folks were looking at those four thinking, okay, they're going to be pushing toward game 15 on a lot of folks,. Matt Stewart specifically thought that Brookwood could be at least a quarter final team with the way the bracket could be working out. So interesting stuff out of 7A.
Hannah Goodin: 6A, Lee County and Hughes are in.
Jon Nelson: Lee County. Not a surprise. They got the big win and that region is also done. Next up for them is the playoffs. it was a Northside with their win over Houston County. Northside is the two coming out of region one. Houston County is the three. Valdosta season is done. So the region opponent champion will get a first round buy because there's no four coming out of region one.   
Hannah Goodin: yeah. Final score in that one, 13-6. Lee County versus Valdosta. It didn't mean anything, but it always feels good to beat the Wildcats. 
Jon Nelson: And you know, if you're, if you're in that particular thing and the Wildcats, no post-season so this was what they were doing. They were trying to make the point. We heard from Coach Shelton Felton last week on Countdown to Kickoff. 
Hannah Goodin: The new head coach. 
Jon Nelson: Officially official, no longer the interim. And what you're trying to do is you're making make life as difficult as possible for everybody else. If you're Valdosta. And I think that for Lee County, you got to see once again, that you can win a game, that's put in the grinder. If you're only going to win 13-6, you have to win those kinds of games too.
Hannah Goodin: Absolutely. All right. 5A, it's Ware County, Villa Rica, Cartersville and Clark Central. 
Jon Nelson: And that region is done. Region one. Also, they still have some stuff to play for. I think the two and the three is settled because of Warner Robins beating Coffee this past week. So it's Ware, Warner Robins, Coffee, unless something happens with Veterans in the last week of the regular season and Wayne County winless as well. So, keep an eye on the four with Veterans to figure out how the three and the four are going to go in region one. But right now it's Ware, Warner Robins, Coffee, and Veterans. Is your one, your two, your three, and your four to region one. Good work from Villa Rica and Coach Tim Barron and his first season in Cartersville. We got to see them on Football Fridays. And Clark Central, as we were talking, they clinched a region championship couple of weeks ago. 
Hannah Goodin: All right. In 4A Bainbridge, Carver Columbus, Benedictine in region three. Love Benedictine this year. In region eight, North Oconee with the upset of the week. 
Jon Nelson: Yeah, I think so. And a lot of folks were looking at Jefferson being region champ, getting to the last game of the year and being right there into the discussion and 4A, but North Oconee knocking them off in once again, a very, very low scoring defensive game. North Oconee is your region champ. So a lot of things are going to have to go through the Titans home stadium and Jefferson they'll get that first round home game, but they're going to have to do the rest of it on the road, unless there's coin flips with two seeds going through. So that was a huge win for North Oconee. And it sets up more of a difficult run to the championship if you're Jefferson. 
Hannah Goodin: Another one of those grinders final score, 11-6.
Jon Nelson: I think it was like 9-3 at one point. And it was really low scoring at the half. And then you just, I think it was actually, I think it was 11 points at the half. So scoreless second half for North Oconee, but they got the duke. 
Hannah Goodin: AAA Crisp County, Liberty County, Thompson, and Cherokee Bluff.
Jon Nelson: Great work by Coach Jones. Phil Jones, his brother by the way, is the head coach at Cherokee bluff. And they've been building over the last handful of years. And now you're seeing region championship at Cherokee Bluff, Crisp in that, that region that goes up and down. I 75, a lot of folks, Miguel, Patrick, and his first season at Chris getting the duke there. And so a lot of folks looking at that [inaudible] region, they're going to be causing some problems crisp and peach definitely are going to be causing some problems for folks in the postseason. Great work by Liberty County to get in and Thompson with their win. Last week, they got the region champ as well. 
Hannah Goodin: Six teams clinching region titles in AA, Thomasville, Swainsboro, Bleckley County, Putnam County, Haralson County, Rabun County. 
Jon Nelson: Yeah. And quickly Thomasville won over Fitzgerald gave that to them in region. Swainsboro win over Jeff Davis gave that to them in region 2, Jeff Davis will be the two seed. Fitzgerald will be the two seed. Bleckley County ran the table. They're undefeated coming out of region 3. Putnam County, great work in Eatonton this year for Putnam County, Harrelson County and Scott Peavey in one of the more difficult regions, five teams chasing after four spots traditionally. There went over Callaway early in the year. It was a blowout win over Callaway early in the year. I think it was a wake-up call-in region 5., Rabun County, we have seen Gunner Stockton. You got to talk to him last week on Recruiting 2021 and an interview with the stars got to catch up with Gunner Stockton. It was a big win for them to solidify their region title five teams, four spots, 
Hannah Goodin: 56-14 game over Union County and hey Gunner Stockton broke another record. He had already broke into Deshaun Watsor, DeShaun Watson, excuse me. 
Jon Nelson: Deshaun Watson's record. I
Hannah Goodin: Deshaun Watsor.. Haha.
 Jon Nelson: I don't know who Deshaun Watsor is. I legitimately don't. I've never heard of, 
Hannah Goodin: That's Watson and record together. He didn't know Deshaun Watson. That's an inside joke, Jon. No one knows what that means. 
Jon Nelson: Well, we will explain it later.
Hannah Goodin: His record for the Georgia state total touchdowns. So rushing, passing. So then Friday, he broke the state's passing touchdown record 161, previously set by Trevor Lawrence. We're not even to the post season and post season counts in these records too. Right? So this is just insane. 
Jon Nelson: You're still going to have a lot of numbers and it's going to be the numbers at the end of this. That's going to be the fun part of the discussion for Gunner Stockton. 
Hannah Goodin: Yeah, go check out that interview. He was a little bit quieter spoken, soft-spoken than I thought. Had to ask him a lot of questions to beat my four-minute mark. 
Jon Nelson: Hey, you got it. You got to make sure you have those other questions in the bullpen ready to go.
Hannah Goodin: It was great to talk to him, Georgia commit. All right, moving right along class, single A private First Presbyterian, Holy Innocents, Fellowship Christian, and Darlington. 
Jon Nelson: FBC gets the win there and region one, Holy Innocents, with their went over Wesleyan. And that was another low scoring game. Holy Innocents, gets their region championship. Fellowship Christian, big loss early in the year by fellowship to Trinity Christian. And a lot of folks who are looking at Trinity is making it to the last game of the year with coach Dallas. Fellowship the first year for Tim McFarland, they're at fellowship. And you know, we've talked to coach Tim McFarlin on the post-game show on Football Fridays in Georgia. Very, very young team takes a while for them to get adjusted to how things are with the new head coach and so on. And so you're seeing fellowship now as a region champ. Darlington up in Northwest Georgia at a region 7 gets the region champ there as well. 
Hannah Goodin: Class single, a public, Pelham, Irwin County, Bowdon, and Georgia Military. 
Jon Nelson: Yeah, GMC prep. And it's a lot of history there. First, I think first 10-win season since the 1930s, first region title since the 1960s. Great story out of GMC prep. Pelham with their win over Mitchell county. I think Pelham's the one, Mitchell county is the two, Irwin in the region of doom. Their win really coming out of the blocks. I think week one, when they beat Brooks county that gave them the inside track. And so their region champ Brooks county will be the two and they've been putting 70 on people every week. Great work for a Bowden and the coach Fendley up there in region six. And we talked about GMC prep, great story out of region seven. 
Hannah Goodin: All right. Those are the teams that are in, what are your surprises of teams that are out. 
Jon Nelson: Well out or on the way out or on life support? Probably the biggest one for me would be Clinch and talking to Coach Don Tison Jr. At the beginning of the season, when we did Southern swing, he's got a very young team and doing that in the region of doom in single a, just to give you a bit of a rundown as to how things are in that region, heading into the last week of the regular season, Irwin, and Brooks year one and year two Turner County three into Charlton's at two and three Lanier and Clinch are all at one and four. So you've got three teams chasing after consideration to be in that four spots. So they've got to win and get some help. So you're looking at Turner and Charlton in the driver's seat for the three and the four, Clinch county right now, two and seven this year, one in four in region play. That's a team to keep an eye on. Will they make the post season?
Hannah Goodin: Speaking of, Lassiter got trounced by Allatoona 49-17 on Friday. 
Jon Nelson: I thought it was close at one point. 
Hannah Goodin: No, it was never, I was getting texts over Friday and just cry faces. 
Jon Nelson: So we're going to leave the Decatur story for the end of the end of the show. 
Hannah Goodin: Ohh, we will have a big tease about that. 
Jon Nelson: We will. 
Hannah Goodin: All right. There are lots of teams that are done playing. Yes, but most of the state has one more game left. Yep. Which regions have the most on the line? 
Jon Nelson: The ones that are in the blender, I'll give you a couple and this will lead us into our guests this week. Coach Rich McWhorter, out of Jackson County. Let's just take a peek at some of the regions that really are in the blender. And what we mean by that is a lot of teams going in for not a lot of space. You've got region 6, 7, 8A two at four and one, one at three and two, you've got one at three and three, two at two and three you have in, let's say, yeah, let's say region two 4A, to give you an example, Carver, they won the troops are at 6-1. LaGrange and Hardaway five and two. And right now that's how that one's going to look. You've got Columbus and Shaw possibly, you know, trying to finish their regular seasons at 500 as well, but they would have to win. Then you've got region six AA. You've got South Atlanta 7-0, Lovett at six and two. Pace 5-2. Right now that's you're four that are chasing that one there. And you've got, I'll just go, well, Ringgold and Rockmart. That's another one that we can get into Ringgold and Rockmart. You've got two teams at 7-0. They're going to play each other this week. Adairsville is at five and two North Murray is at four and three. So LaFayette, they're at 3-4. So you've got six teams chasing after basically three spots, perhaps, that is region six, 3 A's another one for you. But the one that we want to focus on is region 8, 5A.
Hannah Goodin: Four or five teams trying to solidify three spots. And Jackson County is one of them. Let's hear what Jackson County Head Coach Rich McWhorter has to say, Hey, coach Mack, thanks so much for joining us on the podcast. First. I want to say, I am so sorry that we could not get you on the post-game show. We tried everything and I don't think technology was on our side. 
Coach Rich McWhorter: Well, we were working frantically also trying to get it done. I have done Zooms before from behind my desk on my computer. But for some reason I couldn't get it to work on our end either. 
Hannah Goodin: Well, we will get you on the show. I'm determined. Well, the reason we wanted you on, of course, the big win and the 300th career milestone 35 to 21 win over Greenbrier region 8 5A matchup. Talk about how it felt to get that win number 300. 
Coach Rich McWhorter: Well it's what it did for me. And it really made me think about all the players and coaches I've had all throughout the years. You know, I've been stuck on 299 for a couple of weeks now. And of course, coming into the season at 295, uh, you had a lot of time to think, you know, getting to 300, but it really, it has everything to do with the people that, you know, I had a chance to work with the players, the great players I've had, you know, all those years down at Charlton County playing for state championships and the winning region titles and having a lot of kids play at the next level. It really, and just the coaches I've had. I mean, one that right now everybody knows about is Jason Strickland at Ware County. He was one of my assistants for a long time. I had a lot of great coaches throughout the years while I was at Charlton County. And then when I made the move up here, you know, we've got some good players and they're getting better every day. And we're competing in games that they've never competed in such as a Greenbrier and, and you know, four point lost a Clark Central at a close game there, but, and beating the Loganville and so forth. Those are games they haven't won in the past. So I know we're headed in the right direction as far as that goes. And then again, they've allowed me at Jackson County to put together a great staff and they give us what we need to be successful. So it, you know, all those things, you put it all in. Plus you stick around long enough and you have administrators that let you run the program. You feel like you need to run and you're going to have a chance to win a lot of games, but it comes down to players. I have visited with, and I've known so many guys that were much better coaches then I am and great coaches, but if you don't have outstanding players and, you know, that buy-in and work to do the things that you need to do to be successful, then you're going to struggle. You really, really will. But I've been so blessed, so fortunate to just have such great players. 
Jon Nelson: I know we want to get into the Charlton stuff a little bit, but since we talked about 300 and I know Hannah we'll get into the Jackson County stuff here in just a sec, since we talked about 300, do you remember your first win at Charlton County? 
Coach Rich McWhorter: I sure do. It was against Brantley County. The first game I coached was the game before that, that was against Camden County in 1990, we started the game off with an onside kick. The radio guy thought we needed to work on our kicking because we can't kick, but it was intended the very first play I was going to call as a head coach will be an onside kick and we got it. We lost that game 13-0, but then the next two weeks we won just barely, but we won against Brantley County and Pierce County and after the Pierce County. I was told that there were some people that weren't really happy with the direction of the program, only three games in and thought maybe I wasn't the right guy. And I was too young for the job. 
Jon Nelson: What is this Midwestern guy doing down here? 
Coach Rich McWhorter: Exactly, exactly. You know, I just wasn't, I wasn't the guy for the job and heard some of that rumbling going on. Well that year we went on to play for a state championship, lost to Lincoln County 6-0, and won 11 games. And then from then on we just, you know, kept having great players, great kids and great support. And it kept on rolling.
Hannah Goodin: 29 years at Charlton. Jon's dying to talk to you about that history, but I don't want to skip over what you've done at Jackson County. So, you know, four state championships later there at Charlton. We'll get into that in just a minute. I want to talk some present tense. Okay. So coach, a lot of people are focused on Clark Central in your region this year. But for those who haven't seen as much of you guys, tell me about some of your top playmakers and what this season has been like?
Coach Rich McWhorter: Well, we got a running back named Trey Ransom, not a very big guy. But he is a great football player. Now on a Friday night, he had six touchdowns. He had 301 yards rushing. He had five tackles on defense. He had a kickoff return back to midfield and he even threw one pass for one completion for 22 yards. So I mean he's a great player, but we also have some offensive linemen that are really doing a great job. This is a good senior class. We have 21 seniors. My first year here. I think we had less than 10 and this year we have 21. We're in a brand-new facility, more on the west side of the county, a little bit further away from the mothership, of Jefferson high school. So, you know, we're kind of over here in our own area with, uh, Braselton and Houston, and we feel like that now we have a community and that's our community, Braselton, and Houston. So that feels good. Our school is growing because we're just on the edge of Gwinnett County and we have a lot of land out here and a lot of houses being built. So it's, naturally the growth is headed this way. So we're excited about that. So, there's going to be good things coming. We really had, you know, we came in, they hadn't had a lot of football success. We were still not nowhere where we want to be, but again, this started with the administration allowing me to put together a really good coaching staff and they do a great job. And then we kind of just went on from there. I was hoping that it, of course, every coach would go into new situations, we would just turn things over right away and see the results as far as wins and different things right away. But it took us a little time, that first year three and seven, one thing we kind of hung our hat on was not moral victories, but the fact we were putting together really good quarters. And then we were starting to put together really good halves. And then we were able to finish that first year with a last second win over Apalachee, you know, and that put us in the off season. And last year's kind of the same thing. We lost a couple of games by less than, well, actually I think we lost a few games less than a touchdown, but we were making those strides in the right direction. And then again, this year, we lost to Walnut Grove by two, had a touchdown called back at the end. And then we lost to, Clark Central by four. You know, and again, with 58 seconds ago, you have the lead, but you know, Clark Central is explosive. A very good football team and they were able to make it happen and beat us. But again, we're close. We're knocking on it. And this Friday, if we can, if we win, we are in, if we win, we got the third slot in the bracket in our region, third spot. If we lose, we need a few things to happen. 
Jon Nelson: I was going to say. 
Hannah Goodin: I think you stole Jon's question. 
Jon Nelson: You did, you were looking at my questions, coach. I mean, it's like literally this region and we have a term here that we use and we call it in the blender, basically when you got a lot of stuff that can happen with a lot of folks in a very short amount of space. That's what it is because region 8, it's Clark Central. Yeah. They clinched like, you know, back in July, and then you've got east side Apalachee you guys Greenbrier, Loganville, and Walnut Grove. So that is six teams separated by two games, heading into the last week of the regular season. I mean, realistically, you're probably looking at four for three spots, and you're a part of that for those who, I mean, you, you broken down this region and it sounds like it is about as topsy turvy as it gets, not just here for the last week of the regular season, but overall, what is the quality of play like for those who haven't seen it? 
Coach Rich McWhorter: I tell you what, it's really good. You know, I'll tell you, I was really impressed when I got up here with the quality of play and the quality of coaching, these guys, these guys in this region, and this one that's really good staffs. And, and everybody you play, you know, you better, you better be prepared and you better know what you're doing. And, because they will do a great job getting ready for you. There's a lot of good talent in here. You look at throughout our region, you're going to find a lot of, you know, down at Charlton County they say, you know, we had some kids to play at the next level, but it was all about speed. And up here, you may not have the same speed and so forth, but you still have people that can run a run well, but you got some size. You got some guys that can, they're big, you know, 6'5", 300-pound offensive tackles and things like that. So, and everybody's got a kicker, everybody's got a punter, you know, bigger the schools. That's the thing I noticed coming from a smaller school up here is, you have a lot more kids to work with and so forth. But it's just the same on the other side of the ball. It's like everybody said down at Charlton, well, you had all those great athletes, true. We did. And that's the reason we won is because we did have great athletes, but as well as you know, better than anybody. So does Clinch, Irwin, Brooks, Turner, all those people have great athletes, up here, it's, everybody has size and everybody's steamed up really well. And, ready to go. And everybody has some depth and depth is something that we've been working on. That's starting to show up this year for us that we have a little bit more, because we've had a couple of key players out. We were able to plug some guys in and, and they were able to step up and play for us. 
Hannah Goodin: Well, I'm going to steal Jon's question because you talked about depth and we do this show called Recruiting 2021, where we have a segment called make that kid an offer. And it's the most under looked players that deserve college offers and college looks, do you have a kid on your team on that depth chart that would fit into that category of make that kid an offer? 
Coach Rich McWhorter: Well, Trey Ransom, you know, he's over a thousand yards again this year, he was over a thousand yards last year, playing on both sides of the ball. He really pops off the screen, you know, but you know, when it comes to colleges, college recruiting has changed. You can do a lot of stories on how it's changed over the last 20, 30 years, you know, with huddle and so forth. And, and the way everybody is doing such a great job with nutrition and weight training and getting kids out there, getting the film out there through huddle, you know, Trey really jumps off the screen when you look at us huddle, but you know, Trey's not a big guy. You know he's about maybe 5'8'', and about 170 pounds, but he's built well and he can really go. I think he would make somebody a great spread football team running back, you know, division two level, something like that. And then we also have a lot of other kids that division three schools we're looking at. We've got some kids are doing a great job in the classroom. Great job in the weight room. I got two offensive tackles, big old guys, well, over 300 pounds over, over 6'3'', those guys are doing a great job for us. And also, I got a couple of young defensive linemen, I think have chances to be prospects. So, you know, we got to get some coaches to come through our school. I mean, they'll go through Flowery Branch over here to the west and they'll go through Jefferson over here to the east, like they're passing us up. So I got to get some guys to come in here and take a look at our kids. And we're doing like everybody else, we send the huddle film out and we send the information out. We just got to let college coaches know that we've got some kids here that can play and we need to start getting that going. 
Hannah Goodin: I need to put those lights in the sky, like, Hey, we're over here. 
Coach Rich McWhorter: That's exactly right. Well, I tell all these high schools around us and when a coach comes in, you tell them, now send them over, come by just for a minute. 
Hannah Goodin: All right, I got one more for you. And then I'm going to let Jon ask you about some of the things that he wants to talk to you about. So final seeding will all come down to next week, another big region game against Apalachee. So preview that game for me. And what will it take to get that win, to get you into the better playoff seeding? 
Coach Rich McWhorter: Well, Apalachee started off the year rough. He had some injuries that some kids out for health reasons and so forth, the very end of the COVID policies in schools with the contact tracing and so forth. I believe that they had to go through some of that early, but here of late by the last three weeks, I don't think anybody's playing better than our region then Apalachee. Hey, coach Lotti over there does a great job. They run a wing T and they do a great job with it. Defensively. He's got some kids that look great out there on the hook. You know, it's the big old kids that can run. And, right now they, I think they're playing maybe best football in our region. So we're really concerned of that, but we feel like we're playing good football also. And we feel like we're going to be healthier this week than we were last week. You know, and I told our kids, you know, every Friday you got, it's an opportunity. It's the opportunity to prove your worth and prove your value to this team was a football player and we are excited about it. You know, it's about 15 miles away. It probably will take an hour to get there, but that's one different up here. I've also noticed you better, you better plan on traffic. And we're looking forward to it. It's going to be a tough football game. It's going to be some that good, football weather in the low fifties and so forth and let the best team win and we are excited about the competition. We're excited that now we are at a point in our program, no matter who we play, we feel like we can compete with people. 
Jon Nelson: So then let me ask you this with the almost three decades that you spent down in Folkston and now you're there at Jackson County. It seems like it's another opportunity for you to build a program in a way that you would like to see it, not just while you're there, but after you've retired, you know, in the year 2174, you know, when you're done with coaching in high school, have you always thought of yourself as a builder when it comes to programs and having an opportunity like this to build another program, it rarely comes by, have you always thought of yourself as a builder? 
Coach Rich McWhorter: You know, there's, there's things in this job is being a head coach that people don't see that I really enjoy. You know, I love looking at film. You know, I'm not a big, long coaches meeting guy. I don't like to go over two hours. I know some guys will go two days on weekends. We just try to do our work at home or watching college football and get together. But I enjoy that part of it. And I even enjoy, you know, seeing new kids come into the program and seeing numbers go up. We have around 40 freshmen this year and things like that. But yeah, I really enjoy the building part. I mean, even the things where it comes even getting in the equipment room and dealing with that, that part of as a lot of coaches don't like that. They turn that over to other coaches on their staff, but I enjoy that part of it even. I mean, really all aspects of it. I, you know, I enjoy, we just finally got our lockers into our locker room and our new locker room and our new field house and things such as that. And the new weights came in, you know, in the summer. And so, yeah, the building part, whether it's the stuff put your hands on, or just the building part, as far as building relationships and with the community and with the players and with players parents and businesses and so forth. But yeah, all of that, trying to make things better, you know, taking our booster club to another level this year, we felt like, you know, was good for us. Taking our strength training to another level and adding nutrition to our strength program. And even added nutrition to our field house, we have an area set up where when kids are before practice or after practice, they grab all the drinks they want and the Gatorades waters and we've got snacks lined up for them. So you know, just making that to where things where you don't go backwards, you just keep building on what you're doing. I really do enjoy joy that part of it. I think I'm too old to take over a new program brand new program, but I can see where that would be exciting for someone. 
Jon Nelson: I was going to say, you still sound like you're excited about coaching after 30 plus years of doing it here in the state of Georgia. You still sound like there's that youthful enthusiasm is still there from the guy that we were talking about at the beginning of this conversation, getting that first wind coming from the Midwest down to Folkston, you still sound like that guy. 
Coach Rich McWhorter: Well, you know, a lot of coaches, I mean, there's coaches out there that, you know, that really, they enjoyed golfing. They enjoy other things. I really haven't found anything like that. I mean, I do enjoy fishing whenever I can, but I don't really look for time like that. I don't really try to make time. If It happens. It happens. You know, I enjoy, you know, Saturday morning getting up after a win preferably, and going up to the field house and doing a little cleaning and doing some laundry and things like that, that's kind of is my hobby football is my hobby. And not first person, I really heard her put it that way was a good friend of mine, and yours, is Buddy Nobles. And I talked one time about things, hobbies, and one of them, he goes, you know, really football is a hobby. And I said, you're exactly right. I mean, I have football magazines, football books, videos. I mean, those are the things that when I have free time, and we look at is that sort of thing. But I guess the one thing I have done with my family and my, my wife and my two daughters, is with a football coach. Your calendar's really set up for you for the whole year. You know, when you have spring break, you know, and the GHSA dead weeks and Christmas and that sort of thing, but we've always made a time to try to do nice vacations with just with us to really go out and enjoy things, you know, and get to see a lot of things throughout the country. And so, I mean, like I follow you on Facebook. You may follow me also, but when we get a week off and we get a week off, my family and I work we're going to head out and go do something and see something. You can do that as a coach. You can, you're always going to have those weeks built in. And those weeks built in is, is to me is for family. And I kind of hate to see when people try to put all-star games and different things like that on those types of weeks, because I think that's the thing where every coach, a young coach I would tell them is as they get that calendar out mark through those weeks, and those weeks are all about your family, because, you know, and also involve your family and you can do that. And that's the thing I tell young coaches whenever they have kids, Hey, just hang on. I know they're in diapers now, but it isn't going to be long before they're not out here moving dummies and cones and going and getting us bottles of water, you know, and things like that. I mean, and when that time happens for a coach, that's really special. My oldest daughter used to be one of those. She would throw on the t-shirt and shorts like the players and be out there at practice. And, you know, she loved it. 
Hannah Goodin: My kind of girl right there. 
Coach Rich McWhorter: So, I mean, that's being a coach, you know, it's really, there's a lot of really good things involved in that. 
Jon Nelson: Well, coach, thanks for hanging out with us. Obviously, when you, when you hit a milestone, it's great to catch up and see how things are there at Jackson County, obviously with all the time that you and I know each other from your time in single and AA down in Folkston at Charlton. Thanks for coming on the Football Fridays in Georgia podcast with me and Hannah and letting everybody know what's going on there with you and your third season up there at Jackson County, 300 wins and counting. Congratulations from all of us. We'll be keeping an eye on a very busy Friday. Thanks for coming on the show. 
Coach Rich McWhorter: I appreciate it and I appreciate what you guys do for high school football and our kids. Thank you now. 
Hannah Goodin: My twins are going to be just like that out there, helping on the football field, 
Jon Nelson: At Jackson County?
Hannah Goodin: Jackson County, actually, I'm going to call coach Mack. I think I got a couple of water girls for you. 
Jon Nelson: Yeah. Then the second that they are eligible to be water girls, he will definitely have them help out there at Jackson county. It was great to catch up with him. 
Hannah Goodin: It was. And then we're almost into brackets. It's almost Bracketology time.
Jon Nelson: Wait a minute. Wait a minute. Before we get what, happened to Decatur, Commander Sandy? What happened to Decatur? 
Sandy Malcolm: Oh boy. I don't know if they were looking ahead. You know, Southwest Dekalb has good team and they had a great strategy. They clearly, they blocked two punts. They saw something with the punter and two pick sixes. Wow. So it was a little closer than the score. They had a chance under a minute and pick six.  
Hannah Goodin: First loss of the season. That stings.
Sandy Malcolm: Yeah. Yeah. Now that makes for a crazy scenario. If they should beat St. Pius. That would be a three-way tie. I have no idea what the tiebreaker would be.
Jon Nelson: Yeah. All this math that you're talking about. So the region that we're talking about is region five. St. Pius right now at 5-0, Decatur and Southwest Dekalb 4-1. So you need to win and get some help because of the tie breaker scenario there. And what that does is create a three-way dance with St. Pius. Decatur, and Southwest Dekalb. So, you need to win to get the 5-1. Pius would go to five and one. You really need Southwest Dekalb to lose. That would be ideal to help out there. We are looking at it from the Decatur bulldog's perspective, from the Decatur bulldog's perspective and region 5 as a Decatur bulldog mom. Yes, we have to look at it this way for your math. St. Pius would have to lose to Decatur. You'd get the tie breaker. You'd be at five and one. You'd be above St. Pius in the tie-breaking scenario there because of head-to-head, Southwest Dekalb is at 4-1. And I know that you're looking at math there as well, if Southwest Dekalb wins, it's 5-1, that's a three-way dance. Then there really is math involved after head-to-head. And so that way you figure it out from there and Lithonia, MLK, and Northview, they're all a 2-3 or Northeast at a one and four and Northview would need a lot of help, but Lithonia and MLK looks like the one that would get the four seed coming out of region 5, but basically you need a win and some help if you're going to get region title again. 
Sandy Malcolm: And I just want to say, I was told there would be no math. 
Hannah Goodin: We did not sign up for this. 
Jon Nelson: This is the wrong week for that. Considering that we got brackets coming up Friday night.
Hannah Goodin: This is the moment that Jon I've been waiting for. 
Jon Nelson: Every single time that there's math involved. You decide not to be for the broadcast, conveniently just like I am out.
Hannah Goodin: I'm out Friday to let you do all the math. So I don't look bad. 
Jon Nelson: I love the phraseology there. So I don't look bad. It's on you. I see how it is.
Hannah Goodin: I am out, but that's not why. Hey, last Friday was a beast trying to get all these region titles, math, standings. But this is it.
Jon Nelson: What is with weddings during football season? 
Hannah Goodin: COVID has rescheduled these weddings. And if I was not in them, I would not be going, but I'm in them. It's important. 
Jon Nelson: Weddings during football season. In the Southeast? Folks should know better. That's all I'm saying. That's how it was with me and the boss. Yeah. We were like, okay, do we try to get it done in six months? Yeah. Cause we, it was a January engagement. It was New Year's Day. So we were like, okay, do we try to do it in six months and have it in June? Because we all know how much of a log jam June weddings are or do, we wait until, oh, I don't know, after football season and get it done there. So we waited until after football season had it done, January 12th weekend. And so there was that extra Monday there for the MLK national holiday. So, I mean, my aunt flew in from Norway. 
Hannah Goodin: I'm not about to tell anyone else when to have their wedding. 
Jon Nelson: Listen, you're in the south.
Hannah Goodin: We were supposed to keep this segment short, Jon. 
Jon Nelson: Buford and Dacula is our game of the week for Football Fridays in Georgia, when Hannah will not be in attendance. And it is a region championship that will be decided. 
Hannah Goodin: Region 6A on the line. Dacula 6-3, but undefeated in region play at 5-0. They've won five straight games coming off a 42-0 victory over Central Gwinnett. 
Jon Nelson: That is true. 
Hannah Goodin: Number one ranked Buford's 8-1, also undefeated, at 5-0 in region play. They've lost only to Chaminade-Madonna out of Hollywood, Florida, who is still the number two team in the sunshine state, I might add. 
Jon Nelson: They have not given up any points since then either, except to last week. 
Hannah Goodin: They are 230-2 against teams and 5-0, since that loss. 
Jon Nelson: Yeah, I think they and Coach Appling are slightly angry.
Hannah Goodin: A little bit. Fun fact, this rivalry was resumed in 2020. Buford won at 35-0. The schools have had not played since 1995 before then. As always, kickoff is set for 7:30 PM at Dacula's Barron field. And Jon will be in studio.
Jon Nelson: Yes, I will. And it will be, and it will be brackets and coaches and region standings. And who's in the blender and I'll try to avoid math as much as possible. And you might have many games and tiebreakers on following Mondays. And so I'll have as much of that information as humanly possible for you all night long with Buford into Dacula, Football Fridays in Georgia, last week of the regular season. And then the sprint to Georgia State begins as we chase after the championships. But no, Friday night, really you need to get your sandwiches early. You need to get your snacks early. If you're not at a game, then you need to be just locked in place. Make sure that you have access to all of your favorite drinks to make sure that they're not far away because there's going to be a lot going on all night long. So it starts at 7 pm with Recruiting 2021, then kickoff a little after 7:30 p.m.
Hannah Goodin: I'm interviewing some top players from North Cobb, UGA commits. So bulldog fans look for that interview. It just so happens; a lot of our Recruiting 2021 interviews this year have been from UGA commits just because they're so loaded this year. We are not doing it on purpose. 
Jon Nelson: Considering all the recruits are heading to Georgia. And that's why.
Hannah Goodin: I know. So look for that. Countdown to Kickoff will be at noon on Thursday as always. Blogs are out this week. Don't forget to download the GPB sports app to take us with you on the go and follow us on social media at GPB Sports. 
Jon Nelson: What she said. Commander Sandy, that sounds like a show. 
Sandy Malcolm: I think we're out. 
Jon Nelson: So that means let's see for Jake The Snake, King James, and Commander Sandy, and you. 
Hannah Goodin: Me. 
Jon Nelson: Yes, you miss Hannah. Who's in charge of everything here. I'm just Jon. Play it safe everybody. Enjoy the games. Buford vs. Dacula on our air. Enjoy your games. Don't forget to download the GPB Sportsapp available iOS and Android. You can watch our game while you're at your game, post-game show after our games. So when the game is over, it's not over. We're going to let you know everything that's going on around the state. When it comes to the first round of the playoffs, it's going to be a fun night and it's going to be a very fast evening, a lot of information, a very short period of time for all of us here at GPB, play it safe everybody. We'll see you next week. 
Secondary Content