Section Branding
Header Content
Monroe Area Flexing Its Muscles Under Trying Circumstances
Primary Content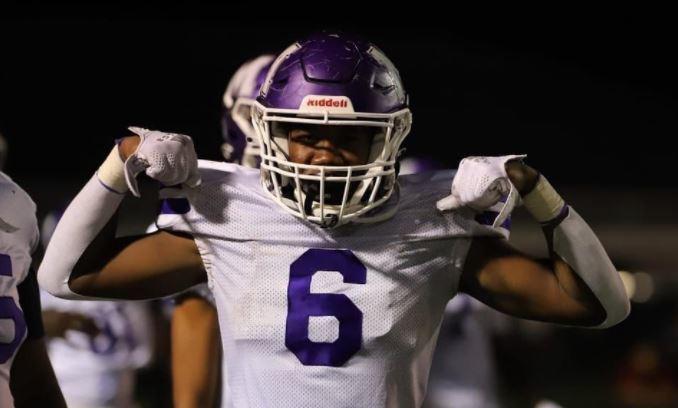 It must have been a pretty sweet bus ride home from Watkinsville for the Monroe Area Purple Hurricanes last Friday night. They went toe-to-toe with Oconee County and came away with a 17-14 victory. The win snapped the Warriors' 23-game regular-season winning streak and left Monroe Area in sole possession of first place in Region 8-3A.
Jason Connor is offensive coordinator and acting head coach. He says beating Oconee County was the kind of victory the program had been seeking for some time.
"Our kids have experienced a lot of success," says Connor. "We have won a lot of football games since we got here in the past five years, but we hadn't taken that next step in beating someone who we would consider a state power. We've been close, battling Calhoun early on. There were a lot parallels from when we beat Jefferson on the road a few years ago and Oconee in this game."
"Jefferson had won 19 in a row at home and gone deep into the playoffs in 4A, and Oconee drops down from 4A and last year they really handled us at home. We wanted our boys to understand that these are two different teams and that this is a new season. We wanted our kids confident going in and we felt like they really were."
Monroe Area had a plan to win the battle up front and control the line of scrimmage. The Hurricanes wanted to lean on their running game and use it to keep the Warriors' explosive offense on the sidelines.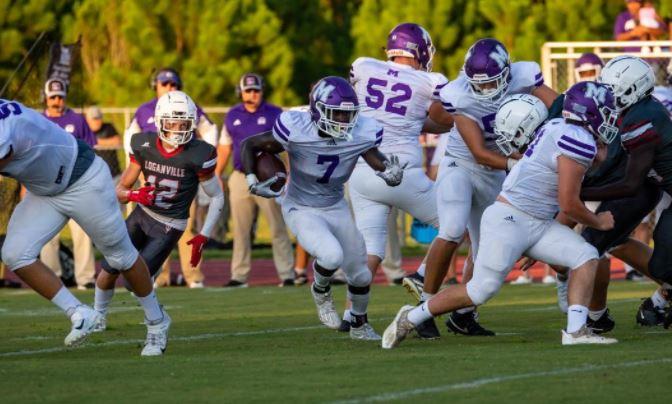 "Their second drive went 80 yards," recalls Connor. "They went down and scored, but I think what turned the game was that we responded. We drove down and from the 8-yard line we had a pass tipped, and tight end David Lalaian caught it in the back on the end zone. That gave our kids a shot in the arm and from then on it felt like we controlled the line of scrimmage."
"We have a dynamic playmaker at quarterback in Selation Straughter and our offense did a great job of holding the ball. We had a 7 ½-minute drive going into halftime. We were 7-7 at the half and to start the second half we got our big break with a turnover on the kickoff. We got a big play with our tight end on a pop pass down the middle of the field and were able to stick it in the end zone to go up 14-7. That was the key. The big turnover and us responding overall."
With a perfect record of 8-0 the Hurricanes rose to No. 4 in the latest GPB Sports poll. The team in search of a breakthrough win finally got one.
But the victory on the field rings hollow as two very important people were not there to enjoy it. Monroe Area head coach Kevin Reach's wife Amy recently suffered an aneurysm and remains hospitalized. Reach turned the head coaching duties over to Connor so that he could stay by his wife's side.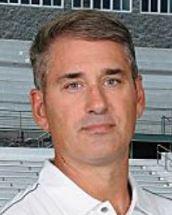 "His wife, Amy, had her aneurysm three weeks ago today," recalls Connor. "I believe it was on a Wednesday that she started having complications. So Coach Reach has been taking care of his family as she is still in critical condition. It's a very difficult situation for him. He is a family man in every sense of the word, and he encourages that in our program. Our fan base has galvanized behind him, because Kevin and Amy and their whole family is involved in the program. It's something that our players are aware of and they are having a prayer service at 1025 Church tonight. We do the hashtag #PrayForAmy. We have a helmet sticker coming in for her. What we have communicated to the players is to live in the moment, enjoy your family, hug your loved ones. Understand that football is important and we put a lot of time in it, but in the end the most important thing is the time we get to spend with family and friends."
Connor is part of a Hurricanes coaching staff that came with Reach five seasons ago from Collins Hill. They are very much like a family. Having worked in a tough and talented region in the state's largest classification, there is not much that this group hasn't seen before.
"Our staff had been in that region with Mill Creek, Norcross, Peachtree Ridge and North Gwinnett," remembers Connor. "The week-to-week difficulty and toughness, I think it helps us as a staff understand and see parallels from this region to that one. Maybe it's not on the grand scale as you see with the bigger schools, but football wise and coaching wise it's as good as it gets."
When Connor talks about size his voice seems to change. The Hurricanes offensive line is bigger than usual this season and they have been able to dominate their opponents each week. The win over Oconee County is an example of its effectiveness.
"Most of our production comes from our backfield," says Connor. "We have one of the top running backs in the state in Alan Jones. He is fast, and quick with great awareness. He is getting better and better each year. He was a 1,000-yard rusher last year. When Selation Straughter went down with a knee injury last season, Jones really had to carry the load. This year, with Selation back, we are very fast. We have a tight end who has been making plays lately. In general, we had more depth Friday night and Oconee had to play more payers both ways. It's just been more situational because we hang our hat on our running game."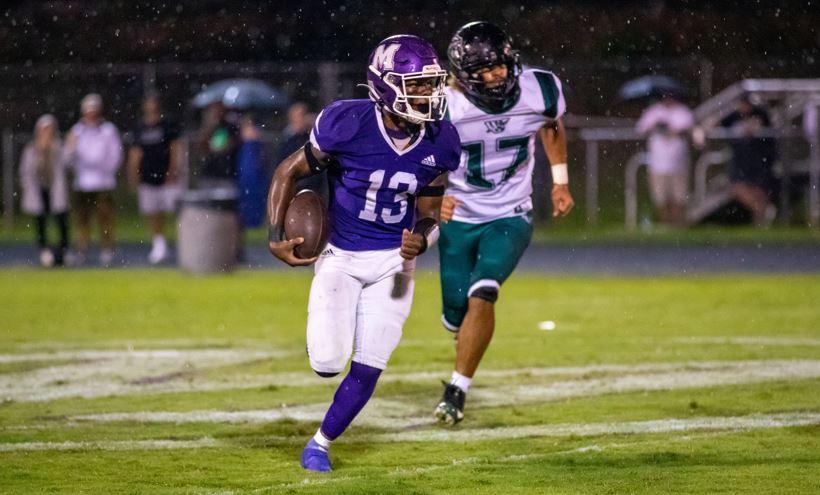 On the defensive side, things are a bit different. They are not as big up front but more than make up for it in other ways. It's a total team concept that works.
"We are not the 6-5, 6-3 prospect-like defense," says Connor. "What we do have are kids that are tremendously strong and fast. We might not have the best college prospects on a Friday night in a football game. You get 11 guys who can run. Our guys can all run and they are physical, tough kids. It's a big advantage over a team that might have one or two guys who are 4-stars or 5-stars and going to Power 5 schools. What we have are 11 guys that we have full confidence in."
Monroe Area's best defensive player has been Jakyri Jones, an undersized outside linebacker.
"He just continues to turn in incredible play after incredible play," Connor says. "Local fans might see him as a Nakobe Dean (of the University of Georgia) type player. He is sideline to sideline with extreme quickness and he is very football savvy. Our defensive line has been unblockable this year, they hustle every single play."
So far, the Hurricanes have shown that they are a very, very focused squad. They have shown excellence on the field while living in the moment, and honoring their coach and his wife. They are a team that started the season on a mission and along the way gained a cause. The victory over Oconee County makes Monroe Area one of the teams to watch on the road to Georgia State's Center Parc Stadium and the state championships. Connor is not ready to think that far ahead.
"We earned no trophies with that win Friday night because of the difficulty of our region," says Connor. "There is nothing that came with that win except keeping ourselves in a position to win the region championship. That is a testament to the region programs that we have and there is good coaching everywhere. There are some programs that are at different levels of development and different talent levels. We already had to win a big game at Stephens County and we felt that really helped us going into last Friday night." 
"We still have Hart County to go. We have Franklin County this week on the road and they are a very physical football team. We have not played up to our capabilities when we have gone up there in the past. When you have four teams that are legitimate Top 10 3A teams come playoff time it might payoff for all four of us, but right now it's definitely a challenge."
This week Football Fridays In Georgia will feature Calhoun at Cartersville. It all starts at 7 p.m. with Recruiting 2021 on the great GPB!
Secondary Content
Bottom Content