Section Branding
Header Content
Football Fridays In Georgia: Thomasville's Zach Grage on the intensity and pride of South Georgia football
Primary Content
On this edition of the Football Fridays In Georgia podcast, Zach Grage, head coach of region 1-2A champs Thomasville, talks with GPB Sports' Hannah Goodin and Jon Nelson about the tremendous community support his team receives and what makes south Georgia football so special.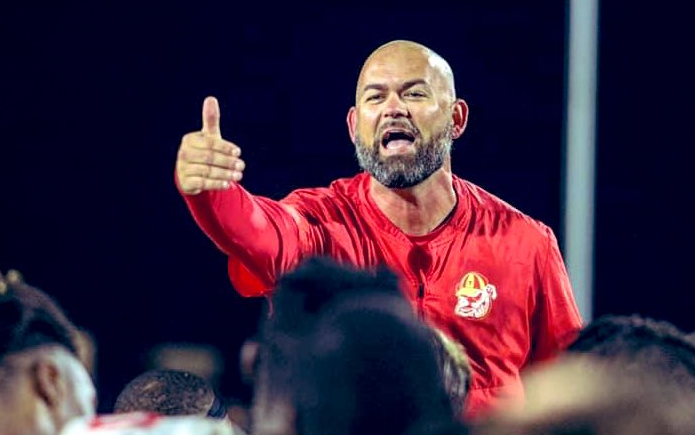 TRANSCRIPT:
Jon Nelson: Welcome to another edition of the Football Fridays in Georgia podcast here at Georgia Public Broadcasting. Thanks for accessing us however you are doing so, whether it's at the video version on the YouTube channel, whether it is on your favorite podcatcher, gpb.org, the GPB Sports App. Thanks for hanging out with us. We're really just past the halfway point of the season, we are winding up the regular season. Hannah and I are kind of talking about things and we're actually getting folks who are winning region titles now. 
Hannah Goodin: Yes, yes. I cannot wait to talk about that. Clinchers all ready, Jon. 
Jon Nelson: So there are seven clinched on the board and that means that there's a lot more of them that aren't clinched. Then we're going to be having to do. No one said there'd be math in this. I know high school football. 
Hannah Goodin: There's way too much math on this show. 
Jon Nelson: I know that. So we got region titles that get to be clenched over the next couple of weeks. Bracketology Friday is really our election night on November 5th, and that's going to be fun and we're get to fill in the brackets as best we can. And there's more math involved there, but we have one of the folks who is a region champ as our guests this week coming up in a little bit. 
Hannah Goodin: Yes, we do. I cannot wait for you guys to hear from Thomasville head coach, Zach Grage. He had some awesome things to say. 
Jon Nelson: He is a dude. 
Hannah Goodin: He is such a dude. If I had a dollar for every time, he said, dude, I'd have more dollars. 
Jon Nelson: Exactly. He's funny. Zach's a good guy. He's in his sixth season down there at Thomasville. Thomasville knocked off Fitzgerald on Friday night to secure the region, title, and region one AA. We'll talk about region play. We'll talk about AA football. Talk about everything else going on down there in Thomasville. Great conversation with Zach. And we'll catch up with one of our favorite dudes coming up in just a little bit. 
Hannah Goodin: Yeah, before we get started though. I want to give a shout out to our GPB Sports team. Jon was at the Gabby awards with the boss. It was on Saturday, or was it? 
Jon Nelson: No it was Saturday. Saturday yes, because Auburn did not have a home game. Auburn didn't have a football game that she wasn't going to Auburn. Didn't have a home game. I didn't have a soccer match to cover. So we actually had like date night and went to the Gabby awards. 
Hannah Goodin: The pictures you guys posted were so cute.
Jon Nelson: Well, she's the one who took them. Except for a couple that, John Clark from Georgia News Network took. But yeah, she took most of them. 
Hannah Goodin: Yeah. You guys clean up well. Well the Gabby awards is the Georgia Association of Broadcasters.  
Jon Nelson: Sandy, did you hear that? She says I cleaned up. 
Hannah Goodin: I was just going to slide right through them. 
Jon Nelson: No chance. 
Hannah Goodin: And GPB won multiple awards, but in the sports category, my partner in crime, Jon Nelson won best sports anchor for a large market. 
Jon Nelson: Yep, Second year in a row. 
Hannah Goodin: And then congratulations, Jon. And then the Recruiting 2021 show.
Jon Nelson: 2020. The recruiting show. 
Hannah Goodin: The recruiting show, which was also nominated for an Emmy won. 
Jon Nelson: Yeah, the best sports program. So Recruiting 2020 wins, best sports program from our friends at the Georgia Association of Broadcasters for the Gabby awards. It's very, very cool. Well, wait a second. Why are we just talking about it? 
Hannah Goodin: Oh my gosh. Did you bring the hardware? 
Jon Nelson: I brought the hardware. 
Hannah Goodin: Yes. For those watching on the video version. Oh, it's so pretty. It's a circle. 
Jon Nelson: Very shiny circle. So there it is. 
Hannah Goodin: GAB award for excellence in broadcasting. Oh, you brought the Recruiting one. So not yours. 
Jon Nelson: No. This one goes, no, the Recruiting one goes upstairs. I mean, no, this is the Gabby for the Recruiting 2020show. Mine is already at home and it's on the shelf. 
Hannah Goodin: Amazing. 
Jon Nelson: Yeah. You know, it's like I pick, because I mean, seriously. I mean, why bring mine in here? Because if I'm taking, if I bring it in, I'm taking it back home. 
Hannah Goodin: I mean, it can go on my desk. Yeah. 
Jon Nelson: The Recruiting 2020. So now you guys can fight over where the recruiting Gabby's going to go. But now I figured I would bring this in. And so now, now the rest of you guys can fight to figure out where this is going to sit. 
Hannah Goodin: Probably Kevin's office. 
Jon Nelson: Well, there you go. So that's the early returns anyway, but yes, the great work by everybody here at Georgia Public Broadcasting and Recruiting 2020 show has the Gabby award. It is here in my hand for those who are watching, you can see it in my hand, in the box where I try not to smudge it. And for those of you listening, it doesn't really make good listening. So there you go. 
Hannah Goodin: Well, we will look forward to submitting the 2021 version next year, which airs at seven o'clock before our game of the week. And our game of the week, this week was Brookwood vs. Grayson at Britt-Moody field in Loganville. Our Cotton Commission Player of the Game, Alex Diggs rushed for 145 yards and three touchdowns and caught nine passes for 81 yards to lead the Broncos to a 35-14 win over the defending 7A champs the Rams. Junior quarterback, Dylan Lonergan was also 23 of 32 passing for 193 yards rushed for 68 more yards and a touchdown. So what does this Brookwood win do for this region 4-7A, Jon? 
Jon Nelson: Puts Brookwood in the driver's seat right now, and Brookwood has two games left. They have South Gwinnett and coach Bryan Lamar, friend of the network. They have them this week, but any kind of a tie breaker that would happen with Brookwood and Grayson up top, it would be Brookwood on the tie breaker right now. Let's go through those regions' standings very quickly. Brookwood right now at 2-0. Grayson at 2-1. So Grayson right now only has one game left in the regular season. Newton who had a really tough non-religion game with Mill Creek gave them all they could handle at one in one park. Parkview's at one and two South Gwinnett really needs the wind this week. If they're going to fight for that four spot with Parkview right now, they are 0-2. So it's a tough test. They're in region four, five teams for four spots. 
Hannah Goodin: Yeah. And the Broncos play South Gwinnett this Friday. Did you say that?  
Jon Nelson: Yes, I did. Head coach Bryan Lamar, friend of the network. 
Hannah Goodin: Just repeating, just making sure everyone knows. 
Jon Nelson: Yes. 
Hannah Goodin: Same game coming up. Baby brain. Big game. 
Jon Nelson: Commander, Sandy. She has baby brain like nobody's business. 
Sandy Malcolm: You have to give her a little bit of a break. 
Jon Nelson: Absolutely. 
Sandy Malcolm: Not only one but two babies. 
Hannah Goodin: They're also suffocating me. We won't talk about that. Can't breathe. 
Jon Nelson: Okay. Back to our regularly scheduled programming segment. What else is on your mind? 
Hannah Goodin: Week 10 is in the books. 
Jon Nelson: Allegedly. 
Hannah Goodin: Seven teams have clenched region championships. And I want to start by talking about the class 7A, region 1, 7A, Lowndes beat Colquitt. 52-31 to clinch it. Unbelievable. 
Jon Nelson: Big, big lead early on for Lowndes and Colquitt. 
Hannah Goodin: At the Concrete Palace to that place is probably rocking.
Jon Nelson: Yes, it was. And you know, it was a big lead early for Lowndes and Colquitt County had to play catch up for most of the night. Couldn't quite do it. They lose by 21. So right now the way that it stacks up this week Colquitt plays Tift and Lowndes is at Camden. So that's how region 1-7A they will be done. They will be done like done. They will be done after this regular season. One more regular season game. So, here's part of your assignment for the post game show is catching up with the coaches in 1-7A, because they're done after this week. Lowndes right now at 2-0, Colquitt at 1-1. Tift is at 1-1 Camden is at 1-2. And so you basically have one play for two play three, and then you get to figure out the math there. But if Colquitt beats Tift, then they go to 2-1, they would be the two seed Tift would go to one and two and Camden, depending on what they would do, if they would either be two. And they would either be 1-2 or 0-3. So right now it's shaping out that it would be Lowndes, Colquitt Tift, and Camden in region 1-7A in that order. 
Hannah Goodin: Also done after this Friday as region 1- 6A Lee County clinched that region, they beat Northside 41-7. So what is that looking like? 
Jon Nelson: You look at 1- 6A quickly right now you've got Lee County at 2-0. Northsides 0-1. Houston County at 0-1 and Valdosta, obviously they're going to give the number one seed in whatever region, the bracket lines up with their going, they're going to get a first round buy because remember Valdosta is not eligible for the post season. So right now, Lee County, Northside, Houston County, Lee County right now at 2-0, they get the deuce there. That's where they are. 
Hannah Goodin: I'm going to let you do all the hard work and talk about region standings. And I'm just going to read the game. All right. At region 8-5A, as we work our way down Clark Central clinched region 8, they beat Loganville 27-24. That's a close one. 
Jon Nelson: Here's the fun part about this particular region coming into this week? You had Clark Central at 5-0, you had Johnson County, Gainesville at 0-5. Everybody else was 2-2. Literally everybody else was 2-2. You had six teams at 2-2 in that region. 
Hannah Goodin: In the blender seriously. 
Jon Nelson: And so now with this, the three games that happened last week, Clark Central right now, they're clinched there. They're ahead of everybody Eastside, Greenbrier, and Apalachee, they're all at 3-2. Jackson County, Loganville Walnut Grove. They're all at 2-3. So, basically, you're looking at let's just go ahead and say it's six teams and three spots. I mean, it's one of the nastiest regions finishes that I've seen in quite some time. 
Hannah Goodin: So what has to happen? 
Jon Nelson: Math? We got to figure out with the coaches, the coaches and region 8-5A. Can you please send us your tie breakers other than head-to-head; we know head-to-head. We figure head to head's going to be the first one after that. Is it common opponent? Is it point differential? Is it mini game? Send us the tiebreaker scenarios and region 8- 5A because we are going to need them. 
Hannah Goodin: All right, class 4A region 3, Benedictine beat New Hampstead 70-28. 
Jon Nelson: Yeah, Benedictine now at 7-2 in the overall. New Hampstead 1-1. Jenkins 1-1. And Islands 1-1. So we'll see what happens there, but Benedictine now in the barn as the top seed coming out of region. 
Hannah Goodin: They have been showing out all season. 
Jon Nelson: Benedictine, I mean, we talked to Danny Britt earlier this year and it was great to kind of pull back the curtain a little bit and find out what it's like for him to have to schedule seven non-region-games, just to get to this point, to try to win a region right now, he's one of the regions by putting up 70 on Kyle Hochman and New Hampstead. 
Hannah Goodin: I am going to skip right over AA region one, Thomasville, they beat Fitzgerald 15-8 because we talked to coach Zach Grage in just a few minutes.
Jon Nelson: The conversations coming up on the Football Fridays in Georgia podcast. 
Hannah Goodin: Thank you, Jon. In AA though, region three, Bleckley County beat Washington County 28-23. 
Jon Nelson: And you know, once again, Zach Grage mentions coach Von Lassiter in the conversation coming up in just a little bit. Bleckley right now at 5-0, they're ahead of everybody 9-0. And now they've got one more game to go. Northeast at 3-1. Dodge and Washington County at 2-2. Lamar County at 2-3. Southwest at 1-3. Jasper County at 0-4. So right now you're looking at five teams and four spots. 
Hannah Goodin: One more in class, single A private region 7 Darlington beat North Cobb Christian. I didn't write down the score. 
Jon Nelson: That is alright. Darlington 3-0, they're 8-1, they've got one more regular season game to go. But once again, you're looking at the other four teams Mount Paran Christian, North Cobb Christian. They're both at 1-1. Christian Heritage is at 1-2 in the Walker schools at 0-2. So once again, you're looking at four teams and three spots for that region.
Hannah Goodin: And Jon's words efforting the score 35-20. There it is. There it is. Lassiter was on a biweek. We'll see what they can do…
Jon Nelson: Lassiter was on a bye?
 Hannah Goodin:  yes,we'll see what they can do  against enter  drum roll while I Google here. They play. I'll let you know.. they play Allatoona this Friday.
Jon Nelson: That's a tough one. So let's check and see right now. What region are you in? 
Hannah Goodin: Great question. 
Jon Nelson: Nothing like asking you a question. Okay. Got it. 6-6A. Right now. If they finished today, you'd be the four seed. Kennesaw Mountain at 6-1. Pope at 5-1. Allatoona 4-1. Lassiter at 4-2, but Kell is right behind you at 3-3. South Cobb and Sprayberry, 2-4. That is your region 6A update. 
Hannah Goodin: All right. More region titles on the line this week. What game? What are we looking at, Jon? 
Jon Nelson: All of them. Collins Hill and Mill Creek, obviously at the top of the ladder, we can get into that in the preview. After we've talked to coach Grage about one of the regions that has been already settled with Thomasville winning over Fitzgerald this past week, but I've got a lot of, I have a lot of stuff highlighted for games that are important when it comes to region play. So it's going to take a lot longer for me to talk about important games. Let's talk about it after we talked to coach Grage. 
Hannah Goodin: Great plan. 
Jon Nelson: So do you want to toss to the interview? 
Hannah Goodin: That was it. Great plan. That was it. Cut. Send. All right, coach, you go 8-1 on the year 4-0 undefeated in region play after beating Fitzgerald 15-8 on Friday to take sole possession of first place in region one AA. This one came down to the final two minutes of the game. How were you able to stop the purple hurricane? 
Coach Zach Grage: Well, like I told the people at school today that were offering their congratulations. I didn't do anything. Our kids and coaches around me, they did a great job and didn't have a quit. You know, Fitzgerald came out, opened up scored first and then, you know, got a two-point conversion and we come down and score, make it 7-8 and that's where it stood at half time. And then they actually mishandled a punt in the third quarter and we we're able to recover in the red zone and go and turn that into some points and then went for two ourselves and made it that way. So then it stayed that way and it was just kind of a battle of wheels right down to what I think is two well-coached teams, two kids that are two teams that had kids that really getting after it. It was a definite physical battle. We actually gave our kids off. We usually bring them in on Sundays. We give our kids off this weekend to kind of have extra day recovery. And it was just one of those that, you know, you were still holding your breath right there until the end. Cause you knew Tucker and his staff were going to have a good plan to try and score, but our guys just, when you had to make the play, we rally here, we've got a coach that'll say the only play you got to make. And the whole team will say is the play you got to make. And that was something that we really hung our hats on Friday and were yelling out from the sideline that just every snap we were resetting and say, hey, go make this play, go make this play. And you know, luckily when time ran out, we were on the right side of the school board.
Jon Nelson: For someone who has never seen football in region 1-AA, just so the folks know who aren't familiar with the region, it's you guys, it's Fitzgerald, it's Cook, it's Worth, it's Berrien and it's Early. For someone who hasn't seen and doesn't know how intense region 1-AA football is, how intense is region one, AA football?
Coach Zach Grage: It's awesome. I mean, like you said, it's really difficult or explain, and I think I'd put a lot of it just in South Georgia football in general, where you still have the, the South Georgia pride. There's not a lot of movement. There's folks that went to school, at the places that they're cheering for. The, you know, they support them. They like our kids may have, was not a lot of these guys and plants. They were five together. They grew up coming to these games that can talk about the Jeffrey Dyson's or Mario Cherry and the guys that have come through that they look up to. But when you start putting out and then now social media has really added in an extra factor. Whenever you look at the rabid fan basis, I was expecting a big crowd on Friday. I was blown away, our support, like you couldn't find a seat on our side and that's an hour and 50-minute trip to get over to Fitzgerald. And then of course Fitzgerald's stands were full. I would put it up against, I would think that everybody's biggest gate is going to be when Thomasville comes to town. So our fans are unbelievable. They're going to set the tone throughout the week by some well natured banter on social media, which I love. I mean, it's awesome. I think it's great in that. I've actually told our kids, I said, look, we got to keep winning ball games so I can keep posting on these videos and stuff. But it's nothing like it, there's also many stadiums that don't have tracks around them. Yeah. So your fans are right on top of you and that's the way it is here at home for us. And it's amazing. Some people may not like that, but I know our kids don't like going on the road because of the atmosphere here at home. And our fans do a really good job of trying to make our road games at home atmosphere. And then when you add in, I think the high quality of coaching, the kids that are going to play very rarely do you talk to a coach and say, man, my guys just didn't play hard tonight. I mean, they understand how important it is on Friday. You understand what they're playing for, for their team, for their families and their communities. And they're going to go get after it. And there's not a lot of finesse involved. It's just, I mean, some bloodletting and you know, they'll make plays, but it's going to be one, you know, in the box for sure. 
Hannah Goodin: I've never been to a game there, but I've never been more convinced. 
Jon Nelson: Well, yeah. And I mean, that's the thing is that when you go to, when you go and catch a home game in Thomasville, that's one thing. And then, you know, you go to JC stadium in Fitzgerald and I mean, it is an environment, you know, we've talked to coach Tucker Pruitt on the podcast and in the past, and these are the kinds of environments that we have here in South Georgia and in really in South Central Georgia and in Southwest Georgia that you get here in one AA. What's next on your mind?
Hannah Goodin: Want to talk about some of your Playmakers Jr. Wide receiver Demorrio Thurman scored the game, winning touchdown on a 13-yard reception for folks who haven't seen Thomasville much this year, who are your other major Playmakers? 
Coach Zach Grage: That's one thing that's really carried us as I've gone on. Since I've been here, you know, we got to let our ballers be ballers and our dudes, like every week we're going to come into. And that was a big thing that was actually on our board. When we came in last Sunday to go play Fitzgerald, this going to be a game where our dudes have to step up and be our dudes? So, you know, we're going to hang our hat. Ty Anderson is going to be a guy, he's our middle linebacker, plays all the special teams, which I think is also huge, our special teams as a 2A program. You're not going to see just a random guy that had a good job at practice, as we can get to go play on Friday night. It's good job at practice. You appreciate them helping us win and fulfilling their role, but you know, you've got, Ty's going to lead us 42. He's been starting since he was a freshman. Even when you look around and be, you know, man, I don't remember the member, Ty, you know, planning is Fitzgerald and the wing T, Ty wasn't out in space, making a bunch of plays. And then you look at the stats and I think he still had like 14 tackles and two stacks. And I mean, he's just going to be around the football and you've got guys in South Georgia like that. Another one that, you know, there's makes plays everywhere, Jordan Williams is kind of a do everything, swiss army knife force. He hangs his hat on playing DB, corner, and safety, but then he's also our punter. He returns, kicks and he's flipped over and played a lot of receiver force and been very productive. Jimmy Bowdry, is another division one tight recruit. He plays corner for us. Number five. Thomasville guy, his brother played here, Jay Bowdry. He just graduated from Georgia Southern playing for them. And then, you know, offensively, you're going to look at Jacob, Tyson's going to lead the offensive line. He has been a three-year starter for us. Malik Harper and Ricky Fulton, the two headed monsters in the backfield. They've been together for three years. You know, Ricky started as a freshman. Malik started as a sophomore, so it's been really nice to ride that train for the past three years and we'll have to replace Malik next year, which is not going to be an easy job. And then Shannen White at quarterback, you know, the definite guy that, that is going to lead us and going to make plays. And, you know, we may not ask him to do a whole lot, but then just naturally with things that are called and the way we ask him to read defenses, especially in the run game is where he's been extremely productive. And I'd describe his passing game as efficient. You know, we're not going to ask him to though big bombs, although when they're there, he takes them. We think and we scheme up some stuff that's pretty easy for him and he's going to complete some screens and get the ball out to the Playmakers. And then receiver wise, you mentioned DJ, you know, DJs and junior for us that you know, has really been underachieving this year. So I'm excited to see him come out of a shot, just hugged him up in the weight room and said, look, when you keep working, even though it was week nine, it's, you know, we got six more weeks continued to develop, Jay Cody is a senior, that's been very productive for us at the receiver position. And then, Cole Shaw is actually the only sophomore that's playing meaningful reps for us on Friday night. And he had a touchdown a couple of weeks ago, had a touchdown three weeks ago. So, he's starting to come into his own as well. 
Jon Nelson: And you're getting to do this in what I think is one of the toughest classifications in the state of Georgia. Because if you look at AA, you know, we were looking at the top 10, top 15, there are a handful of teams that can compete for a state championship here. And you're doing an a, in one of the tougher regions in AA and in one of the toughest classes. And one of the most balanced I think around because it's, it's you guys its Fitzgerald, it's, Bleckley Rabun, Northeast, Putnam's undefeated. You've got Callaway. Who's your defending champion. You've got Dodge and Washington County. I mean, you're doing it in one of the toughest classes around. 
Coach Zach Grage: Yeah. And I think if you look at the first round, I actually spoke to Kevin Giddens this morning. The first round is region one versus region three. Oh man, you're going to have four really, really good teams to sit at home after that first week. You know, that's just, in my opinion, I think region five is probably the next strongest top to bottom, with Callaway, Heard, Breman Haralson, so I think you're right, Jon, when people are coming up and say, Hey, who's, who's got a chance this year. There's a bunch of folks and you never know. And you even look at our region and, you know, typically for the past few years, Berrien who has struggled to win games within the region, well they come out week two of our region play and they be Cook who Cook beat Worth the week before putting up like 600 yards rushing. So, the parity, even just down here, and then you got Early county that made their big playoff run last year. And then you have us in Fitzgerald. So you look at those, those teams and you look at just the way that we play football. And y'all know you mentioned Bleckley. And you know, I think Von Lassiter is one of the top coaches in the state. You know, I don't care about classification. I think he does an unbelievable job. I know he's back at home and has a lot of pride in that program. And we talk the almost daily, but you know, you look at brackets, you know, the phone calls start coming in because what do you think about your bracket? And you better not look at it because if you just could it still continue. I said, we're just focused on Thomasville. We're not really worried about, you know, who we play. We play us every week has been our calling card for the past two years and just keep our identity and let's play good football and then let the marble shake out as it may at the end. But yeah, I think you're right. I'd put two A up against anybody. And I think it comes back to just the pride of the kids and the quality of coaching. And I think that's true throughout the state. 
Hannah Goodin: How do you keep such a consistent team year after year and win region, title after region title, I know how tough that is replacing seniors, that graduate?
Coach Zach Grage: I think it's just, again, the most important thing is the players. Then you go into coaching, our coaching staff. A lot of these guys have been with me since the beginning. And when people are trying to, I love trying to talk to younger coaches and trying to mentor folks, and you know, answer any questions or whatever, just with opportunities that I've had to be able to share or, and when they ask, okay, what do you got to do you first, do you have a hundred-day plan? And Chris Parker is unbelievable about providing resources. And, you know, I got to know him when I was up at Gilmer. But I think the most important thing is you better have dudes. And the second most important thing is you got to have administrative support to be able to hire assistant coaches and keep them here. So when you, when you talk about a place like Thomasville and yes, it's South Georgia, but man Thomasville is such a unique town and awesome till we have a great downtown. We're 30 minutes from Tallahassee. You're another 30 minutes from Valdosta. I mean, you've got a lot of things that you can do here, but it's not just the random South Georgia town in the middle of nowhere. So being able to keep people here, I think our school system is phenomenal. I've got three boys in my own, ten, eight and six, you know, they're going to go to school here. My wife works in the school system. A lot of our coaches have a big, vested interest in what's going on here. And that consistency of a staff is, is huge. And then being able to, you know, we lose Justin Montgomery last year was our defensive coordinator. He goes up to Carrollton. Well, then we get an unbelievable guy, Brian Simmons, to come down from Carrollton, and he was a South Georgia guy. So he went to the high school in Adel at Cook. So being able to not only keep talent in the coaching round, but, but recruit talent in the coaching realm, and then something else I'll put on there. Our middle school staff is fantastic. We had eight guys down there, they just won the middle school championship. I think we've played for the championship, if not won it all six years, I've been here. And that's Kiel Angry and his staff, we've had six out of those eight guys here for all six years. So just the consistency from the ground up. And you can even get into a whole another spiel about youth programs and what we do here in Thomasville as well. So, you know, players help for sure. And, and you've got kids running around here playing football since they were five years old. All the parks are here, are filled up on Saturdays with kids playing. And I think that's something else that you're starting to lose to, with, you know, games and lazy kids and all that stuff. You know, you don't, you won't see that in Thomasville as much as you may see other places.  
Jon Nelson: You're in your sixth year there. Now my first question, I guess, is, does it feel like six years that you've been there in Thomasville? 
Coach Zach Grage: Some days it feels like one and other days it feels like I've been here for 30. So it just depends on what's going on. But yes, it's, I think that six years I was at Moultrie for six years too, of course, not as a head coach, but you get to that point where we really have to challenge ourselves to fight any complacency. The program is here, the program is running, but you don't want people to get comfortable and just say, hey, it's going to take care of itself. So I think the biggest thing once you got past that four year where all the kids' kind of know what to expect and everybody's been in the program, is now, you know, mixing things up every now and then just kind of keeping people on their toes and still understanding the, the main tenants of the program. The main pillars are never going to change, but you might have to mix things up year to year identity-wise you know, it may happen to be how you may practice on a Monday, make changes slightly, but always doing something a little bit different to keep people with their stinger's up. 
Jon Nelson: So then let me ask you this. Have you changed much as a coach in the six years that you've been there in Thomasville? What have you learned about yourself as a head coach? 
Coach Zach Grage: I say yes and no again, I'm always gone to, I came in day one here of the two things that lead our staff as professionals are going to be first class, everything you do, you do better do it the best. So, you know, that's one thing, we're a 2A program, but I think that's only true in the size of our school. We're going to have, you know, what I hope to consider the best jerseys we're going to have the best turf when we got it installed five years ago, we got the best press box. We got the best. You know, if somebody came to me, I remember we did the press box and we tried to save some money and putting in a different floor. And I said, well just, don't do it. Just don't even put it up if we're not going to do it the best and let's not do it. So I think, you know, once you start setting that tone and showing, this is what we've got to do. And in order to do that, you got to have community support. And our folks have really, really bought into that of doing things in a first-class manner. And I think that's what Thomasville brings. And it's secondly, it's genuine, I think that's the most important thing as a coach, especially nowadays the coaches that are, you know, work with me, you know, we've got 11 dudes that I want my kids to play for. We got 11 guys from different backgrounds, that really, really pour into these kids. And if you want to talk about just being genuine, when a kid knows that you love them and you will do anything for them, and now you can get on them and you can coach them hard, but they understand that you've got their best interests at heart. And I think that's, what's really helped us a few of these games we've been behind at halftime. You can look at a kid's eye and say, listen, now I need you to go and do this. I need you to look at those folks up in those stands. They're not, you know, some of these people may not have eaten dinner on Thursday so they can buy their football ticket on Friday. But just that genuine love for the kids, for this program, for what we're doing. You know, one of my coaches is an old school guy has been here for a while. You just spoil these kids. I mean, we're like t-shirt university for Dean Fabrizio taught me that up at Lee county. If you breathe right, you get a shirt. If you know, you block a kick, we got beast mode stuff, and think it's just stealing from different people. So I think those main tenants haven't changed. We're always going to do things right. We're going to do things because you mean it. And the high school kids will pick out a liar really quick, so it better be real. And then the things, you know, the support, that always has to change a little bit, but my wife has, is a rock for what we do. And she does a great job managing our moms. We've got great dads that are involved in the program, and they've got a, a role they play on Wednesday night and feeding our kids. And I would say that, you know, I think having kids on my own has mellowed me out a little bit. People may not say that on Fridays, but you know, Monday through Thursday, you know, we're going to get after it and we're going to go and we're going to be fast. And, I think again, our pillars, we talked about body language, energy, physicality, and tempo. Those are always going to be parts of the program. Now this year, our extra little thing is wanting to know. So every year we've got our own kind of calling card, but the kids, any kid that walks through these doors is going to tell you, we're going to hammer body language. We're going to hammer physicality, which has going to be here no matter who the head coach is. And in tempo, we do things fast. We do everything fast. I talk fast, we do it in the weight room, fast with everything fast. And then just making sure that we preach everything that we do. And then, yeah, you're going to change as you get older and, you know, continue to learn. And once you stop learning, you can hang it up. But I think for the most part, I mean, what you see is what you get and you got to mix it up every year to adjust to your personnel. 
Hannah Goodin: Well, I want to keep giving your players some love. And my last question for you coach is I know you mentioned a bunch of your top Playmakers, but we do this segment on Recruiting 2021, where we love to talk about the underdogs and it's called Make That Kid an Offer. Is there a player on your team that you think is under looked that you think needs that some universities and schools need to take a closer look at? 
Coach Zach Grage: Yes. All of them get recruited. It's crazy. I had a coach called me a division one coach called me yesterday about Jordan Williams. And he said, coach, if we get this kid and this is a power five division one guy. And he said, he's under recruited and he's got grades. And he's a great kid. I said, look, people just don't come to South Georgia, but the same problem in Moultrie. But to specifically answer your question with a year that he's having this year, it wasn't really on the map his first three years, because he just didn't put up big numbers. And he's not really going to because he shares the backfield with Ricky Fulton and we're never going to have that one sweet guy. But Malik Harper is having an unbelievable year and he's a good looking he's 5 11, 180. So he looks apart, he's got fantastic grades home life is wonderful. And he's putting up numbers. He's got, you know, 150 carries for 900 yards in 17 touchdowns. He's on track. You know, we continue doing what we're doing. He's got an opportunity to break the school record with Dickie Thompson in 1963. We had another running back that people might've heard of named William Andrews. I heard him. He was pretty good. Yeah. He was pretty good in his own. Right. And he's still around. So that's awesome. But if I had to pick one person, I'd say Malik Harper is starting to get out on the map. People were starting to ask about him, but I think he's a no brainer in my mind. 
Jon Nelson: Region 1 AA champ and the head coach at t-shirt high. I guess I'll just, I'll just call you the head coach at t-shirt high from now on, huh? 
Coach Zach Grage: There you go. 
Jon Nelson: Well, one of the best dudes out there is head coach Zach Grage at Thomasville High. Thanks for hanging out with us here on the Football Fridays in Georgia podcast. We'll be keeping an eye. Obviously, you've got Berrien to wrap up your regular season this week, but we'll keep an eye on one of the toughest classes around. Thanks for hanging out with us this week. 
Coach Zach Grage: Yeah. Appreciate you as always and opportunity to highlight the kids. 
Hannah Goodin: We've talked to a lot of coaches on this podcast and he loves his players and you can just tell, and he's so passionate about it. He is all about his dudes. 
Jon Nelson: All about the dudes. But it's great to catch up with him because you know, what we like to do here is we like to kind of show off the state to the rest of the state. And when we get the chance to talk to Zach Grage down in Thomasville and you know, we didn't even get into War of the Roses, Thomasville, Thomas County Central, which cuts the town in half. And you know, when you're in one of the toughest regions he's been there for, this is his sixth year now. And he was an assistant coach under Rush Propst for a while. And so he knows the Rush Propst coaching tree. He's a limb off of that. And to see him, he goes up to North Georgia and learns and then applies his trade for a couple of seasons and comes back down to Thomasville. And he's done some really great work down there in Thomasville for a now six seasons going in one of the toughest regions around. 
Hannah Goodin: Yeah. And congrats to them for clenching their region. Yep. All right. We gave you enough time to go through some of your highlighted notes here. 
Jon Nelson: Okay. 
Hannah Goodin: Which games, besides all of them, are the biggest ones on the docket? 
Jon Nelson: Rapid fire. So we're just going to go by class here. So obviously Collins Hill at Mill Creek, one versus two, in 7A. We'll look at that when North Cobb is at Marietta, that one's going to determine a region title. Lowndes and Camden. We talked about that. Everything in region one 7 A. Lowndes and Camden, and Colquitt is hosting Tift in 6A. Once again, it's the season ender for Valdosta is they are going to be hosting Lee County eight o'clock kick at Bazmore-Hyder Stadium and 6A. Rome and Douglas County. This one's sneaky because this has been a region that's been in the blender for a long time. Ever since Carrollton got upset early on. And that's when we had them on the Football Fridays in Georgia broadcast with South Paulding that put the region back in the blender. It's been in the blender now twice, since Douglas county has lost. So, Douglas County at 7-1 goes to Rome at 6-2, that one's going to be big for that region. Johns Creek and River Ridge. For that one that one's going to be big as well because that region went back in the blenders since Cambridge loss last week. Cartersville and Calhoun. We'll talk about that one a little later, because there's some significance there. We kind of have some significance for that particular game. 
Hannah Goodin: Just a little bit.
Jon Nelson: Region 1-5A, you've got Warner Robins and Coffee that one's going to be at Jardine in Douglas. So we'll keep an eye on that one as well. 4A Jefferson, top of the ladder, they play North Oconee in Jefferson. So that one's going to be a tough one for them. Dropping down into the Oconee County region in 3A. Oconee County loses to Monroe Area. So those four teams that we were talking about at the top of that particular region, Monroe Area, Oconee County, Stephens County, Hart County. Those four, the Oconee County is at Stephens County to try to figure out now the two, three, because Monroe Area right now is in the lead right there in that region. So Monroe Area is at Franklin County, 8-0 and 3-5. So you can assume Monroe Area goes to 9-0, unless Franklin County gets the big upset. Oconee County is at Stephens County. Well, Hart County, plays East Jackson. So that one can continue there as well. Dodge plays Washington County, two top 10 teams in class AA in single a private Eagle's Landing Christian after losing to the number two team in the state of Ohio last week, they are at Whitfield academy. You've got Pacelli and Brookstone in the Columbus area. And you've got a Holy Innocents at Wesleyan and in single A public Schley County, can they continue their role after knocking off Chattahoochee County 20-19 there at 7-1, they go to Manchester to top 10 teams in single a public. 
Hannah Goodin: Yeah, just some small significance for Calhoun versus Cartersville. The region 7 5A championship will be on the line. Number four versus number one. That's our Football Friday in Georgia game of the week. Cartersville is undefeated at 9-0 on the season, 5-0 in region play, warmed up for this showdown by defeating Woodland 49-7
Jon Nelson: Yep. Early lead for them. It was like 35-0, before anybody could think. 
Hannah Goodin: Calhoun 8-1, but 4-0 in region-play. They defeated Cass, 35-13 on Friday. So, Cartersville is known for producing current Jacksonville quarterback, Trevor Lawrence. This year, they have senior Jake Parker who's thrown for more than a thousand yards. Calhoun has one of the state's top players in wide receiver and return, man Cole Speer. He and quarterback, Christopher Lewis will make up a lethal tandem. So Cartersville has won the last three meetings between these old rivals and won 31-4 in 2020. So this year's game will determine the region championship and home field advantage for at least two games in the playoffs. Kick-off is set for 7: 30 at Weinman Stadium. What a game this is going to be Jon. 
Jon Nelson: Get your tickets, now, if you haven't already gotten them. Because as we've mentioned on the post-game show, there are three words associated with a lot of the towns that have football teams, insert town name here, will travel, Calhoun will travel. It will be packed at Weinman Stadium. If you do not have tickets to this one, I would suggest getting them as quickly as humanly possible. Cartersville Purple Hurricanes fans. They will be there. Calhoun will travel. They will be there. You're looking at 4-0 and 4-0 in region. Cartersville 8-0. Calhoun 8-1. It's their regular season finale, Blessed Trinity and Cass are behind them in the region right now, both at 2-2 and 5-4. Woodland, Cartersville, and Hiram with an outside chance of putting the three in the four back in the blender for region 7 5A, but Cartersville and Calhoun, both at 4-0, this one's going to be fun. And I think that honestly, the way that these two offices are, it's probably going to end up being like a 10-7 game.
Hannah Goodin: Really?
Jon Nelson: I mean, because you know, we always do this, the more we talk about offenses, the more we talk about offense, it's kind of like Decatur scoring 70 something. 
Hannah Goodin: The defense hears us.
Jon Nelson: Yes, and that's what happens in these games. Legitimately. We always talk about high powered offenses. It ends up being like some kind of a 10-7 game, literally. 
Sandy Malcolm: 74-12. How about that? Decatur? 
Jon Nelson: See Commander Sandy is fired up because let's see. 
Sandy Malcolm: Second most points in history. 
Jon Nelson: You see, but the thing is, and it was, this is shaping up for Commander Sandy and her Decatur bulldogs. Next, not this week, but next week region championship on the line. If things continue the way they are St. Pius and Decatur right now, eight versus nine in the polls. And so is this at your place or is this at St. Pius? 
Sandy Malcolm: Yeah, at Decatur, although Southwest Dekalb this week is 3-1 in the region, so they're right behind. So they make sure they don't look past them. 
Hannah Goodin: Trap game. 
Sandy Malcolm: Shaping up to be. Yeah. 
Hannah Goodin: We're just going to go ahead and call it. I'm calling it. I think I called it a month ago. 
Jon Nelson: Well see. Okay. So if St. Pius beat Stone Mountain, they go to 7-2. Stone Mountain finishes a regular season. So you'd have 7-2 at 9-0 next week for a region title. Everything matters in that one next week. Yes, it does. And you can, and a commander Sandy already doing her Leo Mazzone impression right there behind the glass. She's already rocking back and forth. She's already looking forward. She's already looking forward to next day. 
Hannah Goodin: Hey, she's invested. 
Jon Nelson: Well, yeah, literally, and figuratively she's invested. So that's, so that will be one of a handful of games that will mean everything next week. And see, she's already getting, she's already getting fired up about it because of when you put 74 on Northview to go to 8-0, to stay in the top 10, she's getting all fired up about this. 
Hannah Goodin: That is wild. 
Jon Nelson: See, now this is going to be like a continuing storyline. Can they continue or quarters or semi's last year for, it was quarter? They may have run it, I think it might've been, oh, I was going to say, was it BT? 
Sandy Malcolm: I'm trying to remember.
Hannah Goodin GPB: But if Jon doesn't know, nobody knows.
Jon Nelson: All the brackets blend together at this point, but no, I mean, Decatur made the quarter finals last year and I have a chance to be a region champ and sit there and get to home games. Barring coin flip. If you beat, if you beat St. Pius next week in beautiful bustling, downtown Decatur. And I can say that because both Sandy, both Commander Sandy and I live in Decatur.
Hannah Goodin: Is Lakeside even still playing?
Jon Nelson: Yes, they are. If, let's see, I love how she just brings everything crashing down because considering that is no little Zang. All right. So let's... 
Hannah Goodin: Did they just wave the white flag at this point?
Jon Nelson: Let me see if I can find out what our record is before we get into.
Hannah Goodin: Here, I can help you out. 
Jon Nelson: Thank you. Let's see who gets there first. 
Hannah Goodin: I always make sure I have to do the Atlanta Lakeside 2-6. 
Jon Nelson: Oh, there we go. Not really zero in league because we play a non-religion schedule. 
Hannah Goodin: You don't have a region? 
Jon Nelson: No, we do. We're in region 4, 6A but we don't play a region schedule. The way that things work is we play teams. We play teams outside of region, even though we're in region 4, 6A, we play 10 games or nine or however many outsides of our regions. So we're in a region, but the games we play don't count toward region standing. 
Hannah Goodin: So then how does that work? 
Jon Nelson: She doesn't quite compute the idea of playing a non-region schedule. There are teams around the state that opt to, while you beat, while you will be in a region. And this is mainly for all sports, it's not just for football, but for all the sports you are placed in a region. And in some where you can, you make the decision that for whatever reason, competitive balance, you know, you don't have a whole lot of depth on your roster. You could, you know, you could have a disproportionate number of kids to other teams and other schools in your region. You can opt to play a non-region schedule.
Hannah Goodin: Are there still region standings? Is there playoff implications? 
Jon Nelson: For teams other than Lakeside? Yes, it's huge. It's just, they are in the Hughes, Westlake region. So Hughes has the tie breaker when they beat Westlake earlier in the year. So Hughes is at 3-0. Westlake, Lovejoy, Tucker, they're all at 2-1. So right now it's three teams trying to figure out the two to three in the four North Atlanta and Morrow are 0-3. Lakeside playing a non-region schedule. We're just in the region kind of, kind of saying hi, but we're at 2-6 right now. We're at 2-6.
Hannah Goodin: There's something I want to say, but it's just all save that for when we're off air. 
Jon Nelson: I was going to say, I know where this is going, by the way. I know exactly what she's going to say when we get off the air, but some teams, I mean, some teams, honestly, legitimately they will sit there and opt like Druid Hills, Southeast Whitfield. Just to give you, I'm just giving you an example as to the schools that are yeah. Clarkston. That's another one. Yeah. So, as I scan quickly, yeah, Midtown High, stopped their season after one game this year. But yeah. Lakeside has the asterisk Southeast Whitfield, Druid Hills, Clarkston, a couple of single A schools. Baconton charter, Pataula Charter.
Hannah Goodin: I learn something new every day. 
Jon Nelson: Chamblee, Clarkston, Cross Keys, those three that are in that region. So, yeah. So I mean folks, and Glascock in single A. So yeah, we are a team, one of, probably 10, the state not playing a regions game. 
Hannah Goodin: You know what else I learned today? 
Jon Nelson: What'd you learn today? 
Hannah Goodin: That Jon is on level 3,400. 
Jon Nelson: Of 3,400.
Hannah Goodin: Of Candy Crush.
Jon Nelson: I do it for mental acuity. Okay. I do it. 
Hannah Goodin: It's so fitting, Candy Crush. I love it. 
Jon Nelson: Yeah, go ahead. Go ahead and talk about this one. 
Hannah Goodin: No, no, I'm just going to end it on that. 
Jon Nelson: Ok, go ahead and end the show.
Hannah Goodin: Oh no, Jon is going to leave us again. All right, everybody. I love giving Jon a hard time. It's literally my favorite thing to do early in the week here at GPB. So we will wrap it now. Thanks everybody for listening. Great podcast today. Thanks for our guest, coach, Zach Grage. He was phenomenal. Don't forget to watch Recruiting 2021, airs at seven o'clock, before our game of the week, which will be number four Calhoun, versus number one Cartersville, at Weinman stadium at 7:30. Catch us on Countdown to Kickoff every Thursday on GPB Sports Facebook LIVE at noon. This podcast will be out. The podcast is part of my promo checklist. All right. And follow us on social media at GPB Sports. Jon, this is normally Jon's job, so I'm not the best at signing off, but thanks everybody for listening. We will see you guys on Thursday for Countdown to Kickoff and Friday for the game. Bye. 
Secondary Content