Section Branding
Header Content
Physical Lambert Trending In Right Direction
Primary Content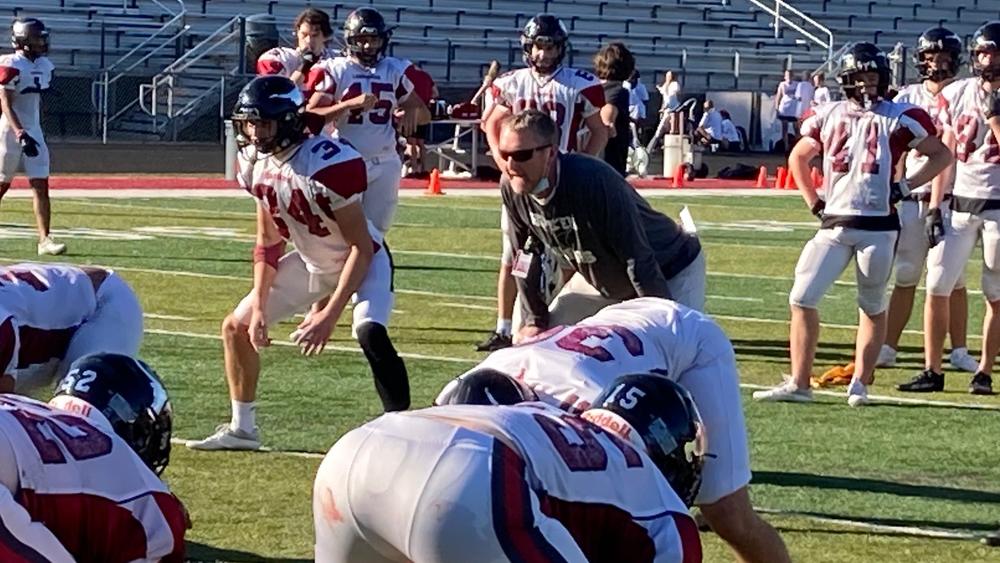 Last Friday night Lambert got a big region win beating North Forsyth 26-7. The Longhorns record improves to 6-2 over all and 2-2 in region 6-7A. These are exciting times for both the team and coaching staff. Tommy Watson is in his second season as head coach at Lambert. He likes the progress that his team is making, but when asked what got his team motavated for the North Forsyth game, he instantly went back to the week before. It was the loss to Denmark. It was the one that got away .
"I really thought that going into that game that we should have won, but we didn't play well," recalls Watson. "So, Saturday, Sunday, Monday and Tuesday... you can ask my assistants it was like somebody died. It was bad. We worked so hard to get to where we were at. You just think about what it could have done for us if we had won it ."
Denmark beat Lambert 17-14 in a game that saw the Danes dominate the second half. A 21-play drive  and a 16-play drive kept the Longhorns offense on the sidelines and basically won the game. It was a heartbreaking setback for a Lambert team that then had to find a way to regroup for North Forsyth .
"We challenged the kids," says Watson. "Sunday we went in and met, and the kids came in to worked out. We challenged them Monday and Tuesday and by Wednesday we got to feeling a little bettter. We have a great group of coaches and a great group of kids, but that loss humbled us."
There was one thing that Lambert had to draw on as they prepped for the Raiders. It was something that took place at North Forsyth during the summer that gave Watson a point of reference.
"We played North in an OTA this summer," recalls Watson. "They called us the day before it started and asked if we wanted to take part. We had a good outing when we went against them. They had their team and we had our team and when we left there I felt really comfortable. I knew that North was big, strong and physical. I just didn't know if we could hold up. But i kept thinking back to the OTA and how we held up. So we just kept working and getting more and more comfortable and on Friday night they answered the bell."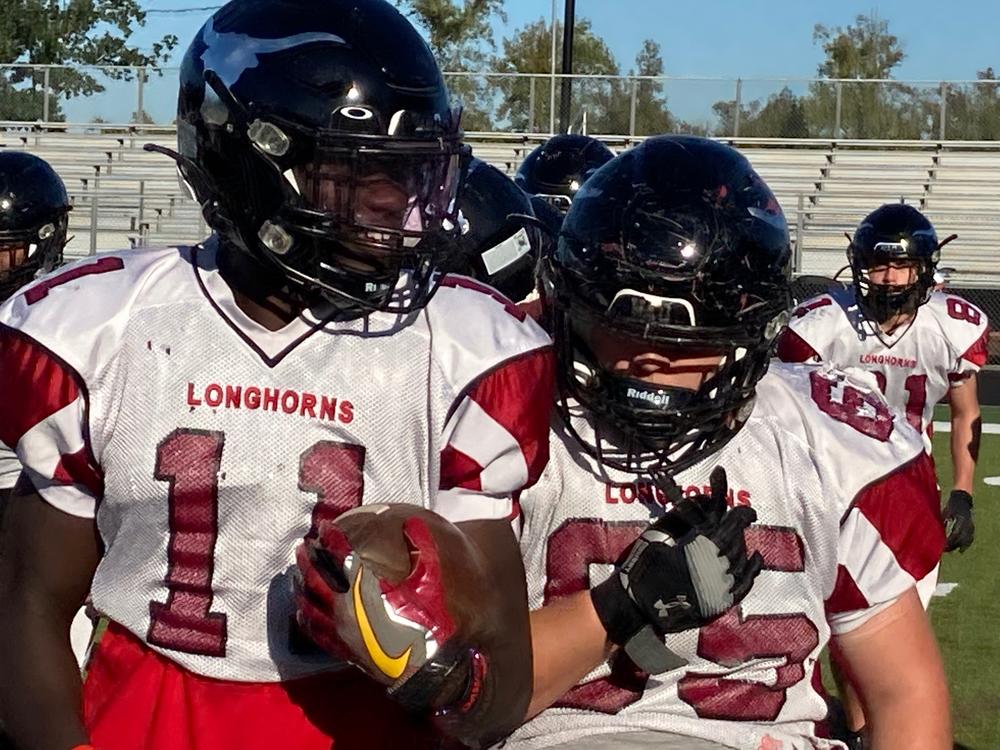 I stopped by practice at Lambert this week to see what is making the difference this season. The Longhorns workouts are physically challenging. This team's success starts up front and South Carolina commit, tackle Grayson Mains, is one of the reasons why.
"The offensive line was so under developed and under coached when I got here," recalls Watson. " We didn't improve it much my first year here because of coronavirus. Our offensive line coach Jacob Boldin has done a phenomenal job with those guys and they played really well Friday. Quarterback James Tyre (12-18 182 yards, 2 tds) is a small guy, but he can tell everyone on offense what to do, when to do it and how to do it. I really thought that coming into the year that running back Harrison Payton had a chance to be the best football player in the region. He got hurt as a junior and he got hurt again this year. Harrrison had been out 7 weeks, but Friday night he was a difference maker. Harrison had about 24 carries and 130 plus yards. You can't ignore what Kojo Antwi did. I can't say enough about him. He is a 4-star committed to Ohio State and one of the best wideouts in the country. I gave our entire defense line player of the game. It was a total collective effort ."
Tommy Watson is accustomed to winning. He worked on Randy McPherson's staff at Lowndes, a perennial powerhouse in the state's highest classification. He is a native of Thomaston. So this man with Middle Georgia roots who refined his coaching talents in South Georgia might not seem a likely candidate to live and work in Metro Atlanta. It's a life long love of the game and the lessons that it teaches that brought Watson and his family to Forsyth County early in 2020. Little did he or any of us know that life as we had known it was about the change.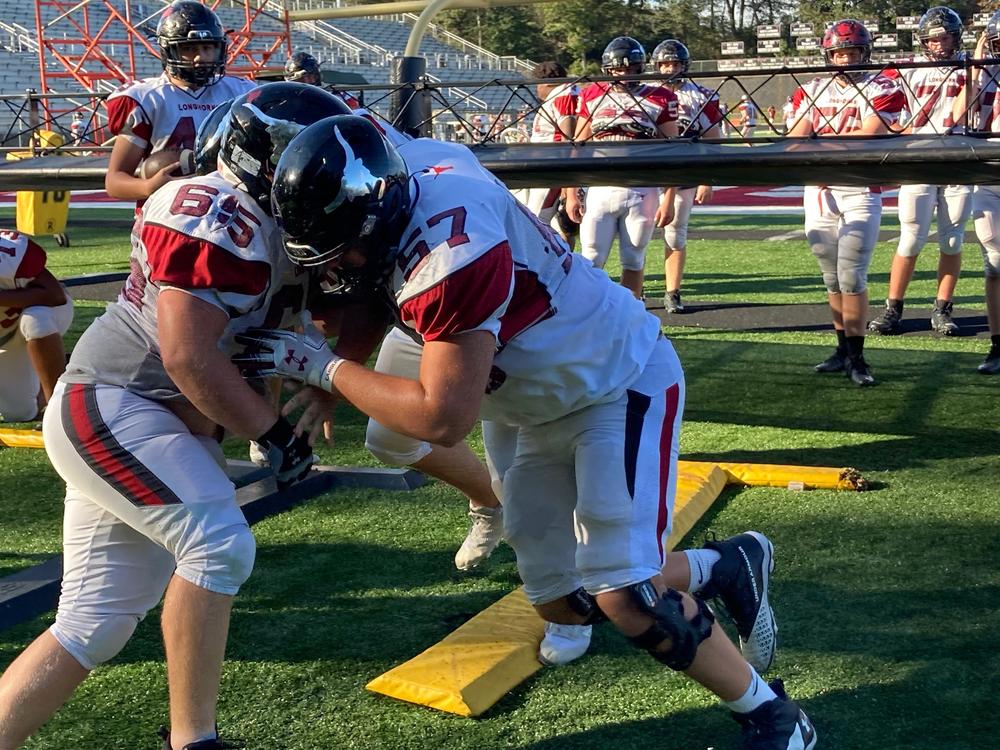 "I agreed to take the job on MLK day," remembers Watson. "My family came up with me on that Monday. I still had to wait 5-6 weeks before I could start work. I worked my last day at Lowndes High School on March 13th, and was due to start at Lambert on March16th. Before that school day ended, all the schools were shutdown for two weeks. You have a struggling team and program, then it gets worse. Then I asked myself, did I make the right decision for me and my family. Looking back on it, there are no ifs, ands, or buts that we made the right decision."
Lambert last made the state playoffs in 2016. That was also the season that the Longhorns won their first and only region title. That was followed by back-to-back 3 win seasons. Louis Daniel's 6-year tenure as head coach ended after the Longhorns had a winless 2019 campaign. Enter Tommy Watson to take on the task of revamping a high school football program whose participation levels had dropped to less than 55 player.
"I worked for Randy McPherson," said Watson. "He will be a Hall of Famer in the state of Florida and Georgia. I was very fortunate to work for him for 5-6 years. He taught me something that I did not understand at the time. He said ' it is a simple game .. the team that hits the hardest, the team that plays the hardest and the team that takes care of the football is going to win.' My first year here, I didn't necessarily do that. We threw the ball 80 percent of the time my first year here. When we got through with last season, I called all my coaches up and told them what we were about to do. So now we go out to practice and everything is physical.The physicality that that man taught me is what I brought me to Lambert. The kids have embraced it. Hittin Breeds Hittin ! "
A full offseason that included conditioning, spring football and summer workouts has made a big difference. Watson is one of five coaches from McPherson's last coaching staff at Lowndes. That team played for the 2019 state championship. They have brought with them a new mindset and raised the level of expectation within the team, the school and community.
"Last year the final week of the regular season was an off week for us," recalls Watson. "We got beat by West Forsyth in the last regular season game. We did what everybody else does, we took up the equipment. I met with our strengths and conditioning coach and we agreed that when we got back from Thanksgiving holiday we are going to pick up this weight room up and dump it on top of these fellas.The ones that come out are going to be Longhorns. We put it on them all the way from after Thanksgiving break until May. We challenged them every day and we pushed them every day."
There are two games that remain and Watson wants to see his team have a strong finish to the regular season. He's not much for talking about the future.
"This week we play Forsyth Central and we are trying to go 1 and 0," says Watson.  It's not about who we are playing, it's about us. We are not going to worry about playoffs, not going to worry about region standings, we are going to worry about Lambert. We are going to run our plays like a machine on offense, defense and special teams and we're going to let the chips fall where they fall."
The future is bright for football at Lambert. The coach with Middle Georgia roots and South Georgia sensibilities has found a home in metro Atlanta.
"When coach McPherson retired and I didn't get the job at Lowndes, I felt like I wanted to get a head job," remembers Watson." I applied and Lambert was 0-10, 6-24 over the previous three seasons. I just got lucky and got that one. It was a diamond in a rough for sure."
This week Football Friday's in Georgia will feature Brookwood at Grayson. It all gets started at 7pm with Recruiting 2021 on the great GPB!
Secondary Content
Bottom Content