Section Branding
Header Content
Unbeaten Pebblebrook football team on schedule with building project
Primary Content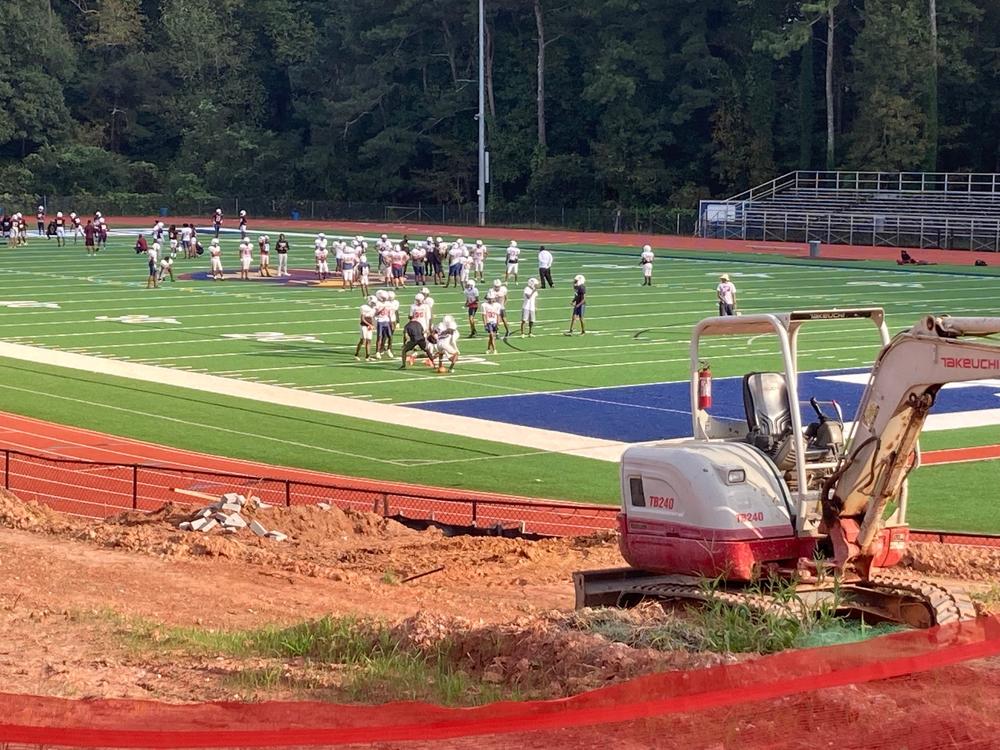 It had been a few years since I last visited Pebblebrook High School. I use the same drill when I visit schools. I look for the stadium light towers and take the road or path that seems most likely to lead me to the stadium or practice fields. It was going to be a challenge, as most of the Pebblebrook campus is a construction zone these days.
I took one driveway that led me to a parking lot. I took a second driveway that was blocked by a construction truck, and a third driveway led to a dropoff area. I told a passing teacher that I thought that they had a very nice obstacle course. To which she smiled and replied, "It sure is and it's all supposed to be done by 2023 ... at least that's what they say." The teacher smiled and walked away, leaving me to try yet a fourth pathway.
I finally managed to make my way to the stadium, which has a huge mound of red dirt next to it. A new gymnasium is destined for that spot. The new gym will also house a new football press box. For now, media covering football games work out of a repurposed freight shipping container.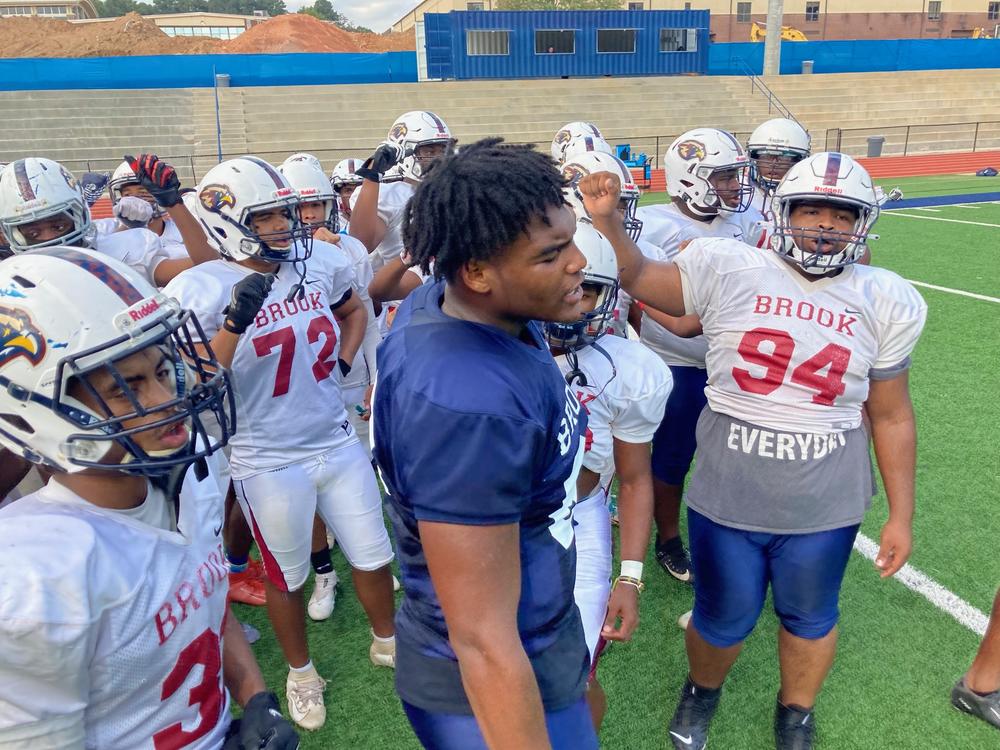 Yes, Pebblebrook is a "Work In Progress!" The school, the gym, the stadium and the football team. This is Leroy Hood's third season at the Cobb County school and at 6-0-1, the Falcons are one of the pleasant surprises of the 2021 season. Hood is leading a football culture shift that most would believe to be ahead of schedule. That may sound reasonable and nice, but the coach doesn't see it that way.
"I would say that we are right on time," says Hood. "Veteran coaches always told me that year four is normally that year. So, I would say that from outside standards we are ahead of schedule, but for me, I think it's right on time."
An Arkansas native, Hood led Turner County to back-to-back state playoff appearances in 2017 and 2018, before seeking an opportunity to work in the Metro Atlanta area. That opportunity would come at Pebblebrook, a school known for being a basketball powerhouse in the state's largest classification. It seems getting the Falcons to soar in football has long been a difficult task, but a task that Hood welcomed.
"Just the challenge of knowing that they have some great athletes, and knowing that I would have a chance to do something that hadn't been done with the football program," says Hood. "Not that I am afraid of pressure, but I felt like it wouldn't be any pressure for me to have results immediately. I felt like with Pebblebrook being a basketball school, they would give me time to put the pieces in place. A chance to mold these young men and a staff into a championship contender."
Last week's opponent, East Coweta , opened the season by winning their first five games. Three of those wins were shutouts. Pebblebrook was scheduled to play its first six games before a bye week, but a sudden schedule change allowed Hood to do some in-person scouting.
"I had a chance to go down and watch them in person, during the week of the Miller Grove game that was cancelled due to COVID," recalls Hood. "I went down to see East Coweta and Newnan in the same night. My coaches thought I was crazy. I said 'Yes, I have to go and see both of them.' Seeing them on film is one thing , but laying eyes on them is another. Just looking at them and considering what we had done and what we had, I felt we had a pretty good shot of going down there and getting a win. So, for people around the state and around the metro area, it may have been a surprise, but that was pretty much what I expected us to do."
The Falcons beat East Coweta 38-21 in a game that saw Dwight Phillips Jr. put the entire team on his shoulders and put himself on the recruiting radar. The sophomore is the son of 2004 Olympic Gold medalist Dwight Phillips Sr. Pop's event was the long jump, but nailing down one position for Dwight Jr is proving to be a challenge for the Pebblebrook coaching staff.
"He kind of reminds me of Percy Harvin," says Hood. "We haven't quite figured out what his offensive position is. He stepped in at running back and had 12 carries for 240 yards and two touchdowns. I say by far he was the bright spot. He was the surprise. Not so much for the explosive players, but for him to come out in a big time region game like that. That just says a lot about him as just a sophomore. Wide receiver Briyar Powers was electric. He had two touchdown catches in the game."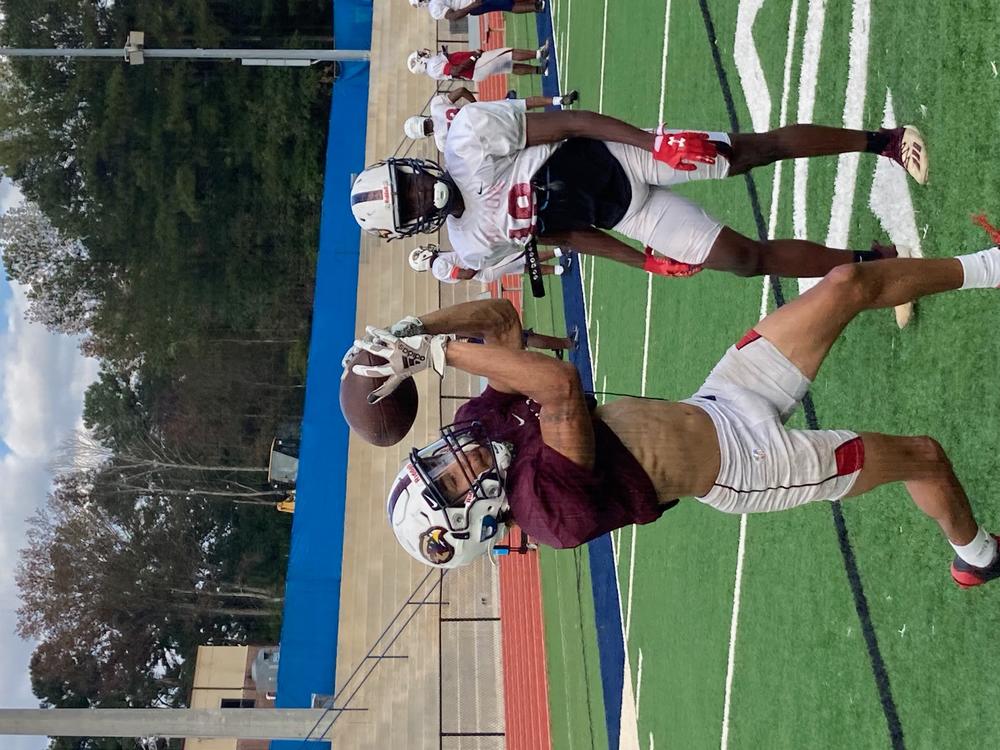 The 38 points that Pebblebrook scored against East Coweta is the lowest point total that the team has recorded in any of its wins this season. The exception would be the 14 points they scored in a tough non-region showdown with Riverdale in a game that was allowed to end in a tie. The defense stepped up its performance in the Riverdale game and had bright moments last Friday.
Senior defensive tackle Taylor Swann had six tackles and one sack against East Coweta. Inside linebacker John Floyd Jr. recorded a team high 10 tackles last week. He is the leader of a defense that loves to hit.
"He will light you up," says Hood. "And our secondary, I feel, is the most physical secondary in the state. They will hit you! It's a collective effort on the defensive side and I am really confident in those 11 guys. We normally play 17 to 18 guys on defense each week so there are fresh guys playing fast. There is competition and everybody is hungry, so there is not a lot of loafing going on."
If Hood says that his team is right on time in his third year at the helm, perhaps there was something in year two that gave an indication that the success of this season was possible. The 2020 Falcons posted a 6-5 mark, advancing to the state playoffs. I asked the coach if there was one game or a certain moment from last season that stood out.
"It was every game," exclaims Hood. "The second season we had a lot of close games. We had three games that we lost by a combined six points. We went 6-5. Lost to McEachern by two, Newnan by three and Peachtree Ridge by one and all of those teams made the playoffs. I felt like we were a pretty good team. We just needed that extra boost during the off season, as far as team bonding and chemistry."
So, as you can see, the development of the Pebblebook football program and the development of a new Pebblebrook High School campus seem to go hand-in-hand. Most high school football teams workout after school while the band can be heard practicing nearby. The Falcons seem to workout in perfect harmony with the humming and groaning of the earthmovers, cement mixers and construction trucks in the background. The football team and the construction crews are kindred spirits, both wearing hard hats while they work.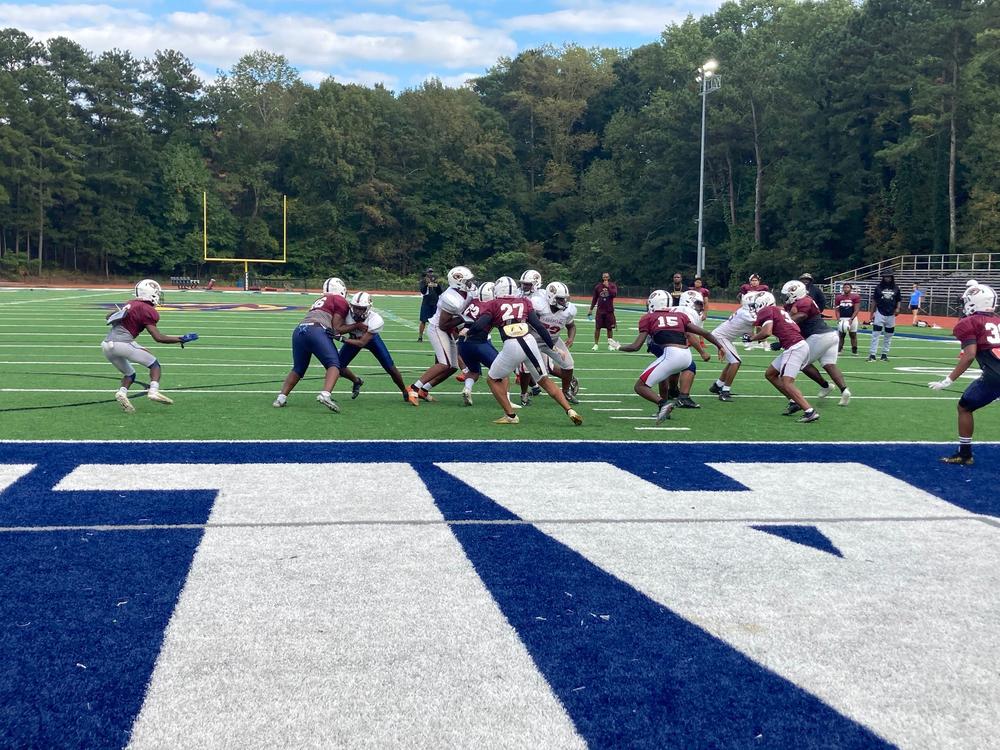 "I think for us it was a matter getting guys to buy into playing football at Pebblebrook," says Hood. "The numbers went up this spring. The relationship between middle school football and high school football improved. Things that people can't see that made me feel good coming into this season. These kids are having fun and loving playing football. I say to them, 'Ya'll are having fun playing football, but where are my football players.' It's been great to see some of these guys turn into football players."
With the win over East Coweta, the Falcons cleared the first hurdle in a tough Region 2-7A that includes Newnan and McEachern. This week Pebblebrook faces an improved Campbell team.
"I think from top to bottom we have a pretty tough league," says Hood." Campbell is definitely not the bottom of the barrel. They are huge up front, so that is always a challenge, and they are better coached now. You can see the improvement, plus it's a school that is not terribly far from here. These kids know each other and the parents have known each other since park ball and middle school ball. So, we are going into this game taking the same approach as we did against East Coweta last week. They are no one to look over and I think the kids respect that, too. I'm expecting us to play four full quarters and give it all we've got from start to finish."
This week Football Fridays in Georgia will feature a battle for the top spot in Region 7-6A when Cambridge visits Johns Creek. It all gets started at 7 p.m. with Recruiting 2021 on the great GPB!
Secondary Content
Bottom Content