Section Branding
Header Content
South Atlanta Has Community Buzzing After Historic Victory
Primary Content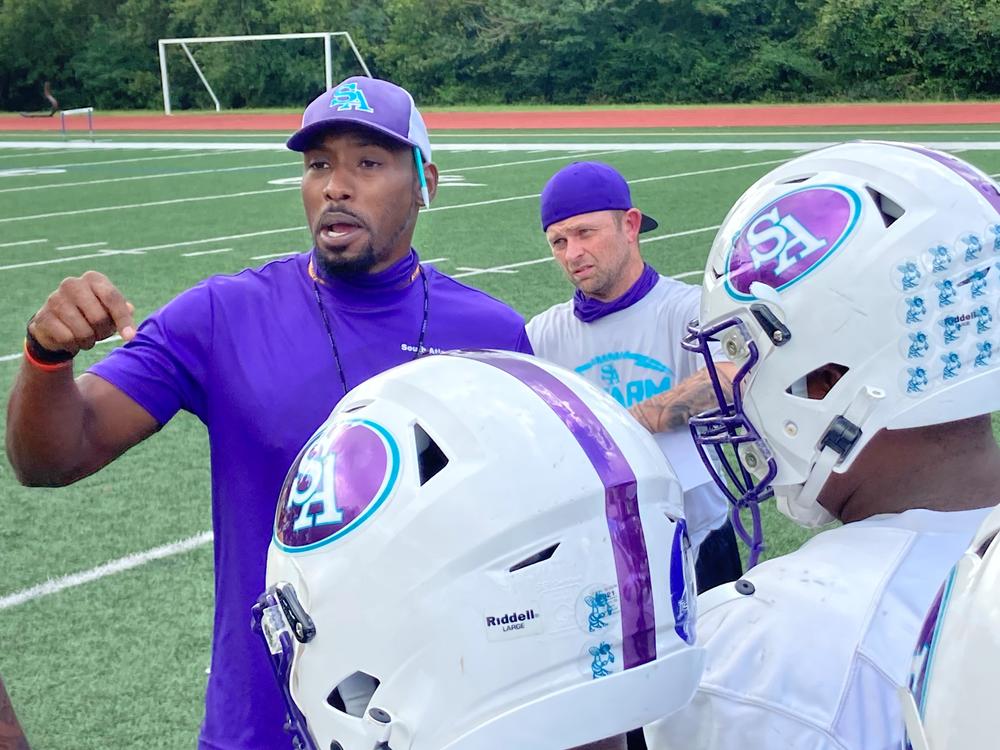 After several rainy and dreary days the sun finally peeped out from behind the clouds on a late summer afternoon, and I headed for South Atlanta High School. The football team made program history last Friday night when they beat Lovett 34-33 in a thriller at Lakewood Stadium. It was the first time that a South Atlanta football team had ever beaten a team that was ranked in the Top 5.
The Hornets are causing quite a stir and I wanted to see what the buzz was all about. When I arrived it was apparent that I was just a little late for the celebration of the monumental victory and head coach Michael Woolridge was all business.
"I am a bit worried after an emotional win like this," says Woolridge. "You could have a letdown the next week. My biggest concern this week is getting the guys back hungry and keeping them humble. It's nice to get all the media attention, but we have to stay focused on the next one."
The win over Lovett brought the Hornets' record to 2-1, 1-0 in Region 6-2A. Woolridge is not satisfied and doesn't want his team to be satisfied either. The game was an emotional rollercoaster for the coach, who saw the things that he had hoped to see from his team in a challenging contest.
"I knew that coach (Mike) Muschamp and Lovett were a well-disciplined and well-coached team," says Woolridge. "They were not going to beat themselves. We scored on a Hail Mary just before the half and we go up 15-14. I told the boys we could play just as well as the No. 5 team in the state. We controlled the ballgame in the second half and we are up by two scores, then Lovett scored twice late in the game. It came down to a two-point conversion and we came up with the big stop. We needed a win like that. A real close win against a great team like that."
South Atlanta has long been the home of one of the state's top boys basketball programs. The last two seasons have seen the football team post matching records of 7-4. The 2020 team won the school's first region championship and advanced to the second round of the state playoffs. You may call it a football renaissance and after working five seasons to build the program, Brad Stephens departed for Chapel Hill High School in Douglas County. The lure of a talented young team on the rise in the big city was too strong for Woolridge, who left a job at his alma mater in Columbus to become the football coach at the "Basketball School."
"South Atlanta is a goldmine," says Woolridge. "They had a young team, had just won a region title, and they started a lot of sophomores. I would have 20 out of 22 starters returning, so I am starting a lot of juniors. At Hardaway I had made three consecutive playoff runs, from a team that had won one game in the two years before I arrived. I left with two Power 5 guys on that roster and plenty of talent down there, but I had to do what was best for my family. I got the chance to be the head coach at South Atlanta. Dr. (Patricia) Ford gave me the chance. I felt like this was a great situation and a no-lose decision."
When you talk with Woolridge you get the feeling that you are talking with someone who has landed at the right place, at the right time and in the right season of his life. Yes, he is the football coach at South Atlanta, but it's not the only reason why he is there. Woolridge gets to spend his days surrounded by healthy boys who get to play a sport that they love, but always in his thoughts is a child that suffers with a blood disorder for which there is no cure.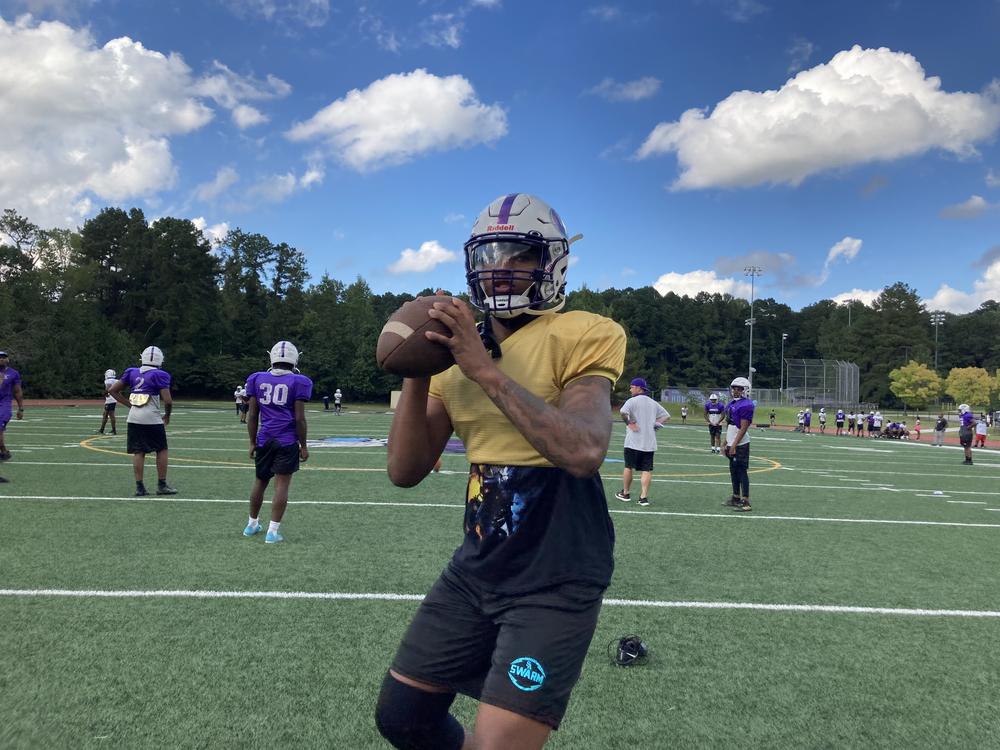 "One of the primary factors was that my son has sickle cell," says Woolridge. "His hematologist, his blood doctor, took a job in a rural area away from Columbus. That left me and my wife having to make a long drive every three or four months to Atlanta for his appointments. He has a crisis once or twice a year, so if he has a crisis we had to come up here. We wanted to come up here to put him around the best blood doctors in the nation."
Woolridge accepted the job in late April, but had to fulfill his commitments at Hardaway each day before driving to South Atlanta four or five times a week in the afternoon for spring football. When the school year ended, the family relocated to their new home and Woolridge was able to join the team for workouts each day. He noticed something and made an important change to their schedule.
"We went four days a week, Monday through Thursday, from 9 a.m. until noon," recalls Woolridge. "It was a transition from their usual afternoon workout. I wanted them to have the afternoon free because many of them have jobs to make money, and their families depend on them for financial reasons. For me it's more than just football. It's teaching life skills, values and work ethic. When we started, we had about 60 percent of the team coming in and it grew to 90-100 percent by the end of the summer workouts."
Yet another reason why Michael Woolridge is in the right place at the right time. Southeast Atlanta has its troubled areas and some of the players come from families with needs. During my visit to the school, I saw a player remind the coaching staff that it was his day to be excused from practice early so that he could go to his job. Like any coach, Woolridge hated to see his player leave practice early, but he understands. You see, the coach has been there himself.
"I tell them that they want to see themselves outside Cleveland Avenue," says Woolridge. "I tell them that there is so much more in life that you can do. My grandparents took my sister and me in when we were kids. My parents had some issues. We lived in homeless shelters, in cars. It wasn't a good situation. I remember staying in a Motel 6 for a month. I just know what some of these kids are going through and I can relate to a lot of them because I missed meals, I had lights turned off at my house and someone had to come up with money to pay Georgia Power."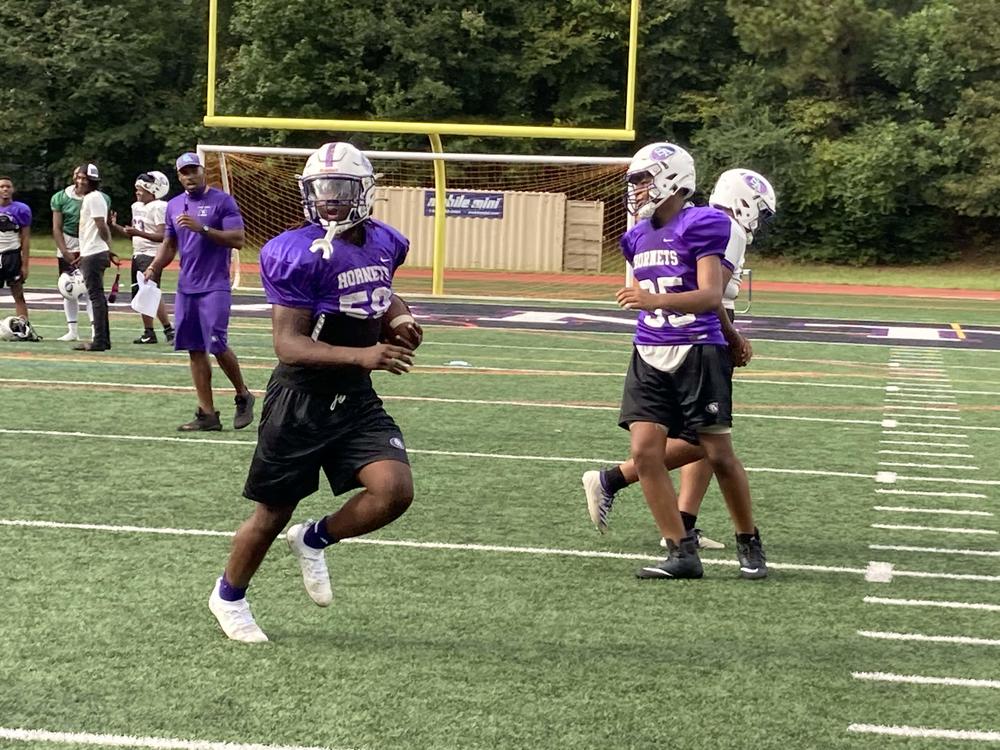 The team seems to have made a seamless transition from Stephens to Woolridge who gushes when he talks about all-state junior running back Keyjuan Brown, who rushed for 242 yards and three scores in the win over Lovett. Senior quarterback John Lawton has thrown for four touchdowns this season, with two of them going to his favorite target, Nick Brown. Senior linebacker Anthony Mitchell is a big hitter on defense, while James Ferrell and Jontez Adams can be found making plays on both side of the ball.
Last season Lovett beat South Atlanta 37-12 in a game that didn't count toward region standings due to a COVID-related region schedule change. The next week the Hornets beat a then state-ranked Pace Academy team. It started a six-game winning streak that ended in the second round of the playoffs. This week South Atlanta will face the Knights in their second Region 6-2A contest.
"With Pace Academy we have to be physical and find a way to stop their power running, " says Woolridge. " They really want to run on you. Offensively we have to use our athletes and challenge them to have to try and tackle us in space. We got Pace and we got Booker T. Washington in a really tough region, so we have to get on to the next one."
This week Football Fridays In Georgia will feature Roswell at Walton. It all gets started Friday at 7 p.m. on the Great GPB.
Secondary Content
Bottom Content