Section Branding
Header Content
Football Fridays In Georgia Podcast: Oconee County Off To A 4-0 Start - What's Next For The Warriors?
Primary Content
On this week's Football Fridays In Georgia podcast, GPB's Jon Nelson and Hannah Goodin talk to Oconee County Head Coach Travis Noland about his 4-0 start and what to expect from his team for the rest of the season. He also tells the story about when he learned his son Zeb Noland was named the starting quarterback for the University of South Carolina. Jon and Hannah also recap last week's big matchups and preview our GPB Sports game of the week.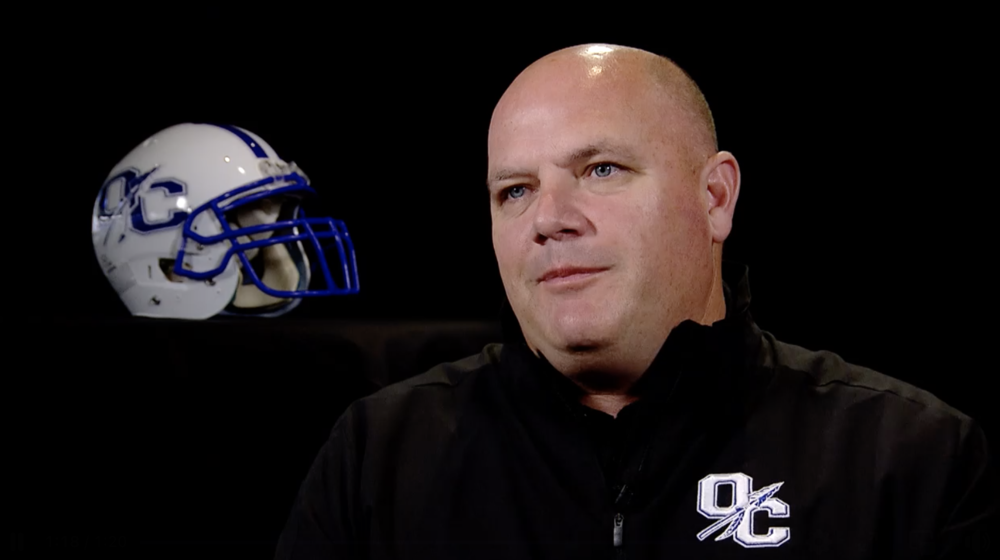 TRANSCRIPT
Jon Nelson: Welcome to the Football Fridays in Georgia podcast, another round here for Georgia Public Broadcasting. Thanks for accessing us however you are doing so, large device or small, whatever your pod catcher of choice is, GPB.org, the GB Sports app available iOS and Android. A lot of different ways that you can catch up with me and Hannah on a weekly basis. And you'll notice that it's a close up this week for those of you who are watching on the YouTube channel. So, it is a close up of me and I apologize up front for not wearing any makeup or anything like that. And since my hair is going about 95 different directions, what else is new? I'm here. Hannah is not and is joining us virtually and Hannah what is going on?
Hannah Goodin: I'm sorry for everyone watching that it's just Jon this week. I am calling in from St. Simons Island, Georgia, on the coast, doing our early baby moon to get it out of the way. And we had some had had a weekend. We left early Saturday morning, got here about 10:00 a.m. on Saturday, and just trying to spend the weekend coming back tomorrow and just take some time to relax before these two girls get here. But I checked in, checked in with some coast teams and looks like Brunswick beat Islands, Ware, Coffee, Benedictine all got big W's, so we wanted to give the coast a shout out while I'm here Jon.
Jon Nelson: Yeah, Brunswick knocked off Island's 41- 6. Ree Simmons' 92 yards and a touchdown, on 13 carries. Ware County a big win over Bainbridge, 42-15. We talked about this game last week on Countdown to Kickoff and on the Football Fridays in Georgia podcast as one of the games to look at. Jeff Littleton and Bainbridge. Right now, Ware County - Cartevious Norton. Remember when we had Jason Strickland on the show earlier this year Hannah? He was one of the guys that was mentioned, a 125 yards and a score on 10 carries. Thomas Castellanos had a big night. I think we say that sentence pretty much every week. 18 of 27 for 335. 42 points on the board for Ware County as they knock off Bainbridge. Coffee shuts out Glynn Academy by the score of 42-0 just in Justin Sword's 11 and 19 for 190. Maurice Turner, 156 yards of total offense and three scores. So, a big win for Coffee. Benedictine beat Wayne County last Thursday, 51-7. And so, it's a big game that we'll be talking about in a little bit this upcoming week between a couple of the schools we've already mentioned. So, some big stuff going on down there on the coast and also in Single A as well. So that was your coastal update. Hannah what else is on your mind?
Hannah Goodin: Have you ever been to St. Simons, Jon?
Jon Nelson: Yeah, actually, I have and went out there for a couple of years ago when Rocky Hidalgo, remember, was one almost like a guide for us after Hurricane Matthew. We went down and did some coverage about the damage on St. Simons and how Glynn Academy was tied to helping folks on St. Simons get back on their feet again. So, I've been down there covering news. I haven't been to St. Simons to play golf or anything or stare at the water like you are.
Hannah Goodin: That is exactly what I'm doing. We spent about five hours on the beach yesterday, and it's a good thing that I'm not on video either because I'm purple. I underestimated the sun and I'm very very sunburned.
Jon Nelson: Wow, purple? That's a new shade. I've never heard of that color associated with a sunburn before. So that just must be a class act. Is solarcaine your best friend and aloe? Are they your best friends?
Hannah Goodin: Yes, aloe aloe. It's just a weird time to come down to the beach. You know, it's going into fall. And so, then you come down to the come down to the sun and the waves and it sneaks up on you.
Jon Nelson: As it apparently has for you. And so, when you come back in and on Countdown to Kickoff on Thursday, so we get to see the evidence of it, right?
Hannah Goodin: Yeah, hopefully it will soak in by then. But, let's take a look back at our Football Friday game of the week. Two of the top teams in 7A, West Forsyth and Mill Creek were going at it. Hawks beat the Wolverines, 38-10, to go 4-0 on the year. We thought this one was going to be an offensive affair, Jon, but really it came down to special teams. Zekai Wimby blocked two field goals, the second was returned 97 yards for a touchdown right before the half. That basically blew the sails out of West Forsyth. Mill Creek held them to just 40 yards rushing, which was unbelievable. What were your thoughts on the game? You were back on the sidelines this week. So, what did you see?
Jon Nelson: No, you're right there. I think it was as West Forsyth was driving down for a possible leading score right before the half, they have about a minute to go. And then it's setting up for the game tying field goal at that point. You want to talk about a momentum change. That scoop and score off of the block sends it down the other way. 17 - 7, then at the half and then they Mill Creek outscores West Forsyth, 21 to 3 in the third quarter. They just put the pedal down at that point. Big, big night for Caleb Downs on every side of the ball. Offense, defense, and special teams. And I think we're going to be getting a good dose of that. And you got to see just how stout the Mill Creek defense is as well. A big win for Coach Lovelady to get them to 4-0. And don't be surprised, if when the GPB poll comes out in the next little bit that Mill Creek continues to stay No. 2 in the 7A poll.
Hannah Goodin: Next up, they've got Grayson, who is 4-1. Speaking of poll shakeups, let's take a look back at week five matchups, and the top games that I was looking at. 7A Cartersville, they got another big win, at Weinman Stadium, over 5A Cherokee. 24-14 was the final in that one. The Purple Hurricanes now go 4-0 on the year, Jon.
Jon Nelson: Also, another one in 6A. And for those that watched the Postgame Show, Stan Autry was at Tom Riden to see Buford lose to Chaminade-Madonna out of Florida, one of the top teams in their triple-A classification. Seven Nothing. So, it was a big defensive game there. And I think that you'll if you're Coach App and everybody at Buford, you're going to take that tape, you're going to learn from it, because a lot of folks are going to sit there and say, all right, well, you know, Buford, we anticipated they were going to be making it to the last game of the year. Coach App and the staff can sit there and say, ok, well, we have a lot to learn from, especially from this game against an out-of-state opponent, a very tough out-of-state opponent. If we're going to get back to the last game of the year.
Hannah Goodin: Yeah, Jon, that was a wild one. It was the first time Buford got shutout at home since 1998 and the first time overall since 2015. So, I don't know who scheduled the number one team in Florida's 3A, but you know, sometimes you just got to power through. I don't know if anyone wants to keep playing the champs Buford because they're just beating up on everybody. So, you've got to go out and state. Another big game, 5A Blessed Trinity battled back against Single A private ECLA to win by a field goal, 24-21. Jon, the Chargers led 21-0 in the first quarter. So, is this an upset?
Jon Nelson: Not necessarily. I mean, because when you look at Eagle's Landing Christian, Justice Haynes had 356 yards on the ground and we're anticipating these kind of numbers from him this season. If you're Jonathan Gess at Eagle's Landing Christian, what you're having to do since you only have two region games. Our Lady of Mercy was in their region. They dropped to play seven-man football. And so, you only have two region games. So, Eagle's Landing Christian is having to navigate a season with eight non-region games, and you're having to play up in class pretty much all the time and you're going to end up with these games against the Blessed Trinity's. So, you know when on October 1st Trinity Christian plays Eagle's Landing Christian, it's probably going to be battle of one vs. two in Class A Private. But Jonathan Gess, and the Chargers, challenging themselves because they have to coming into, you know, region play, which is going to be like two weeks and oh, by the way, here's the playoffs. So, you're challenging yourself here against a team like BT. And it looks like BT is come to full song that I am looking forward to October 1st with Trinity Christian and Eagle's Landing Christian.
Hannah Goodin: In South Georgia Tift won the 2021 version of the Cornbread Bowl defeating Irwin 16 to 14, that was another really close one, Jon.
Jon Nelson: Yeah, and it's fun to see these two schools that are separated by about 25 minutes. If my math is correct, the last time I drove that one. And Tift had to come from behind in this one to get the Duke. And, you know, Noel Dean is down there in his first year for the Tift program and region play going to be very, very tough for him. But once again, you're in a mini region there in 1- 7A and you're having to schedule these games that are, you know, geographically close to you, and try to find opponents here. And, you know, Irwin County more than happy to step in and sit there and do the Cornbread Bowl one more time. But toward the end, Tift County got the duke 16-14. So, a big regional win in the sense of non-region play for Tift and Noel Dean for that program. Irwin County takes that when they drop to 2 and 2. And we'll talk about their opponent coming up after the interview, as to what they've got next week.
Hannah Goodin: Not a poll shake up, more like a poll confirmation in Central Georgia. The number one team in 5A flexed its muscle again, again beating Houston County 49-9, huge numbers Jon.
Jon Nelson: Yep, Malcolm Brown for 150 and 2 on 10 carries. Christon Lane, 7 and 7, passing for 88 for 88 yards and two scores. Only a 150-yards passing. But when you're out of the blocks, 35 nothing against Houston County, then that's a pretty stout start and you just kind of go from there. So first five scores on the board. Go to Warner Robins and Coach Westbrook and they took care of business by 40 by the end of the night.
Hannah Goodin: And I had to throw this in there, here's my bonus game, Lassiter. They go 2 and 3 on the year with a big win over Wheeler. 27 to 21 on television. This was televised. Good job Trojan's.
Jon Nelson: And I'm trying to see off the top of my head going through all of my grid as to what Lakeside may or may not have done. I think Cherokee Bluff was their opponent and yes. 56 nothing. Cherokee Bluff knocked off Lakeside. So that's your alumni report here on the Football Fridays in Georgia podcast. We got a guest.
Hannah Goodin: We do have a guest.
Jon Nelson: So, and this is where, this is where we're sitting here looking at each other going, OK, so who's going to toss to the guest?
Hannah Goodin: But since I'm not there, you toss to the guest Jon.
Jon Nelson: Then I'll do that. Oconee County made it to the last game of the year, one of the great games that we had at Georgia State last season before losing the tripe A championship to Pierce County in overtime. We caught up with the head coach of the Warriors of Oconee County up there in Watkinsville, Travis Noland, to get his early view on his 4-0 start and the 2021 season and what it's like to be a proud dad. All right, Coach, obviously, since we believe in chivalry on this show, that means that ladies go first. The first question will come from Hannah. Hannah, what's on your mind with Coach Noland this week?
Hannah Goodin: Thanks, Jon. Hey, Coach Noland, you are now 4-0 on the year a 20-6 win over Thomasville at home in Watkinsville on Friday. Tell us about that game and what was the biggest difference?
Coach Travis Noland: Well, I think that, you know, it was a really close, hard fought game for most of the game. And we were fortunate. We got some breaks that, you know, we had an interception return for a touchdown, which was big because we were having a hard time moving the ball and they're very good defensively. And probably the biggest difference in the game was their first starting quarterback didn't play. And he's really a terrific player.
Jon Nelson: And thing with schedules these days is that because of what you've built, they're at Oconee County. The question that I want to ask you, and it's a question that a lot of coaches who are successful here in the state of Georgia are running into these days. When it comes to non-region games, Zach Grage at Thomasville will play anybody, any place, anywhere, anytime, twice on Tuesday and out on 316 if he has to. How difficult is it for you to schedule non-region games this year, considering what you've built over the last handful of years?
Coach Travis Noland: You know, it's tough and what you got to be smart is, you know, even though we have a great program, we're not going to. You know, extend ourselves into playing some 7A schools where they have just tremendous numbers and especially early when you're still working on getting into playing shape and that kind of thing. But we also like to play really good people, and that's why we've made the trip Thomasville. That's why we are going to Veterans this week. So, I think every year we try to find one or two of those games where you have to travel a good distance in case you have to do it in the playoffs. It's something that your team has already done.
Hannah Goodin: Yeah, three non-region games under your belt already. One more. You mentioned veterans this Friday. I guess preview that game for me. And how is that going to springboard you into your region battle here, one, two, three, four or five region games in a row. So, preview Veterans for us?
Coach Travis Noland: They're a very good team. You know, people look at people's records sometimes, but they've played some quality opponents and they've been really close in some games that, you know, they very easily could have won. And so, we know it's going to be a huge challenge for us to travel down to Warner Robins to play those guys. And we're expecting them to play very well. And, you know, they're a big physical football team. So, it'll be a great challenge for us. But it's one that, you know, we hopefully we'll get prepared for and go down there and see if we can play with those guys.
Jon Nelson: What did you learn about yourself as a coach and what did Oconee County learn about itself as a staff say over the last 18 months? I know that the 2020 season, you got to the last game of the year, but what did you guys learn about yourselves as a staff with everything that's been going on the last year and a half?
Coach Travis Noland: Well, I mean, I didn't learn anything, I already knew that we had some great people that are in our program, you know, as far as coaches go. And, you know, we never we just chose from day one in the pandemic, even when we were having little Zoom meetings, we were still stuck in our houses, that whenever we got back together, we were not going to let that be an excuse for why we couldn't achieve. You know, we went through all the proper protocols and procedures every day, but we never once spoke of it as an excuse or a reason or we practiced everybody at every position from the first day we can get together and that summer to, just in case we had some, you know, some people that got contact traced out. And so, we just tried to work through it. And it took a lot of focus and commitment on our coach's part. But we knew. I knew. And I'm very blessed as a head coach to be surrounded by so many quality people and coaches in our program.
Hannah Goodin: Well through it all, you got to the 3A title game against Pierce. You lost in OT last year. You also made it to the finals in 2019 in the 3A Championships. What's it going to take to get over that hump and win one this year, coach?
Coach Travis Noland: We got to get to the playoffs first. And you know, we've never looked at the end results in anything. I think that we try to really focus on each and every day and each week of trying to get better and be the best that we can be. And, you know, you've got to have a lot of good fortune and stay healthy to have a chance to get that far. And, you know, I wish I had an answer as to what it took to get over the hump. I'm going to write a book one day about how not to win a state championship I guess. So, I know it's really, really hard to get there. And but right now, we're just focused on trying to be better than we were last Friday because we know we've got a huge challenge in front of us when we go to Veterans.
Jon Nelson: What have you learned about yourself in each game this season? You know, coming out of the blocks, there's probably that one lingering message from each of the games that have been on your board this year. What have you learned about yourself, I guess each time out in the four wins that you've gotten this season?
Coach Travis Noland: Well, we knew I mean, we have graduated five starters off of our defense that are all in the too deep roster of the colleges they went to as freshmen this year. So, you don't just snap your fingers and replace really good players like that. So, you know, we feel like our defense, which we pride ourselves on. And in today's football, it's all about scoring points and big, you know, big offensive production. But we pride ourselves on playing great defense here at Oconee County and being physical on both sides of the ball. But we feel like each and every week we've gotten a little better on offense. And then to be physical, you got to improve up front on the offensive line each and every week. And we feel like, you know, we replaced three linemen up front from last year as well. So, we feel like those areas are continuing to get better each week. And again, that's what playing good people do for you. You have to you have to improve as you go or it doesn't it doesn't turn out too well for you.
Hannah Goodin: You've got a pretty stacked roster. Tell us about some of your top playmakers.
Coach Travis Noland: Well, we you know, Darius Johnson had a big night the other night against Thomasville is to me one of the most underrated recruited players in all of Georgia. Because he is such a good high school football player. He makes plays for us both offensively and defensively every Friday night. But he also is involved in every phase of the kicking game and he never comes off the field. So, I think he's a tremendous player. Of course, Jake Johnson, our tight end who's committed to LSU as a terrific player. And those two are two of the hardest working guys in our program. And, you know, Jacob Wright, the returning quarterback who continues to improve and he does a lot for us offensively. And then we got Thomas Waters as a as a three-year starter at offensive guard. Who's a terrific leader and hard worker in our program. So those are some of the guys that stand out. And then we've got some young guys that are really coming on and starting to, you know, make a name for themselves as being, you know, really good players.
Jon Nelson: So, is there any truth to the rumor that everyone with the last name of Johnson is heading to Baton Rouge from Oconee County?
Coach Travis Noland: Yeah, there's a lot of truth to that. Yeah.
Jon Nelson: When and I'll go ahead and ask the follow up here, Hannah, because you'd mentioned a lot of guys and you mentioned Darius specifically. As a part of our Recruiting 2021 show. We have a segment at the end of the show called Make That Kid an Offer. And it's for the undervalued the overlooked, someone who might not be getting the offers that you think this particular student athlete should be getting. They're the whole package academically in the community, athletically. It sounds like Darius would be in that category. Is there anyone else of the folks that you mentioned, in addition to Darius, that would fit into that Make That Kid an Offer segment for us at GPB?
Coach Travis Noland: No, I think he's definitely a great candidate for that, because, like I said, he started for three years, going all the way back to when he was a sophomore. He played all 15 games of that state championship team and our state championship runner up team. And if you watch him for all the way from his sophomore year, until today, every big game, he plays big. And I think that's what good football players do. You know, I just think he's just there's a lot of people missing the boat. He's got a Georgia State offer last week, which is his biggest offer to date, but I really think he's a kid, because he's a great kid. And like I said, he shows up, we practice at 6:00 a.m. every morning and he shows up every single day with a smile on his face. And he's one of the hardest workers, you know, in our program,
Hannah Goodin: We also do make that kid a better offer. So, I will put his name in the hat for sure. Tell us, what is it like coaching in Watkinsville?
Coach Travis Noland: Oh, it's a great place to live and raise a family, obviously, because, you know, we have such a terrific school system. Both us and North Oconee and all the feeder schools are terrific. And, you know, you got Athens just right down the road for, you know, anything you want to eat and shop for. And the University of Georgia close by. But it's a really, really unique place to live and it's a great place to live. But then, you know, from an athletic standpoint, you know, both high schools are really, really good at just about every program, you know, and that's unique. You know, I know there's a lot of places that are football schools or basketball schools or soccer schools. And when you come to Oconee County, either end of the county, you know, both high schools have terrific overall athletic programs. So, with that comes a lot of support, you know, great, great support.
Jon Nelson: Absolutely. When you have an athlete that is as highly touted as a tight end who is 6'5" and probably about 255 pounds. How difficult is it to make sure that any athlete that is recruited in a program, from your perspective, continues to focus on the task at hand and doesn't get sidetracked by, you know, any kind of star rating or any kind of recruiting? How difficult is that to get kids to focus on the task at hand these days?
Coach Travis Noland: It's not very difficult here because we work really hard on keeping them humble on a daily basis. And, you know, we're fortunate to have good kids who really buy into team and not me and, you know, going, you know, Max Johnson was the same way, you know Zeb Noland, is the same way. I mean these guys really put the team before themselves. And, you know, it's a great culture that we have here when it comes to that stuff, because if you look, we got a lot of guys playing college football all over the country right now. I think we got 17 on active rosters and like I think it's six or eight states. So, we've got guys playing everywhere. We've got some in Texas and in South Dakota, we got them in Virginia Tech, Richmond, Northern Illinois. I mean, we've got guys that are willing to go and play at a lot of places. And they all they all know that if we all have success, then their individual opportunities are going to come.
Hannah Goodin: My last question for you, Coach, with four games under your belt, what are you working on in practice right now to just keep that undefeated momentum going?
Coach Travis Noland: Well, we are just you know, we're still a long way away from playing, you know, really, really good football. We play good in spurts. And then we go through spurts where you know its foolish penalties backing us up or, you know, drop balls or different things that keep us from, you know, being where we want to be. But it's still four games in. And, you know, the one thing that we've learned by going to back-to-back state championships is it's a long, hard season and you got to take it one day at a time. And so, we're worried about how we'll play in late October, early November, more than we are, you know, week one through four. So, we're still working, trying to get better at everything that we do on the field.
Jon Nelson: So far, wins over North Oconee, Cedar Shoals, Clark Central, and Thomasville, Veterans coming up. Region play in region 8-AAA East Jackson, Hart County with Rance Gillespie. And they're putting up a lot of points so far. At home against Monroe Area, Stephens County away. And then Franklin County wraps up your season at home as Carnesville comes to you. There's one other question that I wanted to ask, and it has to do with a particular quarterback at South Carolina. What were those conversations like? I mean, did Zeb call you up and just sit there and say, you know, you won't believe this? What were those conversations like?
Coach Travis Noland: No, actually, I've told a story a bunch. But, you know, he called me on a Saturday morning early, you know, it was their first scrimmage, and we were in the middle of pre-season. It's hot and he's like dad we're scrimmaging today at four o'clock. I want you to come, and I said, Zeb, I am not driving to Columbia to watch a scrimmage at four o'clock. I'm not doing that. He is like nah Dad, I really, I really need you to come. I need to talk to you. We were talking about a 24-year-old that's been gone for six years. You know, that has never said something like that. And I could tell in his voice, I was like I ooh, I better go. I told my wife, I said I don't know what's up, whether this is not working or he's not happy, you know. But, I said I better go down there. So I drive down there and I stand there. I'm sweating through every pore in my body watching that scrimmage for two and a half hours, you know. And so, when it was over, he walks over. And to be honest with you, Doty had already been hurt. And so, the quarterback's really struggled that day. And he walked up to me, said, what do you think? I said, whew, y'all got a ways to go. He's like yea I know. He said I wanted to know what you thought, and I said, well, why do you care what I think? I mean, you know, the coach. And, he's like well dad they've asked me to play, Doty's hurt. And they said that they could get me through the clearing house. I've still got a years eligibility, what do you think? And so, we had to start walking to my truck because he had to go straight to meetings right after.
Jon Nelson: And you wanted to go into the air conditioning?
Coach Travis Noland: Yeah. And so, we're walking to my truck and I just, you know we were just talking small talk and we got to the truck. And he said, well, what do you think? I said well Zeb, listen, if you know, if this thing goes sideways like it don't work and, you know, whatever. If you're not able to stay as a GA and coach, then to me it's not worth it because, you know, you want to coach and you left North Dakota state because you want to go ahead and start your career. I would hate for you for you to miss on that, you know, to play for two weeks, three weeks of the season. So, I left it at that. I'm driving home, I got to about Augusta and it dawned on me just like dude he wasn't wanting you to talk him out of it. He's really looking for your blessing. You know, it just hit me like a ton of bricks. And so, I text him and I said, hey, if this is what you really want to do, well you've got to at least go for it. And he text back in about six seconds. And I knew he was in a staff meeting, watching film. And he said I'm going to do it. So that's how it happened and that's how it went down. And then two weeks later, he calla and said dad – actually he showed up at our Cedar Shoals game by surprise. They were still in camp and Coach Beamer let him drive up and he walked up to me, said, I'm going to be starting next week. I said, are you serious? He said, yea. He said I'm going to be starting, but they're not going to announce it till next week. I said, well that's awesome. I'm happy for you. So, then he gets to Georgia and he's all excited about getting to finally play there. And got his hand stepped on in the first drive and about six stitches in there and a big nice bruise. And so, then they had to numb it to clean it out, to put the stitches in there, and once they did that, he couldn't feel the ball to grip it. Anyhow, that's how it went down. And we're very proud of him, happy for him. You know, he's been playing with house money for a couple of weeks. And we will see what happens and where it goes from here.
Jon Nelson: Well, Coach, thanks for hanging out with us and pulling back the curtain on what it's like to be a proud papa of a college quarterback and everything going on there at Oconee County. Great start to your season so far there at 4-0. You got Veterans coming up this week. Thanks for being a part of the Football Fridays in Georgia podcast with Hannah and myself will be keeping an eye on and hope to catch up with you down the road.
Coach Travis Noland: We appreciate you having us on. Thank you for what you guys do for high school sports.
Hannah Goodin: I saved the best question for last for you, Jon, asking about Zeb. What a great storyline and you could just hear in his voice how proud he is of him and just being a dad.
Jon Nelson: Yes, I thought that was really, really cool when you kind of get to see what it was like for him to get the news, to drive to Columbia, to stare, to stare at that scrimmage, see what it was like there for Zeb and to see what Zeb has been doing for South Carolina this season. It's really cool to get Coach Noland's perspective on what's going on down there at the fairgrounds.
Hannah Goodin: Gamecocks are two and one with wins over eastern Illinois. East Carolina, of course, they lost to Georgia on Saturday. That was a pretty tough one.
Jon Nelson: Everybody is losing to the University of Georgia so far this year.
Hannah Goodin: I know. Next up is Kentucky. So, we'll see if those stitches can heal. And he can get back in. Well, we are back at it on Friday, this Football Friday in Georgia's broadcast. We return to Cobb County for the class 7A showdown between Roswell and Walton. Roswell is 4-0 and has been an offensive juggernaut behind quarterback Robbie Roper this year. He's thrown for 1,429 yards, 19 TDs. The Hornets have not scored fewer than 40 points in the game and are coming off a 4-21 win over Campbell. Walton, on the other hand, is 2-1 coming off a bye week after they lost 51-35 to West Forsyth. The Hornets lead the series 17-16 and have won the last three meetings, including a 23-17 win in 2020. Kickoff is set for 7:30. I'm really excited about this game, Jon. 
Jon Nelson: Yeah, Robbie Roper is one of Matt Stewart's Make That Kid an Offer segments that we've had so far in Recruiting 2021 this year. And you're seeing Robbie Roper putting up the numbers that he has. Roswell and Coach Prewett out of the blocks of 20-point win against the Spartans this past week. So, it's 4-0 at Raider Valley. Raider Valley Walton 2-1. It's going to be a really good game with Roswell and Walton going at it. So, it's going to be fun to catch up with our friends at Raider Valley for this one on Friday night for the Football Fridays in Georgia game of the week.
Hannah Goodin: Yep, I'll be back in studio, Matt and Wayne will be in studio E right across from me and you'll be back on the field.
Jon Nelson: So, you're not going to be doing the game from there? You're not going to be setting up the Eastern Remote Studio this week for you.
Hannah Goodin: You know, I thought about it, I thought about it, I was like I could host the show via Opal and Zoom, you know, I was like I could do it. It's not like we need prompter. We don't use a prompter. You know, can I whip up my own makeup really quick. It might not be polished, but I think it would be incredibly entertaining.
Jon Nelson: An incredible backdrop as well.
Hannah Goodin: Yeah, It'd be gorgeous. Ocean in the background, sand, and wind. I'd like to think maybe I'll just channel that.
Jon Nelson: All of the waves up against the coast. And all the sand, with you and  
Hannah Goodin: I will just channel that during the broadcast.
Jon Nelson: I'll just channeling that the entire time. Yeah. OK, so I see how you're working.
Hannah Goodin: My dogs are here.
Jon Nelson: Yeah, dogs are there. I see how you're working.
Hannah Goodin: Luna and Jacker are here. All right. What other games are on your board, Jon?
Jon Nelson: All of them, as always, no. When you look at games that I'm staring at, obviously, you know, in entertainment, know music, there's always, there's always in sports, there's always one name. There's Madonna, you know, there's Tiger, there's Jack. Drake. In high school football, there's Winnersville. Winnersville Classic is this week, Lowndes and Valdosta. Valdosta, 1-3. And it's at the Concrete Palace. 1-3 against 2-2. And I'm going to say this right now on the Football Fridays in Georgia podcast. The winner of this game, I'm going to track down and see if we can have them as our guest on next week's show. 1-3 and 2-2 Winnersville classic. Also, you've got Warner Robins and Lee County, another heavy weight game that's going to be at the Mac. 4-0 vs. 5-0. Ware County at Benedictine. So that one's going to be at Memorial Stadium in Savannah. Ware county near the top in 5A right behind Warner Robins going up against 2-2 Benedictine. Coffee hosting Camden County at Jardine in Douglas. That's one to look at. Coach Noland mentioned Oconee County and Veterans and that's going to be in central Georgia at Freedom Field. You've been to Freedom Field. So, you know what kind of a venue that's going to be. Pierce County hosting Fitzgerald three, one of the top teams in 3A in Pierce County at 3-1, after knocking off Clinch this past week. They host Fitzgerald 3-1, 4-0. We'll keep an eye on that one as well. And those are just some of the some of the early returns. You've got Clinch and Charlton in the region of doom. Irwin and Brooks out of the blocks in the region of doom in single A region two opener. Brooks at Irwin 2-1 and 2-2. One versus two in single A public that's going to be a heavyweight match up, Hannah.
Hannah Goodin:  Yeah, there are some big ones in week six. Cannot believe i! Week six we're almost done with September. Almost ready for fall ball and more huge matchups coming up this Friday. We also have Recruiting 2021 do not forget. Every Friday at seven o'clock. And I am lining up my Zoom interview as we speak. So, we'll be able to announce that who I'm going to talk to very soon.
Jon Nelson: Go for it. Sounds great and always good to catch you up with the interviewer, the stars and all the hot stories and everybody who is paying attention to the recruiting world and why certain athletes have chosen to go certain directions and things like that and understand their senior seasons as they're getting ready for the next stage of their college careers. So, it's always it's always fun to hear you kind of ask the important questions that you had Oscar Delp last week. The star tight end for West Forsyth, who was clamped down by the Mill Creek defense and what Oscar Delp is looking into when it comes to his next school. But to always have these interviews, very, very cool that you're catching up with all these guys every single week on Recruiting 2021.
Hannah Goodin: Yeah. And as we get later into the season, it becomes more serious. I mean, you just mentioned all these big games and all these guys are showing out for the scouts and people are watching and we've got it. We've got to get we've got to get more offers on the board before it's too late. So this is a really important segment. And I'm really passionate about getting these guys names out there. And then, of course, talking to the big-name recruits as well that already have offers. So, everybody can send in their submissions too for Make That Kid an Offer.
Jon Nelson: At GPB Sports to the email gpbsports@gpb.o-r-g. And let us know everything about these particular student athletes, everything on the field, off the field, community, grades, test scores, statistics, all of that stuff. And always and always update us on all the numbers. And so let us know every single thing that we need to know about these student athletes here in the state of Georgia so we can showcase them. A, to the rest of the state, B to colleges, so they can certainly try to get their wares done at the next level. So, Make That Kid An Offer. Send us an email with all the important information, gpbbsports@gpb.o-r-g. I think I've kept you long enough from your beach travels, haven't I?
Hannah Goodin: I need to get back to the beach. I actually came up from the beach, so I'm a little sandy.
Jon Nelson: I see how this works. So, you come up from the beach, you come up from the beach just to hang out here with all of us for just a little bit, and then you're going back to the beach, I see how this works.
Hannah Goodin: Absolutely, absolutely. So, I dust to dust the sand off the brain and then just gonna call it a day, so.
Jon Nelson: All right. So, we're going to call today for this version of the Football Fridays in Georgia podcast. Thanks again to head coach Travis Noland of the Oconee County Warriors for helping us out and pulling back the curtain on what's going on up there in Watkinsville. Thanks to Jahi the Magnificent, the Outlaw Jesse, and King James as well for making the Football Fridays in Georgia podcast everything that it is every single week for those of us here at Georgia Public Broadcasting. Remember Football Fridays in Georgia, Recruiting 2021 seven o'clock, 7:30 game of the week. It is Roswell and Walton. For Hannah Goodin. And I'm just Jon. Play it safe everybody. Enjoy the games.
Secondary Content