Section Branding
Header Content
Sandy Creek Looks Comfortable Again Under New 'Battlefield' Lights
Primary Content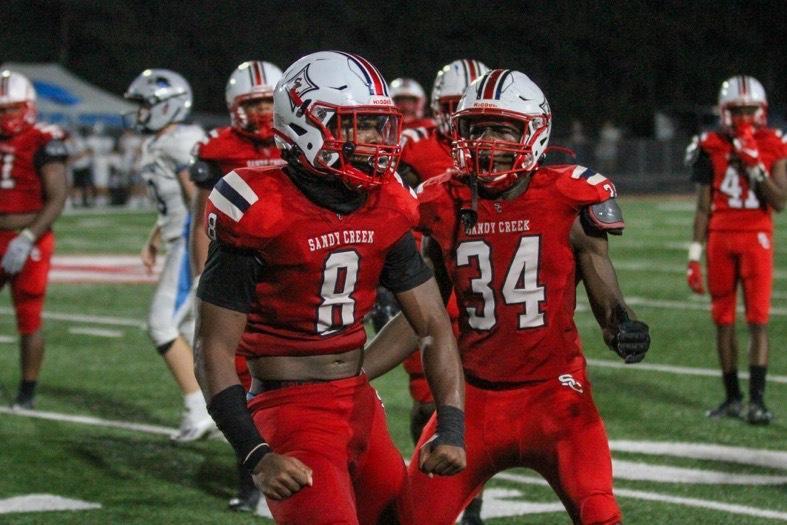 After playing their first two games away, the Sandy Creek Patriots returned home last Friday night and outlasted county rival Starr's Mill 37-16. The home crowd loved watching their team win, but might have been equally captivated by stadium's new state of the art lighting system.
"It was awesome," says Sandy Creek Head Coach Brett Garvin. "They did a lot of renovations, and fixed up the front of the stadium. We were just the first school; the whole county is getting new lights. It was pretty needed. The student section went bonkers when they started strobing on touchdowns. They thought that was amazing."
Welcome to "The Battlefield" in 2021! Come for the light show and stay for the football. The Panthers and Patriots fought on even terms in the first half, taking a 16-16 tie into the locker room.
"Starr's Mill is ball control," says Garvin. "They don't make a lot of mistakes. They do pretty much what they are coached to do. In the first quarter, Starr's Mill drove it down on us and scored. They used eight minutes off the clock. In the second half, our kids really came out ready to go. We made all the adjustments that were asked of them. Once we got up by a couple touchdowns, it put them behind the eight ball a little bit."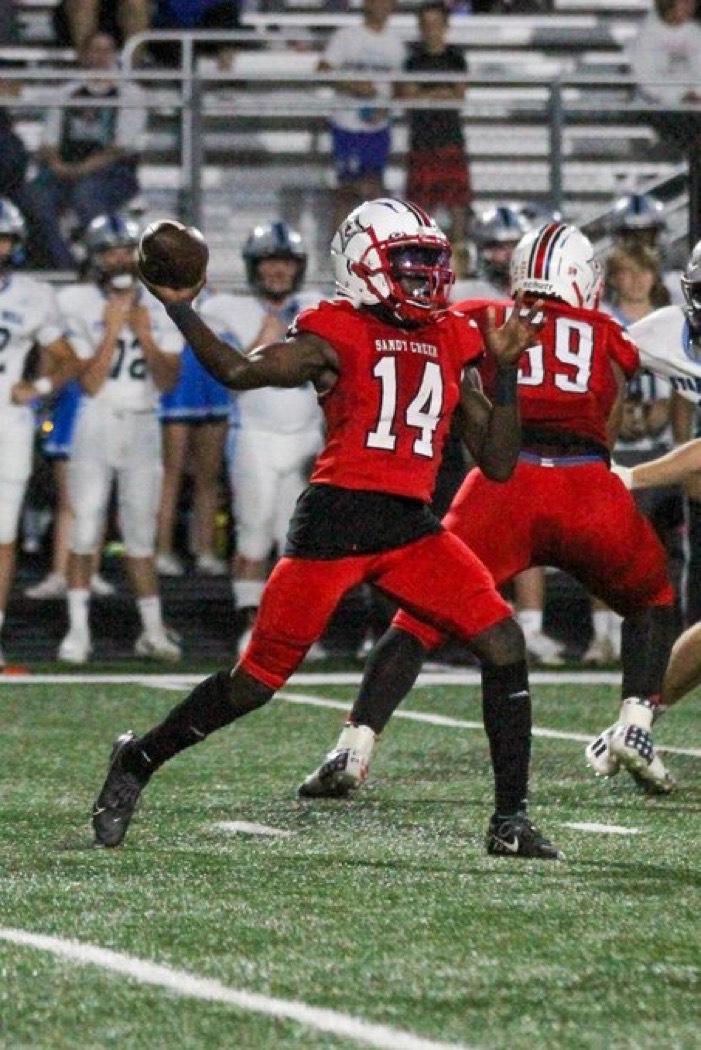 Garvin is in his fifth season as head coach at Sandy Creek, but he has been working at the school for 21 years. He has been a part of a lot of success as the Patriots won three state championships in four seasons under then-head Coach Chip Walker. It's just part of what made a Week 2 meeting with Newnan so special. The emotions were heavy for the Cougars, who were playing their first home game since a Tornado devastated that community earlier this year.
"Chip and I are good friends and we worked together here for 16 years," recalls Garvin. "So that was naturally a big game. Those kids went through a lot on top of COVID with the tornado and it was really difficult for them. It was a lot of hype around that game and I was just tickled pink that our kids responded the way they did. They didn't back down; they came out and when things didn't go their way they bounced back and they just kept fighting to the end. It proved a lot for us, as a coaching staff, as a team, as a unit, as a program."
A 35-34 victory in an emotionally charged environment is worthy of celebration. It could also make getting refocused difficult. The coach has some safeguards to protect against that.
"You point to the things that you did wrong, that could have made that game much easier," says Garvin. "It didn't have to be that tough if you do these things right. But if we don't fix these things, it will be a dogfight again this week. So that's the way you approach practice. More like crisis management. So that's what we worked on all week long, fixing what we could control and what we could fix. Then you play the game."
The win over Starr's Mill raised the Patriots record to 3-0, which the folks around Tyrone have seen many times before. It was last season's 2-4 record that is a rarity in these parts. According to the Georgia High School Football Historians Association, since football began at Sandy Creek in 1992, the Patriots have only had six losing seasons. Before 2020 the last losing season was all the way back in 2001. That team didn't have to play a season in the face of a global pandemic. COVID-19 dealt a blow to a number of football teams around the state of Georgia last year, but really hit hard at Sandy Creek.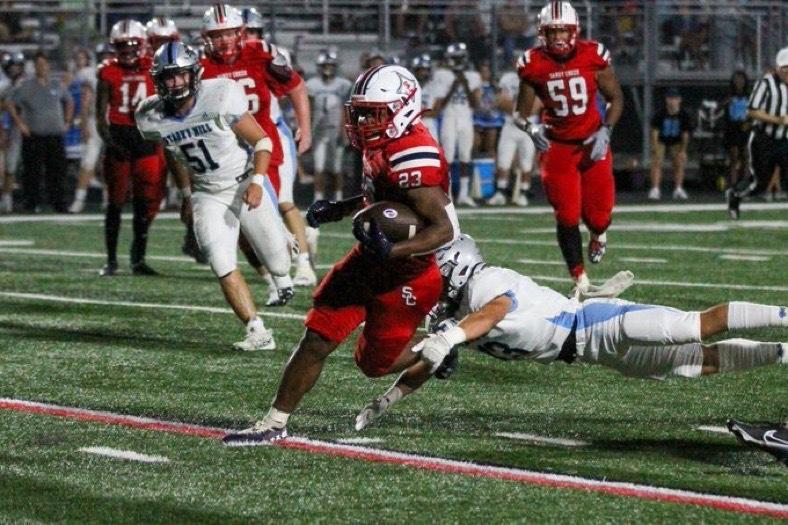 "We were young last year," recalls Garvin. "All of the kids playing now were sophomores and freshman last year. We've only got about four or five seniors who play, so we are still young. When you go through a spring like those kids went through with no training … and the summer was very restricted because we were trying to protect everybody from COVID. We didn't get in the weight training and other work that you would normally get. We knew we were sledding up hill. Not just us, but I think that a lot of people were."
The struggle to play just six games proved to be exhausting for both the players and the coaching staff. After an early November loss to Carver, two remaining region games were cancelled. Garvin encouraged his team to focus on the future.
"We pretty much gave them the rest of the semester off," remembers Garvin. "We started mat drills in January, into position skills development, into the spring, right into summer. We've been at it since January. We felt like if we could get a full year of work in and weight training, that we would have a good chance to do something."
I had the chance to see Sandy Creek win the George B. Maloof 7-on-7 tournament at St Pius this summer. It came after playing a spring game against Whitewater. A return to a normal off-season has been like a tonic for the Patriots.  The team is reflecting the difference, but none more than quarterback Geimere Latimer.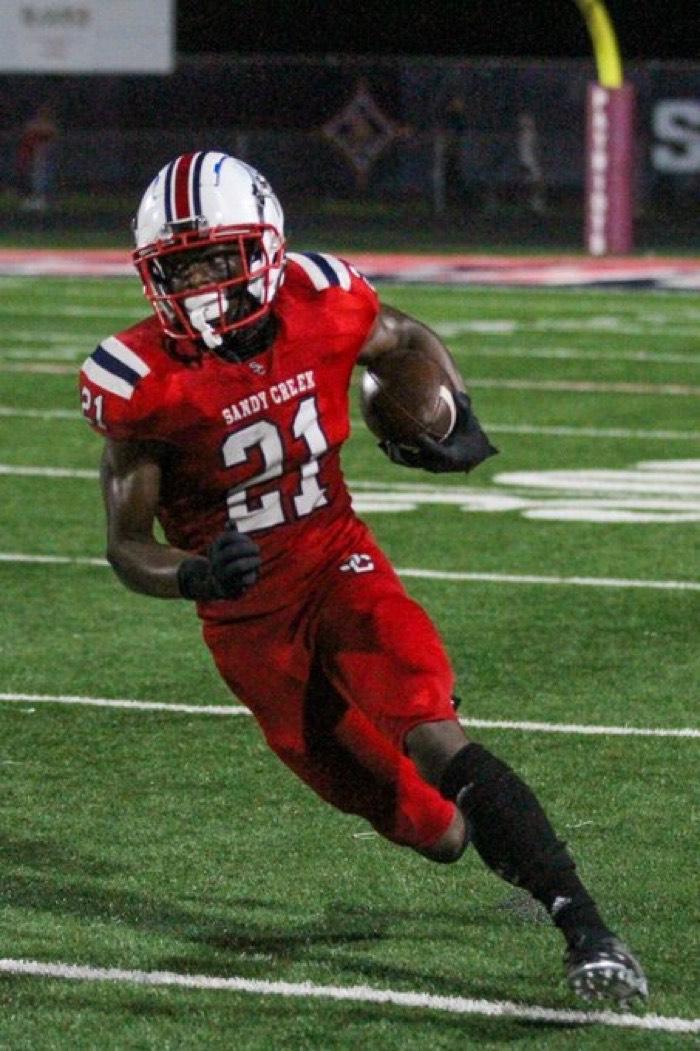 "He a junior and he has done really well," says Garvin. "In three games he is up over 700 yards passing. Friday night our offensive line did a fantastic job. Our running back (Dorian Graham) capitalized on them doing their job. He had 117 yards rushing, and right at 40 yards receiving. That's right at 160 yards total offense by himself."
While the offense racked up the yards in the Starr's Mills game, it was the Patriot defense that sealed the victory by shutting the Panthers out in the second half. Junior Kaleb Cost had three receptions on offense then made big plays on defense.
"Kaleb is a big factor on both side of the ball," says Garvin. "Our linebackers, Joel Reid, Marcellus Pullium, those kids have really stepped up. Travius Franklin is a defensive lineman. He is like our bell cow of the defensive line. He is aggressive and anchors everything. It's a lot of kids doing a lot of good things. We make our mistakes, like everybody else at this point of the season."
Now it's time for the main event. In recent years, the road to the state championship has run through Region 5-3A. Garvin has seen enough through the first three contests to feel like his Patriots are up to the test.
"I hope so," says Garvin. "We've got a pretty tough region. Westminster is in the top 10, that is who we've got this week. Of course, you got Cedar Grove, GAC and Carver. It's going to be tough. It's going to be a battle week in and week out."
So here is a warning, visiting The Battlefield will be different this season. They have a good team and a great new lighting system. If those new lights are doing some fancy tricks, it probably means the visiting team isn't doing very well.  
This week Football Fridays in Georgia will feature Mill Creek at West Forsyth. Kickoff at 7:30 p.m. on the great GPB.
Secondary Content
Bottom Content