Section Branding
Header Content
Football Fridays in Georgia: Colquitt's Justin Rogers On His Young Team's Big Week 1 Win
Primary Content
GPB's Sports Jon Nelson and Hannah Goodin discuss some of week one's biggest surprises and talk with Colquitt County Head Coach Justin Rogers about his young team's big win over Marietta on this edition of the Football Fridays in Georgia podcast. Jon, who is back on the road this week (or is he??), also breaks down the stops on his southern swing.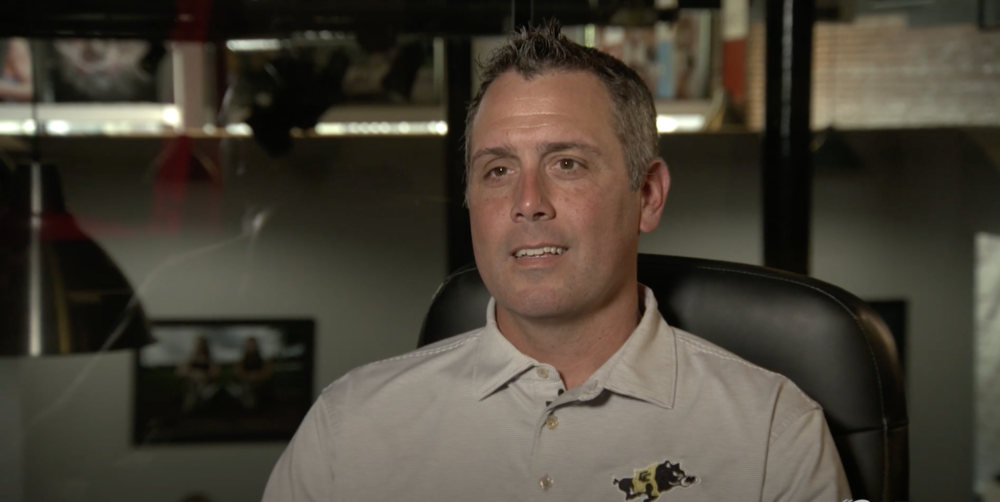 TRANSCRIPT 
Hannah Goodin: Welcome into the Football Fridays in Georgia podcast here at Georgia Public Broadcasting, thanks for accessing us however you are, large device or small. Today's guest, Justin Rogers, coming off a big win against Marietta. He's the head coach of the Colquitt County Packers, cannot wait to talk to him.
Jon Nelson: So how's the studio? Wait, Jon, you're not here. Yes. Well, I mean, I guess I am in two dimensions, maybe not necessarily three, so how does it look?
Hannah Goodin: I'm sitting right next to you. I didn't realize you were not here.
Jon Nelson: I'm that much of I have that much of a personality, huh?
Hannah Goodin: The cardboard cutout is fantastic. Jon, for those who are not watching on the video version you must…
Jon Nelson: So, you're saying that the cardboard cutout has more life than I do in real life. I see how this works.
Hannah Goodin: See, I was wondering because you're kind of relaxed, kind of laid back, a little disheveled today. So, I was wondering if you're not feeling so well, but now I realize you are not here.
Jon Nelson: I am disheveled. I will grant you that because of what's going on being in two places at once. And thanks to Sandy, Jahi the Magnificent, and King James, who is helping us out, as always, every single week with the show. I am in, as we're talking, Fitzgerald, Georgia, in the middle of day one of the southern swing. And so doing two things at once. You've got, you've got the baton up there with Commander Sandy, Jahi the Magnificent, and King James. And you're running the show while I am in two places at once this week.
Hannah Goodin: How has southern swing been? I've seen some pictures on social media of you all over the place. So, give us an update on where you've been and what you've seen.
Jon Nelson: It's been pretty good so far. Our first stop was Rochelle, Georgia, to catch up with Wilcox County and the Stowes and there are now three Stowes, one, two, actually four Stowes. That's two of Rob Stowe's children are kids are on the roster. And he's also got one of his other sons is now a student coach is there as well. So, it's fun to catch up with everybody there in Rochelle. We just caught up with Tucker Pruitt, Fitzgerald, and now we are on our way to Ocilla to catch up with Casey Soliday and Irwin County as we're talking. And then we have one, two, three, four, about another six stops before the end of the day goes here. And we're in a good start so far. Good to catch up with folks. And they're and they're really happy to see us and see GPB down here in South Georgia.
Hannah Goodin: I wish you could see this, because every time you talk, I see you in the camera.
Jon Nelson: Well, they should.
Hannah Goodin: I can't take this seriously at all. This is amazing.
Jon Nelson: Well, then why don't you just toss to the interview? That way you can get a good laugh in.
Hannah Goodin: Not yet, Jon. I'm not done with you yet. I hear buckles. I hear car doors. I also heard you're getting recognized on the road. Tell the fans. Tell the Jon Nelson fans the story.
Jon Nelson: Oh, well, I mean, it's just, it's so, it's so funny when people they'll sit there and they'll drive past you and they'll point and then go, oh, I know you. And then you get you know…
Hannah Goodin: I know that face.
Jon Nelson: Yes, I know that face. Yeah. And it's in three dimensions. It's not a cardboard cutout. It's the actual real deal. And so now it's been, it's been fun to see folks as well and, you know, just kind of see everybody. And I know that we're in week one, headed toward week two of the regular season and figure out where we're going and get directions electronically and figure out what we go place to place. But tomorrow, as we're talking, it'll be the wire grass and then day three will be heading back toward Atlanta. So, we should be back in late Wednesday night with, I think, another 850 or 900 miles put on the van. By the time we're done, it'll be fun.
Hannah Goodin: Nice. I can't wait to get to editing these videos and getting them out on our social platform. It's so much fun, so much more work for me. I'm just kidding. I'm looking forward to it. Ok, last thing about your southern swing. Where do you plan on eating? Ok, I need the Guy Fiere version when you get back. Any stops you guys are looking forward to?
Jon Nelson: Well, let's see, flavor town initially for West was a chicken restaurant here in Fitzgerald because of course, you know, when you're Fitzgerald, you have to do the thing where you're talking about chicken. Valdosta tonight, as we're talking, might be something fairly plain because I think we'll probably be on the verge of collapse by the time we get to the hotel. Then lunch tomorrow might be Waycross or Blackshear somewhere in there. And then dinner will be in Brunswick, where we will have done another 10 or 11 hour day. And once again, get your food, go to the hotel room collapse and lunch might be Dublin Wednesday on our way home. So those are the cities that I'm anticipating this connect the dots version of what's going on.
Hannah Goodin: Nice. I cannot wait to hear all about it. All right. I want to talk about some big upsets from week one. But before we do that, Sandy has some congratulations in order for you, Jon.
Sandy Malcolm: Oh, you know, speaking of big upsets, and since I do give Jon a hard time about this, I wanted to give a shout out to his Lakeside Atlanta squad for the big win.
Jon Nelson: Yes, we beat Berkmar. I know it!
Sandy Malcolm: Twenty-seven game losing streak comes to an end, so congrats on that.
Jon Nelson: I saw that, and I was like, we beat Berkmar and we've got one on the board. Although Lassiter, however lost this past week.
Hannah Goodin: Lakeside, 21-12, that's more points than they scored all season last year and Lassiter falls to River Ridge 35-16.
Jon Nelson: One of the best running backs in the state, Amehre Morrison. So that's what you're looking at with that. So that'll be fun.
Hannah Goodin: Well at least one of us got the win. We should have some sort of like fun bet with whoever's team wins the most games at the end of the season. We'll have to have to come up with something fun.
Jon Nelson:  See, but the thing is, this could be this could be tilted because of Commander Sandy and her Decatur and Jahi and his particular school and then King James. So, I don't know if all of us are involved, then it's probably going to be Commander Sandy winning and then the rest of us having to do something.
Hannah Goodin: I know. I know. We can just go ahead and give you the win, Sandy, on that one. All right. Week one is in the books. No more week zero. Right, Jon? It's official. No more week zero.
Jon Nelson: It is official one was week one. So, we're no longer talking week zero. So, week one has passed as we get ready for week two.
Hannah Goodin: Major GPB poll shakeups. By far. The biggest surprise was the defending 7A state champs, Grayson losing to Creekside, 19-14. With that, the Seminoles move up in the polls. Grayson did lose twenty-five college scholarship seniors off last year's championship team. Jon, thoughts on that?
Jon Nelson: Yeah, you've got that one. You've got Pierce County losing to Brunswick. But once again, you're talking, I think, 3A and 5A. And don't be surprised. Sorry, 6A where  Brunswick is concerned. Don't be surprised if Brunswick makes it into the polls this week. And then Prince Avenue lost to Calvary Day. Calvary Day remember made it into, I want to say, game thirteen last year for them. So great run for them. And they've continued their work down there on the coast who once again lost, Brock Vandagriff and a lot of other folks there as seniors. So big wins for them as well as they're there heading into a week two's and game two's across the board.
Hannah Goodin: One more for me. Jefferson posted an impressive 22-13 win over number 2 Rabun County. Dragons got a big game from newcomer Commerce transfer. Sammy Brown, who earlier in the week had been ranked by 247Sports as the overall number five national prospect in the country and the number one sophomore LB in the nation, Jon.
Jon Nelson: Downtown, Sammy Brown. Seventy-nine-yard touchdown run after Rabun County had a seven nothing lead. And then all Malaki Starks had to do is toss pitch right. And seventy-nine yards later downtown, Sammy Brown makes it 7-7. And then in the second quarter it was a too quick scores and it was 22-7 at the break. Ended up 22-13 final. I give head coach Gene Cathcart and the Jefferson Dragons a lot of credit for taking the air out of the ball and not really allowing Gunner Stockton and Rabun County any kind of rhythm. Really, you know, the numbers that you're not used to seeing when it comes to, you know, when it comes to a Gunner Stockton kind of night where Gunner only goes 10 of 19 for 136 and he only rushed for 59 or 56 yards, you're looking at 195 yards total offense from Gunner Stockton on the night. So great work defensively by Jefferson and then offensively taking the air out of the ball and playing keep away for a lot of the night.
Hannah Goodin: Slowing down Gunner is not easy. All right. One team that did not get upset that Colquitt County Packers and Justin Rogers is our guest this week. Let's get right to it. Let's talk to him.
Jon Nelson: So, coach, first question, you come back from being down 12-0 to beat Marietta, 28-25. What are some of your takeaways in the overall now that you've had a couple of days to look at it?
Colquitt Head Coach Justin Rogers: The big takeaway is just how proud I am of our group. We got a young team this year, we got six sophomores starting on offense. We got some seniors on defense. It's their first year starting, first time kind of being in those moments. And so, you can see the, you know, inexperience a little bit earlier in that game in the first quarter. But I just love the tenacity they had and the fact that they just didn't give up on each other. They continue to play hard and love each other and found a way to win a game and a tough, you know, on the road and a tough environment. And that's the biggest thing. You just kind of see them galvanize together and continue to chip away at that thing. And so, I'm extremely proud of them because this is a real young team we've got.
Hannah Goodin: Yeah, trailed 12-0 in the first quarter, like Jon said, 18-7 in the third, a couple of your playmakers stepped up your running back, Charlie Pace, rushed for 127 yards on 29 carries. Sophomore quarterback Neko Fann made his first start. He was 8 of 16, passing for 99 yards. What was the biggest difference in the game and what did you think about some of your playmakers making some moves?
Colquitt Head Coach Justin Rogers: The biggest difference in the day, was just turnovers. I thought, you know, right there about middle of the second quarter and definitely in the third quarter, I thought our defense did an unbelievable job. Getting after the quarterback. I'm telling you right now that quarterback from Marietta is really, really good. And I thought we did a good job of kind of making him uncomfortable, moving it off the pocket. We were able to force a turnover there on a speed option with him and get a scoop and score. And then we came back and was able to block a punt. And so being able to kind of win the turnover battle there 3 to 1 and not only win it, but then get two scores off of it and find ways to score, you know, unconventionally as our offense continues to grow. That was the biggest deal there.
Jon Nelson: So when you look at this spring and summer and getting ready for this season, how normal was it or what was it like to get back to this new normal when it comes to getting ready for football seasons for you?
Colquitt Head Coach Justin Rogers: Yeah, it felt good. I mean it did. The summer I'm going to tell you, the summer felt normal. I mean, it really felt normal. Everything went really well. We were able to go and get on campuses. You know, we went to Troy, went to Auburn for seven on sevens. We hosted a bunch. We had both our shoulder pad camps. The summer was great. It felt normal. Now, you know, use the term new normal because when school started, I think we all kind of got flat right back in the face a little bit, because this thing all of a sudden spiked back up on everybody. Right. But, you know, this summer you didn't deal with it near as much. But now that school started it, come back and know we're having some issues. We're having to deal with it, but now summer was great.
Hannah Goodin: So summer back to normal, but things are getting a little shaky now, things were certainly shaky last season. What did you learn about yourself as a coach last year going through an unprecedented pandemic?
Colquitt Head Coach Justin Rogers: Well, they say I learned stress causes gray hairs because I got a lot more of them. But that would be one thing. But nah, you know, you just you practice what you preach. I mean, that's what I think all football coaches had to do. I mean, what do we tell these kids, you know, understanding how to respond to adversity, be able to make adjustments, be able to control the controllables, right? You know, all those little things that we want to teach our team about how to become a man and how to do things. Well, we had to practice what we preach last year, because there are so many things that we didn't control. There were so many things that were outside of our wheelhouse that we had to accept and just be able to deal with. We got shut down twice last year and there was nothing I could do about it. And so, you just adjust, refocus, regroup and control the things you can. And we're dealing with it now. And I had two guys, I have had a starter, two starters rather, out last week against Marietta that were, you know, quarantined. And it just, I got another one who is going to be out this week to quarantined and so a starter. But this year I tell you what I'm doing this year, I am not worried as much. I stressed over a little bit last year. This year it is what it is and everybody's dealing with it. And so next man approach. But I think the biggest thing all of us coaches learned is, is just being able to practice what you preach, be able to control those controllables and be able to just keep the main thing, the main thing and focus as we're going through this pandemic, because everybody is dealing with it.
Jon Nelson: When it comes to your non-region schedule, and because and I guess this will be a two-part question for me as we go here. When it comes to being in one of the toughest regions in the state, if not the Southeast and really if not the country, and then having to schedule all of these non-region games and make sure at the same time that you're as healthy as you can be going into this region of yours. How challenging is it to be in a region, that's really a mini region, where everything is amplified?
Colquitt Head Coach Justin Rogers: That's a really good question, because it is tough now. I mean, you are going to have that three-game gantlet, you know, in our region. And so, you got to go five, to seven games. And so ain't everybody knocking at the door to play you now, and so some of them dodging phone calls, but it's tough. But now this year, we really heavy front loaded our schedule the last two years that we didn't get to play at all last year. But, you know, coming in with a Marietta, Westlake, and Cedar Grove and a Valdosta. I mean, that's going to be heavily front loaded. And so those four games were designed to really make us grow up, find out, answer questions, because those are good, good teams. And so, you're going to leave with answers. You hope you like the answers, but you're going to leave with answers to things because of how good they are. And then we try to go that middle three, which we've got a really good program, with Northside Warner Robins, with a lot of tradition there to be able to go to right there. And then you've got two games to kind of try to hopefully get, like you said, you can't go out there and play everybody like that because you won't be healthy for region. Right. And so, we've got us some teams that we hope that we can kind of go in and do well against to kind of get that help to this just when you play this caliber of teams it is so physical, it wears on your depth and then we have that by. We take a by right before the region to try to heal up any bangs and bruises before we get into that South Georgia schedule. But we're hoping next year when we do our schedule, we want to get more of a South Georgia feel to it and continue to add more South Georgia teams that we're playing.
Hannah Goodin: You come home for your first home game this Friday, it is a non-region game, you got a couple of non-region games in a row before you get to that region play like you said, Westlake. How are you preparing for them? What are your expectations?
Colquitt Head Coach Justin Rogers: My expectations are they got a lot of 2X and 3X jerseys in their repertoire.
Hannah Goodin: Oh, man.
Colquitt Head Coach Justin Rogers: Oh, my God. They are huge. That is one of the biggest teams I think I've ever seen. They're huge. They're big, there ain't no doubt. And so, they'll be a tough, tough, tough task. Glad we are playing in the Hog Pen. Ain't no doubt about that. Now, you know, we love that we're playing it here at home and not having to make that trip up north. But Atlanta is going to be a tough, tough, tough one out because they're so huge on both lines of scrimmage. Just not only size wise, but length too. They are tall. And then the quarterback working, I mean, we faced a great quarterback last week. We're going to face another good one. I mean, he is a really, really good. Had a great year last year. And that's one thing you got to say, is they know how to win and have a great year last year. They know how to win football games. They know what it takes. And so, you're not going to come in here and intimidate them. They're going to be ready to play. And they've knocked off some really good teams. And so, they're going to be tough for us. And it's just going to be trying to take away the big plays. Try not let them get those big shot plays with that running back and receiving games. The quarterback was involved in every touchdown that they scored against Archer. You know whether they threw it or ran it. And so yeah, they're going to be tough, and they are going to be large boy. Whew!
Jon Nelson: Well, and you mentioned those 2X's and those 3X's, and they're going up against your young pups and I mean and that's, I guess, another dynamic of this early non-region, very tough schedule, is that you want them to grow into their roles and they're having to do that first week against Marietta, where they're having to learn how to come from behind in this game against Westlake. They're going up against guys. I mean, it's safe to say, coach, that those 2X's and 3X's are bigger than your 16-year-olds in a lot of cases. I mean, it's a different set of challenges going week to week here.
Colquitt Head Coach Justin Rogers: They are going to be a little bit bigger than our 5'11" MIC linebacker, you know, and so they know how they will swallow him. But that's but that's where the tradition. That's where the pride. I mean, remember now one thing about all boys is they grew up their whole life wanting to put on this black and gold. Like it means something it is important, and they want to play in the home pen and they wanted to be a Packer their entire lives. And it's just awesome to watch the tenacity and the heart effort that they play with. And again, so that's what we've got to do. We're going to have to go out there and go harder, longer. We're going to have to go out there and just play more with better effort. And then we just are going to have to sacrifice our bodies to be able to get out there and get that done. But these guys do that because it just it means so much. There's this tradition, these kids grow up in a town. And so that's where that pride, when you're outmanned, out mad, that pride has to step up.
Hannah Goodin: Well, this is your third season as a packer. Do you feel like you've finally settled in? I feel the passion in your voice now. How does it feel? And what things have you learned most about the team and the town?
Colquitt Head Coach Justin Rogers: Oh, yeah, we're close. Yeah, we're settling here for sure. No doubt. You know, going into year three anywhere you start settling in. Last year, it's almost like it put everything on pause because you couldn't do as much in the community and be involved as much as we would like to have been. And so, it was kind of a weird year to be able to kind of continue to be involved in this community. But the biggest thing of what I learned from three years of being here is that it just means more. It just simply means more down here. The community, the fans support the people here. They love the Packers. And that ain't no new love. Now, that's a love that goes back a long, long time. And they care for this team. They care for the growth of these young men. And it's just a great, great small town that in South Georgia. And so, that's the biggest thing. And then we've got a great staff, you know, so we put together, you know, now you're going into year three. We've been able to put together a really good group of men and a good staff. And so, the biggest thing is you ain't got to do it by yourself because here you're able to put together a good staff. And so, I just drew the short straw to get to be the head coach. But if it's by no means a one-man show down here, we got a unbelievable staff. And so, you know, being able to lean on them and be able to allow them to have so much influence and input because we've got a wealth of knowledge.
Jon Nelson: All right, so since you're apparently looking at my notes.
Hannah Goodin: Who me?  
Jon Nelson: My question was, all right. No. coach looking at my notes, it's like, all right. So, my next question has to do with that staff and bringing in someone like an Ashley Anders, who has been through the head coach wars in South Georgia with his time at Tift. And I've got to get my voice prepared for this next thing here. All right. Alan Rodemaker you know, having A-Rod there as a part of this. I mean, this is this is experience on experience, on experience that you have helping you out now, in addition to the coaches that have been there with you, I mean, you're adding some heavyweight names who know what it's like in these communities and what football means. It's at that added dimension that you have bringing guys like this in this year.
Colquitt Head Coach Justin Rogers: Yeah, no doubt. I mean, this is such a huge year to have that because, I mean, if you are going to play with a young team that doesn't have experience, let's make sure we got a staff that does have experience, right, that they can lean on. And so, we've been blessed now to be able to put together a great group of coaches. People don't realize we have seven coaches on our staff that have head coaching experience, that have been a head coach. And so obviously you had, you know, Coach Rod, Alan Rodemaker, and he came on last year. He was our DC. last year. And it made a huge influence on our defense and on our football team. And I say that our football team, because obviously he does a great job on our defense. But I mean, he does he just makes an impact in the weight room. And our program with all of our guys, because he has been there, done that, has the experience. And just a great guy, again, like you said, has the greatest coaching voice ever!
Jon Nelson: He's got the greatest coaching voice. You just need to tell him you just need to ask him to do that great coaching voice.
Colquitt Head Coach Justin Rogers: I know it man. Everybody's got their Rod impersonations, like everybody's got to be able to do a Rod impersonation when you get to know him. But then this year when we were able to really add some heavy hitters. And so, we obviously already talked about Ashley Anders, the head coach at Tift. Man, has been in college and coached ad Valdosta State, and Murray State, at Georgian Southern as the DC. Just so much experience with Coach Anders has been around this game for many, many, many years, knows this region. And so, when everything happened there, I mean, it was a quick phone call for me, like, hey, brother, I got a spot for you. You go look and see. But, you know, just know this is where you need to be. And we tried to pursue him hard to get him and was able to do it. And then Byron Slack. People don't realize the heavy hitter Byron Slack is. He's our assistant head coach. He's my right-hand man. I love coach Slack. He was the head coach at Hillgrove last year. Many people know him for his heyday as DC at Lowndes and Camden for all those runs when they played the state title, I mean, Lowndes' defense last year, he was there and was still one of the best defenses I've ever went against and Byron Slack is impactful. He's an impactful man on the use of our program, our kids, heck he is impactful on me, because he's just such a great person too. And he's a great football coach. A lot of years' experience different roles. He was an assistant strength and conditioning coach back in the day at Auburn. And he has done so many great things and great programs. And so, he's huge to have. And so, and then we added and he's on our 9th grade staff and runs offense for them. But he helps us on Friday nights a lot and Sundays, and people probably don't know this but Bill Shaver. Coach Shave, the head coach from Thomas County Central.  And so he's on our staff, so we've added him to our staff, he runs on our 9th program and he has been a great person for me to lean on and again passed up. And so, you've got a lot of head coaches on this staff that been a head coach, coach, Joe Thorton and Buck Hanson has too. So, remember when I put it together, having some coaching buddies of mine call me and say, hey, coach, I see where you have hired all of these guys and you're a little nervous having all these egos in the room and all these former head coaches in the room. And, you know, and I wasn't at the time because I'm just not that way anyway. But then when I got them in here, and we got to working together and I mean it just slid in together, just like a little life puzzle, because all of these guys are great men. They're just great men and great people. They ain't got no egos. They just want to impact kids and win football games. And that's it. And so, it's been easy, it's been so easy and it's been very refreshing. It's been a lot of fun. And so going through this year, you know, as we're starting off with this young team, it's just you know that they're well coached. You know they're going to be present. And so, it makes it a lot easier to watch them grow up and all. But when you have a staff like this, you can lean on.
Hannah Goodin: With that being said, you've made it to the second round of playoffs, your first year there, quarterfinals last season, with all of these former head coaches, is the pressure on to make a championship run this year? How do you feel about that?
Colquitt Head Coach Justin Rogers: You do realize I'm at Colquitt County, right?
Hannah Goodin: I mean, is there even more pressure?
Colquitt Head Coach Justin Rogers: The pressure is on every year.
Hannah Goodin: Do you have beads of sweat? T
Colquitt Head Coach Justin Rogers: There is no this year or that year. The pressure is on every year. And that's how this place is. But that's what makes it fun. I mean, that's what makes South Georgia football so great because the expectations are high. And you want that, you want to be at a place that expects things that want to be great and want to be in the top to win a state title every year and be a legitimate contender. We loved our chances. Last year, unfortunately, our quarterback got hurt the last game of the year. And so, we didn't have Xavier. And so, you know, I really hate that one because I loved that team. I thought they had a great shot at it. But no, I think with this staff involved in these young people, I think that's very much you're going to continue to improve and improve and improve. And when you're at Colquitt, you're going to be in discussion every year. You ought to be, and you should be. And that should be the goal.
Jon Nelson: Well, coach, as always, it's great to catch up with you and get the early returns for what's going on down there in Moultrie. Obviously, we'll be keeping an eye on what's going on at Colquitt County. Thanks for hanging out with us on the Football Fridays in Georgia podcast. And I'm sorry that you had to deal with the cardboard cutout version of me there in the studio in Atlanta.
Colquitt Head Coach Justin Rogers: Ain't no problem, man. I appreciate you all. And just again, just what a great thing that you guys do there at GPB, and Jon, what you've done for so many years, just promoting how good high school football is in this state. You know, and I know it's going to sound like I'm a homer, but I'm just telling you it is the best. I'm from Alabama and I came to Georgia.
Jon Nelson: Greenville, Alabama.
Colquitt Head Coach Justin Rogers: Yeah, that's right. I came here because of how good high school football is in this state. And it's because people like you guys that just promote it so people can see how good a state it is for football. Thank you.
Hannah Goodin: Always great to hear from coach Rogers, he always has such informative things to say, and Jon, I've really enjoyed your company throughout this show and the interview. You know, it's been it's been fun.
Jon Nelson: Yeah. And it's also, I look like I'm an old high school football coach with the headset on and the hat. I swear I'm about to bark out some kind of a defensive formation. That was that was one of the things I give everybody at GPB a lot of credit for, for gussying me up in two dimensions to make sure that I'm still in my chair as a part of the Football Fridays in Georgia podcast. But a lot of great games coming up here in week two. A lot of programing, from GPB and all of the networks. You've got Countdown to Kickoff coming up Thursday at noon when we get to ask the insightful question, what's for lunch? Get to talk about a lot of the great games that are going to be going on around the state this week and Recruiting 2021 we'll be talking and Matt and I will be talking, and you'll have your interview with the stars as well. We'll be doing that for an early release on Friday. So, a lot of stuff going on here as we get toward week two here on the network.
Hannah Goodin: Yeah, and people are watching and viewing this season. Numbers are up from last season. Thank you, everyone, to listening to the podcast each week. Recruiting 2021, the first show, which is streaming on gpb.org/sports and I believe we have links on the social media platforms, did fantastic last week. My Zoom interview with Todd Holcomb, I wanted to get things started and get his opinion on who his stars to watch were. But this week it's going to be Buford Senior Safety, Jake Pope, well, safety and wide receiver. So, we'll be back at it with the player interviews going forward. So, looking forward to that. Blogs are out. Jon, what are you writing about this week? Your trip around the sun?
Jon Nelson: It'll be it could be the trip around the sun, but it also could be those who wanted to start their trip around the sun and didn't get the chance to do it. And so, there were some teams that were set to go in week one but didn't have the opportunity to do it for one reason or another. And obviously, with Covid-19 concerns, we get to talk to coach Rogers about that. You know, folks that had the false start. So, we got a lot of things to talk about with a lot of the coaches coming up in the next couple of days. And you'll be seeing those interviews coming up in the next little while on all of the GPB platforms. But there's still a lot to tackle here when it comes to the 2021 football season. And so, we'll be talking about it and everything else going on. But, yeah, it's going to be interesting to catch up with folks about week one and those who didn't get the chance to have week one start week one.
Hannah Goodin: Yep. Cannot wait to hear your interviews. First game set for September 10th. We are still waiting to announce that. I don't even think we've decided yet. So, we always want to pick the best game. So, we've still got a little bit of time. Jon, thank you for being here in the studio with me. I'm so glad that I was not alone in the studio. (Jon laughs) This has made my whole week even better. I opened the show, so I'm going to let you close the show. Cardboard cutout take it!
Jon Nelson: Once again, thanks to Commander Sandy, to Jahi the Magnificent, and King James for being a part of the show and making the Football Fridays in Georgia podcast what it is every single week. Thanks to you for hanging out with us. Don't forget to like, friend, and be a part of the conversation across GPB sports networks. It is Facebook. It is Instagram. It Is Twitter. It is the YouTube channel. On your favorite podcast catcher, at gpb.org. Find the Football Fridays in Georgia podcast with me. Next week it'll be back in three dimensions with Hannah, as always, in three dimensions and with the incredible cast of folks that makes this happen every single day. For all of us here at GPB. Play it safe, everybody. Enjoy your game!
Secondary Content