Section Branding
Header Content
Rockdale County Begins The Road Back From Trauma of 2020
Primary Content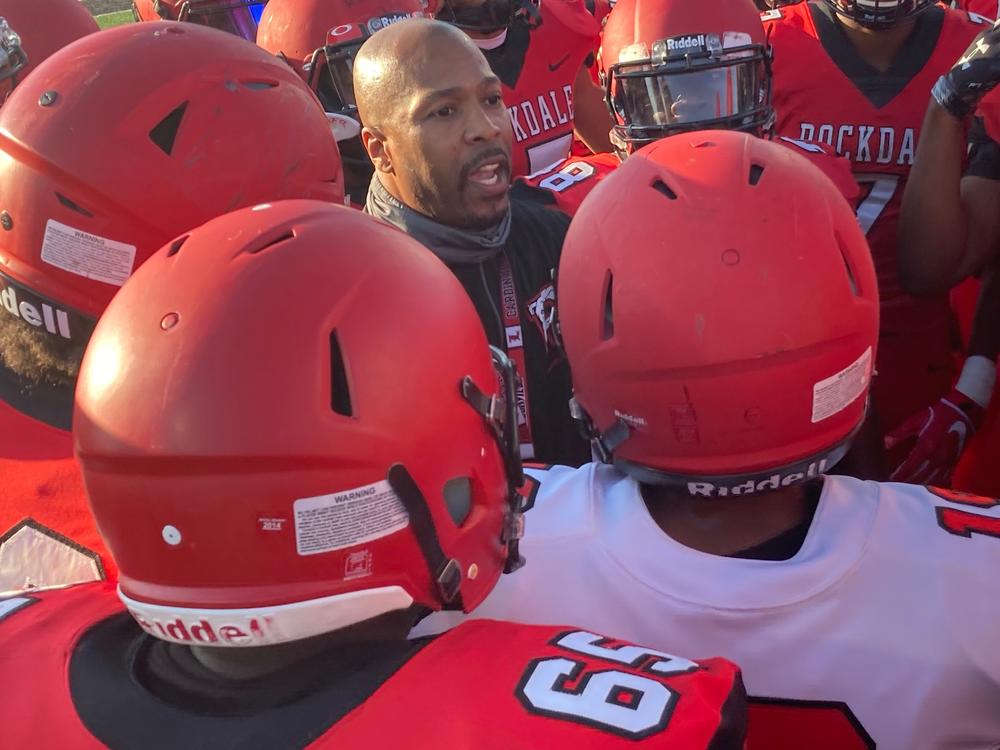 The 2020 high school football season will long be remembered as the most challenging season ever. Teams took unprecedented measures to safeguard players, coaches, and officials in an effort to have a successful season. Many teams had seasons that started, stopped, then started again. Some teams made it through to the end, some had more games cancelled than played, and then there were teams that faced insurmountable challenges. The Rockdale County Bulldogs was one of those teams.
"It's interesting, the kids had to deal with more than just the game of football," said first-year Rockdale head coach Lee Hannah. "They were shut down last year, with a lot of the seniors and juniors transferring. The kids that stayed just wanted to play the game because they love the game. In the end they got to play five games."
Hannah spent last season at Miller Grove, 10 miles away. He is part of an off-season exodus of head coaches from Dekalb County. With Rockdale finishing 0-5 and with defections in the program, it hardly looked like an idea landing spot. But Hannah saw something in the players that remained.
"It was tough," recalls Hannah. "It was eye opening, because you had a program that ended with 29 kids on a roster to play 7A football when I got here. I get to say that this is mine and I get to put my brand on it. It took some research on my part, but it had to be done. I think that I am the right person for the job. I want to grow this program."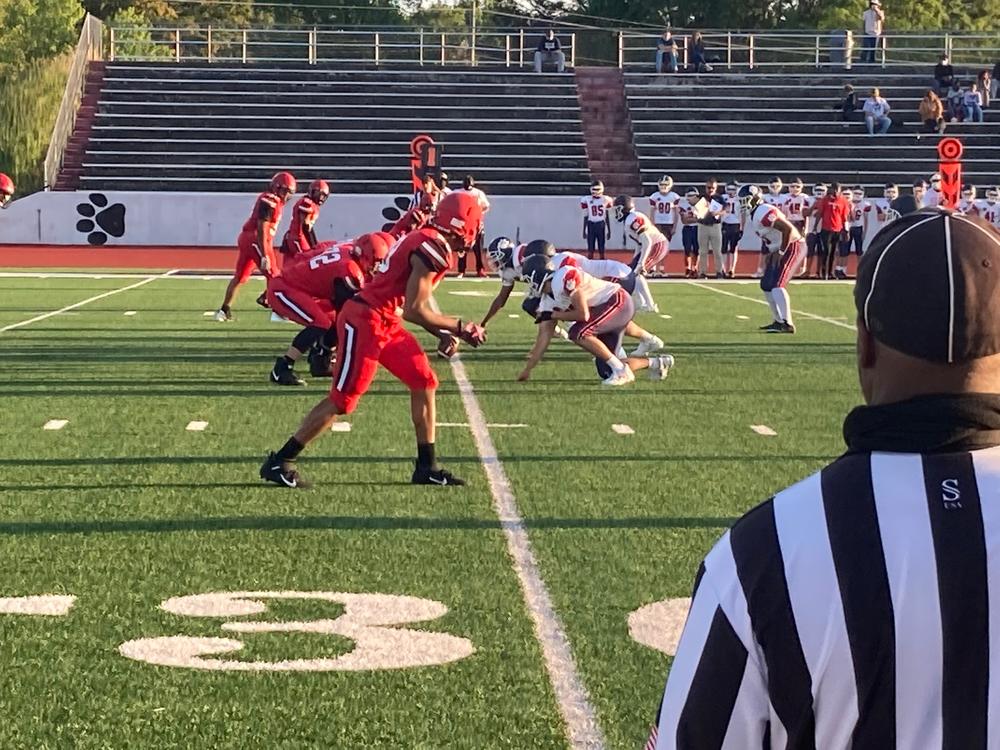 Rockdale was shut down by COVID and did not play a game until Oct. 23. When they did play, the Bulldogs lost every game and many disillusioned players transferred elsewhere. It sounds bad, but there is more to the story.
The 2019 Bulldogs started the season 4-0 only to lose their last six games and miss the playoffs. It was hoped that 2020 would see Rockdale make it to the postseason for the first time since 2014. In July of 2020 Jamie Baldwin was preparing the team in his third season as head coach when the unthinkable happened. Baldwin passed away suddenly. It was severe blow for the team, school and community.
Rockdale County Athletic Director Chad Suddeth had an extremely difficult decision to make. The new head coach would have the task of restoring confidence, while rebuilding a new winning tradition.
"The 2020 season was obviously challenging for every team considering all of the effects of the pandemic," says Suddeth. "It was especially devastating for us, also losing Coach Baldwin so suddenly.  We definitely needed our new leader to inject some positive energy back into our football program and Coach Hannah is that guy."
Hannah spent three seasons at Miller Grove, leading the Wolverines to a 3-5 mark in 2020. To take on a program whose coach had suddenly died before experiencing a winless season is a daunting mission for anyone. Hannah accepted the opportunity with gratitude.
"I am appreciative for every opportunity that I have had," says Hannah. "The things we take for granted as a head coach, having your own trainer, your own field, having coaches in the building and being able to pay those coaches. Having your own practice field and your own game field. It was a moment to be appreciated. That is why I accepted it. Everything has been good, with good administration."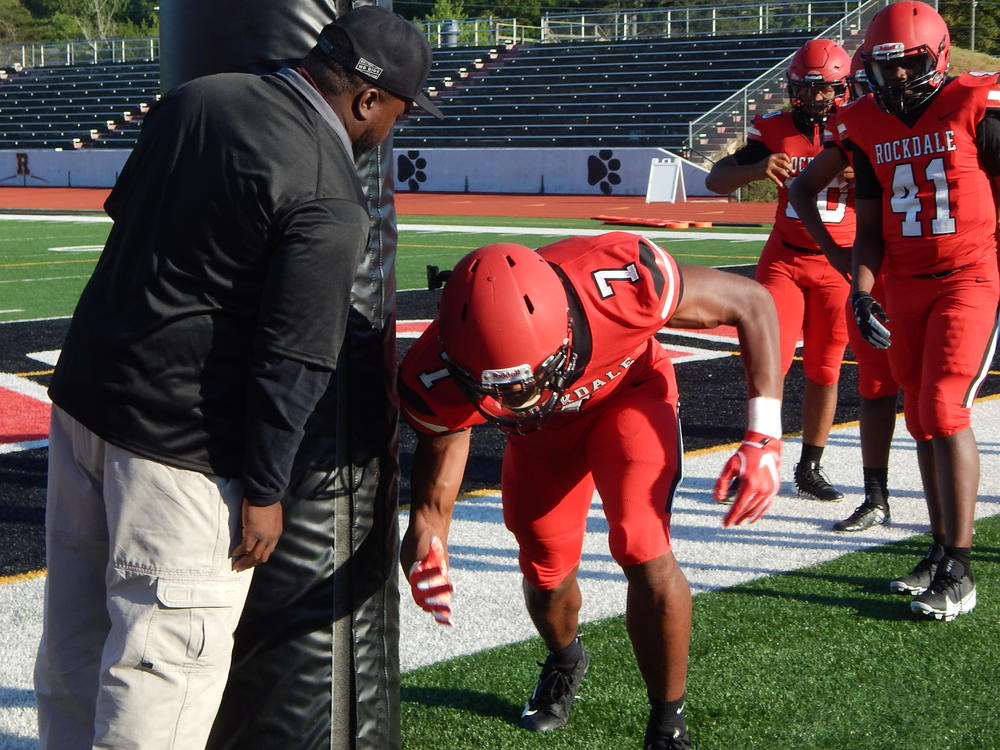 Hannah was previously head coach at Baldwin in Milledgeville for three seasons, and has served as an assistant in some of the state's most successful programs. Stints at Sandy Creek, Mary Persons, Martin Luther King and Flowery Branch have helped shape his philosophy on coaching and life.
"I learned from each of the coaches that I have been under," said Hannah. "Coach (Rodney) Walker taught me about character, that's first and foremost. Coach (Corey) Jarvis tough me about loving your weight room and being detailed. Going to Flowery Branch under Ben Hall taught me about narrowing my focus, growing relationships and showing appreciation for the kids who put it out there for you day in and day out."
A new coach arrives on the job in late March with spring football just around the corner and a goal of turning things around quickly. Lee Hannah started with a fundamental element that was missing.
"Getting back in the weight room was No. 1," recalls Hannah. "These guys hadn't lifted in a year. That was a big thing because the max numbers were not what I was expecting, but they have grown. We went to a padded camp at Meadowcreek, and we won the whole thing. I told them that's competing against a 7A program. To come out on top as the winner bodes well for the future and what we can be if we just buy in."
This summer there were the usual 7-on-7s and other opportunities to compete against other teams, but the main focus for the Bulldogs was on themselves. Everything is new. A new offense, new defense, new system, new terminology and new mindset. Add to that they fact that many of the players Hannah inherited haven't played in games since middle school due to the pandemic. He has appealed for those with experience to step forward.
"I have a few leaders," says Hannah. "Kaleb Baldwin, Timothy Jenkins, A.J. Hodge, Chance Johnson are great leaders. They have taken on my mindset and have become leaders. I tell them every day that if I have to lead things, it won't be successful. I hold them accountable and remind them to talk with their teammates."
Baldwin is a senior linebacker, and the son of Jamie Baldwin, the late coach. This season he will seek to honor his father's memory, while being an example for his teammates.
"He's a sturdy young man," says Hannah. "A phenomenal young man, his mom is an assistant principal in the county. He was raised the right way. He is a leader for our ball club. Not real outspoken, but just a leader by example. He has a high GPA, with high character."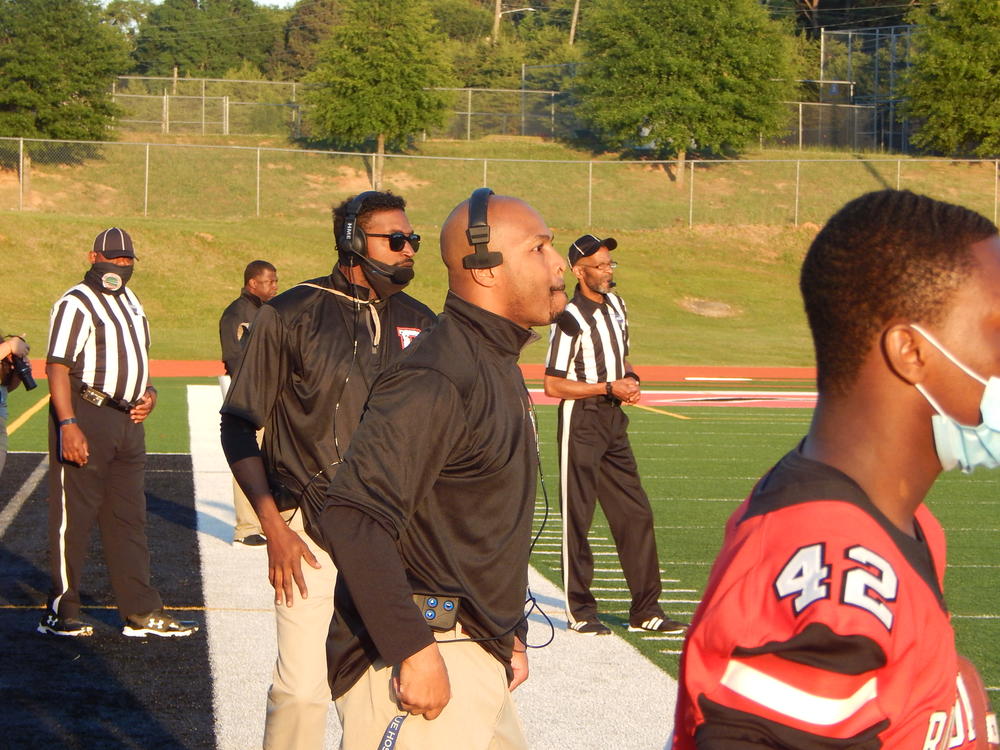 As the calendar changed from July to August, Hannah began to see something that he had hoped for. It's a ray of hope for a team seeking brighter days.
"We started out working with 17-18 kids," says Hannah. "Then we got up to 30-35 and then we made it up to 60. Right now, I just want to mold this program. Will it change overnight? Probably not, but this is a good situation. The region (3-6A) is decent -- and winnable -- unlike where I just came from, where i had to face the likes of Marist, Hapeville, Mays and Stephenson. There are no pushovers here by any means, but at the same time, it fares better for our opportunities."
The curtain will go up on the 2021 season for Rockdale this Friday night when they host Arabia Mountain. The school and a community wants nothing more than to see a team that suffered disappointment and heartbreak last year take the field with renewed optimism. A win would be ideal, but the new head coach is looking for victories in other ways.
"I just want them to look like a team again, to look unified," says Hannah. "It was a struggle. It was tough for these young guys last year. I just want them to appreciate the opportunity to play this game and to grow week by week. That is my ultimate goal."
Football Fridays in Georgia will begin September 10 on the Great GPB!
Secondary Content
Bottom Content