Section Branding
Header Content
Ford Looks To Jump-Start Effingham County While Other New Coaches Face Their Own Challenges
Primary Content
Spring Practice (capitalization intentional) starts in earnest later this week around the state, but there are still issues with who will be patrolling the sidelines this year as the Silly Season and Coaching Carousel are still a part of the high school football vocabulary. 
Earlier this week, former Georgia Southern legend and Bradwell Institute head coach Greg Hill was approved by the Evans County Board of Education to be the new head coach at Claxton High. He moves over from Statesboro High where he was offensive coordinator. 
A coach who has made appearances in the last game of the year has relocated from his assistant job to tackle an entirely different part of the state for the 2021 season. John Ford, who coached Roswell to a title game against Grayson in 2016, moves from Bleckley County to Effingham County to take over a program that went 3-7 last year in Region 2-6A. 
WATCH: The 2016 Roswell vs Grayson Championship Game
"I wasn't chasing anything," Ford admitted. "It has been a lot of fun so far. It's an amazing part of the state to be in and I absolutely adore the kids here. We're building something special." 
He also says that you can see, through the infrastructure in place, that the community wants to win even with a "small, but hungry" group of kids.  
"Everybody is ready to go to work and I'm surrounded by good people," Ford said.  
Ford learned a lot at his previous stop in Cochran from the Royals' head coach, Von Lassiter. He learned about Lassiter's "holistic" development of a program — how to develop kids and staff along the way.  
But the biggest thing the new Effingham County coach has to tackle is being away from his family. He's living in two houses right now. His wife and family are all still back in Bleckley County, finishing their school year, and he is commuting from Guyton to Cochran on the weekend. 
"One of the things I actually got to do during quarantine was spend more time with my girls, but I know the good Lord has a plan for us," he said. He admits being apart during the week is tough right now as the Fords juggle two towns and two homes.    
For other coaches in 2021, there's the chance to go back home... 
Dondrial Pinkins got his first head coaching job at his alma mater, Mitchell County, back in 2009. After three seasons of increasing success, he left to be an assistant coach and then turned heads with Mitchell's top region rival, Pelham, in Region 1-A. With six straight playoff appearances that included two semifinal runs with the Hornets, he was given the chance to travel 20 minutes south — to come back. 
"It's the place where I got my start," Pinkins said. "I'm walking the same halls I did growing up. Now, I have a chance to give back and allow the kids here to transition into their college time." 
When he was in Camilla over a decade ago, it was the start of getting to learn coaching from guys like now-Hart County coach Rance Gillespie and former Thomasville coach Leroy Ryalsl. He was then able to learn more about himself from his time in Pelham. 
"I understand what football means here," Pinkins said. "I get to take what I learned from those coaches and tweak it — things like day-to-day operations, practice structure and game planning." 
The tradition with alums from the days of Mitchell-Baker High — in multiple sports — is a part of Pinkins' make-up, too. He wants to see the program he's back in charge of grow, compete, and make the playoffs consistently. It's all about getting better week to week.     
Then, there are coaches who are looking to see how they can help in a different way than before. 
Ashley Anders was head coach at Tift for five seasons in one of the toughest regions in the country: Region 1-7A. His best year was a quarterfinals run in 2017 where the Blue Devils wrapped up at 11-2. A 2-7 season in 2020 was the last season for Anders in Tifton and Michigan legend Noel Dean takes over this season. Now, Anders will be part of one of the deepest coaching staffs in the state. He joins Justin Rogers' staff in Moultrie at Colquitt County, along with Alan Rodemaker and Byron Slack as former head coaches now working as coordinators for the Packers.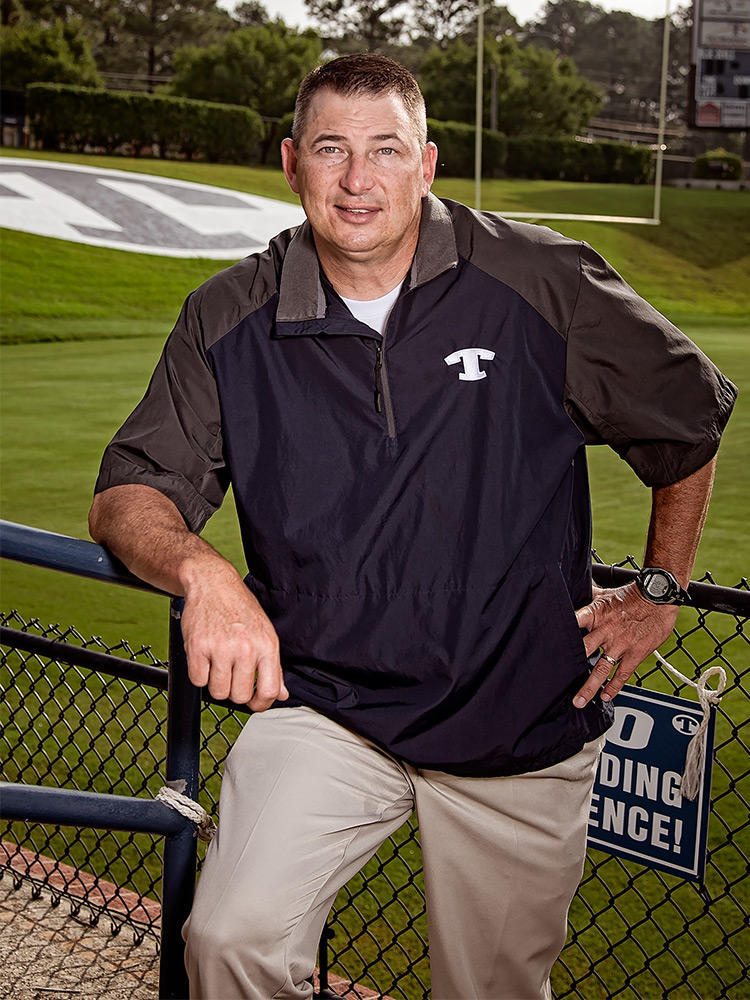 Anders will help coach defense and special teams but, like Rodemaker, he has a Saturday game to go to as well. His son, Cade, is heading to West Point to play football and throw the shot for Army. Army Coach Jeff Monken is getting a 6'4, 235-pound tight end coming from Tifton as Anders hits town in Moultrie.  
I caught up with him as his son was doing field events at the region championships ... literally. Cade had just won the shotput and was leading in the discus.  
"I couldn't be more excited," Coach Anders says. "With the facilities, support, players, and tradition at Colquitt, it will be a tremendous challenge. My work will be a little more concentrated, obviously, than before but you have got to put in the work. It doesn't matter what the title is." 
One of the biggest things Coach Anders admitted about being in a new place is getting to know the names of all his players. The terminology of all the plays is one thing, but communication is big. The Colquitt coaching staff meets daily on their schemes and, as a part of his drive home, he looks at all of his notes. 
"It's all about doing your homework," he said. "You want to build relationships with them. You want to be personal with them and you work at it." 
He says he looks at the Colquitt roster as a teaching tool and, if he can't immediately recall what he's learned, he will approach the student-athlete and have a direct conversation with them to add a face to a name.  
The other part of the coach-dad juggling act, this year, involves Cade and his future at West Point. They have a report date for him up north and Ashley couldn't be prouder or more honored that a service institution was interested in his son.  
As we all know, Carousel is about renewal and construction. These coaches are doing it in different ways and in different places than before. The fresh perspectives we're seeing will be getting their first chances to grow this week... 
And before we know it, it'll count... 
Play it safe, everyone... I'll talk to you soon...         
Secondary Content
Bottom Content