Section Branding
Header Content
Coaching Carousel Spins On Across The State
Primary Content
There never really is an off-season for high school football is there??? 
The news off the field is, as usual, all over the place and the coaching carousel is still spinning as it does. 
In DeKalb County, one of its marquee positions has been filled after the exodus we saw earlier this year. The suburbs have filled a position as well. And there's a surprise in the north and a shocker in the South. 
Here are the updates... 
When Ron Gartrell retired from his post at Stephenson - a job he created - it put one of the most well-known jobs on the market. Marcus Jelks takes over for the Jags who lost in the first round of the Quad-A playoffs last year and wrapped up at 4-3. Jelks spent most of the last decade as the head coach at Lithonia. 
In Rockdale County, the Bulldogs have a new coach in Lee Hannah. Hannah comes in to take over for interim coach Derek Coggin who was put into one of the most difficult situations we saw in the 2020 season. Beloved head coach Jamie Baldwin passed last July and Coggin took over during a season that wasn't, then was, and then had teams not eligible for the post-season. The school system performed a full search and it is completely satisfied with Hannah as the new man in charge.  
Hannah was head coach at Miller Grove in DeKalb County and at Baldwin before that. His defenses have been stout in places like Mays and Mary Persons and I know the Bulldogs fans are looking forward to the new season in a tough region. 
The surprise in the north comes from Commerce, where longtime head coach and alum Michael Brown steps aside. He had been head coach since 2013 and never had a losing season in his time there going 75-23, with last season being the first region title the school has picked up since the legendary Steve Savage in 2003. One of the things I always thought was cool about the Tigers staff was the fact it was a group of homegrown alums who loved Commerce, loved the Tigers, and understood what "home" means. Post-season appearances were the norm under Brown. In addition to wondering where his next stop is, as his son gets a lot of attention as a rising sophomore, I wonder who takes on the mantle of responsibility in a great football town. 
As a 1992 grad, he felt he should let the Commerce community know why it was time. He penned a very long letter explaining his thoughts. Part of it reminds us about how tough it is to be a coach in a pressure cooker balancing the needs of community and family all at the same time: 
"Years of battling for the needs of the program becomes draining often leading head coaches to desire a change. In the past few months, it has become clear to my wife and I that it was not a question of if we should make a change, but rather, where. We have prayed about this decision for months, and despite feeling the weight of our decision on others and the loss of what we have known for so long, we know this is best for our family. Every season of change is an opportunity for growth and progress. All decisions have a redeeming value to them. We know that this will bring out a wide range of emotions for all who are affected by this decision." 
Now, to the one in the south and the dominoes that led to it... 
Deshon Brock left Mitchell County for Bradwell Institute going from one end of the state to the other. So, the Eagles job opens up and Dondrial Pinkins goes home. He's another alum in this week's coaching carousel.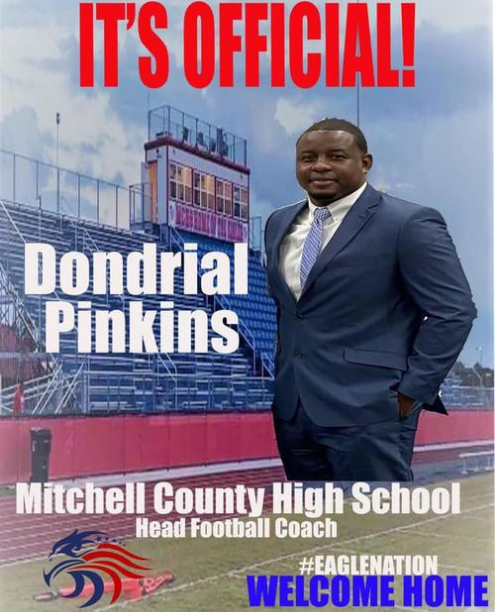 Pinkins first head coaching job, without any head coaching experience, was three years (2009-2011) in Camilla where he turned around a team from 3-7 and then led them to the playoffs the next two seasons. He left for greener pastures as an assistant and then returned to the area, 18 miles away in Pelham, as the head coach. The Hornets were a force in South Georgia for the last six seasons that included three region titles and two semifinals' appearances. 
So, when Brock went east, Pinkins went 15 minutes north. 
"The last six years in Pelham have been amazing, created some friendships, relationships that you know means the world to me," Pinkins told Paige Dauer of WALB-TV this week, "but the opportunity to come back home is just one that I couldn't turn down at this time and I'm just excited to be back here."  
Oh... this past season... Pelham beat Mitchell County in the first region game of the year in Region 1-A Public. Don't think for a minute that when these two square off in 2021, the game won't have a little extra sauce attached to it. 
Traditionally, coaching changes are around 20-25 percent of turnover from year-to-year in the state of Georgia. Twice in the last five years, the number has exceeded 100 head coaches filing change of address kits, closer to the 25 percent mark for the 400-plus schools in the GHSA. The numbers were a little lower than usual last year and it will be interesting to see where the numbers fall as we head, quicker than you think, into spring practice. 
So, faithful reader, my question for you this week is this:
What head coaching hire will make the most impact in 2021?
Follow me on Twitter @OSGNelson, and let me know!
Play it safe, everyone... I'll talk to you soon...   
Secondary Content
Bottom Content