Section Branding
Header Content
Celebrating Another Great Championship Season
Primary Content

"What a game… That's what high school football is all about"
That's what Lee County head coach Dean Fabrizio told me after the Class 6A game that ended Day Two at the GHSA Football Championships at Center Parc Stadium. And he wasn't wrong.
As Lee chased its third title in the last four years, Buford was going after their 13th in the last 20, which, in and of itself, is crazy.
I avoided any kind of prediction, since the Maxwell math formula used by the Georgia High School Football Historians Association projected one of the tightest games in history -- a .04 difference. But I did tell my GPB colleague Niki Noto Palmer, when she asked me in the fourth quarter what I thought was going to happen:
"Free football."
And that's what we got.
But that was by the end of Tuesday.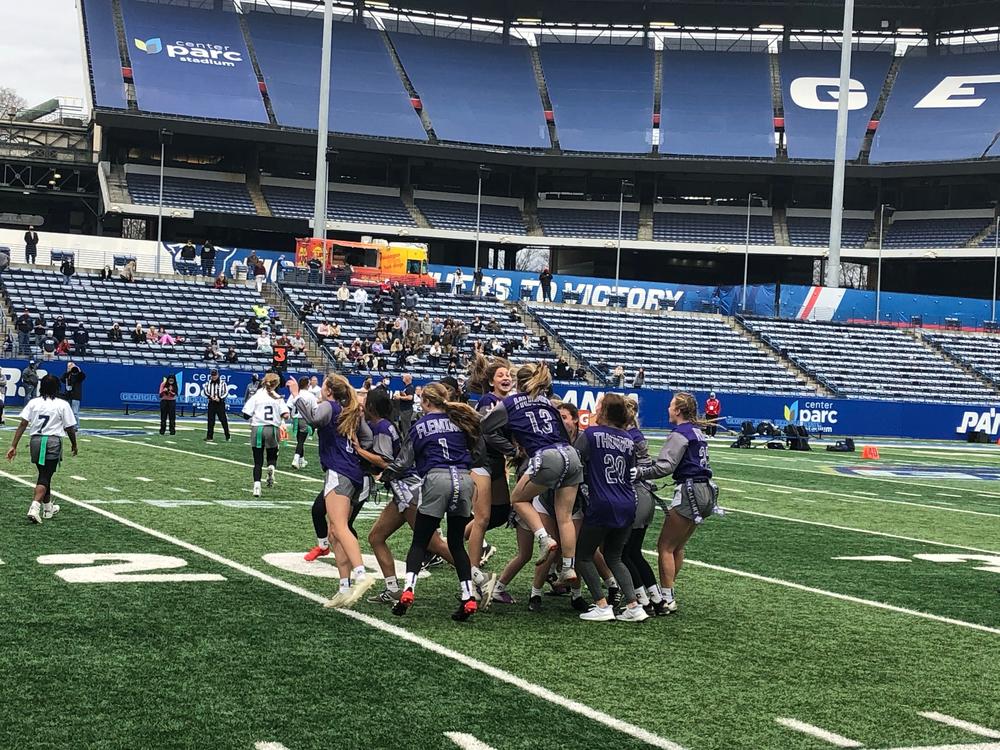 We started back on Monday with a piece of history in the flag football championships and, looking at the response on social media, it was "the addiction I didn't know I had until I watched" as one person put it in their 280-letter account. And it was a fun watch, as Calvary Day and West Forsyth got the first sanctioned titles.
In Class A Private, Prince Avenue had a tough time with Trinity Christian before getting their title to take home to Bogart. Quarterback Brock Vandagriff is as good as advertised. On the Class A Public side it was region rivals, and two schools that I have a tremendous amount of respect for what they mean to their communities, in Brooks and Irwin Counties. Irwin is now a back-to-back champ and had to earn it.
Tuesday had some great matchups, with Callaway getting its first state title in Class 2A, holding off Fitzgerald. And what hasn't been said about Callaway's Charlie Dixon? Almost 240 yards on the ground and one of the most difficult guys to bring down all week. College coaches, he is still looking for a home by the way.
With Marist and Jefferson in Class 4A, Dragons Coach Gene Cathcart is building something and he gets another year with Malaki Starks at QB. They found some answers going against one of the stingiest defenses we've seen (regardless of classification) this season. But the physical nature of Marist got legendary coach Alan Chadwick his third state title and first since 2003.
For the record, Chadwick's next win is No. 400 and will still put him still 77 wins behind Lincoln County's Larry Campbell. Campbell coached 42 seasons in Lincolnton. Chadwick has coached 36.
Unbelievable stuff from a Marist program that only has a handful of full-time coaches. The majority are volunteers of varying degrees.
Which brings us to Wednesday.
More than an hour before the gates opened at Center Parc, the line outside for the folks from Blackshear and Watkinsville was … how do I say this …
Long.
Down the sidewalk, across the street waiting to cross, and cars pulling into the nearest lot they could find. The fans from Blackshear filled the visitor's side and both fan bases made it sound loud as Pierce was chasing its first title and Oconee was going after their first since 1999.
The game went to overtime and the train whistle that Pierce County blows to celebrate a big play has never been louder The Pierce County folks say it can be heard throughout the county and that was certainly the case after the Bears intercepted a pass in overtime and won it with a touchdown on the next play. Pierce added "champion" to its resume.
For the 5A title, Warner Robins had one of the most impressive running games from Championship Week. When you thought you had one guy stopped or run out of gas, there were three other guys that could carry the ball and bury you. The Demons' 35 points and 350-plus yards in the first half made it one of the biggest uphill battles Cartersville has had in recent memory. Basically, with three 1,000-yard rushers, you have to prep for all of them if you're the opposition. And, as Coach Bryan Lamar and Matt Stewart admitted on the air, "You gotta love power football."
And Warner Robins, appearing in its fourth straight title game, finally got its first championship in 15 years.
Which leads us to the nightcap- Gwinnett County rivals Collins Hill and nationally ranked Grayson. After the Jake Garcia to Jamal Haynes pass on the first possession, it was 7-0. On a fourth-and-2, late first quarter, it was one of those moments that could swing the game one way or another. Grayson Coach Adam Carter put his star safety in the Wildcat formation and Jayvian Allen went in untouched.
Statement made.
Allen would go on to score three first-half TDs to make it 28-0 in the second and the rout was on.
Collins Hill's great pitch-and-catch duo of Sam Horn and Travis Hunter (and if you haven't seen his catch, check it out on Twitter @GPBSports) finally got the Eagles on the board. But the night was a coronation for a team trying to be a national champ.
All the credit in the world goes to Carter and his staff for managing all that national attention will give you.
And, lastly, thanks to all of you -- and I'm talking each and every one of you attached to your favorite program in every manner possible -- for  getting us to this time in the sports calendar and for having a calendar at all.
You should all be proud of what you've done.
Play it safe, everyone… I'll talk to you soon…
Secondary Content
Bottom Content