Section Branding
Header Content
First Time Has Special Meaning For Callaway Football
Primary Content

Let me run some stats by you to start off this week … West Georgia scribe Scott Sickler helped me out.
There's a group of seniors getting ready for a championship that have gone 44-8 -- the fourth-best run of a group in that part of the country near the Georgia-Alabama border. LaGrange of the early 2000's, Lanett (Ala.) from 2017-2020, and Chambers Academy (Ala.) were the only ones that have done better.
The coach at this school has eight of the nine region titles this school has ever won. After two losing seasons to start his tenure in 2005, this school hasn't had one since. We're talking 10 double-digit win seasons -- eight of those in the last nine seasons, by the way.
Have you figured out who we're talking about this time?
It's Pete Wiggins and the Callaway Cavaliers.
They've been close before. Four other times, they've been in the semifinals. But they haven't gone any further, that was until last Friday when the Cavs found a way to shut down Rabun County in the Class 2A semifinal at home. It was close for a while, until the 41-17 win secured Callaway a spot against Fitzgerald in the final.
The Columbus TV cameras caught up with Coach Wiggins after the game to get his thoughts about finally getting over that mythical hump to play in the last game of the year.
"It was a great feeling," Wiggins said. "And we've been in the Final Four several times. What a great honor that was, too. There are a lot of teams that would like to be in a Final Four. Taking nothing away from those groups, we played some darn good football teams in those games. To see the scoreboard and get that win is really a special, special day for our kids and our family and our communities."
He then bent down and got one of the best hugs I'm sure he has ever gotten in his 16 seasons as head coach in Hogansville. Family will do that for you.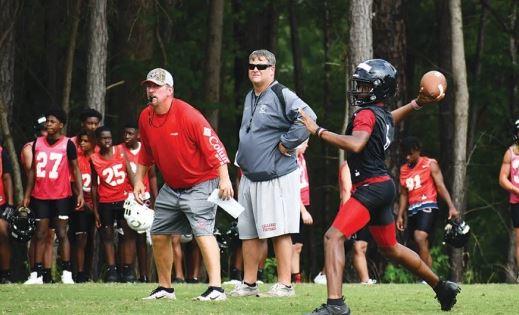 When we start our preparation for the GHSA Championships at GPB, the Sunday after the semifinals is set aside for early morning orientation, walk through, and interviews with Hannah Goodin and myself to give you insights on the teams you're seeing on Dec. 28-30 this year.
Coach Wiggins was on my sheet and it's always good to see him -- this time attached to a title game. He was excited, a little nervous and hoped that his answers were what we were looking for in a question-and-answer session.
They were, coach. No worries there.
And, for someone who has been close and never gotten to this point of a season in his head coaching tenure, to see a combination of relief, enthusiasm and energy brought an easy smile.
"I'm really proud of our guys and their work ethic, with schedules being moved," Wiggins says. "I'm proud of our guys and the effort throughout the season. Our coaching staff was focused through the ups and downs and it was a big part of our success."
The only blemish for the Cavs was a region game against Haralson County, so Callaway hasn't lost since Nov. 10. After the first-round forfeit against Banks County, they won a grinder against Lovett, and two big games against Thomasville and Rabun County. The offense has been more explosive every week and the defense has been consistent. They thought they could find a way to pin down prolific Rabun QB Gunner Stockton -- and they did.   
"I think the Rabun win was all about preparation," Wiggins admits. "They looked forward to playing a great football team in Rabun County and were excited about that opportunity. That attitude was instrumental and successful on the field. We had big plays on the field and took advantage of it."
Wiggins has been quick to thank all the moms, dads, faculty and fans that have put a great deal of time into athletics. It has been a very special time for the community, finishing the calendar year chasing a title. And it hasn't just been this year.
"There's been so much work to get to a state championship," he says. "A lot of really good players have come through here --  guys who worked extremely hard to build the tradition and work ethic -- that we believe we're going to win. That relationship is instrumental to be successful now."
Coaches admit that when they get to get up early on Thanksgiving morning and practice, it means they're deep in a playoff run. This year, Callaway can say it applies to two holidays -- probably for the only time.
Not bad for a "first time ever."
Play it safe, everyone… I'll see you at Georgia State…
Secondary Content
Bottom Content