Section Branding
Header Content
Coffee's Road Warriors Brewing Up Title Hopes
Primary Content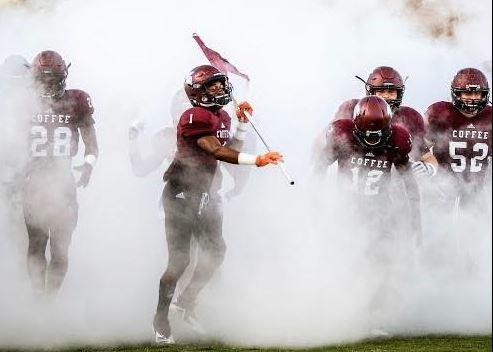 The Coffee High Trojans are, what I have constantly called, an "atypical" No. 3 seed.
In one of the toughest regions in the state, where the team that doesn't make the postseason can make a run if the rules allowed, they have won every single round on the road -- far from home -- and are getting prepped for another long road trip to Cartersville.
 "If you go back to this class of seniors," Coach Robby Pruitt says, "they were freshmen when we played for the state championship. Now, they're in their fourth year as seniors. We're in our 16th playoff game with them and the 15th on the road. If you think about it, that's more than a season and a half we've been on the road.
"They don't know a whole lot different. We've gotten back in town the last two weeks at 4:45 and 3:30 in the morning. These guys understand it's a business trip and they do a good job on the road and they have learned to play well on the road, I think."
They're not content with where they are and understand that building Coffee High football is a process- growing little by little. They've won 12 of the 15 they've played on the road. Pruitt says the seniors are taught when they're young how to help build what is around them and are leaving the example for the folks behind them.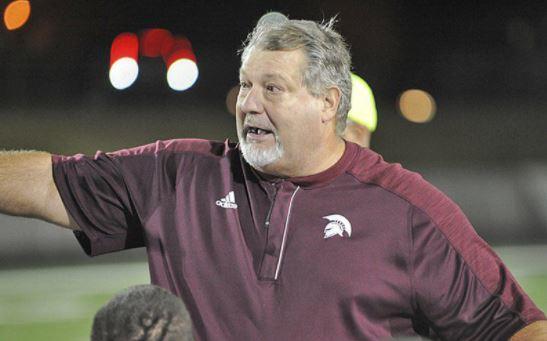 Coach Pruitt has had to learn, adapt and adjust like all of us this football season. And he has nothing but the highest of compliments for everyone attached to the Trojans program this year.
"I'll tell you. I have had to get a whole lot better with technology," he admits. "I was right-pitiful with technology and let all the young guys around here deal with it. This year, though, you had to learn to bend and, through this, there's been no right or wrong and you've had to learn your way through it. It's been a year where, as coaches, we think we have to do things this way and this way and this way. This year, you had to roll with the flow and learn to be a lot more flexible."
After slow starts in their games with Ola, Starr's Mill and Calhoun, they now get a Cartersville team at Weinman Stadium this week. Coach Pruitt knows he has his hands full. After the win in Calhoun, the staff woke up Saturday and gathered film. Sunday is when you put start putting things together for this round .
"We haven't had to play any slouches," Pruitt says as he looked at his quadrant. "We're playing a team that wins 10 games in the first round, 10 games in the second round, and nine games in the third. Now you go in to this bunch with Cartersville. They're seasoned. They're a very good football team and I'll be honest with you. They don't have a whole lot of holes. It's no accident they're where they're at. They're a good football team."
About 30 miles away from Douglas, as the crow flies, Robby Pruitt has been keeping an eye on a town that another Pruitt is making an impact. His son Tucker, who played quarterback for Robby for the Fitzgerald Purple Hurricane, is now coaching there. His team has a home game at Jaycee Stadium against a visiting Jefferson County team. He loves to see his son shine as a coach.
"I'm proud of him. He's a good football coach and he coached with me for three years before now," he says. "As a dad, I have been coaching 38 years- 37 as a head coach. I could tell he could be a heckuva ball coach. That's all he ever wanted to do. When he was 9, 10, 11 years old he was making QB manuals. That's all he ever wanted to do. I have been extremely proud of him and the community.
"Fitzgerald is a special place and if there's one place that deserves a state championship, it's Fitzgerald. They've done so much and supported it for years. I'd love nothing more for the community to get one and for Tucker to get one. They've got a good football team. I think they have a shot at it.
"They've got some dudes and they play hard. The community backs them and I'm pulling for them big time."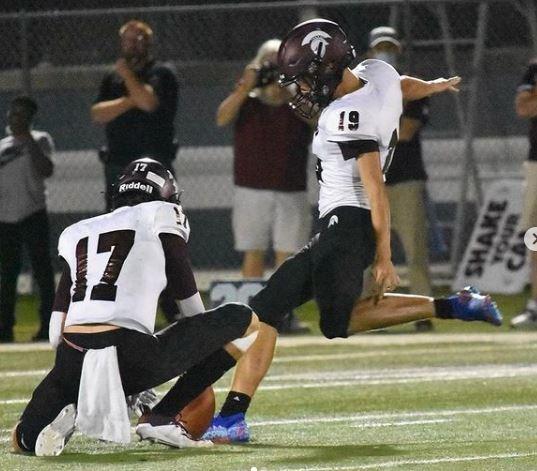 Coffee has been in the playoffs for the last seven seasons in a row. Before Robby and his staff arrived, the last semifinals appearance was back in 1981 when legendary Bonwell Royal was coach -- finishing 12-2. The constancy has been a part of the fabric of the last decade and the current group of seniors would like to build on their resume for two more games. They had never made the playoffs three straight years before Pruitt and his staff got there. The administration and boosters at Coffee have helped in getting the resources they need to compete. By Pruitt's admission, the whole program is getting a little better and a little better every season.
To tell you how far the program has come, there was a home playoff game at the beginning of the build of this program and an assistant went to Pruitt and told him that the last time there was a home playoff game he was in the second grade.
"Some folks thought, when all this started this year, that we might not even have a season. Looking at it now, sometimes, you realize you take things for granted. This is only the third time in school history that Coffee has been in the semifinals, so all of them are special. The first time was back in 1981, then a couple of years ago we were in another one and now, this year.
"It's been a good, fun year…"
And we'll be watching what's going on in Cartersville as the fun continues.
Play it safe, everyone, I'll talk to you soon…  
Secondary Content
Bottom Content