WATCH LIVE | GHSA Flag Football Division 1 Championship: Southeast Bulloch vs. North Oconee, At 2 P.M.
Section Branding
Header Content
Collins Hill Tried And Tested By Brutal Schedule
Primary Content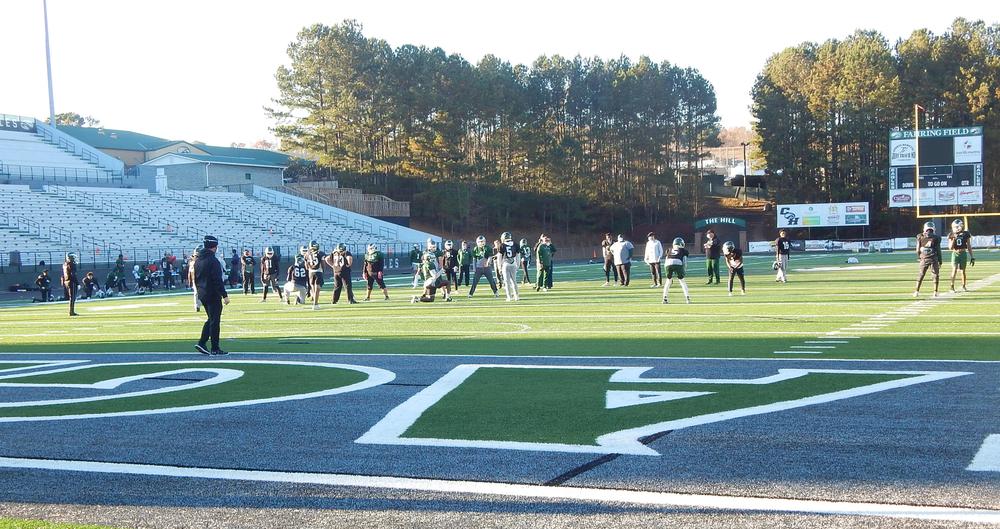 The scoreboard at the end of the last Friday night's second-round playoff game between Collins Hill and Denmark told a story. The 17-6 victory for the Eagles reflected a defensive skirmish.  It was a rarity for a Denmark team that scored 52 points against Lambert and hung 63 on Discovery the previous week. The same could be said for Collins Hill, which had scored 42 points in four of their last five contests. If you are Eagles Coach Lenny Gregory, you are just pleased that your team did what was needed to advance to the next round.
"We were going against an elite quarterback," says Gregory. "The (Aaron) McLaughlin kid is 6-5 230 pounds. He's a dual-threat guy. We had to stop his running the ball and stop him from dropping back and slinging it 70 yards down the field. We really challenged our kids. We had to get after the quarterback and not let him dictate the game. We got six sacks on him. It was one of the better defensive games we have had since I have been at Collins Hill."
The Eagles enter the quarterfinal round of the GHSA Playoffs sporting a 10-2 record and riding a six-game winning streak that propelled them to the third region title in school history. When a team is doing well, a coach can usually point to several positive factors. Finding success for this season's Collins Hill team can best be described as addition by subtraction.
Sound confusing? The coach can clear everything up.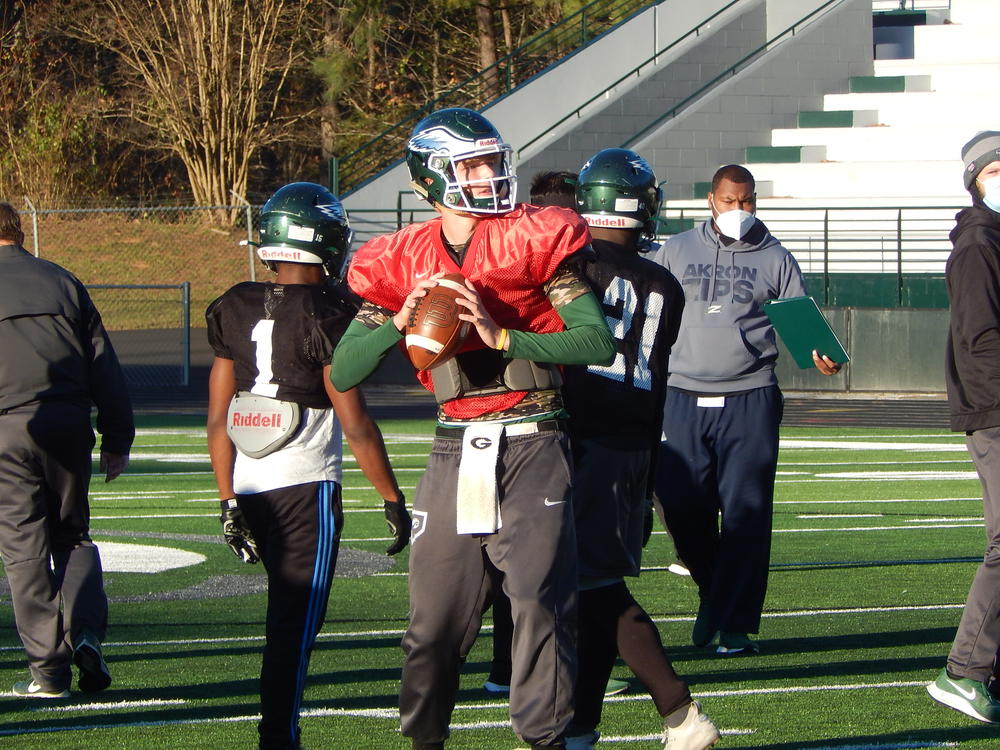 "We were able to pull off these wins," says Gregory. "We could be sitting at 12-0 right now, but we lost two tough ones. The one that really helped this team was our 24-17 loss to East Coweta. It went to double overtime and there were so many lessons that we learned because of that loss. It was a great teaching moment. I remember looking at my staff and saying that we were blessed that we lost because we are going to be better for it. They looked at me like I was crazy, but it did make us a better team!"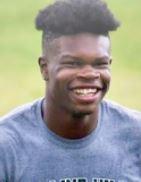 That was on Oct. 9 and it was the sixth and final game of a tough non-region schedule. The Eagles' season record sat at 4-2. The loss to East Coweta did just what Gregory said it would do and his team hasn't lost a game since. This team seems to be right on schedule, but there were other hurdles that had to be cleared long for the season began. When asked how he would describe this calendar year the coach was reflective.
"Different would be a good word," recalls Gregory. "One that probably required a lot more energy, attention to detail, thinking outside the box and being flexible. You couldn't just do what you have always done. The kids just wanted to play. I don't think that they realized how close we were to not having a season. The thing that was most challenging was just building that chemistry back. You lose a semester of school, where they go to lunch together and hang out together … no normal interaction, locker room or weight training. They didn't get to have spring ball and we were so restricted in the summer. A lot of effort went into not losing our culture and team chemistry."
While hoping to hold on to culture and chemistry, there was the matter of a rigorous non-region schedule facing the Eagles. Carrollton, Sprayberry, Grayson, Rome, Alpharetta and East Coweta made up a gauntlet. All six wound end up being playoff teams and three would be region champions.  Gregory explains the method to the madness.
"When you play top-level teams, week in and week out, you don't get that shock," says Gregory. "Back in 2018 I put together a schedule that was very challenging and folks thought I was crazy. We went 3-8 that year, but we flipped it around the next year and went 6-5 and now here we are. It's the result of making a commitment three years ago to get our team to compete at a high level."
The ambitious plan sounds nice. Having exceptional talent goes a long way toward making the vision become reality. For this year's Collins Hill team, it all starts with the man who pulls the trigger. Junior quarterback Sam Horn is set to pass the 3,000-yard mark for the season and has 34 touchdowns.
"Sam is a cool cat," exclaims Gregory. "He doesn't get too high or too low. He can make every throw. He's very athletic, can run and when he gets clicking, he is a special player"
Horn is not the only player to throw touchdown passes for Collins Hill this season. Junior Travis Hunter has thrown two, but he is better known for his 20 touchdown catches and is one of the state's top wide receivers. He also has five interceptions at cornerback.  
"He (Travis) is bound for Florida State," says Gregory. "That is his dream school. He wants to be another Deion Sanders and he grew up watching Florida State. He is an incredible player. He is the best skilled player I have ever coached. There is nothing he can't do. If we needed him to punt, he could do that."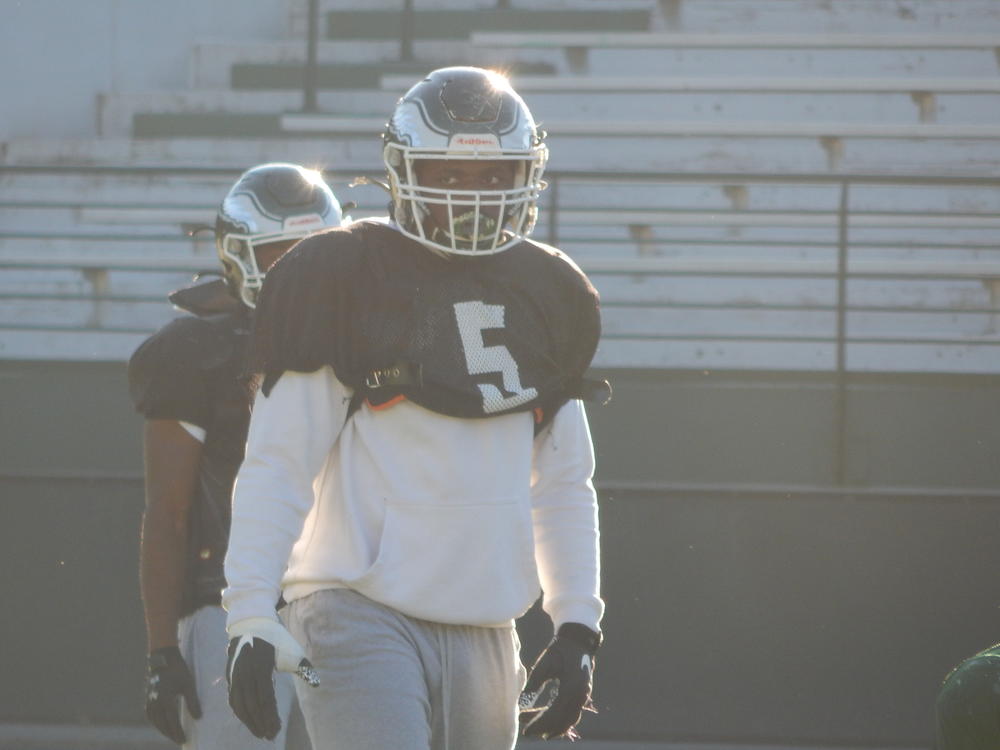 The Eagles defense is led by senior defensive end James Smith. At 6-foot-2, 245 pounds, Smith has recorded 146 tackles, a Gwinnett County-record 50 tackles for loss and 14 sacks.
This week Collins Hill will face Parkview in the quarterfinals. It has the makings of a classic. Along with the lessons from the East Coweta loss, there is something else the Eagles will take with them into Friday night's contest.
"The team's motto this year was 'Take the Win,'" says Gregory. "Last year, we would get right down to the end of some of those games and they got away. We just couldn't get over the top in some of the losses we had. We had to come up with the mindset and theme that this year when we are in a tough game, we just have to take it. It has been nice to watch the mindset and mentality of this football team."
This week Football Fridays In Georgia will feature the quarterfinal round matchup between Colquitt County and Norcross. It all gets started at 7:30 p.m. on the Great GPB!
Secondary Content
Bottom Content