Section Branding
Header Content
Jeff Davis Riding High After Emotional Win
Primary Content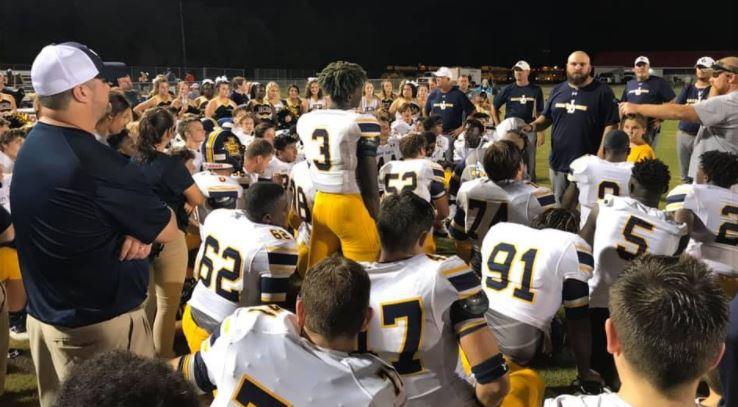 "When you're wearing navy … you're as good as gold."
I caught up with Jeff Davis Coach Lance Helton the other day. That's how he ends every call.
He's coming off a big win in the first round of the Class 2A playoffs, a game I knew would be both intense and unique. The Yellow Jackets' playoff opener was against Washington County - Helton's alma mater - and against Joel Ingram, the man who was his position coach growing up. It was two great running teams, three great running backs and a result that went to the wire in Hazlehurst.
"It was really crazy," Helton admits. "For me, it was kind of a full circle thing. I hugged Coach Ingram before and after the game because, for me, he was the guy as my position coach in high school that made me say that 'I really want to do this for a living. This is who I want to be and what I want to do.' And, hopefully, as bittersweet as a moment it was after the game, hopefully, he was proud at the same time. It was awesome."
Not only did both teams need to deal with playoff pressure, they also had to adjust to a different schedule when the GHSA moved all games in Class 2A from Friday to Saturday to ensure there would be enough officials.
"It was wild coming in, when everyone got the call on having a game on Saturday," Helton said. "It was about who could rebound, who could reset their focus, keep the main thing the main thing and I thought both programs did that. Both fan bases traveled well. Our fans showed up really well and Washington County has always had a caravan behind them of black and gold. It was one of the more electric high school environments I have been a part of. It was a blast to be a part of and it was really fun."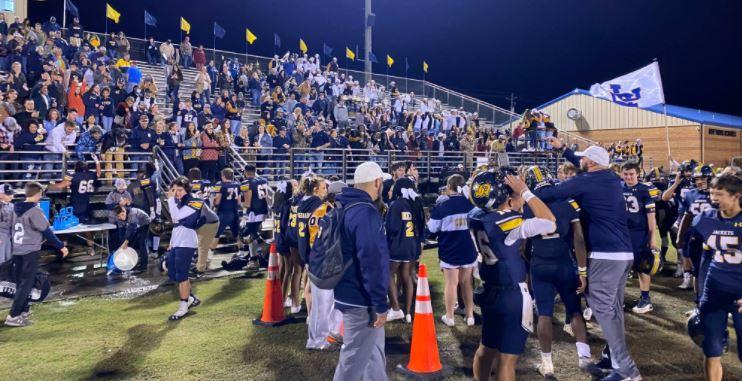 The game had three talented running backs on the field and Helton knew he was going to have his hands full in stopping WaCo's Malyk Walker and the Golden Hawks were going to be the same with Aahiyus Allen and Austin Wood. Walker would finish with 20 carries for 209 yards and three touchdowns. Allen and Wood combined for 27 carries for 256 yards and two touchdowns as Jeff Davis won 28-25.
"Malyk is one of the most special players I have seen with my own two eyes" Helton says. "We had to do a job limiting the home runs. Yardage and home runs are two different things. We had to limit his other touches in the other phases of the game and make him have a second cut involved somewhere in his carries.
"For us, Austin and Aahiyus willed us through. They were falling forward and getting first downs for us and the 4-yard runs turned into 40-yard runs."
I asked him about being in the 2020 postseason and, frankly, the notion that we're actually having a conversation about a postseason, too.
"I was hopeful, but as the season progressed, I kind of got a little less hopeful," he admits. "This virus is like the old 'Georgia Cyclone' rollercoaster at Six Flags. It's up and down, bending and turning. What I have been most proud of is that, first, the GHSA has done as good a job as any organization in the state of backing its people and believing in our processes. And that has been awesome.
"I think school systems, on the whole, have put the utmost importance in the health of our kids and also understood the importance of high school athletics and its pulse for what it does for kids. I think it has kept a lot of people going. The final chapter is not written for this virus and this season. But we've had ten chapters of a regular season and got through this first round with a bunch of teams still playing and it has been a fun thing to be a part of.
"We have got to keep the main thing the main thing. We have an obligation and a duty as a program to do our best to keep this season going. What we talk about in so many cases is that our season has been in our hands: Who are we around? Do we understand the severity if we don't handle our business accordingly?"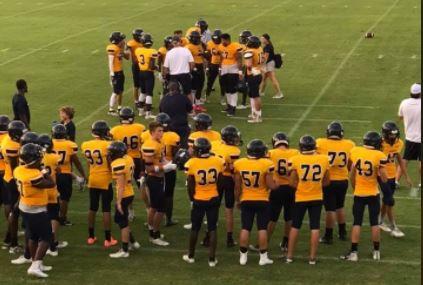 Helton then gave kudos to his coaching staff. All the cleaning up, all the sanitizing to give the team the chance to play every week. He admits that all coaches have this notebook with ten rules in it for coaching. For him, and he's not alone in this, 2020 has been the most fluid football season he has have been a part of.
"Let's out-love and out-care people and make sure we're doing it for something other than the name on the back of our jersey," Helton tells me. "When you do things for you, the individual, you don't put the bigger picture in front of you. And we've tried our best to talk about that daily. Do this together and be safe."
 For Thanksgiving, Jeff Davis got to practice and be together as a team. They made a point to share a meal every day last week and express how thankful they are for each other. Helton thinks things like that go unnoticed this time of year. His wife is his high school sweetheart and it was also her birthday. Family came down for the game and it was a special moment for him as it was the first home playoff game for his wife and two children to be a part of in person. He says it was a "blast" to spend that time together.
Next up for Jeff Davis is a trip to Louisville to take on a dangerous No. 4-ranked Jefferson County team. Helton knows the Jackets will have their hands full.
"I tell you what…" as he takes a big breath and exhales. "They're humongous and athletic. You go look at what Coach (J.B.) Arnold has done there … being a perennial contender in the third or fourth round of the playoffs. When you have to go and play somebody like that, in the early rounds, we have to do a good job at body blows and it's got to mean a lot to us to get a lot done.
"Jeff Davis is alive when it comes to our football spirit. We have to put our best foot forward and give ourselves a chance hanging around in the fourth. They can run away with it very quickly, we just still have to be there when there's 12 minutes left on the clock."
And we'll be watching for the other 36 minutes, too…
Play it safe, everyone… I'll talk to you soon…
Secondary Content
Bottom Content