WATCH LIVE | Former First Lady Rosalynn Carter's Carter Center Departure Ceremony and Tribute Service at Glenn Memorial Church at Emory University at 11:30 A.M.
Section Branding
Header Content
Five Questions: Paulding County's Smael Mondon
Primary Content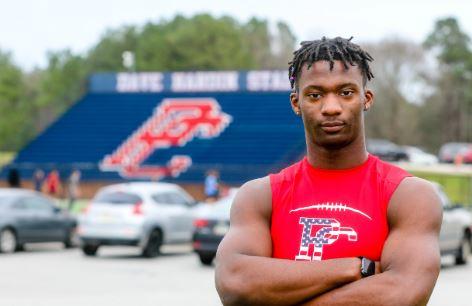 Smael Mondon is a starting linebacker for Paulding County High School in Dallas. The 6-foot-3, 210-pound senior is the No. 1 outside linebacker in the country and No. 3 overall player in the state, according to the 247Sports Composite.
The 5-star prospect had a huge decision to make after getting offers from a long list of top college programs. Mondon finally chose to tell the world he was committing to the University of Georgia on Nov. 18th on the Patriots football field.
Find out why Mondon committed to the G and learn more about his recruiting process in an interview with GPB's Hannah Goodin:
Don't miss more interviews just like this on the brand-new Recruiting 2020 television show that airs every Friday night at 7 p.m. on GPB! The Football Friday in Georgia Game of the Week will air immediately following at 7:30 p.m. If you missed the show you can watch it OnDemand at gpb.org/sports.
Follow Mondon on Twitter @SmaelJr
Secondary Content
Bottom Content