Section Branding
Header Content
Vidalia Peeling Away Layers To Find Success
Primary Content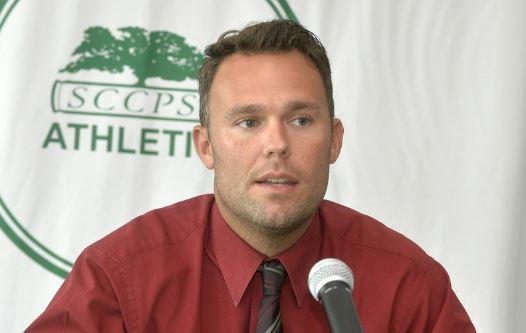 Jason Cameron brought success with him from Jenkins-Savannah when he hopped on I-16, headed east and took the job in Vidalia. But he didn't get the chance to hit the ground running when he took over for Lee Chomskis in the spring.
"The day I was supposed to start was the first day of the shutdown," Cameron says. "Luckily, to have the kids and the staff we have --  and I retained seven coaches from the previous staff -- they kept the kids in order and kept the routine going with the kids as much as possible until I was able to get there in person."
He also learned a lot about himself as a coach.
"You have to have a lot of empathy and adapt really quickly," he says. "We did a really good job of building depth. You never know when you're going to get 'that' phone call and find out a kid isn't available to play. We suffered two shutdowns and we just had to roll with the punches and deal with the cards we were dealing with that week."
Their season has been one of starts, stops, starts and stops. On the field, the Indians lost their first two before running the table -- knocking off ranked teams in Richmond Academy and Jeff Davis along the way. The five region wins in a row placed them the lower right corner in your Class 2A bracket. By Cameron's admission, they are different and the coach and his staff have learned a lot about themselves.
And they're in one of the toughest quadrants, and (to be honest) classification brackets in the 2020 postseason. Cameron has already done some studying on his opening-round opponent, Bleckley County, who they lost to in their second game of the year, 21-14. Facing someone like top O-Line prospect Amarius Mims is difficult and Cameron thinks that, maybe, some of his players might have been a little star struck the first time out.
Not now…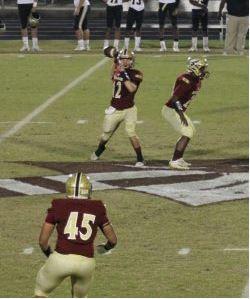 "We're a different football team top to bottom. Personnel has changed and we're deeper in the scheme now and have more confidence in it," he says. "I think the players have confidence in me and the staff, as well trusting the scheme we have. 
"Our game is as tough as it gets in my opinion. Bleckley County were as high as No. 4 at one point in the polls. Coach (Von) Lassiter and his staff have done a tremendous job and, I think they have four or five head coaches on their staff. We take it game by game here and I know that sounds cliché. But our first-round matchup is really tough. Wins are tough in our quadrant, and if we're fortunate to make it to round three, you could play one of the top QBs (Gunner Stockton) in the state at Rabun County."
One other thing to know about Class 2A and 4A is that those two classes had their playoff games pushed to Saturday so there would be enough officiating crews available. It has made things a little crazy for Cameron and his school, but it's manageable so far.
"We spun it to our kids that, 'Well, you want to play on Saturday?' Here's your chance." 
"In a sense it gave us another day to prepare and another day to heal," he says. "It is what it is at this point. I'm from New Jersey, where we play Saturday afternoons at 1. It wasn't much different for me and Coach Lassiter was great in trying to schedule another time."
"I've told the kids, no matter what round it is, that it's an honor to be practicing Thanksgiving week. My coaching staff and I told them how meaningful it is. We're just excited to be a part of it."
And that led me to ask the first-year head coach in Vidalia about his new environment and what he thinks about a great football town here in Georgia.
"The community rallies around our program," Cameron says. "The Toombs County game was every bit as advertised. It was a phenomenal football game. Everyone here in town is a phone call away, I think. It's a community that, the moment I stepped in here, made my family and me feel right at home."
Play it safe, everyone… I'll talk to you soon… 
Secondary Content
Bottom Content