Section Branding
Header Content
Expectations Rise At Richmond Academy After Historical Win
Primary Content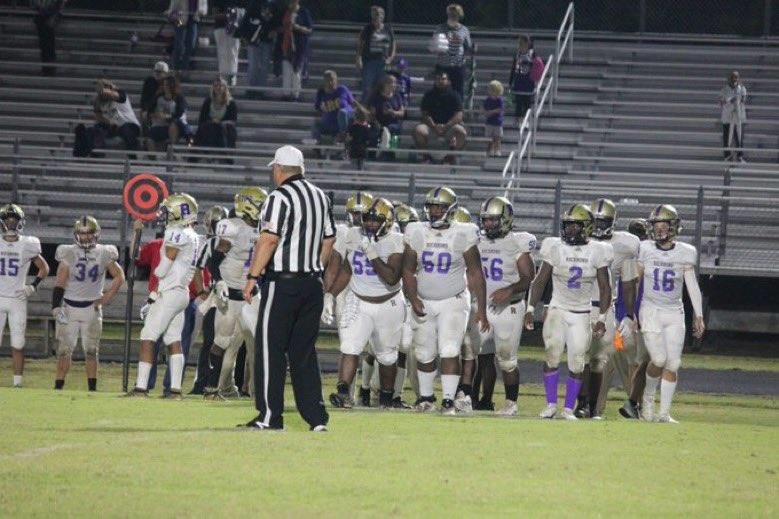 Last Friday night something monumental happened in Augusta. The Richmond Academy Musketeers scored a decisive 42-28 victory over the Thomson Bulldogs. At first glance you might think it a nice mid-season win over a school that is a 30-minute drive away.
You would be right, but there is more, so much more, to the saga.
It was the 25th meeting between Richmond Academy and Thomson and it was just the second time that the Musketeers came out on top. Lyle Burns is in his fourth season as head coach at the Academy of Richmond County and still remembers losing a heartbreaker to the Bulldogs.
"Two years ago, we lost to those guys by six," recalls Burns. "We had the ball at the end of the game and the window was open there. If you score and kick the extra point, you win. We just hadn't been able to do it. This time we just executed a little better."
The better execution was no doubt a result of the poise, composure and confidence Burns saw from his team as the game wore on. Perhaps some of his players were also reflecting on the Thomson game that got away in 2018. They were determined to leave nothing to chance this time.
"We talked about that after the game," says Burns. "We haven't really won a game like that since we've been here, but we've played in a lot of them. We've played Thomson and Burke County when it meant something. In the past, it was a game where if you won, you went from a No. 4 seed to a No. 2 seed, or forced a three-way tie at the top. So we've been there before and lost. I feel like it helped to be in those games before and it helped us learn how to win one."
Maybe you have had to live or work in the Augusta area to appreciate what Burns' team accomplished with the win over Thomson. I worked in Augusta for five years and I remember the Richmond Academy-Thomson games as being terribly one-sided. In fact, the last meeting between the two that I covered saw the Bulldogs win 55-0. Thomson has won five state championships and is known as one of the power programs from that part of the state. Richmond Academy's only other victory in the series came in 1998.
Maybe now you get why last Friday was such a big deal.
"There are a lot of folks who grew up in Thomson who work in Augusta," says Burns. "They are a good measuring stick. They are always good. If you follow Thomson, you know it's about once every four years they have a team that is a threat to win a state title. Then every 10 years they have some big-time talent that ends up in the NFL."
He cited pros like Jasper Brinkley and Danny Verdun Wheeler, as well as current Auburn standout Christian Tutt, who is headed in that direction.
"So, you always like to measure yourself against them," Burns says.
Burns will quickly tell you that his ARC squad may not have any future NFL talent, but he is proud of his team's work ethic. The coach thinks his team made the most of the COVID-19 restrictions and protocols the GHSA put in place during the summer and use the time to get stronger and better-conditioned, without focusing on football. Most of the more experienced players from last season are on offense, including two quarterbacks who are still young in the program.
"Maurice Freeman was a sophomore last year and Jackson Murphy was a freshman," says Burns. "Both played about the same. Neither one was head-and-shoulders over the other, so we played both of them. This year we are doing much the same, with Jack playing more at quarterback and using Maurice sometimes at receiver. We really haven't shown Jack running very much before last week."
Both Freeman and Murphy scored touchdowns in the Thomson win. It was an ARC ground attack led by running back tandem of Jontavius Curry and Rashad Williams that made the difference.
"Curry is just explosive," says Burns. "He just has another gear that nobody else has. He is more of a natural athlete who can just run. Rashad Williams is really good, too. We have just been able to rotate those guys. One is more of an inside guy and the other the speed guy. They have made each other better."
Beating Thomson ranks as the signature win of the Lyle Burns Era on Walton Way. Like I said earlier, there is much more. The win over Thomson raised the Musketeers' record to 5-1 and gave them sole possession of first place in Region 4-3A. If ARC hangs on to the top spot and wins the region title it will be the school's first since 1976. It would be big not just for Richmond Academy, but for the Richmond County School System whose last state football championship was won by Josey in 1995 and last region title was won by Laney in 2015.
The Academy of Richmond County was established in 1783, making it one of the oldest public high schools in the nation. A "1783" decal is on one side of its helmets. After a historic win, the Musketeers have the attention of high school football fans across the state. The victory propelled them into the GBP Rankings at No. 9.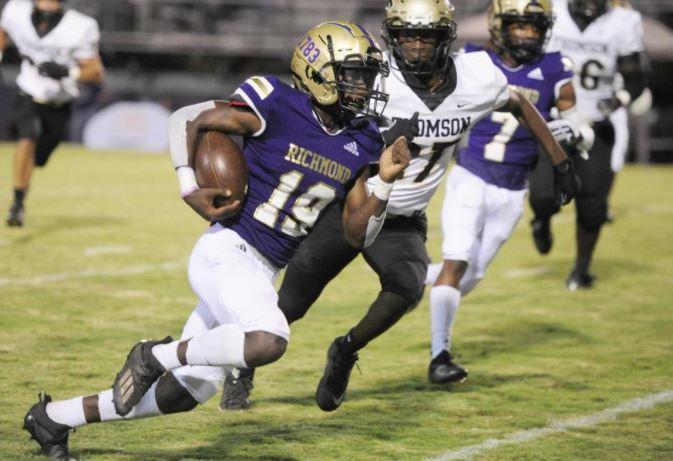 The question now is are they ready to take the next step?
"We're going to find out," says Burns. "Schools around here usually get each other's best shot, because they feel that they can beat you. When I worked at Elbert County, you walked into the stadium sometimes and you had already won. That doesn't really happen to us that much. The big thing is that the expectations change. Our expectations inside the program aren't different, but now they are being raised outside the program, too. That will be the thing that we find out … can we handle that? We want to think we can, but there is only one way to find out."
This Friday Richmond Academy will play at Hephzibah.
Don't forget that Football Friday's In Georgia will feature a battle of unbeatens as Cherokee visits Roswell, kickoff is at 7:30 p.m. on the great GPB!
Secondary Content
Bottom Content