Section Branding
Header Content
Douglas County's Road Warriors Lean On Defense
Primary Content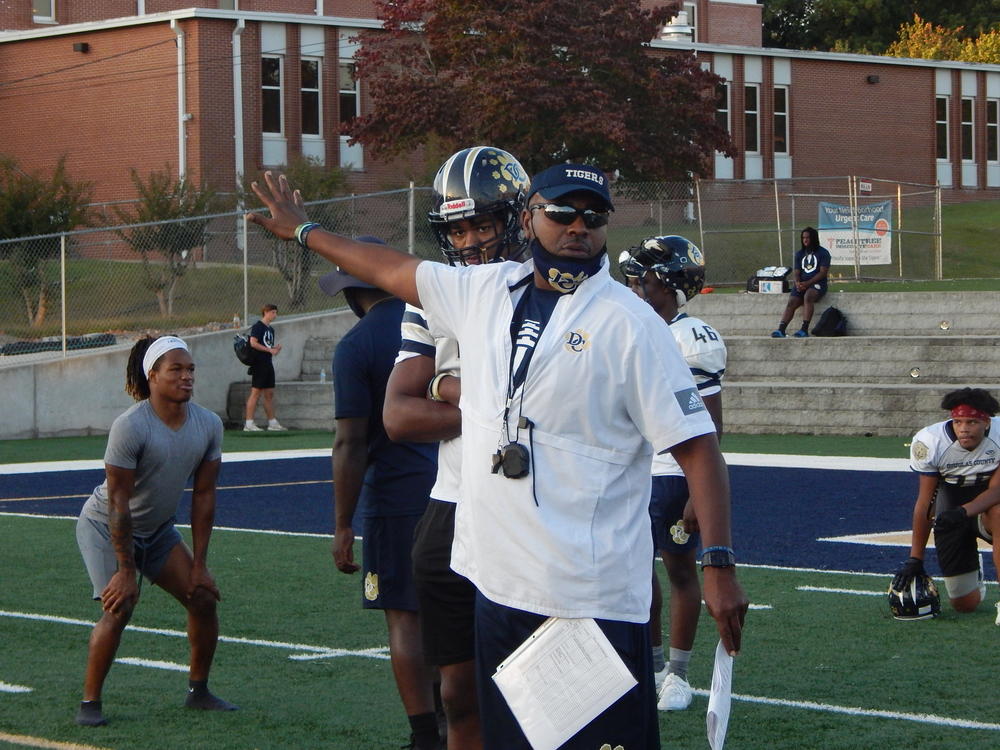 Last Friday night, high school football teams around the Peach State were challenged to compete with the elements as the remnants of Hurricane Delta advanced eastward. In Douglasville, the rain was hardly noticed as Douglas County and Alexander went toe-to-toe.
"It's the crosstown rival," says Douglas County Coach Johnny White. "This is my fifth time playing them since my arrival here. Last year they gave us a good shellacking, but the other games were all close games. The record doesn't matter, they are the crosstown rival, so we have to play them hard. They are a good and well-coached team, but I am just happy that our guys found a way to win."
The Tigers, ranked No. 5 in the GPB Sports poll, were looking forward to playing Alexander perhaps more than any other opponent. Yes, they are county rivals, but there is more to the story. Last year Alexander was the last game on the schedule.  The Cougars pounded Douglas County 49-7 and advanced to the state playoffs, while the Tigers packed their gear away for the winter.
"They didn't just knock us out of the playoffs," recalls White. "They took us to the woodshed. This time it was a 7-0 dogfight. I respect them and I told them, 'I root for them every game but one.'"
Seven points may seem like a small margin of victory, but if you have a talented defense it's more than enough. It was the second shutout of the 2020 season for a team aiming for its first region title since 2002. It won't be easy in Region 5-6A, facing a schedule that ends with Dalton, Rome, and Carrollton.
"I'm very happy with how we are playing on defense," says White. "But I still don't think that we have played the perfect game. We have a lot of room to get better. Our defensive front is good, our back end is special, and our linebackers are really good. I really like where we are at defensively."
What's not to like about a defense like Douglas County's? The Tigers have something for everybody -- size, speed and senior leadership. There are a number of players who have attracted the attention of major college football programs. One of them is cornerback Kani Walker, who is bound for Louisville. But if you are looking for the keys to this team's defensive success, it all starts up front.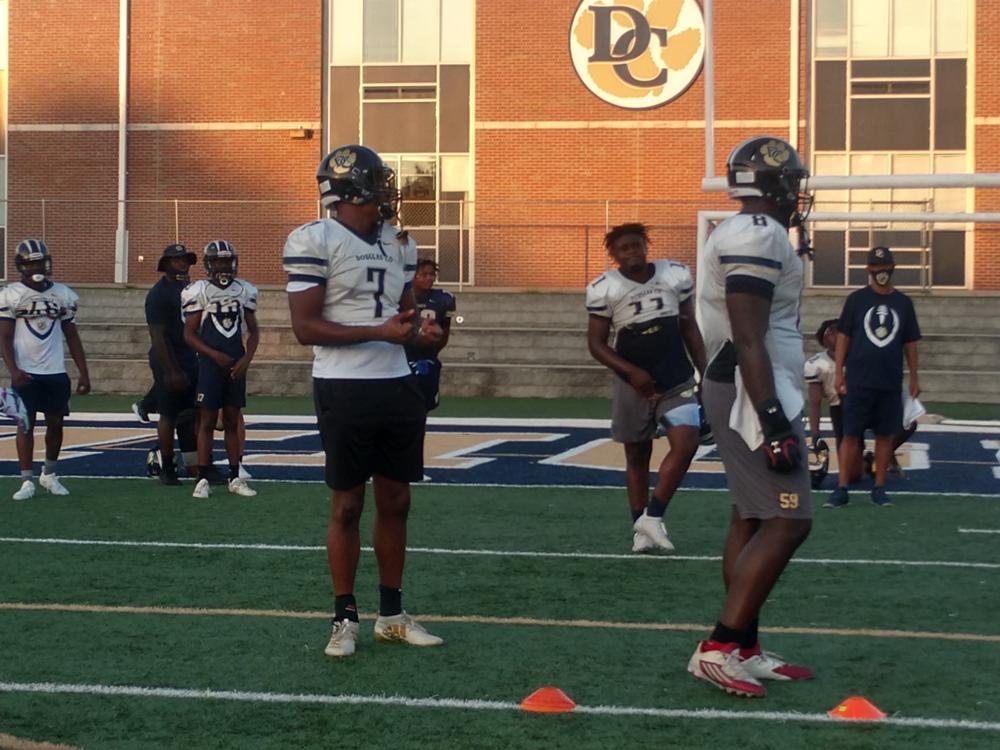 Jonathan Jefferson is a 6-4, 255-pound defensive tackle who is committed to Georgia. Joshua Robinson is a 6-4, 235-pound defensive end who is going to Georgia Tech.
"We've got a little spark plug (defensive tackle) named Kyren Thomas, who's the real deal," White says. "At 5-10 285 pounds, he is the straw that stirs the coffee for us up front." Thomas had 10 tackles, seven solos, against Alexander.
White is extremely proud of his team's work ethic. It has not been easy during this time of COVID-19, with the new safety protocols and wondering if there would be a season at all. The preseason tested his team's ability to have patience and trust.
"We took it day-by-day," recalls White. "They were getting frustrated and feeling like, 'I want to work hard, but am I really working for anything?' We told them they needed to practice like that day was going to be their last day of practice. You don't want your last day of practice to end without you giving a 100 percent effort. Then we got the go-ahead for the season, and everything has been going very well."
So, they're off to a 5-0 start, the defense is playing lights out and they just got some payback on the crosstown rival. Sounds like all is well on Campbellton Street. Then I noticed that something was missing, like one side of the stadium. The field house and light towers are gone, too.
There are big changes on the way for Douglas County football. You can hear the excitement in White's voice when he starts to talk about it. I have covered high school football in six states and I can tell you that, with the exception of a satisfying victory, there are few things that get a coach more excited than a new facilities. The way was made clear back in June.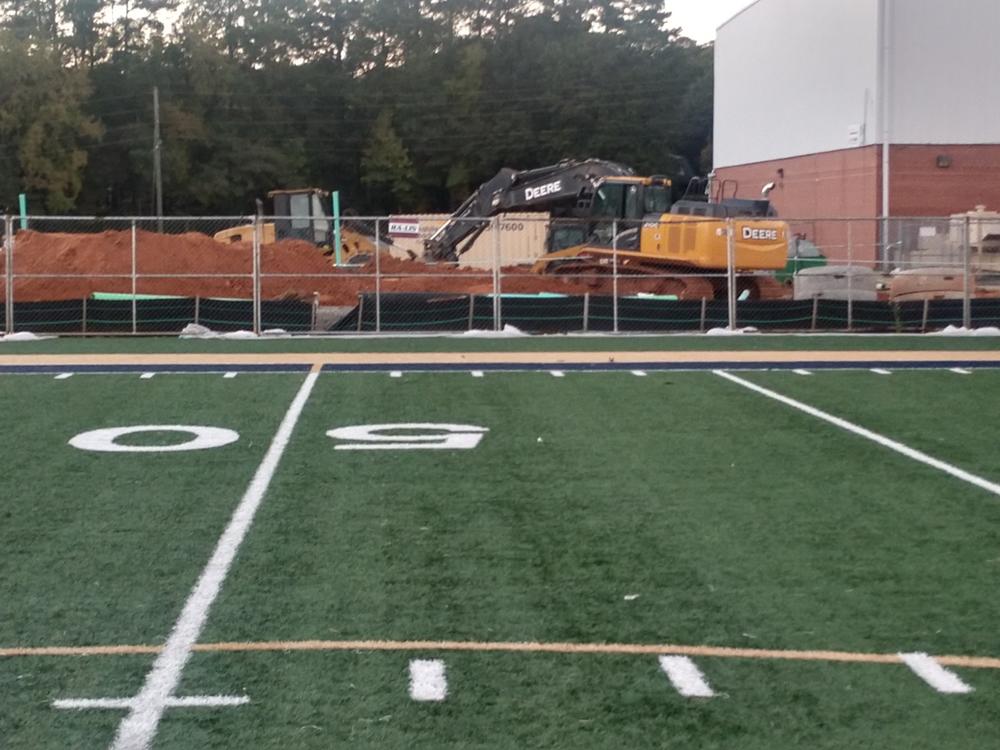 Because of COVID, people could not come around at that time," says White. "Myself, our athletic director and principal came in to take pictures and videos of them tearing it down. It took them less than two weeks to tear down the coach's offices, weight rooms and the visiting stands. It was kind of cool watching them take that light tower down and cut it into little pieces. It's amazing."
Just think, while coaches across the state spent the summer months scrubbing, spraying and sanitizing weight rooms and locker rooms, the Douglas County coaching staff was busy creating makeshift facilities for the 2020 season.
"We have moved our weight room inside a wrestling room in our gym," says White. "With the COVID protocols we are not putting as many kids in there at a time. For the locker room, we had to take over the auxiliary gym. We put tarps on the floor and spread the chairs out six feet away from each other. We have 90-100 chairs in that gym right now. We just had nowhere else to go."
A new state-of-the-art facility will house weight room, varsity and sub-varsity locker rooms, coaching offices, a theater-style meeting and classroom, plus a new home side stands and press box. The new digs should be ready for the 2021 season, but it comes with a cost. The 2020 Douglas County Tigers will play no games on their home field this season.
"The players were prepared for this," says White. "During this time last year, we played Creekside at home for Senior Night. We told our Juniors this is your Senior Night, too, because you won't be playing here your senior year and they understood."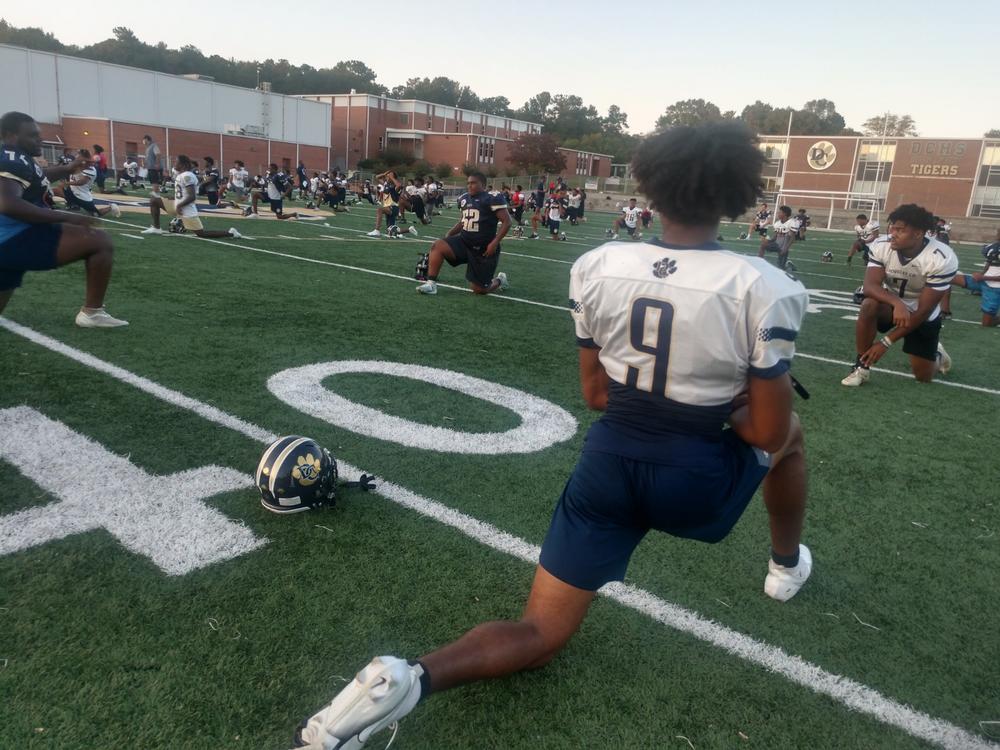 For now Douglas County is playing what would have been home games at two other county schools, Lithia Springs and New Manchester. It is also important to note that should the Tigers advance to the third round of the state playoffs, they will have to hit the road -- even if they have the better record. None of the schools in the Douglas County School System have stadiums that meet the GHSA requirement for third-round capacity. The new home stands will allow Douglas County to meet those standards and would be available for other county schools to use. Johnny White hopes the upgrades help in another way.
"We are working on building this program," says White. "We want whoever has to play us to say, 'Uh oh.. we have to play Douglas County!' We want them to know that we are going to be here for awhile. This is my last job. I'm not looking at anyplace else. I'm not going anyplace else. They are going have to tell me to leave here."
That sounds like a coach who has dug his heels in and it should, because that is what White has done. The Tigers haven't had a losing season since White arrived in 2016. You get the feeling that the team he sometimes calls "The Road Warriors" are on their way to something special. Right now, the coach's wishes are pretty simple.
"I just want to see us fight," says White. "I think that if we continue to fight we will have a chance against anyone left on our schedule. Of course, the Carrolltons, the Romes and the Daltons will be big games for us. Really, every game will be big for us. It's each man up and next team up. All I am concerned about is Paulding County. They are next and we will just take it from there."
This week Football Fridays in Georgia will feature the Newton Rams and the Parkview Panthers from The Big Orange Jungle. Kickoff is at 7:30 p.m. on the great GPB.
Secondary Content
Bottom Content