Section Branding
Header Content
Confident Cherokee Crashes Into The State Rankings
Primary Content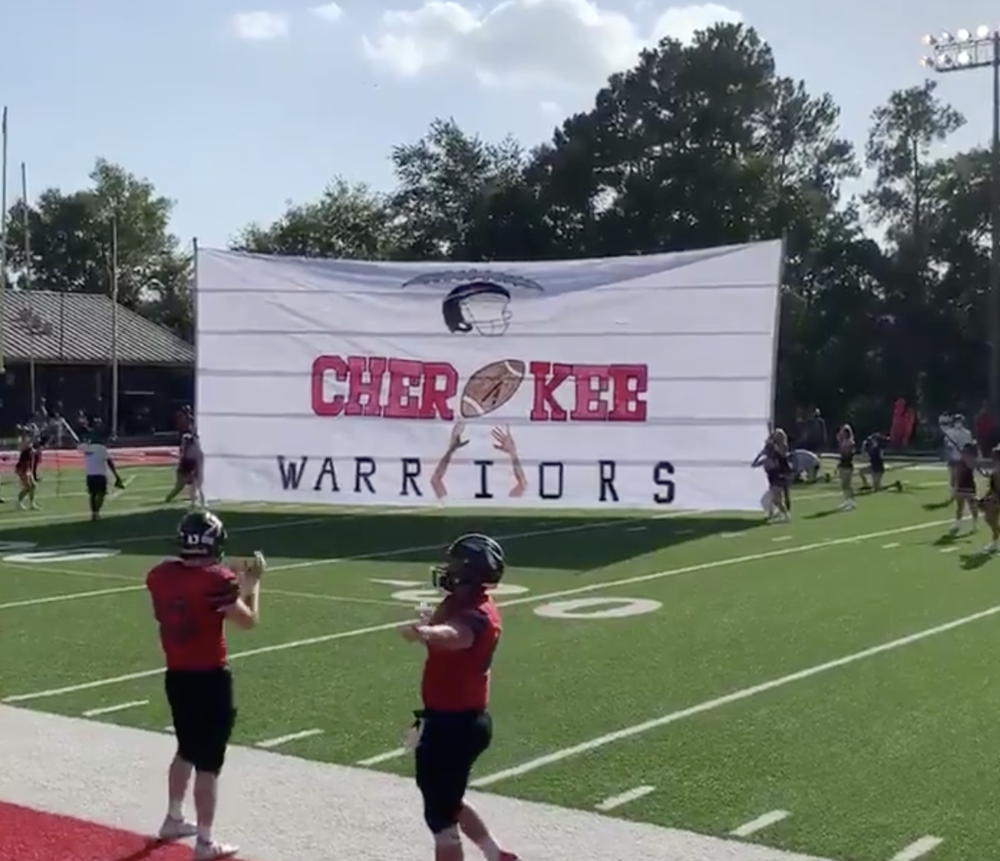 Last Friday night, time ran out on the Cartersville Purple Hurricanes and their 62-game regular-season winning streak. The Cherokee Warriors, their fans and community rejoiced as the scoreboard showed a 14-12 victory. As the on-field postgame celebration continued, Cherokee head coach Josh Shaw was breathing a sigh of relief.
"I felt like if we could get a couple touchdowns, we would be OK," recalls Shaw. "We had a lot of opportunities. We had some penalties and turned the ball over. I guess I need to be a better head coach in those situations."
For those of us who follow a certain professional football team that lives near to us, fourth-quarter meltdowns have become a weekly event. Shaw was hoping that his team would not suffer a similar fate when Cartersville lined up for a play with just seconds remaining.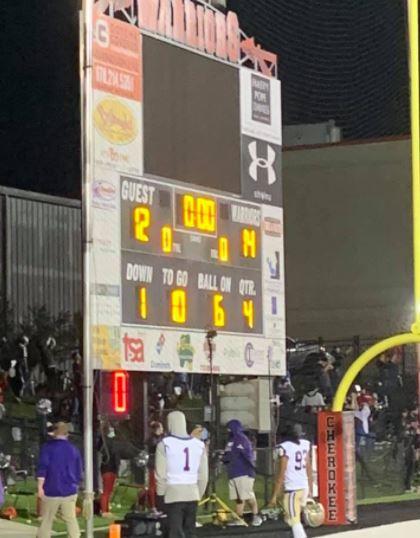 "It was fourth and about 30," said Shaw. "We had played a Hail Mary the week before against Creekview just before halftime and we played it perfectly. It's something we work on every Thursday. We had five kids and I thought they were in great position. But the ball just continued to sail on us. I looked back and I saw the receiver sitting behind our guys and I thought, 'Oh my gosh, it's going to go over their heads.' The backside safety Michael O'Keefe came over, the Cartersville player could not secure the ball and Austin Trimble was right there to pick up the fumble. I was getting prepared to explain to our coaches and players how we gave it away."
The victory raised the Warriors season record to 5-0 and earned them a spot in the state rankings for the first time since 2007. Cherokee is No. 9 in the GPB Rankings. 
The three most recent wins over Cartersville, Creekview and Rome were hard-fought victories. They were the kind of wins that can reveal a team's character. Shaw says a playoff win from last season is an important part of this season's success.
"I felt a lot more confident going into this year's Cartersville game than either of the previous two years," says Shaw. "Last year Cartersville came into the game with a college offensive line. It looked like Georgia out there. Our kids are playing with a bit of swagger this year. I think beating Westlake last year in the playoffs gave our young team some confidence going into big games like that."
"Our kids went into Rome, Cartersville and all of our games expecting to win instead of wondering whether or not we were going to win. Confidence is so key in high school football. We knew we were going to be in for a dogfight, but our defense through these first five games is playing lights out. It's probably the best defense in the nine years that I have been here."
If the playoff win over Westlake gave Shaw reason to think the 2020 season could be special, then a certain phone call in August confirmed it. COVID-19 protocols and logistics sent organizers of the annual Corky Kell Kickoff Classic scrambling for teams and locations. Corky Kell Executive Director Dave Hunter extended a late invite to the Warriors to not just play a game, but to host Carver-Atlanta in what would be the very first game played in the state.
"When Mr. Hunter called, we were all in," says Shaw. "It didn't matter if we played Wednesday or Saturday, if we played at 6 o'clock in the morning or 6 o'clock at night or whether we were on the road or at home."
"So when they called us up five or six days before and said, 'Coach, can you host this?' My AD and I said we would make it work. To be the very first high school football game to kick off the season was just an awesome experience for our kids and to be on TV. We were just excited to be a part of the Corky Kell, let alone have to have the opportunity to host it."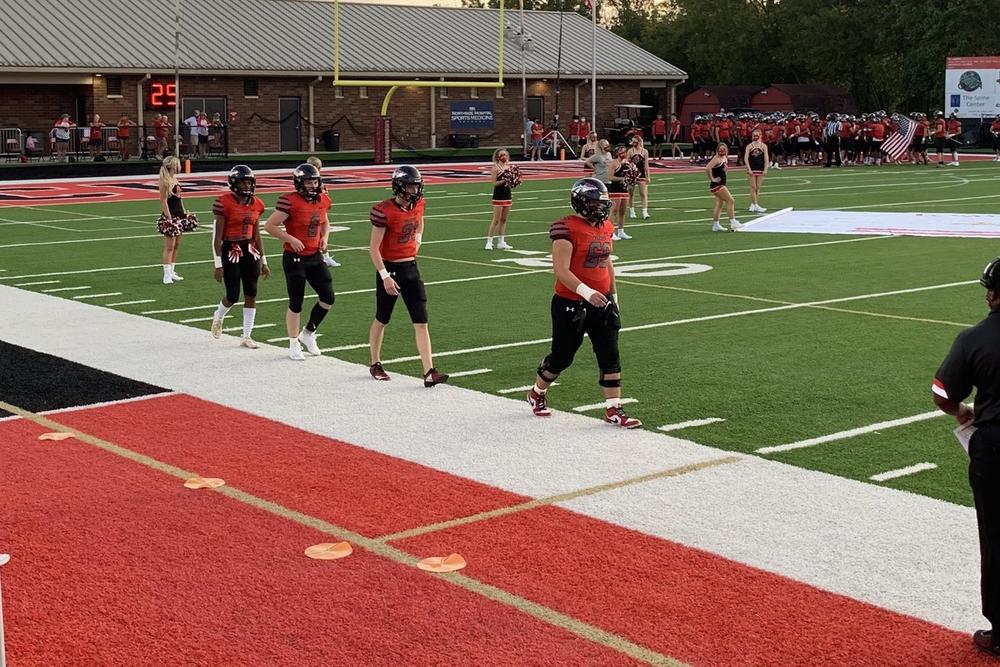 As it turns out, the Corky Kell was a precursor of what was to come for high school football in 2020. Positive tests have made scheduling a weekly problem, testing the flexibility of players and coaches.
"You have no idea on a week-to-week," says Shaw. "You sit back and you hope and you pray that we are going to get an opportunity to play and you don't get thrown a curveball. So many other schools have been in that position. Our county (schools) have been in face-to-face (classes) and back in August we got hit hard, not with COVID, but with contact tracing in the school. We missed quite a few players for a couple weeks at a time. Knock on wood we have been relatively well and things have calmed down considerably. We've been able to keep our team together without anybody having to get quarantined."
Shaw says he is enjoying coaching this year's team more than any other since he arrived at Cherokee. When he thinks about the team having no spring drills, no summer 7-on-7's and no preseason scrimmage, being 5-0 is like a bonus. A bonus in a season that almost didn't happen.
"I think our players realize that you can't take anything in life, including high school football for granted," says Shaw. "They saw how quick it could be taken away. A lot of them are friends with baseball players. Our baseball team had not made the playoffs in about 12 years and they were having a really good season last spring. To watch how that was a taken away from those seniors, our kids -- particularly our seniors -- saw that and learned not to take anything for granted."
Cherokee has this Friday off before starting region play next week against Woodstock.
This week Football Fridays in Georgia will feature Jefferson at Flowery Branch. It all gets started at 7:30 p.m. on the great GPB!
Secondary Content
Bottom Content