Section Branding
Header Content
Lovejoy Seniors Take Girls Hoops Program To New Heights
Primary Content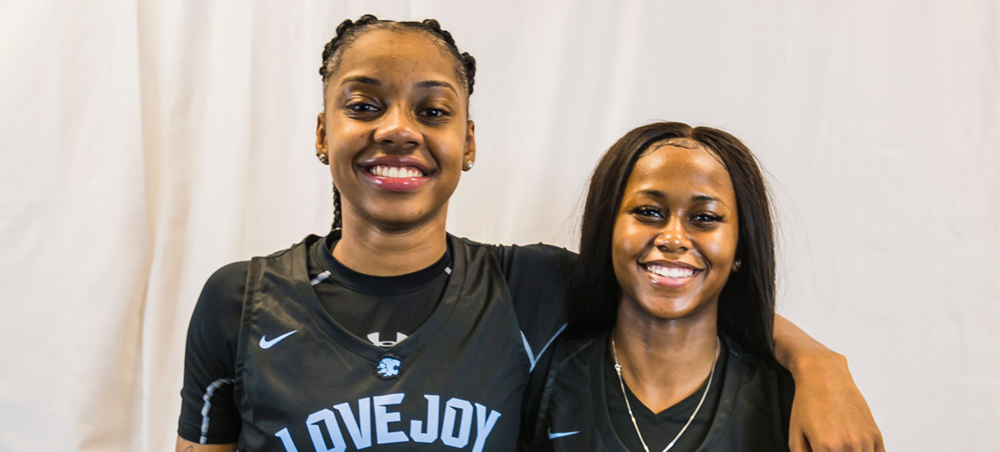 When you look at the Top 80 girls high school basketball players in the country that are heading to the next level, there are 29 states represented in that set of rankings. The state of Georgia has made its mark with three separate schools: Carver-Atlanta, Wesleyan and Lovejoy.
So, which one of those three has more than one player repping their colors?
It's Lovejoy…
Wildcats head coach Cedric King has seen guard Anaya Boyd and point guard Genesis Bryant leave their marks on the program and will send them off to two ACC schools. Boyd is set for a trip to The Flats and Georgia Tech while Bryant is going to NC State for her next stage. The time they have on the floor, which goes all the way back to AAU ball in 5th and 6th grade, now goes in separate directions come the fall.
But, in this time of unknown- both academically and athletically- how are the coach and his most recognized players trying to adjust in the new normal?
For Bryant, it's about rehabbing an ankle injury and learning more about herself as a person and a player. 
"Not being able to finish the season was hard pill to swallow," she admits. "To be honest, I'm still trying to deal with it. I have learned some lessons like overcoming adversity and how to be a leader. Even with my ankle, it's about being there even if I can't be there physically on the court- being a voice on the bench and being a second coach."
Bryant has a trainer give her exercises to rehab her ankle and work on her strength- making sure she can outlast the wear and tear she'll most certainly see in college. She is also taking a virtual college course on critical thinking.  Genesis says it's different for her learning since she's more of a classroom-type. But she is getting used to virtual learning for the time being for a possible future in criminal justice… or sports reporting.
"It's hard not playing right now… really hard. I like to play 1-on-1, some open run, and 5-on-5 when I can normally. But I am being disciplined not to rush back too fast on the instructions of doctors and trainers. I can do some dribbling, free throw shooting, and form shooting to keep me sharp," continued Bryant.
Bryant was also there for Boyd as a sounding board when it came to finding the right school since she had declared first, before Thanksgiving.
"I told her to go somewhere you know where it fits you. Your heart will always lead you where it's supposed to be," said Boyd.
For Boyd, it's about trying to find ways to create a workout routine outside of her driveway… for starters.
"I've, pretty much, been working out on my own," she says. "There's a local park here but I've been without a gym. Georgia Tech has been really helpful sending stuff to do for workouts. With everything opening up, I might get in to a gym. But one of our coach's friends has a garage that has weights. I have been able to get in some bench pressing and workouts like that."
By her own admission, this lost season has helped her in a bigger sense to prepare for adversity, but she also has fond memories of the legacy she, Genesis, and her teammates are leaving behind. 
"We've all put in hard work and enjoyed being able to put our program on the map. Hopefully, it's now easier for the younger girls coming in. Also, you hope everything goes up from here for all of us," explains Boyd.
Anaya is also disappointed about not having a prom and walking for graduating. But there is a thought going around the Lovejoy seniors may walk as they graduate in June. 
For King, it's about making sure all his student-athletes are focused on their tasks at hand regardless of what's next. This virtual juggling act of multi-tasking has been easy for him and presents a lesson for everyone.
"This is the easy part," King says confidently. "We're distracted. We're not together. This is the ultimate self-improvement, self-reflection, and learning about yourself all in one part of life. You can't be with anyone else right now. I'm not in their face. How much do they really want it? This now puts them in an old school frame of mind. You just go out and work. I like this part of it right now. You find out who really wants it. Normally, you're only doing something when the coach or someone is telling you to do something…"
"This time also allows them to breathe since they play all year long. I know it gives me a breath. But we now get to appreciate the experience of playing all around the country and being nationally ranked. When you're by yourself, you ask 'How bad to you really want it now?' Workouts aren't mandatory. It's like doing your homework. You look forward to seeing the end result, who put in the results, and who betters themselves."
Coach King texts with all his players and may, eventually, get to Zoom meetings. But he's the first to tell you that it has been a blessing to be a part of seeing what the winningest class in Lovejoy High history has been able to accomplish and be there to see the next stage of their lives.  
He thinks all of his seniors can conquer anything they want from the next level on. They did all they could do to balance all the distractions and necessities in front of them to get to the next stage.
He can't wait to see their futures and build on the legacy they have left behind.
Secondary Content
Bottom Content