Section Branding
Header Content
Georgia Coaches, Valdosta Community Members Respond To Propst Hire
Primary Content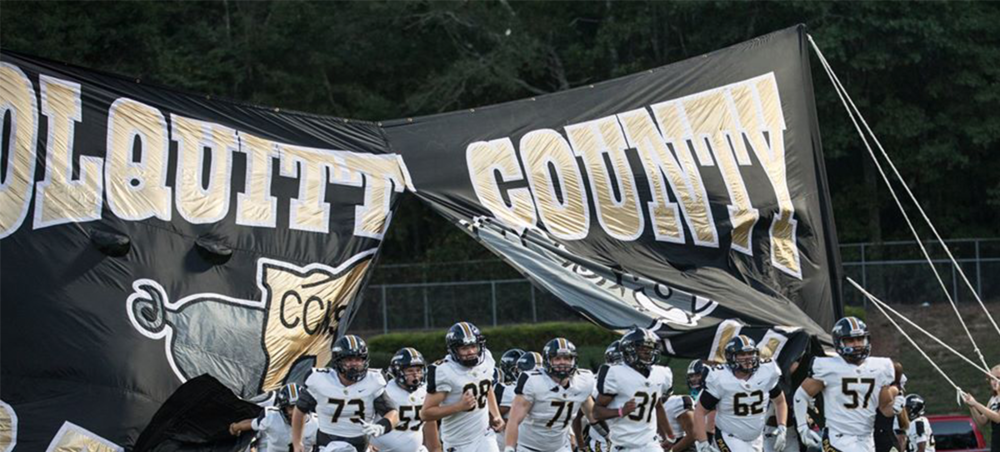 Secret meetings in the cover of darkness, cars being concealed to hide identities, and a potential celebrity involvement are just some of the alleged efforts made by Valdosta High School officials to keep the head football coaching hire under wraps, according to Phil Jones, station manager at Fox Sports Radio Valdosta. 
After quietly vetting 15 candidates over ten weeks, the Valdosta Wildcats chose controversial coach Rush Propst to lead the team earlier this month. He inherits a football program that boasts the most all-time wins in the country, according to the NFHS record book, along with a state record 24 championships.
Despite Propst's questionable reputation, he's a proven winner with almost 300 victories under his belt. Is that enough to impress the Valdosta community, though? 
"You have some longtime supporters who withdrew their support financially, emotionally. Anything connected with Valdosta High School, they were done," said Jones. Those community members are loyal to former head coach Alan Rodemaker who was fired in January under controversial circumstances as well. 
However, there are also those who are ecstatic over the hire, like Johnny Holcombe, a member of the board of directors for the Valdosta Touchdown Club and manager of the David Waller Wildcat Museum.
"You're always gonna have a handful of people that are going to react negatively to, if you want to call it the controversy, but I would say that the majority of our community here is thrilled, thrilled to have him here," said Holcombe. 
Holcombe plans to add Propst's picture to the museum soon and hopes to collect trophies and accolades around his name.
Whether you love Propst or hate him, Jones and Holcombe both agree that for those who are upset over the hire… Propst will end up getting the last laugh. 
"They know that Rush is so thick skinned and is such a great salesman, he'll be able to go out and talk to these people, talk to the supporters, he'll rally the troops. He'll get everybody back behind Wildcat football. And then of course, you know, once the wins start coming, and everyone anticipates that they will be because of Rush, the support is going to improve dramatically," Jones explained.
During his time at the helm of Colquitt County, Propst went 119-35 in 12 seasons with two state championships. Current Packers head coach Justin Rogers said he doesn't have a dog in the fight when it comes to Valdosta hiring Propst, because their paths have never crossed on the field. That will all change come September 11, 2020 when the two teams face off in what could be the most anticipated high school football game in the state's history. 
"Well, we are going to sell some tickets," said Rogers. "That's all you need to know right there. I mean, it's like Georgia-Auburn, it's over 100 years old, and we certainly don't want any of the games to ever be about one individual. The games are always about the players on the field and their opportunity to be able to play high school athletics, and the memories and the relationships that they build that lasts a lifetime. I mean, that's the beauty and nature of high school athletics, that's what it should be about every game," Rogers continued. 
One person who has faced Propst many times is Camden County head coach Bob Sphire. They both have been coaching football for over 30 years and have had tremendous success in the state. The Wildcats will also play against Valdosta in the upcoming preseason.
"You never want to see things politically impact somebody like Alan Rodemaker who I know is a good football coach. He's one of those guys that is well respected in the profession… but obviously Rush always found a way to have his teams ready to play on Friday nights," said Sphire.
Another twist in all of this, is that Rodemaker could be facing off against Propst this season. Both Jones and social media reports claim that Rodemaker has met with Colquitt County about joining their football staff, but those reports are unconfirmed.
"We kind of live in our own little bubble trying to get our own program ready. So, I've always tried to stay out of the middle of the political side and not pass judgment on people's motivations to hire and fire and all that kind of stuff. Because unless you're there in the community, unless you're there in the system, you know, you can only draw conclusions off of the limited picture," said Sphire.
Regardless of who's side you are on, one thing is for certain… come September both Valdosta and Colquitt will be ready to play and both coaches will try to keep the focus on the players. For now, both Propst and Rogers also agree that the priority is keeping families safe and healthy through the coronavirus pandemic, one of the most unprecedented times in sports history.
Secondary Content
Bottom Content