Section Branding
Header Content
Five Questions: Callaway's Tank Bigsby
Primary Content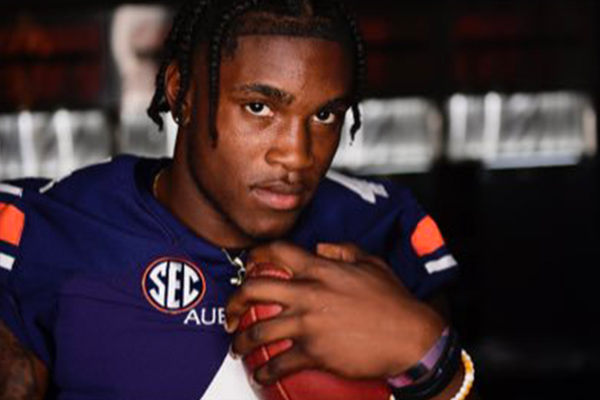 Cartavious "Tank" Bigsby is a starting running back for Callaway High School in Hogansville. The 6-foot, 210-pound senior is the No. 5 running back in the country and fourth overall player in the state, according to the 247Sports Composite. Bigsby is committed to Auburn and chose to play for the Tigers because he felt most at home with the team. He also built strong relationships with head coach Gus Malzahn, running backs coach Cadillac Williams, and others on the coaching staff, through honesty. 
Before he takes his talents to the next level, though, Bigsby has some unfinished business with the Cavaliers. He said this is the year Callaway is going to go all the way and win a Class 2A Championship. He plans to do that by running the ball hard and putting the team on his back when they need him the most. 
We caught up with the offensive standout to ask him a few questions.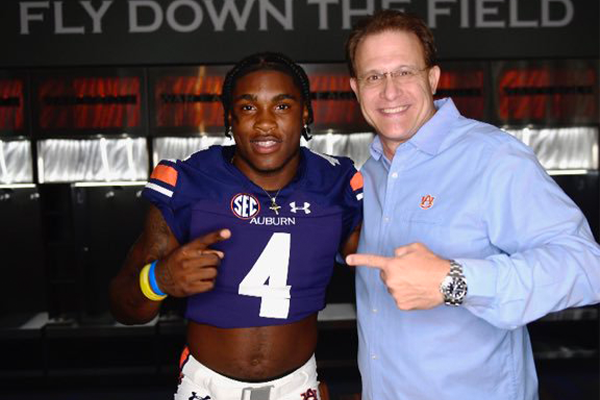 What would you attribute your successful season to? "I just like working hard. There's nothing like working hard to be successful. I also feel like I can't let my mom down, she's the reason I work so hard. I always keep going for her."
How did you get the nickname Tank? "When I was younger, I played rec ball and my mom told me that I run the ball like a tank. I used to just hit people with my head, so she gave me the nickname Tank and I've been called that ever since."
What are you working on to prepare for Auburn football? "My quickness, explosive power and I need to get stronger. I'm also working on catching out of the backfield. I just want to be great, and it's about working on all of the little things." 
Do you have a special hobby? "I like to rap with my teammates. When you go through certain things you start trying to say something, and my cousin got me into it. I realized I could rap freestyle. I also listen to rap music before every game."
What is it like to play under the lights at Callaway each week? "It's good. We play together like it's a brotherhood. Being together with the team is unbelievable and being able to play and be a Cavalier is great. The school is good, our coach is good, and my teammates are like brothers. We are always there for each other so it's great to play as a Cavalier on Friday."
Follow Bigsby on Twitter @Tank5_21
Secondary Content
Bottom Content