Section Branding
Header Content
West Laurens Takes Old-School Approach to Success
Primary Content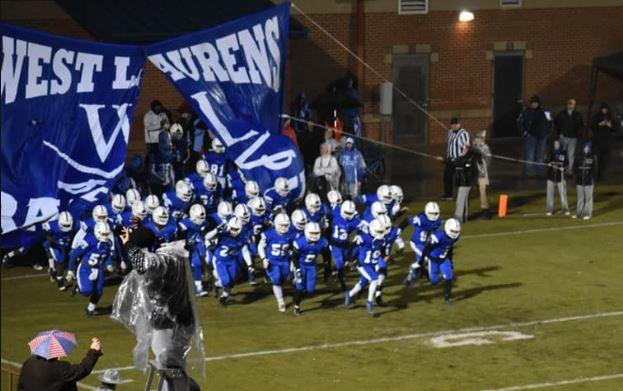 Now that we have reached the Elite Eight in the GHSA football playoffs, many fans have started to notice there is an outstanding football team between Dublin and Macon just off the Dexter exit on Interstate 16. That team is the West Laurens Raiders (11-1), coached by Kagan McClain.
A few facts about this team needs to be shared. Before McClain arrived as a defensive coordinator, the Raiders in their history had only won 35 percent of their games and the school was located a short stop from Dublin High, another football power in Laurens County. There are several small communities which surround West Laurens and that is where their talent is drawn from. 
I asked the now-head coach McClain what the biggest factor has been in this year's success.
"Without a doubt it's the dedication over the past two or three years to their working hard in the weight room," McClain said. "The kids have bought into the fact that if we aren't getting stronger every week, we are not playing the game of football the way it was designed to be played."
The West Laurens Raiders own a few weight-lifting titles in Class 4A, which brings great joy to McClain.
"We are without a doubt a blue-collar football team here at West Laurens," said McClain. "It has served us well and reflects the personality of our communities here in Dexter and those around us."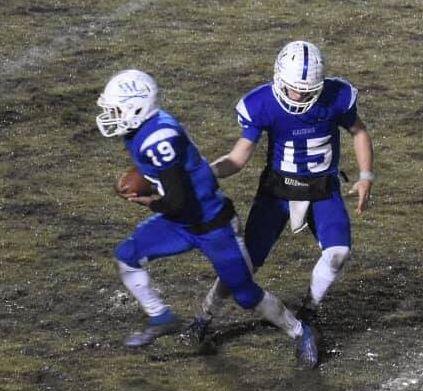 The 11-1 mark that the Raiders have achieved has not been against weak opponents and resulted in a Region 2 championship. It was only the third region title in school history and the first since 2014.
"I went back over our schedule for this year the other day and we played nine teams that made this year's playoffs," he said. "We didn't get off to the greatest start early on, but after we lost to South Effingham 31-30, we all picked up our lunch pails and went to work."
There are 21 seniors on this year's team and they have led the way for the Raiders. The offense is led by A. J. Mathis, 6-foot-1, 190-pound quarterback who has thrown for 2,153 yards and 23 touchdowns.
On the defensive side, D'eryk Jackson, a 6-2, 240-pound linebacker, anchors everything. 
"He's big, fast and a very good football player," said McClain. Jackson is committed to Kentucky.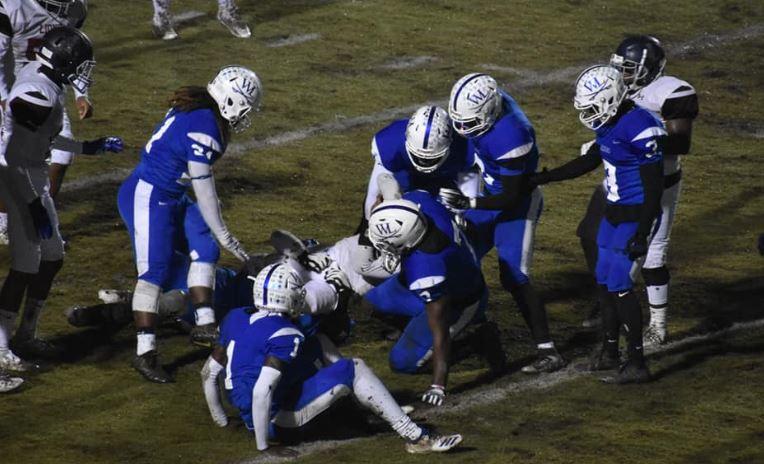 The West Laurens defense has allowed only 124 points. Only Woodward Academy (83) has allowed fewer points. 
What does McClain expect when his Raiders travel to Roswell this Friday night to play two-time defending Class 4A champion Blessed Trinity? The Raiders will be trying to reach the semifinals for the first time. 
"I expect it to be a very physical game from the first snap," he said. "They are well-coached and have a lot of talent. I look for an old-school football game."
Blessed Trinity's only loss was to Woodward Academy 13-10.
"We'll load up Friday morning after breakfast and make the trip up to Roswell and see what happens," said McClain. "We are looking forward to an old-fashioned trench-warfare football game. I think football fans will enjoy this game. We both (West Laurens and Blessed Trinity) may be considered old-school football teams but I think the fans will enjoy this one."
The West Laurens-Blessed Trinity winner will meet the winner of Woodward Academy-Cartersville game in next week's semifinal round. 
Secondary Content
Bottom Content