Section Branding
Header Content
Roswell Still Running Toward Its Goals
Primary Content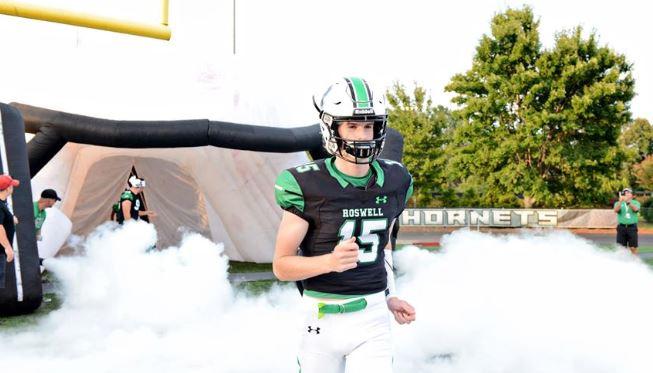 It's the second week of the GHSA playoffs. The teams that survived the opening round are still on the grind. The coaches are paying attention to detail. It's amazing how the longer a season lasts, the bigger the little things become. It can keep you up pretty late at night and sleep comes at a premium.
"What was that word that starts with an 'S?'" asks Roswell Coach Matt Kemper. "You are running on fumes and adrenaline. You just have to push it through. You are completely, slap worn out, but you are happy to be here and just hope that you can keep it rolling. The margin for error gets very, very small."
The Roswell Hornets advanced to the second round after a 31-0 win over Wheeler last Friday night. It was the third shutout of the season for the Roswell defense. When I visited with Kemper's team back in the spring, he told me the 2019 Hornets might have to lean on the defense.
"We had some questions to answer offensively," recalls Kemper. "Some days we got an answer and other days we were still searching. I think we knew going in that we would have to rely on our defense quite heavily and we've been able to do that. It has kept us in games. Last Friday we just went out there to play like we do each week. If they don't score, I'm pretty sure we can't lose. We'll take that every week that we get it. "
With the offense still evolving and leaning on the defense, it would be special team miscues that will lead to the season's first setback against Milton. The Milton-Roswell rivalry is one of the most intense in the state. No need for bulletin board material that week, especially when you consider that it was Roswell that handed the defending state champions one of their two losses last season. This time the scoreboard read Milton 16, Roswell 12.
"You go into that game and the emotions of that game are just next level," says Kemper. "Our kids are amped up, their kids are amped up. It's a big game and looking forward it's going to be even bigger, because in the future it's going to be a region game. Our defense played well in that game, but we didn't play well offensively. We didn't do well in the kicking game. We left five points on the field. We missed a field goal and two extra points and we lose by four. So, there was a lot of heartbreak from that."
Region play would begin with a trip to Cherokee and 21-14 loss to the Warriors. The Hornets were 3-2 with four games remaining. The coach didn't have to look very far to find some inspiration for his squad.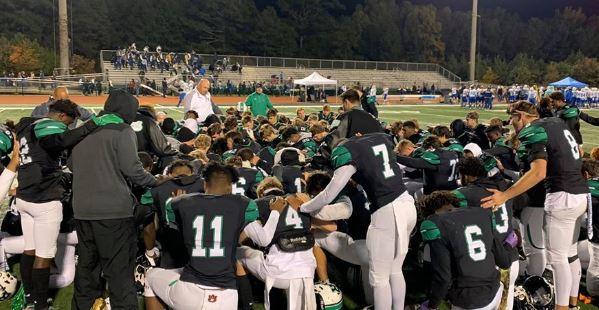 "There is a sign in our fieldhouse that lists program goals," says Kemper. "One of those goals is to beat Milton, we had to cross that one off. Everything else we hoped to accomplish is still on the table and still attainable. We have a great group of kids, they are tough and they are resilient. There is an old saying that great things are accomplished through perseverance, not restraint. Our kids persevered and said, 'Hey , we control our own fate.'"
Roswell is ranked second in Class 7A in scoring defense. The Hornets "D" is anchored by senior linebackers Doneiko Slaughter and Will Troutman, who had missed playing due to injuries, but are healthy in time for the postseason.
"Neiko Slaughter and Will Troutman are great kids and really good players," says Kemper. "Slaughter is committed to Arizona State and Troutman to Harvard. We have good production out of our defense line. They are not a bunch of 260-, 270-pound kids. They are not the biggest guys, but they play with great technique and great leverage. Caden Bondurant is one of the leading sackers in the state."
The Roswell offense is led by senior quarterback Ethan Roberts, whose abilities and personality seems just right for this team.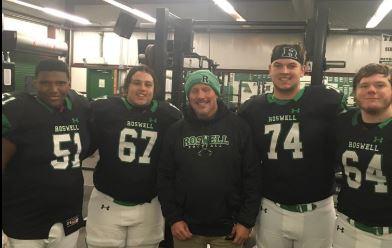 "His big things are the intangibles," says Kemper. "He is a good leader and kind of unflappable. He kind of has that Eli Manning thing where he just shakes things off and moves on to the next one. He certainly has been in some big games."
Kemper doesn't hide the fact that his team loves to run the football and this season has a trio of running backs that have gained 1,300 yards. The running game is not just for the running backs. In a tight region contest against Walton, senior tight end John Copenhaver was called on to play a special role in the ground attack. The North Carolina commit carried the ball 11 times for 46 yards and a touchdown in a thrilling overtime win.
The win over Walton paved the way to a second consecutive region championship for Roswell. The coach knows that the play of his offensive line has made it all possible.
"That group of kids is just lunch bucket carrying, hard hat wearing kids that love the weight room," says Kemper. "Obviously they are led by Trey Zimmerman, who has a lot of gifts and is bound to play at a high level, as a commit to North Carolina. We have to hitch our wagon to those guys and let them take care of us. Folks might say we are a little conservative, but 7A football is like a heavyweight fight. You have to throw a lot of body punches, try and wear folks down and take control of the game in the second half. "
Hmm, sounds a lot like a team that I watched last Friday night. Mill Creek opened the postseason with a demonstrative 45-14 win over Newton and this Friday will come to Roswell's Ray Manus Stadium for a second-round showdown.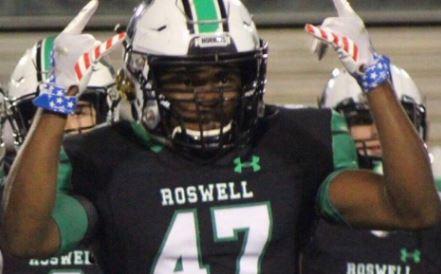 "We are both 75-80 percent run," says Kemper. "It's like a non-existent stat these days in spread football, but I really think that time of possession will be important in this game. If we can get a hold on that football and keep it, keep their offense on the sidelines, that will be huge for us."
So, Kemper will happily forgo sleep again this week, as there are preseason team goals that are still in reach for his team. It's a special group that loves playing for each other.  
"Every day this crew breaks it down on '1,2,3 FAMILY,'" says Kemper. "That has been our slogan for this year. We're a family and it means a heck of a lot at Roswell. You stand on the shoulders of a lot of great players and a lot of great coaches. It's a heavy cross to bear at times, but our guys do it well. They certainly respect that history and tradition and just want to keep it going one more week."
This week Football Fridays In Georgia will be in Lilburn for the second-round matchup between Colquitt County and Parkview. It all starts at 7:30 p.m. on the great GPB!
Secondary Content
Bottom Content