Section Branding
Header Content
It's All Working Well For Ware County
Primary Content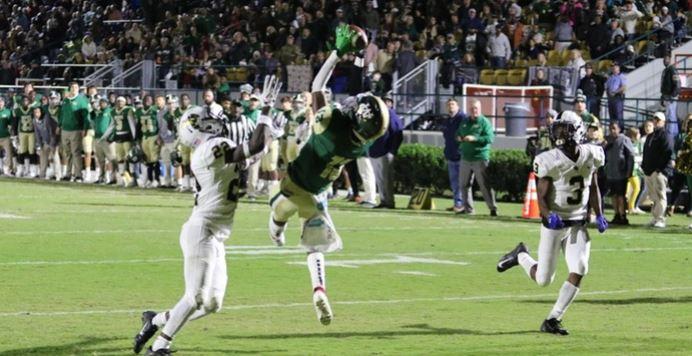 It was one of the most anticipated games of the last week of the regular season.
Wayne County and Ware County for the region title, and the No. 1 seed that goes along with it.
In Region 2-5A, it's what I call a mini-region, where you have to schedule more than half of your games as non-region contests, get and STAY as healthy as possible and sprint through a four-game schedule to determine who gets home field advantage for as long as there aren't coin flips involved in figuring out where you go on a Football Friday.
Everything went the Gators' way and Ware County, under first-year head coach Jason Strickland and his staff, get to prepare and stay at home for a while -- winning 48-14.
So, I asked Jason about the final score and having a 34-point win. If I told you it was going to shape up that way, what would you have told me before kickoff?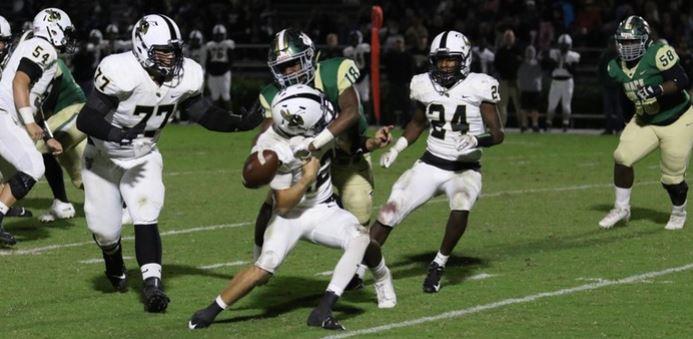 "I would have laughed in your face," as Jason was laughing his way through the question I just asked. "I would have told you there's no chance it was going to turn out like that. There were moments this season where we played really well, but we didn't have a game where all three phases played really, really well. The potential in Class 5A for us was there this season, but we hadn't seen it under one Friday night until last week.
"It's very validating. Basically, when there's a transition --  a full new staff -- and you have this mindset of kids learning a new system and figure out coaches. Well, coaches have to figure out kids, also. Where do they best fit? During all that, you're doing everything you can to keep the kids bought in and convincing them to trust you and you get in this huge moment and a huge stage like last week. And it's loud and chaotic and everyone is rowing the boat in the same direction- you go: 'Wow…' 
"We thought it was going to happen -- not necessarily this season, though. But then there's a big sense of gratification where every call you make goes your way like last week with all the ups and downs from this season."
What the first year is like for any new administration can be nerve-wracking, challenging, have its share of ups-and-downs, and everything you have to manage in between is like juggling chainsaws on a daily basis. But everyone bought in -- coaches, administration, fans, players -- and the results mean 8 to 9,000 people show up at Memorial Stadium to see the team do well in the rankings and on the field.
But getting ready for an Ola Mustangs team isn't easy because Ware County had to keep an eye on Jones County and Stockbridge and see if there were going to be tiebreakers and math involved in figuring out who the first-round opponent would (or could) be -- more stuff you had to juggle.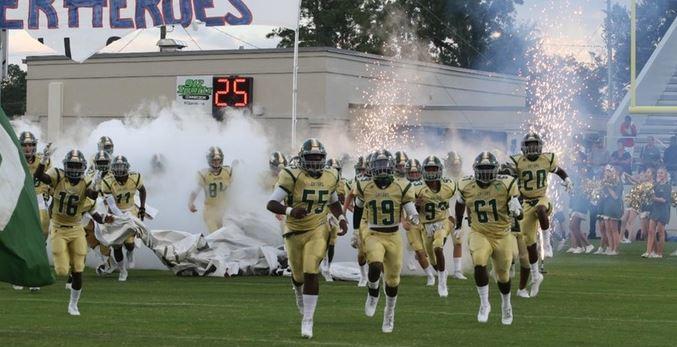 "Yeah, we were trying to figure it all out," Strickland said. "To be honest, we went in to Friday thinking of, maybe, playing a Saturday game. There might have been a mini-game on Monday in the region we were facing. We were so consumed with round one that we couldn't look at the rest. We really didn't get past that. 
"We were wondering: 'If they go to a mini-game, who do we face? Who's the No. 4-seed? If we lose, who's the No. 3? You collect as much film as you can, and then mid-way through the fourth quarter of our game with Wayne, Stockbridge is on Jones pretty good. Then, you see Clarke Central beats Buford, and that was not expected to happen, either."
Then, we talked about what the playoffs can mean to a team, a town, and a time. All Strickland had to do was go back 2018's playoffs for what the magic can mean when it all comes together. 
"Last season, Bainbridge showed us the power of high school football. We went through some storms this year, but we didn't go through hurricanes like they did. Those guys went through a hurricane and found a way to put it back together for a run that we'll remember for the rest of our lives.
"I don't know if the bracket has fallen our way, so to speak, but I think we're one of the better teams in 5A. I told our kids after practice Monday, that we've got some very good football players and we're a very good team. If we get by Ola, then we may have to play Buford. We're gonna take it, and I like the way we're playing and practicing. We're now having a lot of fun."
So, now after all the possible tie-breakers and math, the brackets are secured in Class 5A and it will be the Ola Mustangs and the best season they've ever had making the trip to The Swamp. A lot of folks may remember head coach Jared Zito from his time in Gwinnett County. He's been at Ola for six years and the team has had the best regular season they've ever had heading in to Round One.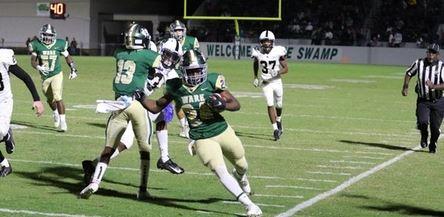 "I've been telling people that they have same exact record we do," Strickland admits. "They're a 4-seed at 7-3: just like us. There has been a wide range of coaching backgrounds for Jared. He knows how to reach kids and get them to believe they can win. This Friday has a chance to be another special moment this year for both teams. But our kids like playing Fridays and like playing in the Swamp. 
"The fans have been crazy every week there. We've had to go full signals because you just can't hear! It's an awesome atmosphere.  If you haven't been to a game here, you're missing out because it's a special, special place."
And another playoff will get to see it here in 2019.
Play it safe, everyone… I'll talk to you soon… 
Secondary Content
Bottom Content