Section Branding
Header Content
Dublin Still Running Opponents Ragged
Primary Content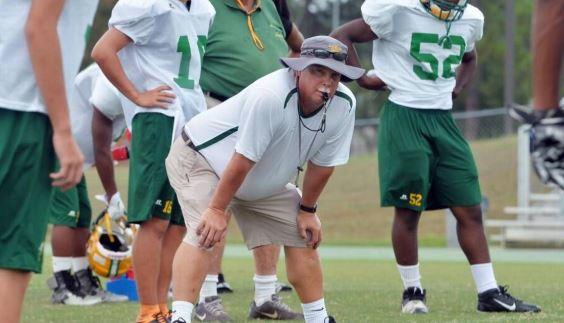 In an era where it is fashionable to spread the field and throw 30-40 passes per game, the Dublin Irish of Coach Roger Holmes prefer to run the ball, and then run the ball some more.
The Region 3-2A champions ran the ball this past Friday night for 758 yards in a 77-48 win over Suwannee, Fla., to push their season mark to 9-0, heading into this week's season finale with Washington County.
The 758 rushing yards total is the eighth highest total in national high school football history.
Holmes was proud of his team's effort this past week. 
"Suwannee is a good team from north Florida, but our line of scrimmage went to work and the results were amazing," he said.The Irish rushed 56 times for an average of 13.5 yards per carry and for the record, they run a version of the Delaware wing-T formation.
"That's what we do here at Dublin High School, we run the wing-T," said Holmes. "It has been good to us through the years and hopefully when the playoffs begin next week it will continue to be good to us."
Running back JaQues Evans has scored 23 touchdowns for the Irish in his last four games, and now has 29 on the season. Evans averages 12.4 yards per carry. Other backfield mates are having banner years as well. Marcus Adams has scored 11 touchdowns and averages 10.1 yards per carry and Zion Kemp averages 12.6 yards per carry.
Evans rushed for 375 yards and scored seven touchdowns against Suwannee. Kemp rushed for 252 yards and three touchdowns. Dublin has scored 461 points, more than any other team in the classification. 
"We have played a tough schedule … ECI, Swainsboro, Brooks County, Bleckley County, Dodge County, Northeast of Macon and now we have to play a very good Washington County team to end our regular season," said Holmes. "I'm surprised that we are 9-0. We lost some very good players from last year's team, four of which are now playing at the next level. We lost our starting quarterback in the second game of the year but we just seem to keep winning."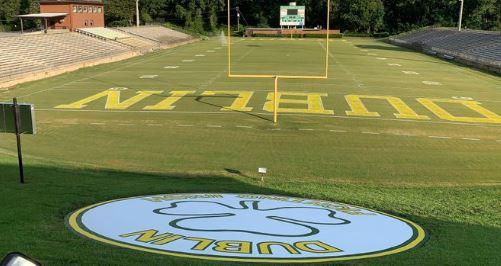 Holmes credits his offensive and defensive lines with this year's success.
"Even though we lost some good players from last year's team, we returned an experienced offensive line and I would have to say that they are the reason for our undefeated season thus far," Holmes said. "We have great size up front and they are very athletic as well."
In answer to the question, is this the best Dublin team he's coached? Holmes answered, "I don't think so. We've had some good teams here over the years. The championship team that broke the state scoring record was very good and there have been other teams here that were good."
Holmes admitted that this is a good football team he's coaching this year, but was quick to point out that Class 2A is loaded with great football teams.
"Hapeville Charter, Swainsboro, Rabun County, Metter, Brooks County and the list goes on and on," said Holmes. "We've got a tough assignment this week with Washington County and then the playoffs begin with a game with Region 1. It does not get easier. That's a tough region to match up with." 
The Dublin Irish are Class 2A's top-ranked team in this week's GPB Top Ten rankings, and as long as they continue to run the ball the way they have this season, there's no reason to believe that they won't remain there for a while.   
Secondary Content
Bottom Content