Section Branding
Header Content
Mays Proves It Belongs With The Best
Primary Content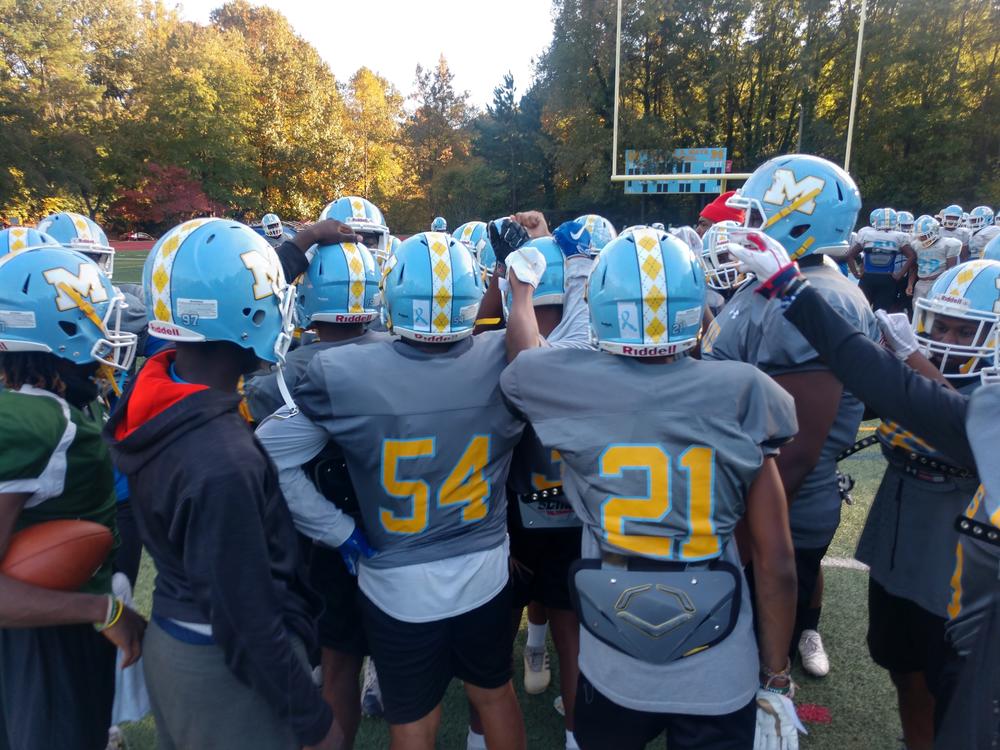 The Lakewood Stadium scoreboard clock was out of time and the final score read Mays 28, South Paulding 7. The Raiders had won the showdown for first place in Region 5-6A. That's news. It was their seventh consecutive victory and now Mays sports a record of 7-1 (6-0) -- another thing to thump your chest about. 
I stopped by Mays this week to watch the team prepare for this week's region matchup with Alexander and the coaches weren't pleased with how the team started practice, so they made the team start practice all over.
"We look at Alexander just like we did South Paulding," says Mays head coach Niketa Battle. "South Paulding was leading the region, but we are looking at Alexander the same way because they could upset us." 
(Click here to watch a replay of the Mays-Douglas County football game shown on GPB.)
This is Battle's fourth season as head coach at Mays and after leading the team to back to back 11-2 seasons, the 2018 edition of the Mays Raiders finished 6-5. It's the kind of season that is not easily accepted by a team that prides itself in being the flagship high school football program for the City of Atlanta. 
This season Battle's team is dotting the I's and crossing the T's, leaving nothing to chance.
"We treat every game like a state championship game," says Battle. "No opponent will be overlooked. Last year we had a really good team, but the seniors had a problem with overlooking opponents and there would be teams that could bust you in the mouth. This year we are not taking any opponent lightly. They realize that on any week you can be upset, so let's play our best and treat each game like It's our last. That mentality has helped propel this team to that next level that they need to be on."
I watched Mays play their spring scrimmage at Westlake this year and at that time Battle was breaking in a new quarterback in Andrew Banks, but there was something else that was demanding more of his attention.
"Offensive line was the area that we were most concerned about going into the summer," recalls Battle. "We knew we had a lot of kids with little varsity experience. To be honest, we took some kids who were playing interior defensive line and put them on the offensive side of the ball. They naturally had a little more fight in them than regular offensive linemen. We are not as massive as we were back in 2014 when we made the run to the state championship game, but they kind of remind me of that line because they are smart guys and they make good decisions."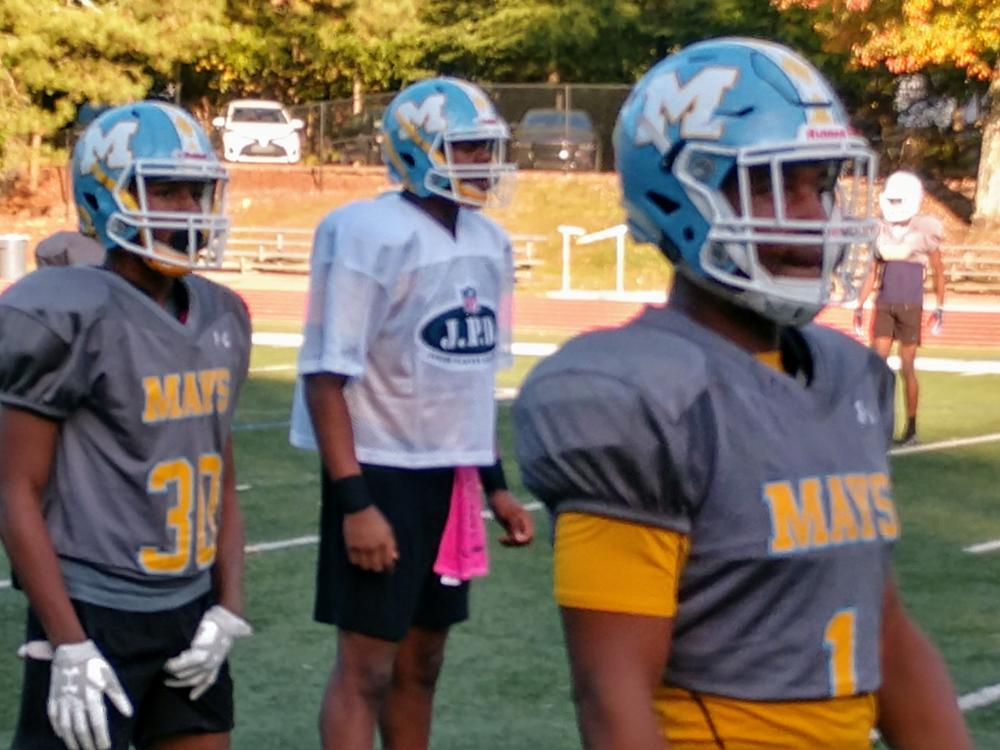 That big offensive line is the key to the success of the Mays offensive attack. It has helped in the development of Banks, who last week threw for 197 yards and a pair of touchdowns and rushed for 140 yards and another score in the win over South Paulding.
"Our quarterback is not 100 percent where we need him to be yet," says Battle. "But he is confident enough to run the offense effectively. He is much more confident in what we are doing instead of run first and pass later."
Another beneficiary of the offensive line is senior running back Tyree Nelson, who has landed offers from Pitt, Western Kentucky and Colorado State. The duo of Nelson and Banks give Mays a potent running game, but Battle is excited about another threat.
"The best thing to happen to Tyree is the development of a No. 2 running back," says Battle. "Because of Danny Conley, we can put Tyree in a situation where he doesn't have to just run the ball every play. We can motion him out to the flat, or line him up as a slot receiver. We can get the ball into his hands in different type ways now that we have another running back and that is why Tyree is being more successful now."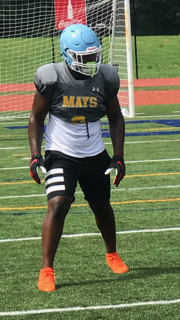 While some of last season's defensive line now plays on the other side of the ball, make no mistake that defense is still top priority at Mays. The Raiders defense is the best in Region 5, surrendering seven points or fewer in three of their wins this season. The Mays defense is anchored by senior defensive end JaQuari Wiggles. He too, can also be found on the other side of the ball, and last week caught four passes for 88 yards and two touchdowns against South Paulding. The 6-foot-2, 263 pound Wiggles is committed to Georgia Tech. 
The Raiders stumbled out of the gate with a 17-12 setback against Kell in the Corky Kell Classic. Battle says miscues on special teams hurt his team in the season opener, and since that time maturity has allowed the team to grow up and play faster on both offense and defense, more like their old pace from the past.
Whenever Battle references the past at Mays , most of the time he's speaking of the 2014 Mays team that made it to the state championship game, falling to Northside Warner Robins. No Atlanta Public School football team has made it as far since and as the postseason approaches, Battle expects great things from his Raiders, but knows that others don't see them that way.
"The rest of the state doesn't see APS as having top-caliber teams that can play in the playoffs," says Battle. "That's why I feel we are constantly overlooked when the rankings come out each year. The naysayers just don't think we play good football in the City of Atlanta and that is the chip that we have on our shoulder heading into the playoffs. We will get off the bus and they will see our size, but we want them to see that we actually can play the game of football. I want people to see us, not just because we are big and not just because we are fast, but look at us because we can run a real good system."
This week Mays will visit the Alexander Cougars (5-3) in a Region 5 matchup. A win would clinch the region title for the Raiders. 
Football Friday's In Georgia will be in Gwinnett County, as the Dacula Falcons and the Lanier Longhorns square off for first place in Region 8-6A. It all gets started at 7:30 p.m. on the Great GPB! 
Secondary Content
Bottom Content