Section Branding
Header Content
Five Questions: Dalton's Jahmyr Gibbs
Primary Content
Jahmyr Gibbs is a starting running back for Dalton High School. The 5-foot-11, 194-pound senior is the eighth-ranked all-purpose back in the country and 30th overall player in the state, according to the 247Sports Composite. Gibbs is verbally committed to Georgia Tech, but his recruitment is far from over. He's had a lot of fun on the recruiting trail and plans to visit more schools soon. Gibbs will announce his final decision during National Signing Day on Feb. 5, 2020. 
It's no surprise that offers keep rolling in for Gibbs. He has shown off his senior season and is currently the leading rusher in the state after amassing 1,690 yards on 131 carries with 27 touchdowns. Even more impressive are his career stats that just keep growing, he's had 441 carries for 4,018 yards and 57 touchdowns. 
Dalton head coach Matt Land said until this season Gibbs was a three-sport athlete, going from football to basketball to track. He was competing at such a high level that one of coach Land's goals this year is to keep him healthy and take care of his body. He also wants to prepare him for the next level by continuing to work with him on leadership and character building. Something you might not know about Gibbs is that he doesn't like a lot of attention and he's actually pretty shy, so the staff is working with him to be more vocal because that's what big programs are looking for in him. 
Land also said there are so many words he could describe Gibbs as, but humble is most fitting. He said that Gibbs has every right to bang on his chest and be a "look at me" kind of player but he's the complete opposite of that. He is constantly thinking about the team, not himself, and that is an inspiration to Land.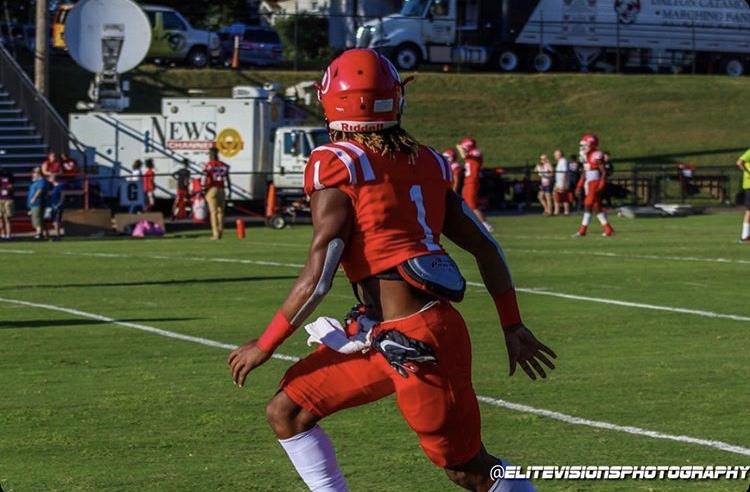 We caught up with offensive standout to ask him a few questions.
What would you attribute your success to this season? "My offensive line. They're just very well-coached. They open up the holes for me to run through and the communication is really good. They've been working really hard in the off season."
What do you need to work on for the next level? "Blocking, that's the main thing."
Why did you verbally commit to Georgia Tech? "I really like the coaches, coach [Tashard] Choice and coach [Geoff] Collins. I also like that it's in Atlanta."
What has head coach Geoff Collins said to you about your role in the Tech offense? "He said he could really put me anywhere, like at punt return, kick return, running back, receiver, I could play anywhere for them. He said that I'm very versatile ... I like that they're off a wing-T and they went to more of a spread offense, that's what most teams are doing now."
What is it like to play under the lights at Dalton each week? "It's a very good environment, surrounded by people that love you. A lot of people come out to watch so that's very fun because they get loud."
Follow Gibbs on Twitter @Jahmyr_Gibbs1
Secondary Content
Bottom Content