Section Branding
Header Content
All Abuzz About Pelham's 5-0 Start
Primary Content
The numbers, so far, are pretty staggering.
Through the first half of the 2019 season, the Pelham Hornets are 5-0. They're near the top of the Class A Public rankings, undefeated, and have outscored their opponents so far 251-12. Because of this first half of the season sprint, I asked head coach Dondrial Pinkins if he wanted to keep playing with all this momentum or if he was ready for the bye week.
"At this point, probably, we're ready for the bye week," coach told me. "We have nine kids with a couple injuries – nagging things ... ankles, hamstrings, that kind of stuff. So, yeah, the bye week is beneficial right now.
"I think we're getting close to where we want to be, but with guys out, it has also allowed us to play guys that we will need down the road. More than anything, we're just trying to get better each week. Guys have stepped up for us and coaches have done a great job putting game plans together."
In his first four-plus seasons at Pelham, he has improved from a 6-5 record in the first year to back-to-back nine-win seasons and a semifinals appearance in 2018 before losing 23-6 to Irwin County. 
"The biggest lesson is that, last year, we knocked on the door and now the players have the mindset to kick it in. They realize how close they were and they're ready to come to work and be ready to work taking that responsibility into their own hands."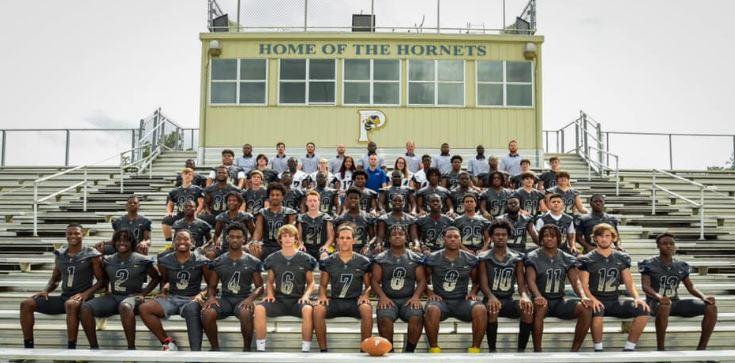 Over time, no doubt, it's been refreshing to see that change and maturity. 
"The coaches aren't having to be on them all the time now," Pinkins says. "The players are doing that themselves. Things are different from when we first got here four years ago. Looking back, the kids have done an outstanding job and we're seeing it right in front of our eyes. It's a blessing. They understand there's and expectation on and off the field and they're doing it consistently. It's those little things -- the intangibles and also things like going to class. 
"If there's a fourth-and-2 or a fourth-and-inches in a game, and if we're seeing you do the things the right way off the field, we have the confidence on the field as coaches that you'll convert that fourth-and-2 or fourth-and-inches in our favor. It's a blessing to see them buying in to what we're trying to tell them."
Pinkins' Hornets lost three seniors and have 12 on the roster this year and are looking that, by the end of the year, the freshmen are playing like sophomores, the sophomores playing like juniors and the juniors playing like seniors. They also want the seniors to be making that transition to be playing at the next level. 
"Our expectation for those guys is getting a little bit higher and I think we're getting to that point with our players," he says. "Those injuries we were talking about? The younger guys have helped out in that regard."
For those of you who don't know, Pelham is in the southwest part of the state in between Albany and Thomasville on U.S. Hwy. 19, and their Football Fridays mean everything to them and to Mitchell County.
"We didn't have a whole lot of tradition when I got here," he admits. And, to that point, the last winning season before Pinkins and his staff got there was 2002. "There weren't a whole lot of winning seasons, but people have always shown up to see the team play. There could be a losing season, but the stands will be full on a Friday night because of their support. What we have going on right now, is unbelievable."
He also knows what's going on at the county school. If Coach Pinkins season goes as planned, hopefully, the last week of the regular season, he'll be competing for a region title. So, if you're near Centennial Stadium on Nov. 8..
Get your tickets now...
Play it safe, everyone... I'll see you at the game!
Secondary Content
Bottom Content