Section Branding
Header Content
Edwards Has Riverwood On Upward Path
Primary Content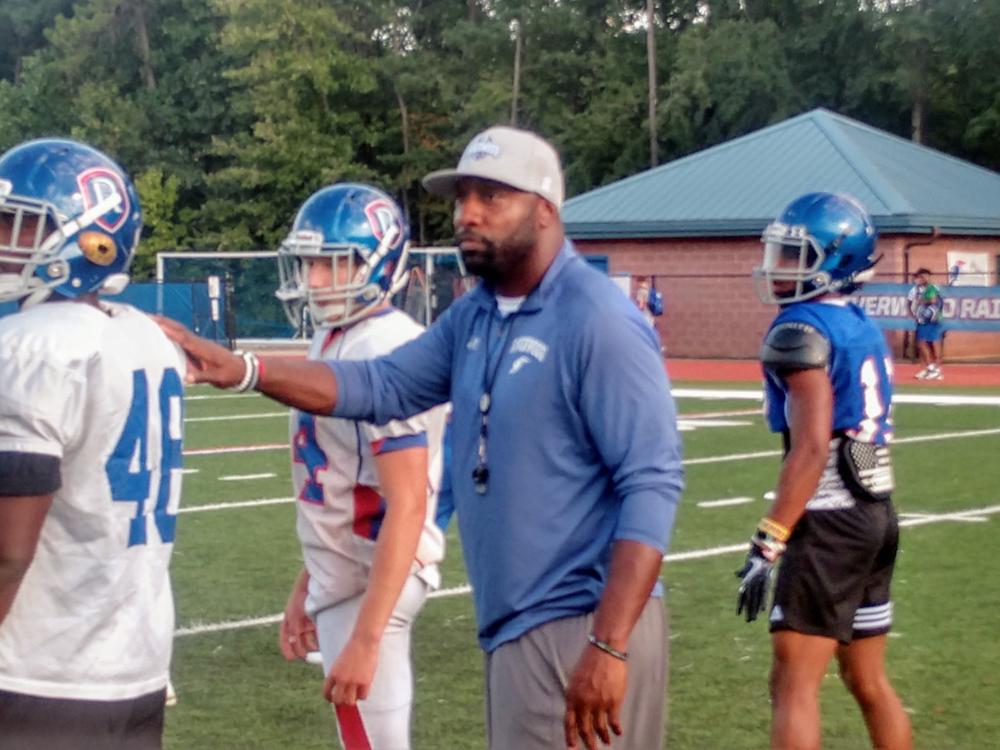 To say that this past weekend was a very good one for Riverwood Coach Robert Edwards would be a bit of an understatement. When asked about the "Big Game," you can hear the excitement in the voice of the former University of Georgia standout. 
"It was closer than it needed to be, I'll tell you that," says Edwards. "It was a great game and I'm glad we came out with a victory."
Of course, Edwards is talking about the third-ranked Bulldogs' 23-17 win over Notre Dame … or is he? Last Friday night his Riverwood Raiders beat Banneker 14-6. Last season Banneker beat Edwards' team on the way to capturing the Region 6-5A crown. So, you can understand why the coach might be a little torn when it comes to which "Big Game" meant the most. 
"Because I was involved in the Friday night game, I'm going to say the Friday night game," says Edwards. "The Saturday night game was just as close. I was directly involved with Friday's game, so I would say that they are 1A and 1B."
Friday night's win pushed Riverwood's record to a perfect 4-0, but that's not all.
"The last two wins were big for us because Kennesaw Mountain beat us last year and Banneker beat us last year," Edwards says. "Those were the only two regular-season losses that we had, so to get those wins were big for us and for confidence, especially for the guys who played last year."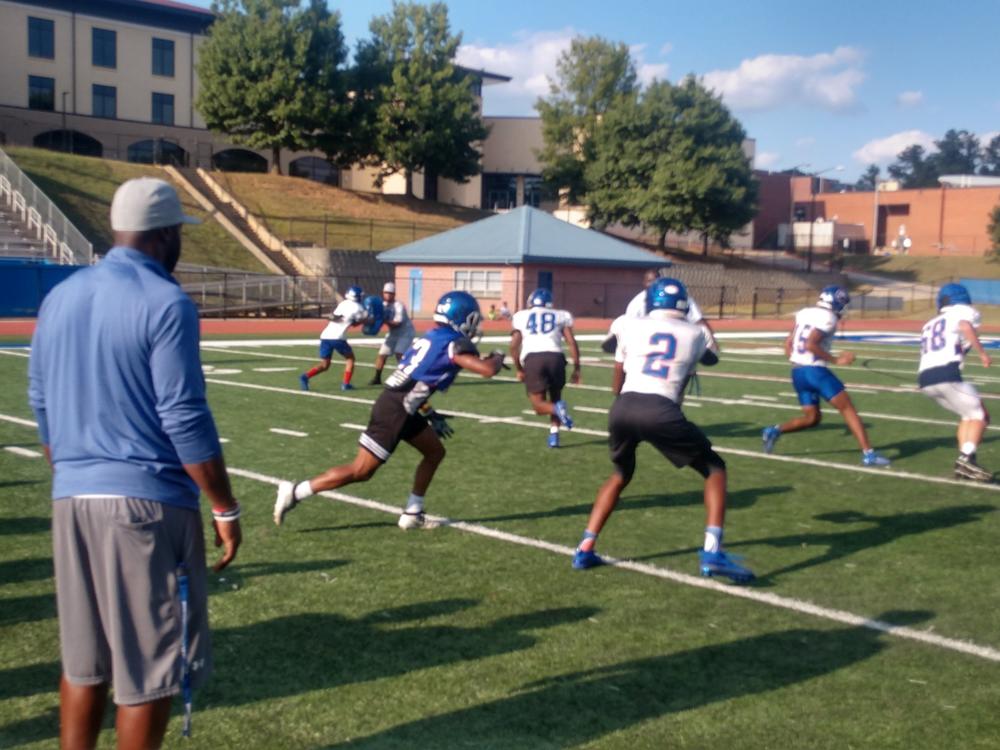 When Edwards thinks back to the 2018 season, he reflects on what he inherited in a group that went 2-8 in 2017. 
"They were very athletic," recalls Edwards. "They had some pieces and just needed some guidance. When I got the team, we had a veteran offense and a young defense. This year, it's completely reversed. We have a veteran defense and a young offense. Nobody on the offensive side of the ball played any varsity football last year. We lost all 11 players on offense." 
What are the odds of taking a team with 11 new starters on offense and starting the season at 4-0? Many would say that the chances would not be very good. But this is a team coached by Robert Edwards. If there is one thing that Edwards knows about is beating the odds. 
It was after a sterling rookie season with the New England Patriots that Edwards would be invited to 1999 Pro Bowl week in Hawaii to take part in a touch football game for rookies. It was during that game, played on the beach, that Edwards suffered a devastating knee injury. The injury was so severe that Edwards was told that his left leg might have to amputated and that he may never walk again. After three years on the sideline, Edwards did play again for one season in the NFL, then to Canada, where he turned in two 1,000-yard seasons before calling it a career.
The heartbreak, the struggle, the pain have all shaped the man that Edwards has become. 
"My entire approach to coaching is based on mental toughness because of what I went through," says Edwards. "If you are tough mentally you can get past anything. You can win a lot of games and you can win in life. So that is why my philosophy in coaching is to attack with mental toughness and everything else will fall into place."
For Edwards the mental toughness started early, as a child of athletic parents who pushed he and his brothers to be better daily. It was reinforced by his coaches at Washington County High School.
"(Football coach) Rick Tomberlin, I only had for one year in high school, but he was tremendous in my development, structure and discipline," remembers Edwards. "My basketball coach, Dartez Talbott, taught me about fighting through adversity and overcoming pain. He put me through so much on that basketball court that I wanted to quit one day. He always let me know that I would thank him for it in the long run."
The players on the Riverwood High School Football team are too young to remember Robert Edwards, the player. Robert Edwards, the coach, looks for the right place and time to share his life-changing story with hopes of it being an inspiration. 
"I have several stories that I like to share," says Edwards. "I try not to give it all to them at once. I try to break it up throughout the season and give them a portion of my testimony so that it can inspire them. You have to see it as being bigger than the game because at any moment it could be your last play."
The message seems to be taking hold at Riverwood where the Raiders went 8-3 last season, even though Edwards wasn't able to work with the team during the winter and spring since he was still on the faculty at Greene County. This past off-season Edwards was on hand to supervise weight training, and conditioning. The team set a goal to not just make the playoffs but win the region championship, something that has never happened before at Riverwood.
One of the anchors of the veteran defensive unit is defensive end Kyle Kennard. The 6-foot-6, 235-pound senior is committed to Georgia Tech. On offense, wide receiver Austin Simmons is a senior who is catching the eye of the recruiters. Edwards says that Simmons could be pound-for-pound the best player on the team. Not bad for a guy who didn't play football last year. Such is life at the Sandy Springs campus, where football is suddenly on fire.
"Last year's success brought some kids out who normally would not have played," says Edwards. "So hopefully the success this year will bring out even more kids who are playing other sports. Some just want to be a part of a winning situation. Our motto this year is 'No Secrets' … keep talking and keep communicating with each other. We want to keep progressing and we want to continue to get better each week."
This week the Riverwood Raiders host Lithia Springs. 
Football Fridays In Georgia will be in Gwinnett County this week as the Archer Tigers visit the Buford Wolves. Kickoff is 7:30 p.m. on the great GPB!
Secondary Content
Bottom Content