Section Branding
Header Content
Irwin County Heralds Return Of Ailing Coach
Primary Content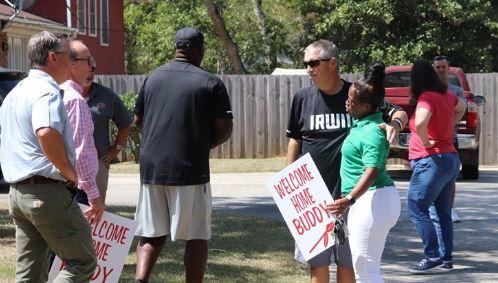 The next sentence is one I enjoyed thinking about putting on a piece of paper.
Buddy Nobles left the hospital this week.
He went back to Ocilla and the Irwin County community that loves him so much. He got to sleep most of the way back to Fitzgerald, where he lives, and made it back in three hours from Atlanta. It was good time on the interstate he admits as his wife, Tammy, drove them back.
It was a good ride home.
But there was something he didn't know. About 100 people were lining the street where he lives in Ben Hill County to guide their car that last little bit back in to their driveway.
"It was pretty cool, man," Buddy tells me. And the word "cool" got extended a few seconds and added some syllables. "I didn't know a thing about it." 
He sent me the video he shot on his phone from inside the car. And, yes, it's pretty cool…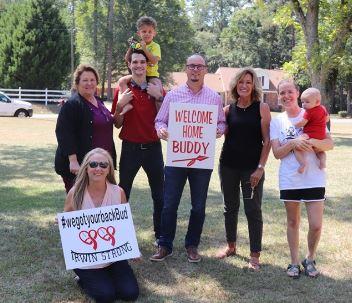 "But, I'm home now," he said. "I went outside after we got settled and tried my best to speak to everyone who came to see us. After we got back inside, I went down and sat in my recliner for about an hour and, then, I went and lay down on my couch and slept like a baby for a while."
He watched the win against Clinch County on YouTube last Friday. They hadn't played in 20 days but got the win against the Panthers, 14-0, on a long TD run and a strip, scoop, and score.
"Clinch played great, too," he admits. "But we capitalized on the mistakes. I just couldn't believe we shut them out. I was kind of shocked at that. But, you know what? Our kids are unbelievable."
There's another video out there that Tammy shot Tuesday afternoon as he headed back to the high school practice field. He rode up to practice in his golf cart. Tammy was in the car behind. 
Surprising no one, all the players broke off from drills and mobbed the thing. 
"Everything came to a stop and all the kids came running," he said. "It was pretty cool there, too. When they came running, they circled the golf cart. Tell you something… I felt like Pied Piper. I stayed for an hour during offense, team, and group. So, when it comes to going to practice, I'll just be in the golf cart for right now." 

This long road that the Nobles family is travelling has some new stops involving doctor's appointments and chemotherapy in October for starters. But there are some shorter-term items that Buddy gets to look forward to --  like the game with Telfair County on Friday night. 
"I plan on being at the game Friday night," he said. "I just don't know where I'm going to stand. I may be on the sideline, but I don't know how much energy I'll have. I may go up to the booth and call plays from up there, but it's a bit of a long walk. I might just sit in a chair on the sideline and call the plays from there, just where I can see the plays and do that. I'll be there and there won't be any difference."
But, even before that, there's something else … two things, actually…
"Keep putting out the message that all coaches need to get checked out," he said. "If they feel one thing funny, that's why they have insurance and that's why they have good doctors. Just tell them to get checked out."
And, then, the other thing…
"You know what…?"
"What…?"
"I'm going to go take a shower and sleep in my own bed."
Don't let me keep you any longer.
Play it safe, everyone… I'll see you at the game…
Secondary Content
Bottom Content