Section Branding
Header Content
Pirate Power: Appling County On The Rise With Tomberlin
Primary Content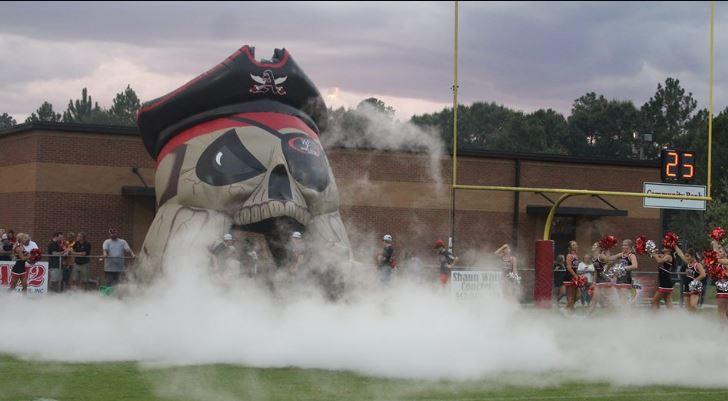 Veteran football coach Rick Tomberlin returned to his hometown of Baxley to coach his alma mater the Appling County Pirates, just over a year ago. In his initial season there, the Pirates went 6-5, and made the Class 3A playoffs falling to Jenkins of Savannah 29-22 in the opening round.
"It is great to return home and coach here," said Tomberlin. "I would like to help build a title contender here in my hometown. That would really be special for me and the community I grew up in."
Tomberlin is no stranger to titles or talent, building a football powerhouse in Washington County and claiming three state championships and nine region titles while compiling an overall record  of 157-31, in his 14 years in Sandersville.
Tomberlin made coaching stops in Valdosta, Effingham County and Calvary Day School in Savannah before taking a break from coaching, 
"I had some health issues I had to gain control of and I took a break from coaching for a few years, but when the opportunity to return and coach in my hometown, I knew it was time to return," Tomberlin said. 
The Pirates are off to a good start here at 2-0, downing Vidalia in their opener 24-0, and last Friday night running past Charlton County 40-20. 
"We can be a good team," said Tomberlin. "We just need to get better every day, in practice and in the games."
There is talent on the Pirate squad. Thorn Bryant, a 6-foot2, 340-pound guard, anchors the defense, while Keyshawn Walker, a 6-1, 195-pound athlete is a dual threat on the offensive side of the ball.
"We need to keep doing what we've been doing for the first two weeks of the season," Tomberlin said. "We've got a tough schedule coming up. We've got Dodge County this week and they are a really good football team. Then we play Cook and Wayne County before we even get to our region schedule." 
The Pirates offense operates out of the shotgun and I-formations, and on defense it's a 4-2-5 base set. 
"We run the same thing here at Appling County that we had success with at Washington County," said Tomberlin.
The 2019 season has great promise for the Pirates who play in Region 2 with Long County, Liberty County, Tattnall County, Brantley County and Pierce County. The region schedule kicks off on Oct. 11 when the Pirates meet Long County at home in Baxley.
"We are elated over our start thus far, but we need to get better each week," Tomberlin said. "To win region and state championships you have to have some luck with injuries as well."
It has been a happy homecoming for Tomberlin thus far; he heads into Friday night's game with Dodge County with an overall coaching record of 253-124, with the hope that he can notch many more victories for his hometown team.  
Secondary Content
Bottom Content