Section Branding
Header Content
Five Questions: Troup QB-WR Hudson
Primary Content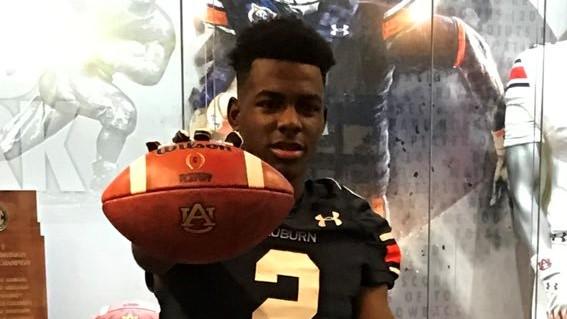 Kobe Hudson is a starting dual-threat athlete at Troup High School in LaGrange. The 6-foot-1, 186-pound senior is currently the 19th-ranked wide receiver in the country and the ninth-ranked overall player in the state, according to the 247Sports Composite. 
Although the Auburn commit was recruited as a wide receiver, he is currently the starting quarterback for Troup. Hudson earned GHSF Daily State Player of the Week honors after putting up 566 yards of total offense and accounting for six touchdowns in the 65-24 win over Ridgeland in the season opener. 
Head coach Tanner Glisson said the plan for Hudson this year is to keep him at quarterback, but move him around and get him the ball in difference places. Glisson said he and Auburn head coach Gus Malzahn have an understanding that Kobe is good enough to play both positions at the next level, but that he will most likely transition to wide receiver when he enrolls in college in January. 
We caught up with Hudson to ask him a few questions.
What is the biggest goal for your senior year? "Trying to get back to where we were last year and to see if we can go farther and try to win that ring for my team this year."
Who is your role model? "My coach is my role model because he always has positive energy and he always comes to work hard every day."
Which teams are you most looking forward to playing this season? "I'm really looking forward to playing Callaway and Cartersville this year."
What was your favorite part about the recruiting process? "Having fun and going to see different college campuses. I'm just ready to go out there and play football, and I'm most looking forward to winning a National Championship."
What is the coolest thing that nobody knows about you? "I can ride dirt bikes really good. I ride the trails behind my house."
Follow Hudson on Twitter @godsgiftt7
Secondary Content
Bottom Content