Section Branding
Header Content
Single Wing Brings Continued Success At WACO
Primary Content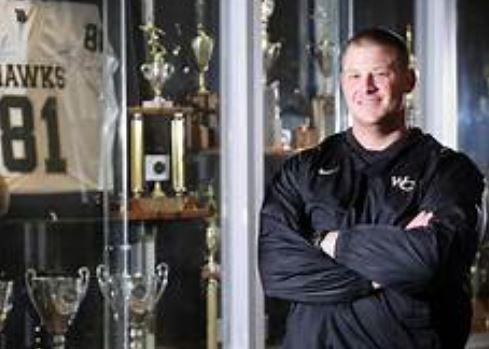 Washington County football coach Joel Ingram made a decision to switch to one of the oldest offenses in the game of football a season ago. While many schools were transitioning to the high-powered run-pass option offenses, Ingram went back to the basics.
 "I didn't have a quarterback last year that could run the spread offense, so I went to the single wing," said Ingram. 
It turned out to be a very good move for the Golden Hawks. They finished the 2018 campaign with a 10-3 record, and a visit to the quarterfinal round of the Class AA playoffs. 
Ingram lost 14 starters from last year's team, but that has not slowed down the single wing juggernaut this season. Washington County is 2-0 on the young season after downing Baldwin 42-7 in their season opener and Jefferson County 28-20 last Friday night. 
"We returned three starters on offense and three starters on defense, but we've got some tough kids who have stepped up and are getting the job done," he said. 
This is Ingram's 14th year at Washington County as head coach. His overall record is an impressive 115-44-1. The Golden Hawks play in Region 3-AA and Ingram feels it is one of the toughest in the state. 
"Dublin is loaded this year, as is Dodge County," he said. "Bleckley County has one of the top linemen in the country, so there is no shortage of talent in this  region."
Even though only 10 Golden Hawk lettermen returned for the 2019 season, Ingram thinks he has an outstanding group of juniors and sophomores who will contribute. 
"I've got a good group of juniors and my sophomore class is special," said Ingram. "Our freshman class is super talented and as a matter of fact I've got a freshman who starts for us now."
One of the keys to Washington County's success thus far this season is the fact that three offensive linemen return from last year's team, as well as a tight end and a running back. 
On the defensive side of the ball, the Golden Hawks employ a 4-2-5 set. "We prefer man coverage on defense and it seems to work really well for us," Ingram added.
In answer to how do the Washington County Golden Hawks continue to win football games with heavy graduations each year? Ingram says, "Its God's grace and tough kids."
The schedule for the Golden Hawks is not an easy one. After this open week, its Greenbrier of Augusta, and the following week, its class AA rival Swainsboro in Sandersville. 
"Swainsboro has great talent," he said. "I feel they can make a serious run at the Class AA title this year. They have experience at key positions. We'll have our hands full with them."
The region schedule kicks off on Oct. 4 when East Laurens comes calling, followed by a tough road trip to Bleckley County. The Golden Hawks host Dodge County in Sandersville, and then meet Southwest and Northeast Macon in region matchups before taking on Dublin in their regular season finale on the road.   
Secondary Content
Bottom Content