Section Branding
Header Content
Late Northside Announcer Gets Well-Deserved Honor
Primary Content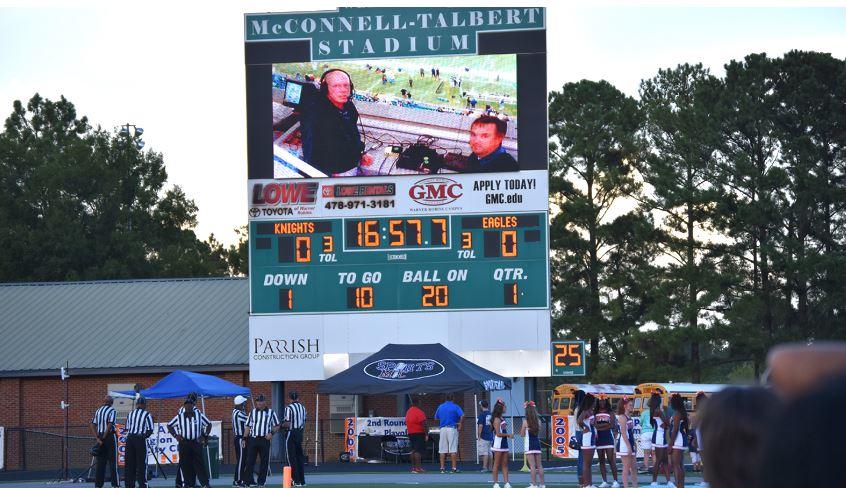 I'm going to date myself with this story…
The legendary play-by-play voice at Tennessee, John Ward, was retiring and the university decided to name the press box at Neyland Stadium in his honor. Fellow University of Georgia legend Larry Munson was in attendance and the one quote that sticks with me, I will paraphrase Ward when he saw Munson there with an upcoming match-up:
"I'm glad you're here, but I hope we beat you bad."
Legends in their occupation giving respect to others … and we had that last weekend in Warner Robins for a celebration of a man … and, I'll say it…
Mike Davis is a legend.
Mike was the play-by-play voice of Northside-Warner Robins for more than two decades. He had his love for the team and served his community publicly elected and otherwise. His voice was well-known for coach's shows, title games and everything in between. 
And for one game a year, when Northside played Warner Robins, he was the most important guy in town. As Fire Marshal, Mike got to (I always said with a smile) determine just how many people got to squeeze in to McConnell-Talbert Stadium and see the red school play the blue school.
Just how much did Mike mean to his community?
We have an upcoming interview with Northside head coach Kevin Kinsler at gpb.org/sports and he breaks it down better than I ever could, so look out for that.
I, sadly, use past tense because we lost Mike to cancer in the off-season just after he and his son, Blake, got to see the SEC Championship Game. Purple is another color of the rainbow that reminds me of Mike now. Without him now, the Houston County Board of Education wanted to do something so we all could remember Mike -- as we all should.
The press box at "The Mac" now has his name on it.
The win by the Eagles over Centennial last week had the ceremony that made it official and we all can now have a physical way of recalling a man who was someone very special.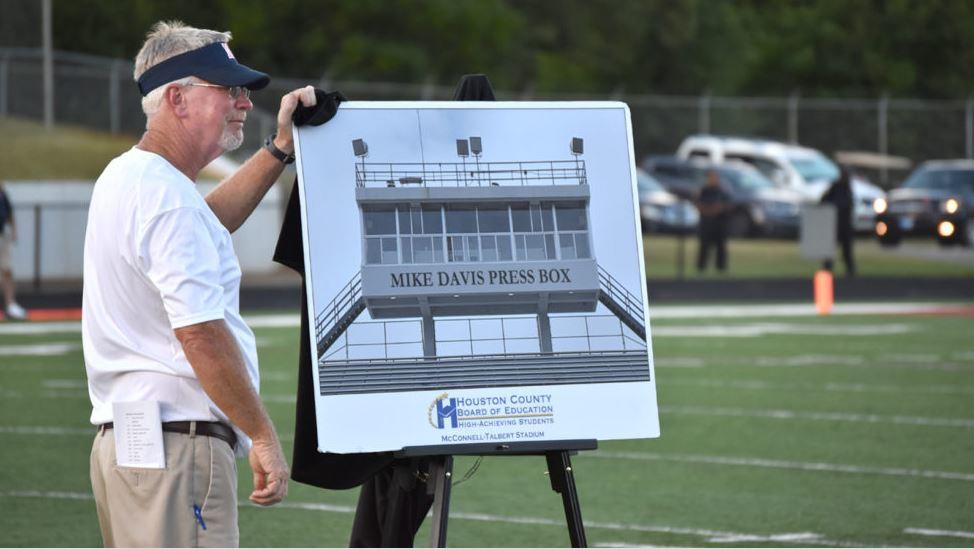 I caught up with Blake Davis to get his thoughts on a very special night:
"It really means a lot for the school the Board of Education to acknowledge my dad in that way. Knowing him, he would have absolutely been embarrassed and would not have wanted the attention that came along with it but, as his son, it was very, very special. And I know it was special for my mom as well. It was a very well-done ceremony and it really made us realize how much my dad was appreciated by the community, the school and the school board.
"The Northside community as a whole is extremely tight knit. It's something that you really don't understand until you have either been around it for a long time or have personally been a part of it. I couldn't tell you the amount of people who have contacted me on a multitude of ways saying how my dad WAS Northside football. He called every game except two in his 25 years of broadcasting (missing the game at Coffee in 2008 and at Tucker in 2016). 
"He really enjoyed the connection he felt to people as he felt he was providing a service for those who were unable to attend games, whether it was because of health, travel or military overseas. He was humble, but always enjoyed being told when he was able to allow someone to feel like they were part of the game, when they were unable to be there.
"I'm sure it added to his fun that the Eagles were 273-53 in games that he called. His favorite games were always the Lowndes game in '97, when they No. 1 the state and the Eagles knocked them off 13-10 in the second round of the playoffs. Northside had a late 12- or 13-play drive to punch in the winning TD. Many feel that this was the win that propelled the Eagles to the next level, as the next year began the string of 17 straight 10-win seasons. He also thought very fond of the 2006 State Championship win over Marist, as that was the win that got the Eagles over the hump. Both of those games he sat in that exact same seat of that press box that is now named in his honor." 
And, now, with our memories of Mike and with him, we still get to see him every day.
Play it safe, everyone… I'll see you soon!  
Secondary Content
Bottom Content