Section Branding
Header Content
Irwin Coach Nobles Fights Insidious Foe
Primary Content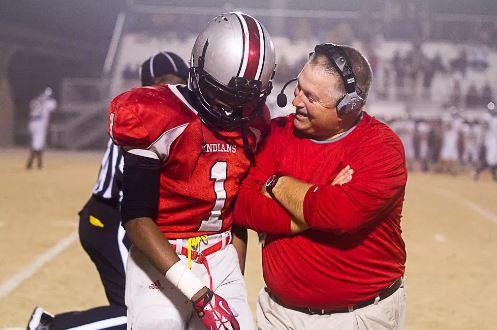 The coaching community, fraternity -- or whatever you want to call it -- is a lot smaller than you may think.
The most recent example comes from when GPB videographer Shane Keating and I were doing one of our "southern swings" last week through nine towns in a road trip. 
What we do, for those of you who wonder about that hashtag when I put it on social media, is check in with coaches along a certain stretch of road, call or text when we're about an hour or so away, see where they are, storm into town, put up lights, ask some questions, tear it all down and do it in the next place.
At the end of our second day, we were in Douglas at Coffee High checking in with head coach Robby Pruitt when he asked me a question:
"Did you hear about Buddy?"
Being on the road, I hadn't, and Robby was the one to tell me that Buddy Nobles, his friend and fellow head coach in Ocilla, was fighting something… 
Stomach cancer.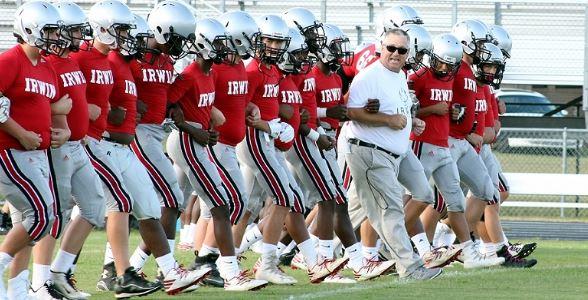 Coach Nobles had lost 30 pounds in the spring and summer, rested more than usual, and wasn't feeling like eating a whole lot. He got looked at after July 4th and got the diagnosis. Now, the Nobles family lives in two tracks. The one that we all see at Irwin County where he's coaching and chasing another chance at a title in one of the toughest regions in the state -- really this part of the country, if you want to be honest about it. 
And, then, there's the second track … the one where you live without knowing what's next …  in increments written down on pieces of paper and sent to you with e-mail reminders and Google docs tied to your calendar and your phone.
Buddy knows that while his life is his, it's not -- if that makes any sense. He has an MRI scheduled for later this week to try and figure out the playbook that has that letter on the front of it that we all wish wasn't around to see. But he and his family also know that if the doctors say something is supposed to happen at a certain time, that time does not get moved for anything else.
Buddy's wife, Tammy, will make sure of that. You could also tell the love he has for her and their kids -- no matter how spread to the four winds they are. His son, Kaleb, is a coach at the University of West Florida and the staff there knows that if he gets a call from certain places, he'll have to step out of the Argos coaching sessions for a bit.
They understand.
When Buddy and I caught up in his office, he was truly humbled by everyone who has reached out through all the ways people do these days -- call, text, social media, handshake, hug. It all means volumes to the Nobles family. Everyone around has been incredibly thoughtful and supportive. His principal and superintendent have said that whatever he needs to do to get through the day,  he gets -- a nap in the office, an afternoon to do something he needs to do, it doesn't matter. And his golf cart is now outside the fieldhouse if he needs to watch practice in it instead of standing for a little while. Their other son, Kasey, and their daughter, Kinley, are also offering their full support.
There were two other thoughts that stuck with me.
He says he's not going to have a pity party over this first and foremost and, second, it's a reminder to all of us to make sure we tell each other that we love each other.
There's the stereotype that coaches, and men in general, can't say those kinds of things to one another because … well, you know, pick your reason.
But you never know when you'll see someone for the last time. In this day and age, we keep stumbling over the same space and fail to realize that life is too short. It's too short for a lot of things we have on our to-do list and one of those items (that should be high up on the same list) is to never let anyone doubt how you feel about them.
So, don't …  Just don't ever leave things unsaid.
I'll say what a lot of folks have said to the Nobles family these days -- and I know I won't be the last …
Love to you all as you fight!
Play it safe, everyone! I'll see you soon!
Secondary Content
Bottom Content