Section Branding
Header Content
Helicopters, Monsoons And Crazy Comebacks
Primary Content
Since we're heading headlong into the GHSA Championships mid-week, I was asked for my thoughts on this particular weekend itself … the two days that make up GPB's broadcasting Super Bowl.
I thought about it for a couple of minutes and came up with some of the wilder moments we've faced. 
Let me start with the Thomas County Central-Thomson title game from 2002. It was at "The Brickyard" -- one of the cool venues that makes high school football what it is here in Georgia. There were a few days of torrential rains leading up to the last game of the year and the McDuffie County Sheriff's Department brought in their helicopter to try and dry off the field in time for the game. Let's say this: The crown of the field was in great shape, but the rest of the field resembled chocolate pudding when it came to trying to gain any kind of yards around the end.
Thomson won 42-27.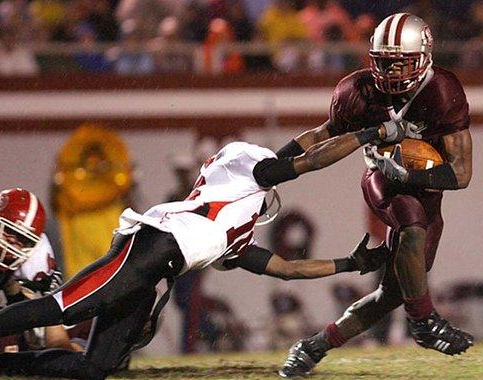 Next one that comes to mind is from 2007 at "The Concrete Palace" when Lowndes was hosting North Gwinnett.
You know when you're watching the weather segment on the local news and they show you where the severe thunderstorm warning areas are by having a rectangle highlighting a particular county? The broadcast on GPB WAS the rectangle.
I'll break the "fourth wall" a little bit here and let you in on the broadcast itself…
We got through the opening segment and went to commercial and the skies ABSOLUTELY OPENED UP. I mean "torrential downpour where you're looking for 40 cubits of wood" kind of thing.
Greg Reid ran back the opening kickoff for a score, I think … something like 90-plus yards or so … and Lowndes won 34-6 pretty handily.
We were staying in town that night before heading back to Atlanta Sunday morning. I get back to the hotel room to run the steam in the shower to try and thaw out. It was, probably, an hour or so before I hear an awful noise. I had set off the smoke alarm in my room. Apparently, I was the only person checked in on my floor and wing of the complex since I got no phone call from the desk, no visit and knock on the door, and officially no nothing.
I had to step out into the room and take a towel to wave the steam away from the smoke alarm. Ten minutes later, I propped my hotel room door open and opened the outside door to the rainstorm to try and get things squared away once and for all.
Only took another half-hour…
Sunday morning the front had blown through -- which meant the gusting winds were greeting anyone who was leaving Valdosta and sending their cars sideways on the interstate. My clothes were unrecoverable and I had thrown my slacks and socks away. Because the rain was still sideways the night before, I didn't have any free hands and my luggage was …
Still in my car.
So, I had to run back out to my car on a crystal-clear Sunday morning in 30-degree, 30-mph wind conditions, try and figure out what I was going to wear and jump in my car.
Let's just say … it was an imaginative sprint.
A couple more for you, Dear Reader… 
One of the wildest games I ever called was a tremendous night for the Griffin Bears. In their title win over Carrollton, Jacquez Parks was amazing for Head Coach Steve Devoursney's offense that year in a 56-35 win at the Georgia Dome. It was one of the best displays of offense I have ever seen from the broadcast booth.
Do you remember where you were?
Eleven billion yards of offense in that one.
Then, in 2015, I was privileged to call a great game in the AAA final between Blessed Trinity and Westminster. Blessed Trinity was up two scores with a handful of minutes to go and, then, the Wildcats scored, kicked and recovered an onside kick, scored again, got it to overtime where this happened in the extra frame … the late fourth quarter craziness starts at, around, the 2:34:00 mark.
And, then, to lead into this year at Mercedes-Benz I have to talk about what happened last year. For obvious reasons, it's not stuff on the field that sticks with you. It's all that snow.
We get through one game. Weather gets worse. We're trying to figure out just how much football is going to be played. Teams are sent home. Teams are turning around. Our crew has to try and carefully work their collective way home and be safe as we waited an answer on Day Two. Then, there's no football on Saturday, either.
Then, we have to figure out how to put on one more game- and get a lot of cooperation to show all the games around the state at the same time. And GPB deserves an incredible amount of credit putting it together on the fly.
It takes a lot of people to put memories together on a yearly basis and this is my 22nd tour.
I can't wait to see what it holds.
Play it safe, everyone … I'll see you at the Benz.
Secondary Content
Bottom Content