Section Branding
Header Content
Brooks County Coach: 200 Wins, Untold Impact
Primary Content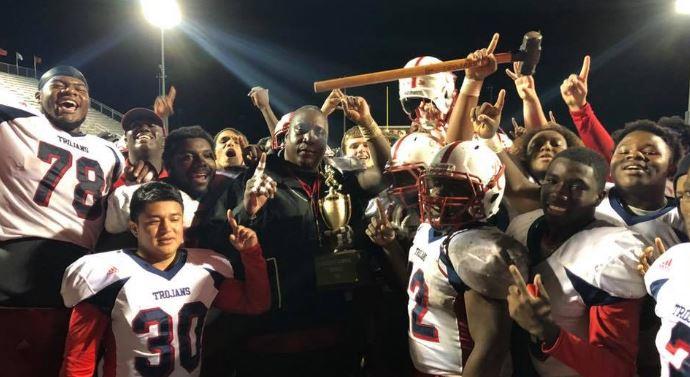 You run across a lot of people covering sports like we do here at GPB.
Brooks County Head Coach Maurice Freeman is, for the best phrase I can come up with on short notice, a good dude …  always has been. One of the coolest things I have in all my years of visiting coaches and schools is a Brooks County football jersey that hangs unworn as a show of support for the school.
I never played there - so others who have are allowed to wear them. I just admire and respect what was presented to me and understand its place.  
Every time I've been in his orbit, he comes across as a true mentor and a leader of young men. Some of those young men are with him now learning those same lessons Freeman has been teaching in the past. Some of them have graduated and have returned with the lessons they have learned in addition. And some, sadly, are no longer with us.
But Freeman had a milestone win last week -- his 200th came in the Trojans first-round win over Screven County. So, what was the gift from his wife?
An engraved sledge hammer … and it's pretty cool.
His mantra has always been "to bring the hammer." And one is, quite literally, placed at midfield as one of those Eveready Battery moments where his aura and that of his team lets you know what's in store over the next 48 minutes on any given Football Friday for the opposition.
When I called to reach out and see if he could talk about this milestone win, he stopped me before I could hang up after catching up: "HEY! Where's my congratulations?"
"I left it for you when I left the message to see if we could talk!"
"I know you did, but I wanted to have one live!"
"Well, congratulations on the 200th win, coach!"
"I feel better!" And a big belly laugh came over the phone line.
That was how our conversation ended, but his mind is never far from three of his football players who he can't give any more counsel to that were taken from us all too soon.
Jicarre Watkins, Johnie Parker and Shawn Waters died in a single-car accident before football practice on July 9, 2013. Freeman had come up on the scene of the crash only a few minutes after it happened after having warned his charges in the past about the dangers of speeding. When Freeman looked into the wreckage after tending to the fourth student -- a Trojans player who had been ejected from the SUV that was wrapped around a tree- Freeman told the AJC's Steve Hummer what he thought at the time:
"Oh, Lord, it's my boys."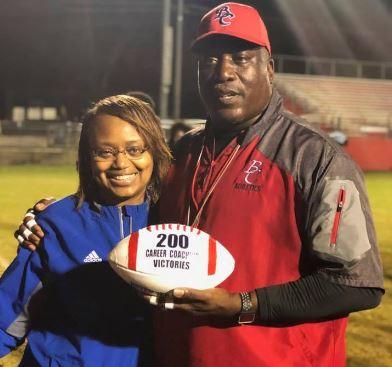 The reminders are still there for everyone that touches the program in Quitman.
"I'm on the field right now with my guys and there are three crosses I'm looking at right on the edge of our practice field. When you come out of the locker room, you walk right past those three crosses. There's not a day that goes by that it does not come across my mind."
At the beginning of every season since, Coach has a message for everyone that wears the interlocking cursive from Brooks.
"I tell everyone just how wonderful those three young men were, how hard they worked, and how much fun we had and, then, the dangers of driving fast and how quickly you could lose your life and how quickly your parents could lose their son or daughter. And stop taking so many things for granted in life. Enjoy everything in your life because you never know when you're going to go home to God." 
Freeman is an alumnus of the school and came back in his first year as a head coach to bring a state title home in 1994. After his first four years there, he would go to Southwest-Macon and Brunswick before returning home again in 2008. Every year since coming home there have been winning seasons and an attitude of playing anyone, any place, any time and it doesn't matter who it is.
I think if he could play his college alma mater in Tallahassee, Florida A&M, the record-setting placekicker "Foot" Freeman would do it.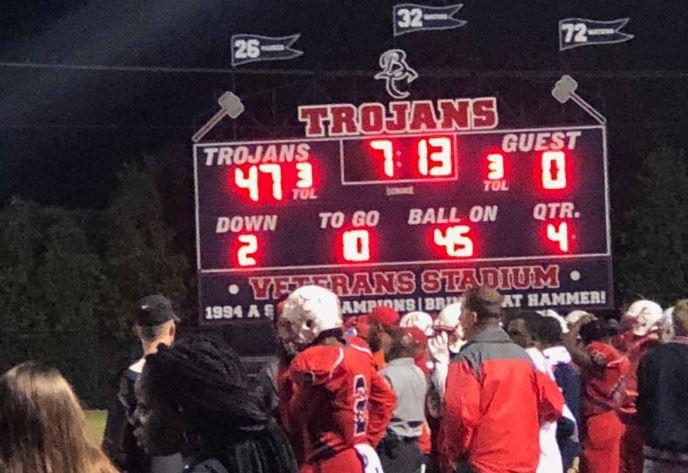 "I don't remember my first win," Freeman admits. "But I do remember it was at Brooks County. I just don't remember who we played or where we played." 
For the record, it was Greenville High after a season-opening loss in Thomasville against the Bulldogs.
"It does not seem like 200 wins at all," he tells me. "It's been a heck of a ride. From a 27-year-old, snotty-nosed coach that thought he knew everything when he won a state title to leaving a job in '98 and going to Southwest, going to Brunswick, coming back to Brooks and losing my guys and being very successful now to coaching my guys along the way and now coaching their sons.
"Guys come up to me now and say 'Coach, this is my son. Treat him how you treated me.' 
"WOW! What a ride…"  
He has a tough Round Two match-up coming, hosting Joel Ingram and Washington County in your Class 2A bracket and he's trying to get his team to that fifth game again in a Georgia postseason.
"We've played in that second game and that third game and that fourth game," he says. "We've got to get to that fifth game, but you've got to play every game and work every day as hard as you can because there's something you might miss because you're slacking up. So, give me all you've got and enjoy the ride as you're going."
Oh, and to the note that I mentioned a week ago that if given the chance Freeman would ride that hammer on his Harley into his stadium, he admitted that he wouldn't because his field is grass.
If it was turf, it might be a different story.
Play it safe, everyone. I'll talk to you soon.
Secondary Content
Bottom Content