Section Branding
Header Content
Cartersville Continues Its Winning Ways
Primary Content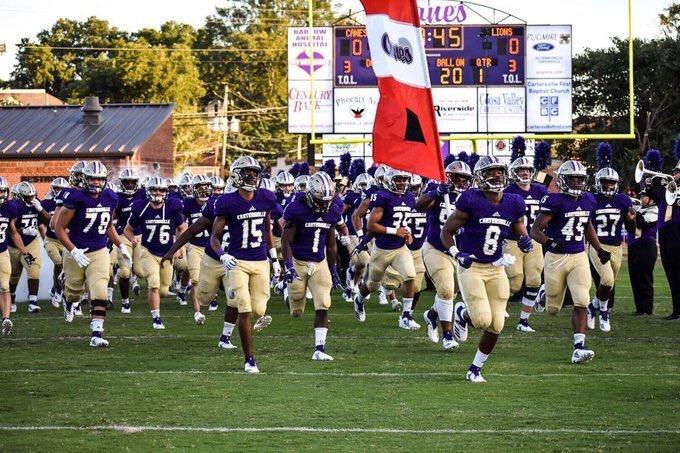 It's that time of year again in Cartersville. The Purple Hurricanes are blowing into the second season a perfect 10-0 after a 43-10 win over Troup in the region championship game. It's the seventh straight region title for Cartersville and their string of consecutive region victories has reached 47 straight, if you're keeping score at home. There were some who thought the season finale against a Tigers team that featured some of the state's top recruits would have been a tougher test for the Canes. There were even some who felt that Troup had a crew capable of taking Cartersville down. 
Coach Joey King and his team have had to deal with the questions and doubters all season long. It was to be expected in a season that we could describe as Canes Year 1 AT, after Trevor. You do remember Trevor Lawrence? He led Cartersville to back-to-back state titles in his sophomore and junior seasons, and is currently breaking scoreboards around the ACC as the freshman starter at Clemson. 
King and the 2018 team have been constantly reminded. "The kids have gotten tired of the question," says King. "How are you going to be without Trevor? Is this going to be a down year? We graduated 31 seniors from last year's team, which left us with a lot of unproven players. They were kids who played in games, but were not on the field when the score was 0-0."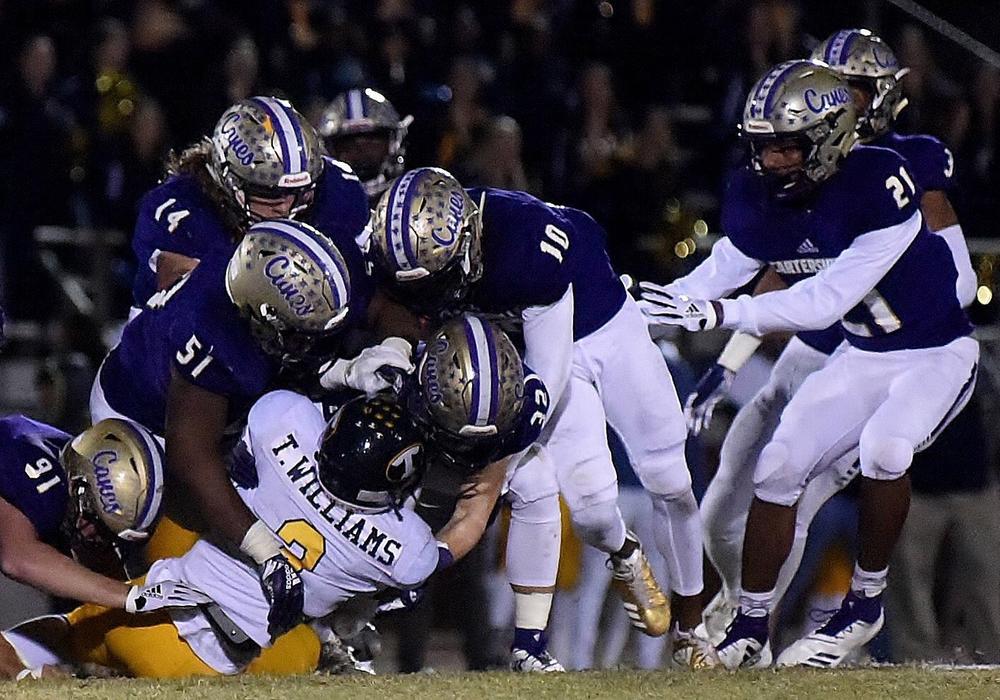 To be sure 2018 has been a different world for Cartersville, which spent the 2017 season playing in the white-hot national spotlight, while one of the most talented high school football players the Peach State has ever seen rearranged the record books on a weekly basis. The Trevor Lawrence Three-Peat Tour seemed unstoppable, with Cartersville looked to be pound-for-pound the best high school football team in Georgia regardless of classification. The Purple Hurricanes were penciled in for a date at The Benz. 
One problem, Blessed Trinity didn't get the memo. The result was a 21-17 loss to the Titans in the second round. "Blessed Trinity came in with a real good game plan, " remembers King. "We had an off night, and you can't have an off night in the playoffs. It goes to show that a No. 1 ranking doesn't matter, and that's why you play the game." 
The 2018 Cartersville team went to work in the off season with a collective chip on its shoulder. There was the usual lifting, running and mat drills as the roster of players accustomed to being in a supporting role accepted the challenge of becoming starters. It has been a different team with a different spirit. 
"Our team has been really unselfish," says King. "In this day and time, you see a lot of kids playing for themselves. I believe the best teams are the ones that keep the focus on team. That CANES on our chest means a lot to this team and they truly play for each other, not just for themselves."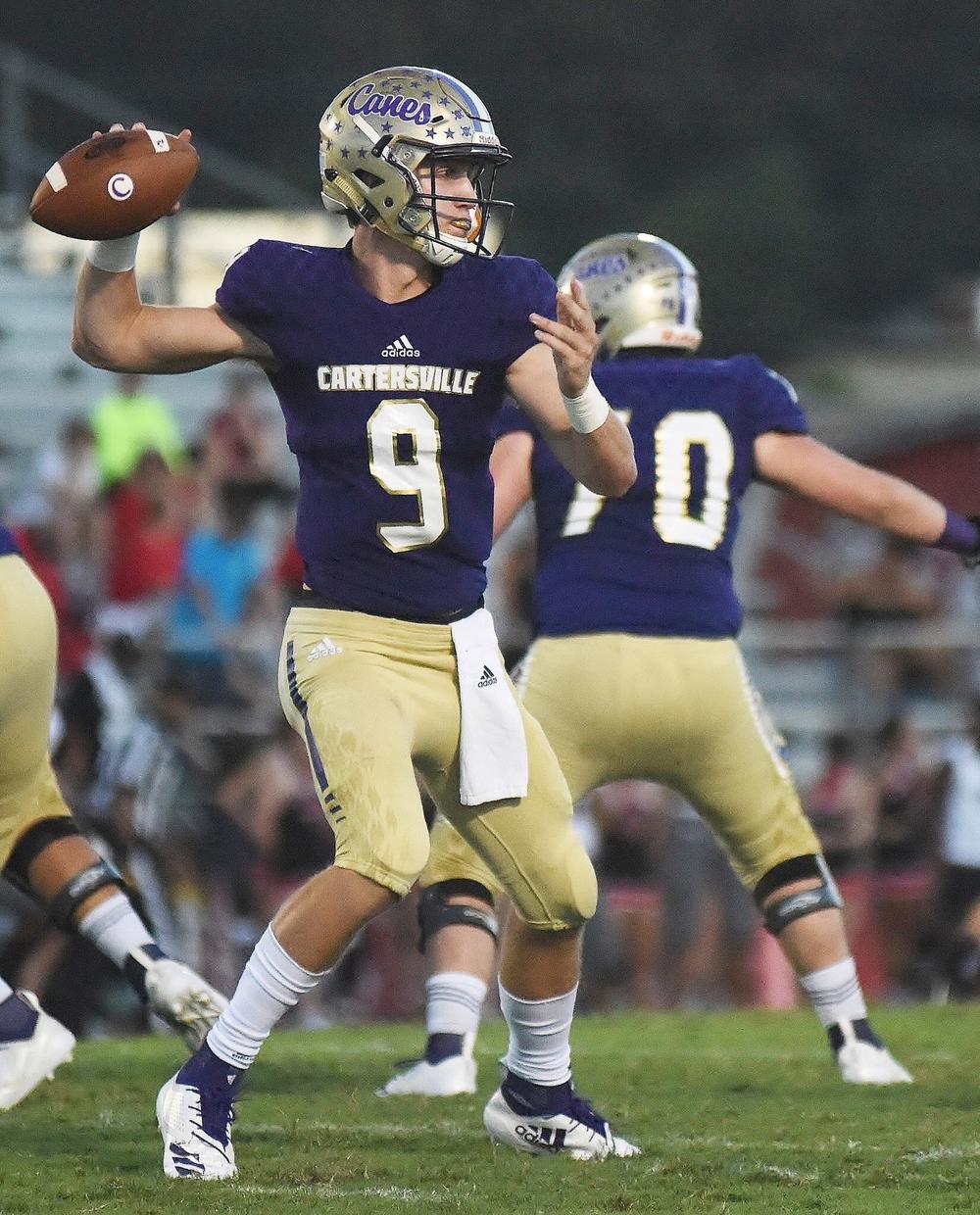 That different team with the different spirit had very familiar results to open the 2018 season, getting off to a 4-0 start. Then came the adversity. It happened on Week 5 at Cedartown. The Bulldogs scored two early touchdowns and the Hurricanes found themselves in an unusual spot. A fourth-quarter touchdown allowed Cartersville to escape with a 21-20 win. 
"A lot of learning came from that game," remembers King. "We use it as awake up call to show the importance of every little detail in a football game. You can't have inconsistency on offense. You can't turn the ball over in big games and win."
The Hurricanes learned their lessons and outside of a 7-0 nail-biter against Sandy Creek won the remaining games with relative ease. Once again Cartersville featured a high-powered offense. It wasn't the Trevor Lawrence Sky Show, but the points were plentiful. Tee Webb stepped into the starting quarterback job and picked up where Lawrence left off. The junior has thrown for more than 2,100 yards and 25 touchdowns while showing great maturity in the leadership role. 
The Canes were very capable on the ground as well with senior Marcus Gary filling the void left by the graduation of Rico Frye, who is now playing at Bowling Green. Gary has rushed for just under 900 yards and six touchdowns, while catching 21 passes for another three touchdowns.
This season King has been happy to see his offense do what works. "If they are going to give it to us, we will take it," says King. "A lot of people care about balance 50-50. For us it's whatever is working. That's balance to me!"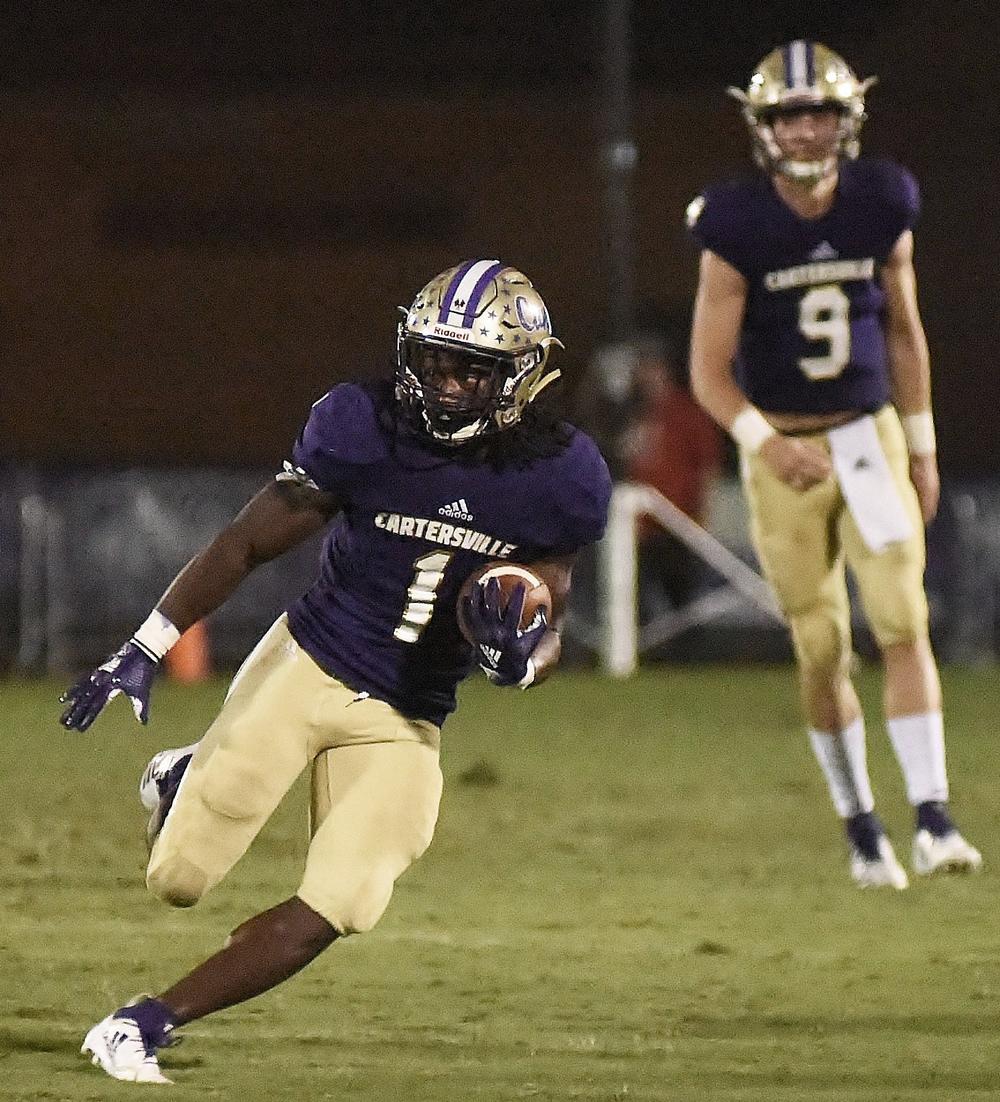 Now it's playoff time and last week's game against Troup came after a bye week and two weeks on the road. It had been four weeks since the Hurricanes played at their beloved Weinman Stadium. Cartersville is known for being one of the best teams at defending home turf. Before last season's second-round playoff lost to Blessed Trinity, you have to go all the way back to Dec. 5, 2014, and a 27-3 semifinal loss to Buford to discover the last time the Hurricanes suffered a defeat at home.
"I'll put our atmosphere up against any in the state," says King. "Our kids love to play in front of the home crowd. They love to come running out of that smoke and on to the field. They get excited about playing." 
On this Football Friday in Georgia the Cartersville Purple Hurricanes will host the Stephens County Indians in the first round of the GHSA state playoffs. King's message to his team this week was simple but true. 
"I reminded them that it's 32 teams left and this time next week there will be 16," says King. "You have to do whatever it takes to be one of those 16. We have to keep a survive-and-advance mentality. Not focusing on what's down the road, but on the job at hand." 
This week Football Fridays in Georgia will be at Raider Valley in Cobb County where Camden County will visit Walton in a Class 7A. It all gets started with the All Access Pass at 7 p.m. with kickoff at 7:30 p.m. on the Great GPB!
Secondary Content
Bottom Content