Section Branding
Header Content
Pickens Enjoys Season of 'First-Evers'
Primary Content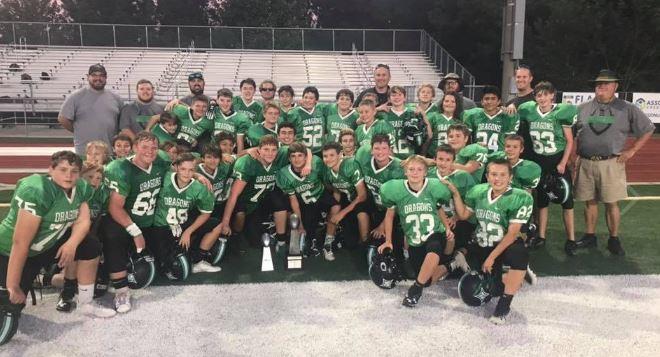 It's been a couple of straight weeks of "first-ever" when we're talking about Pickens and the Dragons.
Until two weeks ago, they had never won more than eight games in any season. That went away when Pickens beat Ridgeland and won their first-ever region title. So, I guess that counts for two "first-evers" in one week. Actually, it might be three, as it was the only time they scored less than 40 points in a game this season.
Then, last week, on the road at LaFayette the visitors knocked off the Ramblers for their first-ever undefeated regular season. A 10-0 run for head coach Chris Parker and he now gets to watch everyone else this week as he has a "bye" for the last week of the regular season. The routine won't change- except for that "not playing this Friday" thing.
Parker is in his seventh year in Jasper after four seasons in Chapel Hill and 26 wins from 2008-2011. They've had consistency at Pickens during his tenure -- always winning five games or more, with a fifth straight playoff appearance coming next week. It's that growth that has Parker most proud:
"It's been nice," Parker admits. "It's been a long time coming. We've been decent all seven years I have been here, but we have been kind of 'to the wall' some years, too. We've built the program with the middle school since we have been here and it's nice to see the sixth and seventh graders do well now and get a home playoff game. The coaching thing to say, normally, is to play it down. I've been on good teams as a player and a coach, but to see those fans of the team for the last 50 to 60 years see this season made it kind of special."
The last few times in the postseason, Pickens has been a four-seed, and they (using Parker's words) were kind of "sneaking in" the last two years. They just haven't been able to get over the hump, but playing young kids leading up to this season and seeing the end regular-season result has been a little more special and meaningful. 
"Things kinda work out sometimes," Parker admits. "The Superintendent, Board of Education, and Principal have all been really supportive. We haven't had any injuries, and the ball has bounced our way. We've worked just as hard this year as the 5-5 and 6-4 seasons. But, it's nice when it works out the way it does."
I told Parker that we showed the highlights of the Ridgeland game on the "All-Access Pass" and one play stuck out to me -- the double pass that put points on the board and got them rolling. "It's something we do," Parker says. "We have 15 or so trick plays. We practice and rotate them. We'll run them once or twice a year. They were so good on the perimeter, and we knew we had to run the ball and be physical. We had that play and a little pop pass that we broke for some long plays." 
Two of those special plays went for TD's. The player that threw the early touchdown pass was senior Michael Burrell -- Parker calls him one of the best QB's in the region. But they use him as a cornerback, a running back and a wide receiver. He even had an interception for a TD, ran for one, and threw for that TD. Parker tells me the hardest part of the double pass is that second pass. Burrell absolutely nailed it.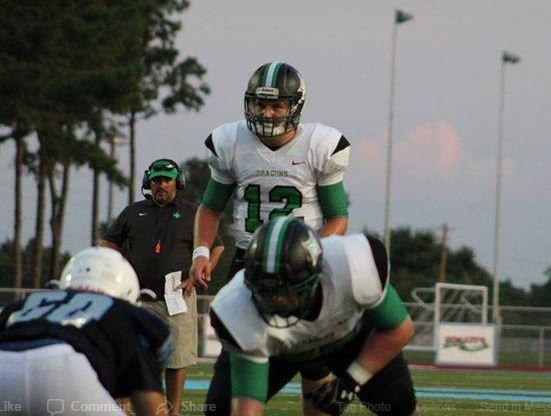 Then, there's quarterback CJ Spreicher: The junior has a 4.0 GPA, and he's a valedictorian candidate. Harvard and Princeton are interested in him at the collegiate level, and he wants to go there. "He's always been special," Parker says. "He's able to process information quickly. He squats 500 and he's a real leader. Look, I have two daughters. They're a lot younger than CJ, but if my daughter had to date somebody, he's the kind of kid I would want them to date. 
"He's such a good kid. If he messes up, he's ready to go the next play. If someone else is feeling a little down, he's pumping them up. There's no substitute for playing. We played CJ in other positions until this year. But it's his team now. He's a very popular kid. There are times when he wants to take control of things for us. He had 30-something carries on Ridgeland to give you an idea about that. But, it's all the stuff you wouldn't see it what makes him special.
"Remember, CJ is only a junior. We get him again next year."
I'll be the first person to tell anyone that the high school football in the mountains isn't the first place a lot of folks away from there look for scores and athletes on Football Fridays, but you're missing something by not looking and having it as a part of your bookmarks. Parker explains: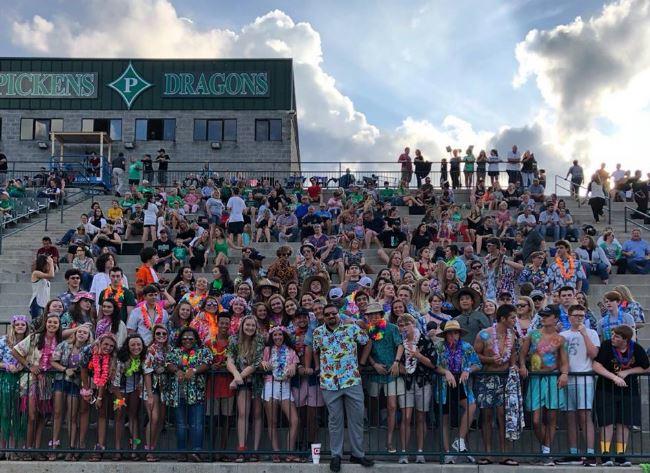 "There's one school in the county for the most part up here. There's a college-level feel to it. People are pulling for the team even if they don't have a kid playing. Maybe, their grandparents went there. But, if you look at it, support in the community comes from something out of a movie. We have had the same supporters in the seven years I have been here, but the parents supplement that, too. Every business supports you. And they support you as a pride thing." 
"There's as much pride and importance as any other place," Parker says. "If you saw the Ridgeland game, the stadium in Jasper was packed with people, there were postgame fireworks, and it comes across as a really neat atmosphere. Community support is great when you win five games. It's the same if there's more than that. It's what made Pickens an attractive place for Parker and his family in the first place. The smaller town life is a great place to be for him.
So, what do you do when everyone else is playing this week? Your regular season is done and you don't know who you're playing in the first round of the 2018 playoffs yet. You can't ignore what's going on around you, but you don't have a regular season game 11 to distract or focus on.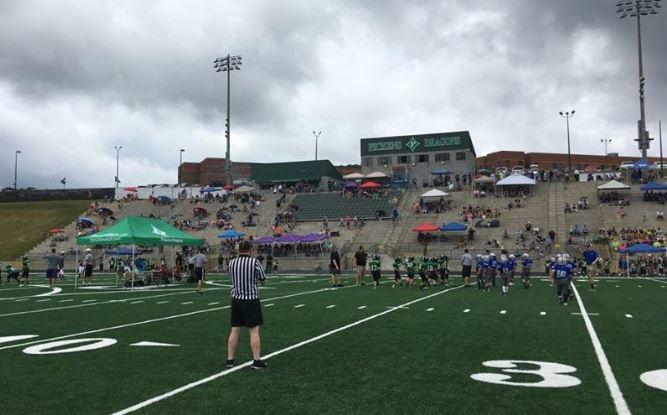 "It's a good question," Parker says. "I knew we were going to be pretty good. But because we have an odd number of teams in the region, I chose to take this week off when we talked about it. I felt like, in the past, we have struggled to win a playoff game. I didn't know we were going to be region champ or going to be 10-0. We all want to win a playoff game here for the program. But, this way, we get a week off. There have been times in the past where we had a tough 10th game and a bigger game a week later. I thought being off would be good for us. 
"I have to keep them busy. Being undefeated helps because they understand what's at stake. Explaining what it means has built up to this. If we're fortunate to win a playoff game, we'll keep playing as long as we can. We need to win at least one more. If you get on the football historical site, you're not going to see a lot of playoff wins for teams in the mountain region up here. You just get a playoff win and take it from there. It's that last hurdle we've been talking about. It's always a challenge keeping them focused- not knowing who we're going to play. We'll practice every day to keep them busy. 
"Ask me in a week or two and we'll see if it worked out."
I'll do just that, coach.
Play it safe, everyone. I'll see you at the stadium.     
Secondary Content
Bottom Content