Section Branding
Header Content
Navigating The Random In Southwest Georgia
Primary Content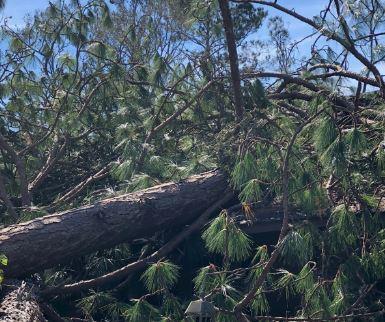 The chimes at First Presbyterian Church in downtown Donalsonville let everybody know it was 3 o'clock in the afternoon as I imagine it does every day in Seminole County.
But these last few weeks have not been like every other day in the southwest corner of the state thanks to Hurricane Michael and what he decided to do to the Florida panhandle, the southern part of the state of Georgia, and the Carolinas before rocketing up the east coast.
What Michael did hits you by the time you get to Cordele. When you can't tell if the Waffle House is open or not since the sign was blown out at 30 feet in the air. That's your first warning. 
Coming down Ga. Hwy. 300 (the Georgia-Florida Parkway), Albany lets you know with all the downed and cut tree limbs that have piled up on the side of the road ready for someone to come get them. The speed of which the devastation hits you as you travel down Ga. 91 and go in to Baker County where, presumably, you couldn't actually GET IN to Baker County a week ago. Line crews are on the side of the road trying to lock in the new power poles for folks who haven't had air conditioning or any other electric amenity since Hurricane Michael treated the southeast with all the disdain of an unwanted houseguest during the holidays.
And, then, there's Miller County.
"Are they letting people in to the town square yet?" Seminole County Head Coach Wes Williams asks.  
After I told him that photographer Shane Keating and I drove through the boarded up storefronts and the wadded up debris that included transformers that no longer worked in downtown Colquitt, he said people weren't allowed to do that last week, either.
But you take stock in what you see as Williams showed us around and it's incomprehensible at times- and more than a little overwhelming. The first thing you really notice is the random nature of the damage itself in something that sat on the county for eight solid hours before moving on. The Thankful Baptist Church has every reason to be while one in downtown Colquitt lost its steeple and nothing else. Some houses are untouched while others have had their roofing color change to that ever-hated blue.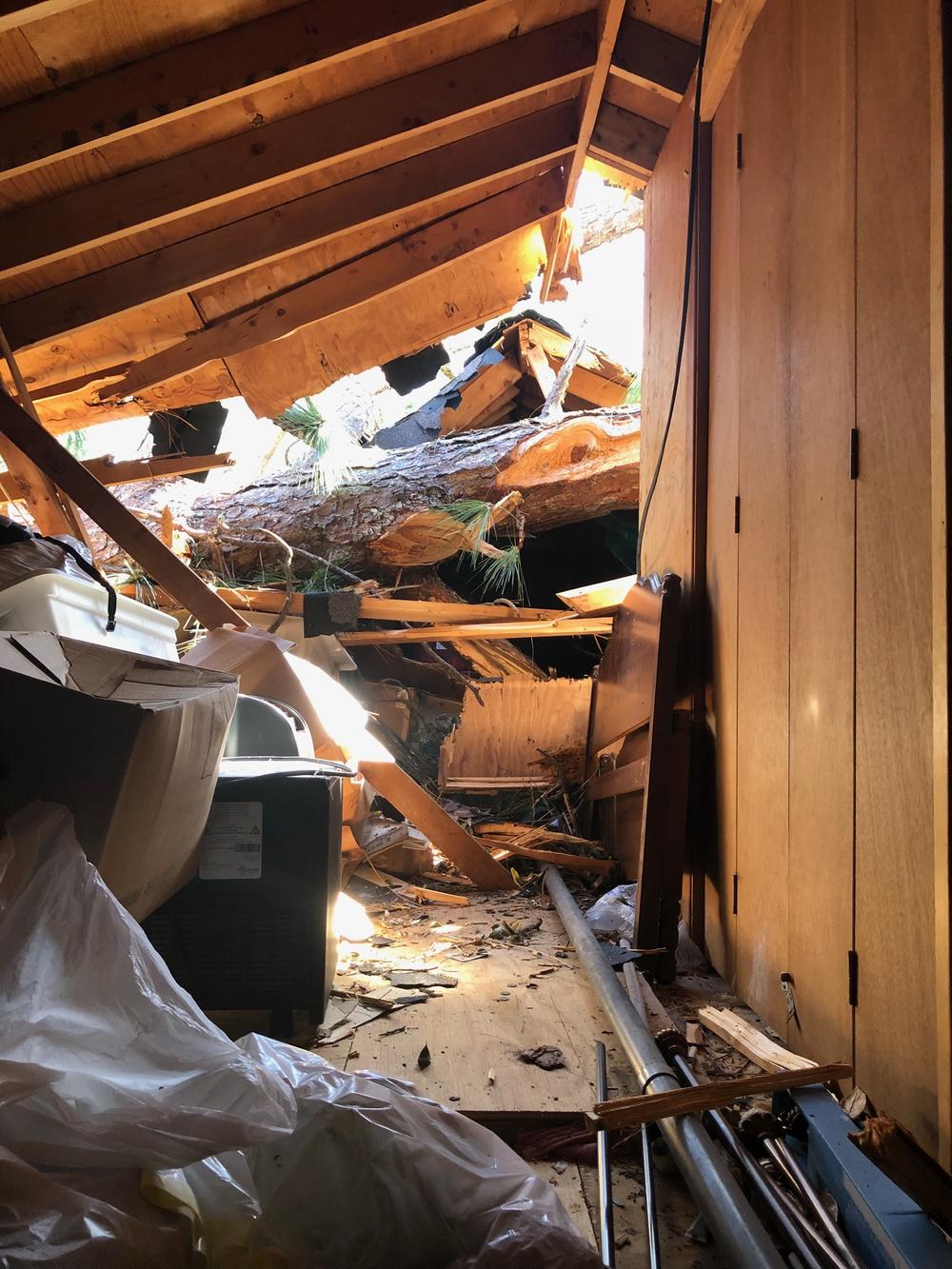 And there's so much of the blue tarp around that some of that same function has turned gray.
"We JUST got our power back the other day," Williams tells me. "I have my kids sleeping with me and my wife in our bedroom so we can all be in air conditioning." And when it comes to trying to coach a football team, it's another matter entirely.
"One of my coaches is trying to watch film and do it over his cell phone provider since their towers are now up. But the towers here are so overworked that the signal gets weak. He had to drive to Tallahassee to do it." And that's trying to get ready for three games in eighth days.       
But as Williams shows us around on roads that are now, somewhat, passable the airport still has planes that are upside-down. The community over at Lake Seminole doesn't have power yet, but the randomness of Michael's steamrolling is evident in that part of the county as well. Homes have only window damage or have sections completely caved in.
"That house there," as Williams points across the passenger seat out the window, "the woman that lives there had gone into one corner of her house and another woman was there doing a wellness check. A tree fell on the front porch while the person was out front and pinned them in. No one had cell service out here, and the next morning, someone finally got out on a boat in the middle of the lake. They got a signal and the woman who was pinned there all night long had to be Life-Flighted out." 
Williams has been a part of the wellness checks outside Donalsonville proper and starts talking about all the tree damage. When you look at it, there are rows of trees -- both pine and pecan -- that are snapped at about 20 feet high. This is something you see for miles on the roads you travel. Pines all bow to the southwest in Seminole. But the more north you go from where we are the trees twist either clockwise OR counter-clockwise. And those are the trees that still have an upper part attached. Other trees in their forests don't have upper halves. 
Remember "random?"
"With the pecan trees, you're talking about three or four years of not getting anything from them because they've been sheared," Williams says. "Think about the hurt that's going to be for the folks down here in this part of the state."  And that says nothing about the cotton crops that, as Coach explains to me, if they weren't treated a certain way before Michael hit- they're unsalvageable.  
Homes that have housed generations of people in Seminole County are now unlivable- presenting an unwelcome choice in some households about what the future holds. The elementary school had its roof torn off and caused insulation to fly 75 yards backwards onto the Indians Friday night home. Shingles are all over the place on the football field. The plastic bags that house all the trash from the school are eight feet high on the loading dock and the sidewalk leading from the gym to the school proper. And they're still coming.
The coach gave us a tour of the place. His double-sided sponsor billboard is flat on the ground.
"I'll have to find a way to get that back on its feet," he admits with a laugh. 
And the scoreboard --  only a few years old -- was uprooted from a two-foot deep cement anchor, cut off at the ankles above ground on its right side, and both twisted AND bent backwards while folded in the middle. Folks who had a tree line buffer from the games over the fence now have a great view since all the trees are no longer there. 
"You want to see my in-laws place?" he asks. They were the ones who, after the first tree fell in their yard, rode out the winds downtown in their pick-up truck.
There, normally, is a circular driveway. Now, the piece of heavy Caterpillar machinery that will be a part of the eventual destruction of the home had to get to the back yard through a man-made cut through.
"This one hurts a lot." 
As we walk around back and see where the main tree fell and cut the house in half, you see a back patio made of brick moved back ten feet. There are stuffed animals and kid's toys that were housed in the attic that are now for public display. One animal in particular looks like it's trying to parachute down to the den, hanging on to a plastic bag by a handle. 
It has, probably, seen too much, too. And I don't blame it one bit.   
Seminole County isn't the only place that has had damage -- and a lot of damage -- from Michael. But Coach Williams is the first person to tell me how appreciative everyone is for everything those who have reached out in the recovery have done. 
It's a football team sending supplies. It's a school system sending supplies and gathering clothing for the youngest effected. It's a bottle of water here, a text there, or a phone call to check in. And it's Seminole County reaching out to help those around them in return because they know there are some around us that are worse off than they are.
If we all don't reach out when the opportunity presents itself, then, lifting each other up to go forward takes longer than it should.
Let's just say the ride out of the corner of the state was a quiet one, a sobering one, and one that reminds you how good you have it these days.
Play it safe, everyone. I'll see you at the stadium.
Secondary Content
Bottom Content