Section Branding
Header Content
Week 10: Things Are Getting Interesting
Primary Content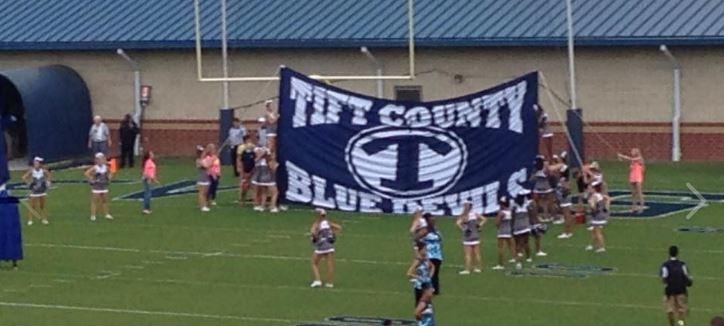 Looking briefly back to last week's play, there were a couple of shocks and a very few surprises. The Roswell Hornets went into Raider Valley and knocked off previously unbeaten Walton, 32-31. Walton was at No. 2 in last week's GPB Class 7-A rankings and the loss may drop them a point or two, but make no mistake about it, Roswell and Walton are two evenly matched teams, that can make a playoff run that could take them to Mercedes-Benz Stadium in early December.
In another surprising final, it was Tift County beating Lowndes 21-17. Most Region 1-7A observers expected it to be: Colquitt County, Lowndes, Tift County and Camden County in the pecking order come playoff time. However, coach Ashley Anders Blue Devils had a different agenda, and the 'Devils are tied with Colquitt County atop the 1-7A standings, heading into this week's game in Tifton with the Packers at Brodie Field for sole possession of first place in the small but always tough South Georgia region.
Most favored teams pulled off victories last weekend: Warner Robins topped Bainbridge in Class 5A, 38-0. Benedictine Military rolled past Southeast Bulloch in Class -A, 42-0, Mary Persons downed West Laurens, 52-14, in Class 4A, and Marist shut out Flowery Branch, 20-0 in the same classification. In a Region 2-2A showdown, Swainsboro topped previously unbeaten Vidalia, 15-8 to move into first place in that region.
The Week 10 lineup promises many top games all across the state other than the aforementioned Colquitt County-Tift County showdown in Tifton. In Region 1-7A's other game of note, it's Camden County at Lowndes in Valdosta. This week's winners in those two games are all but assured of a playoff berth, while the losers hope to play another day for a playoff berth in 2018. 
In Class 5A, Dalton travels to Allatoona in a key game matchup, and in Class 4A, Marist meets old foe Blessed Trinity. One of Class 6A's top games features Northside-Warner Robins at Valdosta in a Region 1 showdown.
In another Class 6A key game, it's Lanier at Dacula in the GPB-TV Football Fridays in Georgia game of the week. The all-access pass kicks things off at 7 p.m. and the kickoff is at 7:30 p.m. Dacula and Lanier are 6-2 overall and unbeaten in Region 8 play at 3-0.
Class 3A's top game this week features unbeaten Pierce County at Appling County in Baxley for the lead in Region 2. Both teams are unbeaten in region play at 3-0 and the winner will have the inside track to a region championship.
In Class 2A, Jeff Davis travels to Swainsboro in a key Region 2 game and in Class A Calvary Day School travels to Savannah Country Day School and Clinch County goes to Folkston to meet Charlton County in a key Region 2 contest.
I'll see you Friday night on the GPB-TV game of the week. It's "Tommy's Take" each week on the all-access pass. I'll give you the top three south Georgia games each week, and my take on each one!
Secondary Content
Bottom Content