Section Branding
Header Content
Seminole County Deals With Michael's Aftermath
Primary Content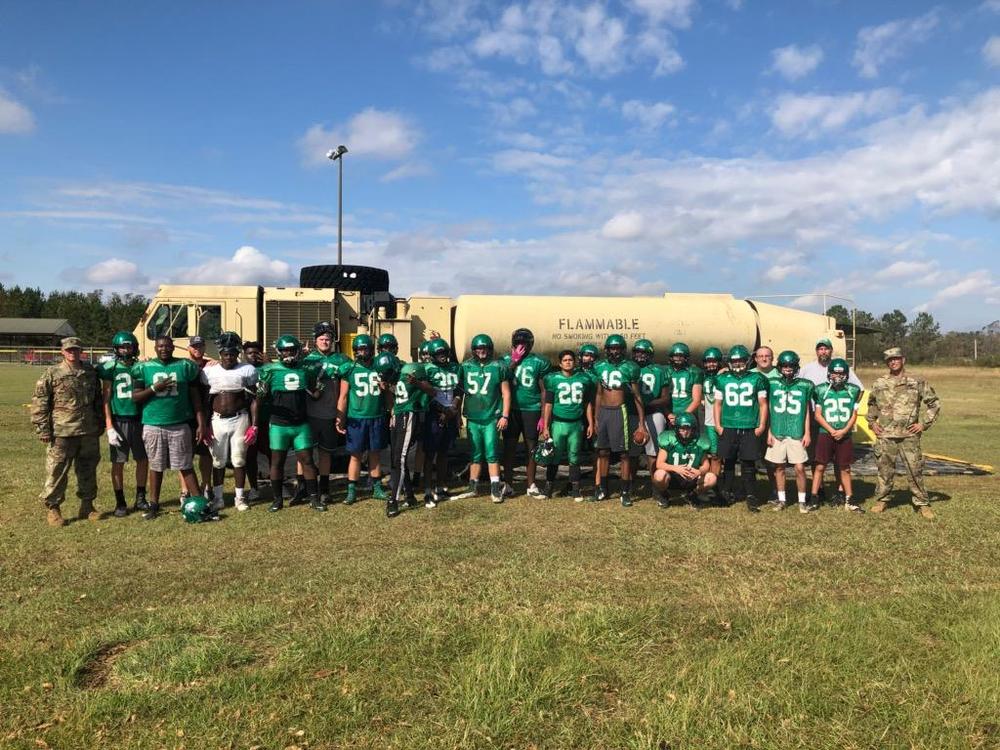 Wes Williams' Seminole County football team had the National Guard keeping watch over them Monday.
There are pictures to prove it … and it wasn't by choice.
"We were in church yesterday," Williams tells me, "and everyone has some kind of damage. We're going to be here fixing that for a long time. I'm just trying to do my part right now because so many people need help. If you say Donalsonville has a population of 7,000, you can add four or five more in National Guardsmen and power line crews.
"It's strange. I never thought I would see something like that."
They're sleeping in the gym and their Command Center is at the local arena where livestock shows are more the norm than trying to put lives back together. But, in all of this, you're reminded what it means to give a helping hand all over again … whether you're the one that needs the help to the outside eye or not. 
"We've looked after them, too," he admits. "They work all day. These guys are facing the same things we are, and they're doing harder work. Our church fed them yesterday, and we're giving away anything we can think of that might help everyone else around us. I've got friends from other places bringing us stuff here.  And my dad got some items given to him and he's giving it away to help somebody else. Everybody needs help, but you're really needing to help those helping us before we help take care of ourselves."
There's a lot of debris, too, and parts of a constructed life torn asunder by a hurricane as Michael charged through south Georgia after making landfall last week. He went from southwest to northeast,  dumping rain and churning everything in his path -- spitting it out without any care as to where it came down and the damage he caused.
Williams isn't sure this week just how many of his student-athletes will be making practice this week. Twenty-three made it Monday of his 40 or so that dress. There's a higher set of priorities -- trees have to be removed out of yards and off homes. Power lines are strewn on the ground and the entire county faced winds over 100 mph as the "dirty" side hit the county and then the west side came through and kicked them when they thought there was going to be a break in the madness. The crops that are a part of this state's lifeblood are taking a major economic hit when they least need to do so and there's no telling when all of Donalsonville, the lake communties, and rural farms will be back on their feet. There's not going to be any schools opening any time soon, either.
That's what EVERY kid wants, usually, right? No school? But you never want it this way. Never.
"I'm cleaning up a farm mess right now," he admitted as we were talking from his family's acres. I don't know if I was interrupting and I hoped it wasn't an imposition.
"It was pretty rough. Donalsonville got the third-highest wind of anyone around this thing. Our 115 mph was second to Mexico Beach and I, actually, have a few trees that fell in my yard. I've got water pouring in since I lost all the shingles on my house. But my damage is minimal. My in-laws lost everything. And there are, easily, hundreds of others in Seminole County that are the same way. It's minimal compared to in town itself where lines are down everywhere. 
"I don't have a clue when we'll have power again. It might be a couple of weeks for everyone in the city, but every line has to be accounted for before farms can get theirs back."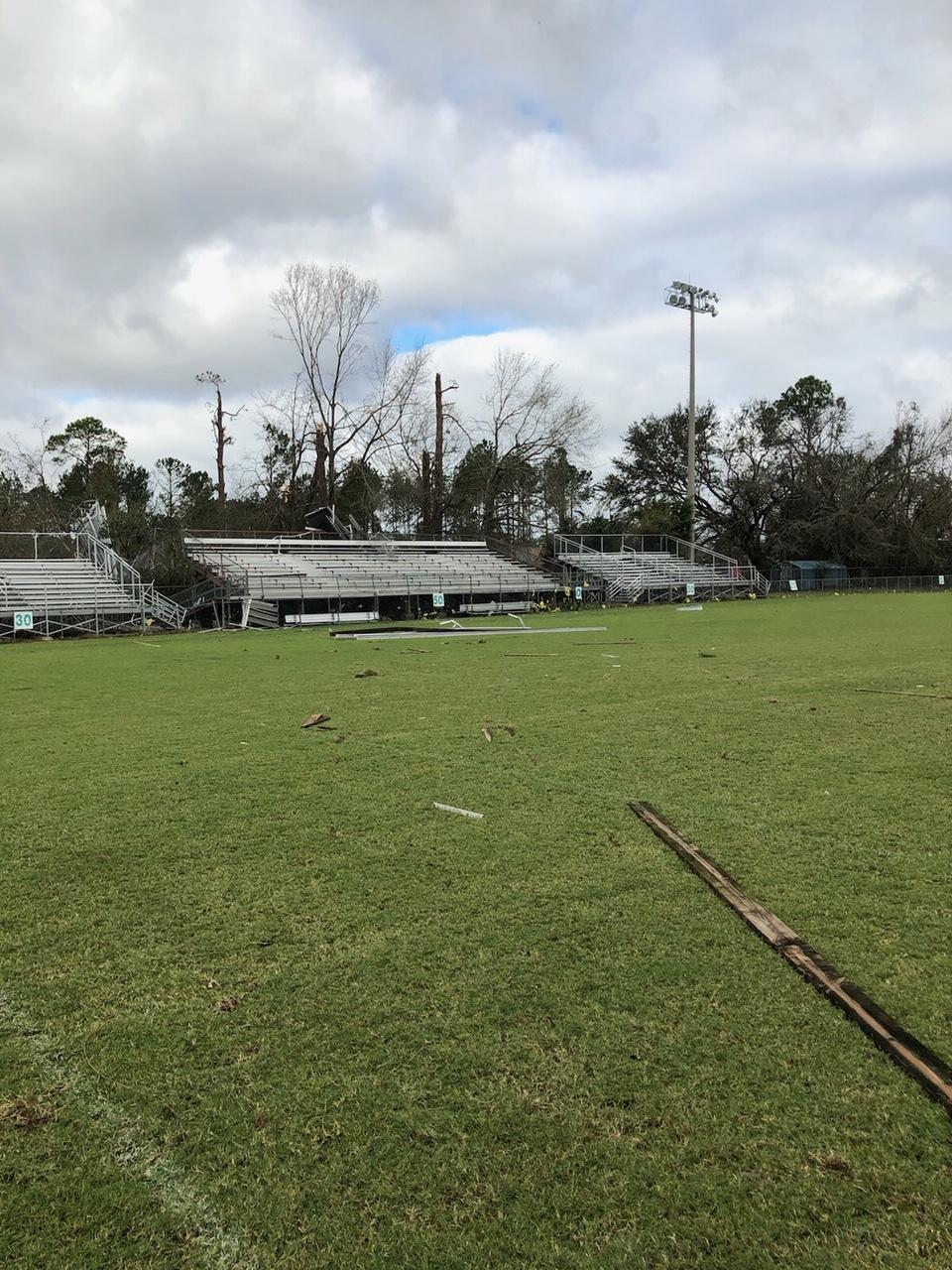 The first morning of Michael, Williams knew it was was going to be bad. His in-laws actually left their home when they saw the first tree fall in their yard. They went in to town at a restaurant parking lot and rode it out in their truck. They couldn't get back to their property at 2 a.m. when the storm finally passed, and eventually spent the night in that truck. He checked on his brother-in-law in the time when the eye passed, and in that 30 minutes, made sure they were OK. They had to hunker down (his words) for the rest of the night.
"My in-laws' house was the first thing I saw and I couldn't believe it," he says. "Their house to mine is, maybe, five miles. It was one-lane traffic, and I saw 30 downed power lines, and maybe 20 power poles snapped in half. I got to their house and had no idea it could be that bad." 
They can't go back there.
Right now, it's days of 90-degree temperatures and nights without any kind of air conditioning, so you don't get any kind of break. Square meals are coming from those same National Guardsmen (the chili MRE is getting good reviews, by the way, from Williams' players) and laundry and a good shower aren't in the majority right now.
Coach Williams has a bus route to still get his kids back home, but practice might be the easiest part of the day right now for the Indians. Parents consistently call wanting to know when practice is over so their sons and daughters can come back and help with clearing lands and the associated chores. There's a dusk curfew, too, and as for the on-the-field play in Region 1-A it's "over there" some place for a 4-2 team that has a shot at the playoffs.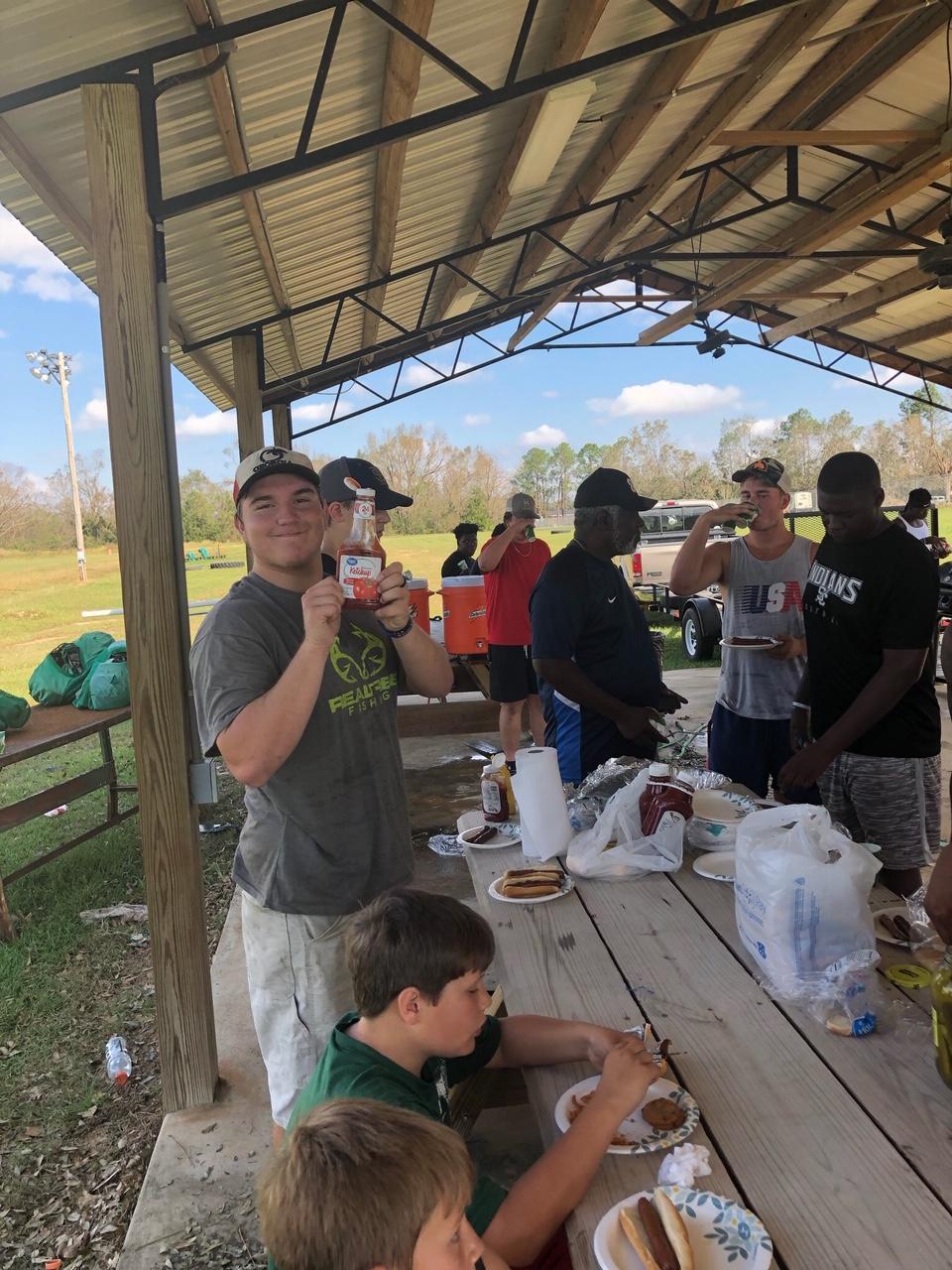 It might take three games in eight days to catch up -- last week's Mitchell County game is also "over there" some place. There won't be any more home games this season, either, because the visitor's bleachers at Indian Field ended up in a neighbor's yard and the press box got blown off its perch and is over at the front entrance now. Some of the bleachers are on the field itself.
"When I went to the stadium, it was disheartening," Williams says as he slows the word down and processes it. "The stadium is in town, some of the bleachers are even on the field, and there are ruts in the field I can't explain. They're a foot deep. I assume it's from metal in the ground as it went through. The goal posts are bent, too. But it could have been worse." 
They won't host a football playoff game. The Seminole County softball team was supposed to host a playoff game, but that's now Thursday playing Washington-Wilkes at Thomasville. 
Coaches are not as difficult to get a hold of through the "Remind" app.  He's able to get in contact with some of them that way. His players are an entirely different story. He has has some in New Orleans, in Atlanta, some who have left for the time being, and some who just can't get to town. There's simply too much work to do at home. 
In addition to the MRE's there was another moment today at practice Williams took joy in:
"Some of our kids got their first hot meal some have had since the hurricane -- hot dogs. Some haven't had anything since it came through at all. It's been an experience." 
Coach is still anxious about the lake community in Seminole that has, about, one-third of the county population. Access is difficult to that part of the county -- in and out. And words still are hard for Williams to come by when trying to describe what has happened and what is still happening.
"We're trying to get word to the older and the poor as best as we can and we're giving away the lunchroom food at the school before it's usage date. People need it right now." 
But when it came to Monday's practice and Coach Williams and his staff getting a message across, it came down to one thing.
"I told my kids today before practice: Let's talk about whats truly important. You have to thank the Lord that's its unimaginable we haven't had a larger loss of life. Think about Dylan Thomas being lost to us all playing the game he loved. You see the outpouring there for his community and I told my players that we're not alone in this devastation. 
I think there's more togetherness with this team than before. Football is the only place where it doesn't matter who you are or what you look like -- fat, skinny, tall, short -- you're all on this team and you're all in this together.
None of us is without damage to friends and family. We're in this boat together. Team is important in all walks of life. Regardless of what happens, I think the kids here will gain more than what has been taken. We've seen what community, love, and the Lord all look like. That's more important than the football games. 
I just want to let everyone know that our community is hurting but were thankful for everyone is helping us right now."
Well done, coach, you just did.
Play it safe, everyone. I'll see you at the stadium.  
Secondary Content
Bottom Content