Section Branding
Header Content
The Hall Of Fame Voice Of Colquitt County
Primary Content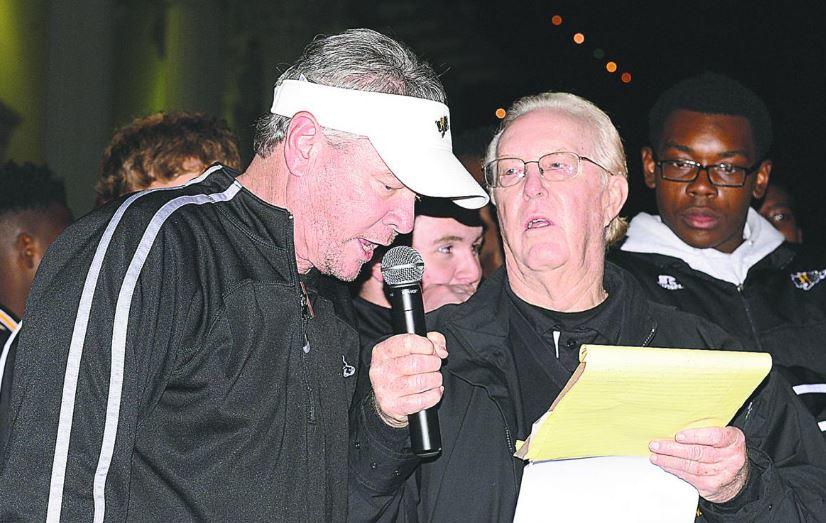 Paul Glass loves listening to Colquitt County Packer football games and knows everything about his favorite football team. Back in the 1990's, he made a point to tell radio play-by-play guy Durwood Dominy so. After an hour's conversation on the phone over a shared activity that is front and center on Football Fridays, Dominy invited Glass to the press box at Mack Tharpe Stadium to see things from his Friday perspective and to meet him and shake his hand.
Glass had to respectfully decline.
"He told me that he'd love to," Dominy recalls, "but he said, 'I can't make it because I'm blind. But I can see every play from the 50-yard line through your voice. And that makes my day.' So, I made a point to go visit him where he lives. We've even had Thanksgiving dinner. I took him a Packer hat and he's just a super guy. He's got a radio and listens to Packer games and it gave me cold chills when you see that connection and what that means to people."
There are shout-outs at the beginning of the Packer broadcasts among Jim Turner, Darrell Strange,and Durwood to everyone who can't be at the Hawg Pen (or on the road) for one reason or another. But Glass' shout-out is saved for Dominy every week.
"Fans like Mr. Glass are the reason Durwood does these games," Turner says. "Durwood is a pretty humble man and he does it for those who can't be there."
And that's just one of the reasons that you can now add "Hall of Famer" to Dominy's resume and career accomplishments. At the Lowndes game in a few weeks, the "Voice of the Packers" will be one of nine new members and two teams that will become part of the storied Moultrie group in the Colquitt County Hall of Fame. 
Dominy has been the voice of Colquitt County football for the last 33 seasons- alongside Strange (for the past 26) and Turner (a second-generation Turner in the booth)- and did you know you're getting the guy who grew up in Danville, down in Twiggs county, who had never called a football game until that first one?   
"We only had baseball, basketbal and ran track at Twiggs County so I never played it when I was in school and hadn't seen it in person," Dominy remembers, "but I do remember being absolutely petrified calling that first football game for the Packers. I had no practice or anything and wondered what I was going to do. I have just tried to verbalize what I am seeing through my eyes for the listener."
And he does that very well.
"I know there's a lot of elderly people who want to be there, but they just can't. What Durwood described to me is: what he does as a ministry into their kitchen or a living room," Moultrie Observer sports columnist Wayne Grandy says. "There's a big fan base here with very strong support of Colquitt County athletics and not everybody can get to the stadium. You could be a fan or played here in the 1950s and they look forward to tuning in to WMTM on Friday night. He's familiar to these people. 
"He's involved in so much into the community and a comfortable voice that everyone knows. He's partisan but in a good way. He sticks to describing what he sees and when I listen, he is good about what line the ball is on and whether the guy caught the punt -- that kind of stuff. The people here revere him and look forward to hearing him.
"He knows his audience and his people that can't get there. Colquitt County has played how many games in Atlanta the last 10 years? How many people can make that trip every time or go to every road game? But they can turn on WMTM and Durwood is going to tell them all about it.
"They can identify with that guy and what he does on the radio for the games. I didn't grow up here," Grandy continues, "but I can imagine the Packers have been the team for everyone here since the '50s and it's important to connect with it."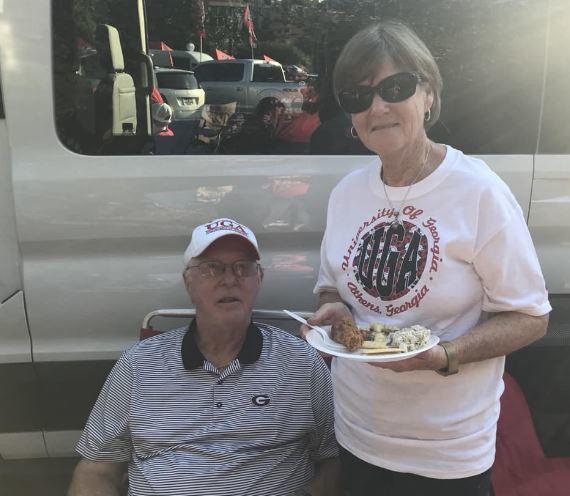 "You'd be amazed at the number of people who are shut-ins," Dominy says, "so I do consider it a ministry. Little old ladies at church listen to the ball game who can't get out on Fridays will come up and talk to me about it. I guess sharing the story about Mr. Glass was the epitome of all of those people who listen and makes it worthwhile. 
"That's the thing about living in a one-school town where you roll up the streets on a Friday night. Everyone is pulling for the same team. Everywhere I go -- it could be the Dairy Queen or wherever- everyone recognizes my voice and wants to talk Packer football. Everybody here is on the same page. It's a community thing and you see what football and coach Rush Propst mean here. I mean, you had people voting in an indoor facility and a weight room for the school. It shows the importance of what it means to the community."   
Durwood is more than just a play-by-play guy:
"He's my best friend," Turner says matter-of-factly. "Back in '96, I lost my dad. Daddy and Durwood were best friends. Durwood was like a father figure to me and, when I needed direction, he was there. He is a great life coach.
"His unique voice is a great thing on the broadcasts and he has been a blessing for me."
"First off, I just think of a good guy and a good friend," Packer analyst Darrell Strange admits. "When I got asked in doing this, Durwood was instrumental in having me be a part." Their friendship carries over outside the booth to college Saturdays as they used to go to Georgia and Auburn games together. Darrell will be the first to tell you Durwood is a real family man and a real Christian guy.
"It's very exciting being in the booth with Jim and Durwood. Durwood is prepared and knows what he wants to say. I have all my notes and Durwood leads you into your comments and takes a lot of pride in what he does. And he really, really likes doing this. It all comes so easy to him and he's made me feel a part of it and we have a lot of fun. He can get real serious, but I am a little more loose-tongued. When it comes to his style, he's not going to make a mistake that will hurt anybody. He's always very complimentary to folks with the shout-outs. He wants those people to be a part of it as well. 
"He tries his dangest and he's pretty gifted. For him not to come from a football school and not growing up in it, he's real gifted. On Saturdays, he's a loyal Georgia fan and has been going for years. But, on Fridays, he's doing this for the Packers. It's a pleasure working with him and the three of us have a good time and do the best we can.
"We get a lot of compliments doing this, but he is the 'Voice of the Packers.'"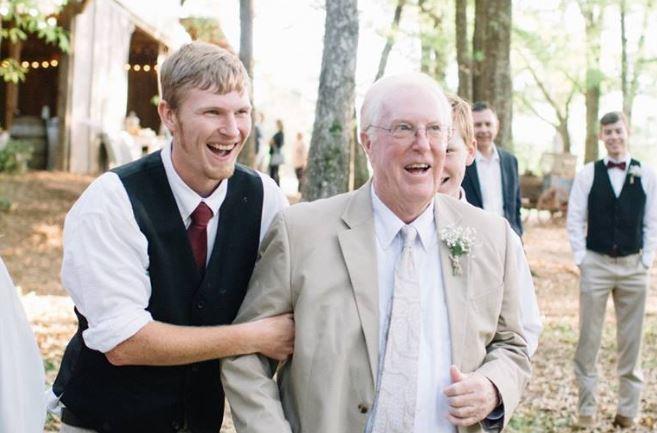 Darrell always introduces Durwood before kickoff much like Loran Smith or 'Hondo' Williamson did Larry Munson in Athens. He doesn't write anything down. He'll call him "Double D," or "slick-voice," or the 'Voice of the Packers.' But no ifs, ands, or buts about it, Strange says, Durwood is the "Voice of the Packers." 
"We're kinda like wine… We've gotten better with a little age and a little time."
When you ask around, Dominy is always thought of as a very caring person -- someone who cares about his family and your family. Strange also says that Durwood is married to a good woman and had four daughters who love their dad. 
His broadcast partners couldn't be more proud of what Durwood has done to date and the Hall of Fame induction coming around the corner is a part of that resume.
True to self, Durwood is humbled about his place and the time he's in right now in Moultrie.
"I'm honored and humbled about the Hall of Fame. It was completely unexpected. It's a great honor, you know…
"I couldn't have done it without a lot of help from Jim and Darrell," Dominy says, "and a lot of other people who have been very supportive throughout the years. But it's been a good run so far."
Saying that, it's safe to say that the three-man booth of Dominy, Strange and Turner will be sharing Packer football stories for a long time to come … and we'll all be listening when Fridays turn to Football.
Play it safe, everyone. I'll see you at the stadium.
Secondary Content
Bottom Content