Section Branding
Header Content
The End ... And A Beginning
Primary Content
Sometimes, in Georgia high school football the same thing keeps happening over and over again -- and it's a good thing or a bad thing. If it's good, you try and retrace your steps to make sure that you put everything in place to have that kind of good fortune repeat. If it's the other way, you make every effort to go over what happened and make sure what went wrong won't go down again.
Remember last week, we talked about Calhoun and what they've done 113 times in a row.
Worth County and Coahulla Creek are at the other end of that spectrum.
The Rams in Sylvester are in Region 1-3A -- one of those mini-regions, for lack of a better term -- with only three other opponents: Crisp County, Cook, and Monroe. Jason Tone coached the team into the second round of the 2016 playoffs and departed. Ben Simmons had a winless year last season which led to Frankie Carroll and his tenure. After an 0-4 start, the Rams finally broke through and into the win column with a 22-16 win over Rutland. Fifteen games in a row without a win are now by the wayside with that work effort.
Carroll is there on an interim basis with his Athletic Director duties still a part of his more-than-9-to-5, but he's had successful runs at Pelham and Madison County (Fla.). His plate's full, but he sees some promise.
"It was really special seeing the smiles on the kid's faces," Carroll admits. "It was a big time release for us, not only as a football team, but a school and a community. I was at Madison County from 1976-2009 and, then, I went to Pelham for four years. You know …  I came here to be the AD, trying to scale back from coaching, but I took the head coaching job. And I knew the community a little bit from the first four years before being asked to be football coach. I knew football meant a lot to everyone here."

Probably, the most recognizable name in the coaching tree for Worth County is Milt Miller -- who went on to Lowndes in the 1990's after his time in Sylvester. And, to be honest, there's not been any other coach in school history that has won a region title (four from 1984-1989), a state title (1997), or stayed longer than five years. But Carroll and his staff are getting his players to do one specific thing: believe. 
"It's been really pretty tough to be honest with you," he says. "You have to change the mindset to believing they can win. And it is, probably, the hardest thing to do as a coach. They bought in in the spring. And, earlier in the year, there were some close games they might have won, but didn't, and it's been really special to see the change in them- how they practice, how the sideline is. Against Rutland, we got ahead and then behind, and we had to score on the last drive to win. 
"That's a pretty special thing. That kind of transformation … it makes you feel really good and that you have accomplished something. We have a long, long way to go and, with continued work, we will get there. It's a real special feeling. I can't describe the feeling after they won. They jumped around, shook hands with the other team, and then jumped around some more. It was alumni weekend and a lot of them had come back to see it."
Coach Carroll firmly believes when you play and compete with everyone on the schedule, that they could win games and he also doesn't know why Worth can't compete for a region title. He knows it's going to be tough, but the wins they pick up this season will give them some momentum. 
Meanwhile, in northwest Georgia, Caleb Bagley is from that part of the state, so "he gets it" as he's the head coach at Coahulla Creek High. The Colts had lost 27 in a row and 29 of 30 before a win over Murray County, Bagley's alma mater. They're a part of Calhoun's region (6-3A), and Bagley knows he's building something that's going to take some time:
"It was an awesome deal for our whole school community, and players -- particularly our seniors. We came in as a new staff last season and changed a lot of things. These seniors are a big part of the commitment and getting the culture the right way. We felt like we were close a couple of weeks ago and lost in overtime (a 9-6 loss to SE Whitfield). We felt like if we played well, we had a chance to win.  But two weeks ago … It was a real good night."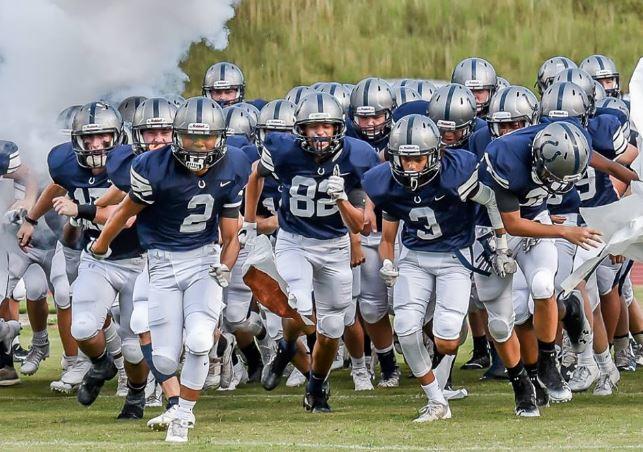 Bagley and his staff have tried to instill accountability into the program. They've made it a year-round program and have taken ideas and processes that other successful programs are doing (like state champ Calhoun that lives in their region) and implemented them at Coahulla Creek. The staff has set higher expectations for a program that is only 7-57 in its young history. But Bagley feels change comes with accountability and the increase in his player's commitment level. It's instilling a culture of hard work and toughness and doing it for a team. It's not about one guy…
There's a phrase: "We not me." It's on his Colts' T-shirts. The staff is trying their best to have the players remember that idea, take it, and run with it. It's all about giving the kids confidence. And if you picture yourself doing it, the wins will eventually come.  
Bagley also hopes wins like the last one ignites a new round of rivalry in northwest Georgia.
But, at the same time, the Colts don't talk about scoreboards. They just want to be the "best version of us."
The Colts are preparing for their region run-in and Study Hall this week is on the leading rusher in the state, Treylon Sheppard, at Haralson County.   
"We're still trying to establish an identity," Bagley says. "I think the win is helping and it went a long way with the huge turnout and huge student section that came to see it. There's not a lot that goes on up here and everybody comes to football games on Fridays. It's more an event than a competition. Every community is pretty similar. Everybody looks forward to the atmosphere and the games. We all have good crowds. It's all about good guys, good football, and the blue collar communities that understand the value of hard work up here. We all understand the value of football and the values it instills." 
"There's nothing better Fridays in the fall playing with against each other- or against each other."
The Colts will do that, for sure, in the next month as they go up against the top four teams in the region and test themselves and see just how far they've come.
Play it safe, everyone … I'll see you at the games. 
Secondary Content
Bottom Content