Section Branding
Header Content
112 And Counting For Calhoun
Primary Content
"112…"
Think of something you do consistently…
How long would it take for you to do it 112 times?
If we're talking something like waking up in the morning, that's what…??? Four and a half months in a row…??? Something like that…???
So, then, to do something 112 times in a row when it comes to football would take you back to the turn of the 21st century, I think, if my math is right. And, if you're talking about Calhoun Yellow Jacket football, they've done something for 132 times in a row without interruption- win a region football game. Last week, though, there was a bit of a raised eyebrow around the state when North Murray was leading 10-0 at the half.
Didn't end that way… Final score: Calhoun 34-10.
I rang Calhoun head coach Hal Lamb in his office and asked him if he remembered the last time the Jackets DIDN'T have more points in a region game than the other guy:
"2001 was the last one," Lamb admits and he ran that date off his memory banks very quickly. "Crazy, I know…"
The research, thanks to our friends at GHSFHA.org (which is MANDATORY bookmarking, by the way on every computer you have), goes back to a 14-7 loss to Darlington on October 19, 2001 when the Rome school was ranked No. 4 in Class 2A at the time. And when you step back and look at what Lamb, his staff, and Calhoun have done since he became head coach in 1999, it's flat out staggering.
"If you really sit down and think about it, it's crazy that we've won that many in a row," Lamb says. "Every team in our region is dying to break that streak." And it's funny when he pronounces the word "dying," he adds another couple of beats and syllables to the word for emphasis. 
"Dy…" hold, two, three, four… "…ing…"
"But it isn't something we talk about very much. And that's what I was talking about to my staff yesterday. You gotta think about from the other team's standpoint. We would be totally focused in on breaking that streak if we were playing that team. We just try to go in one game at a time and take care of business."
112 times in a row… and add these numbers to your research…
17 STRAIGHT region titles, three state titles (including one last year before the snow sent us all home), double-digit win seasons since 2000, and nine undefeated regular seasons have all happened in that time frame. But, if you ask the coach, northwest Georgia has become better against one another on the field in the last handful of years- and last week against the Mountaineers is an example of that.
Admittedly, I have always thought of Coach Lamb as one of those guys that doesn't break out the hairdryer all that often for a half-time talk. When he speaks, it's always very level-headed, matter-of-fact, and ready to tackle what's in front of him. Last week was a little different…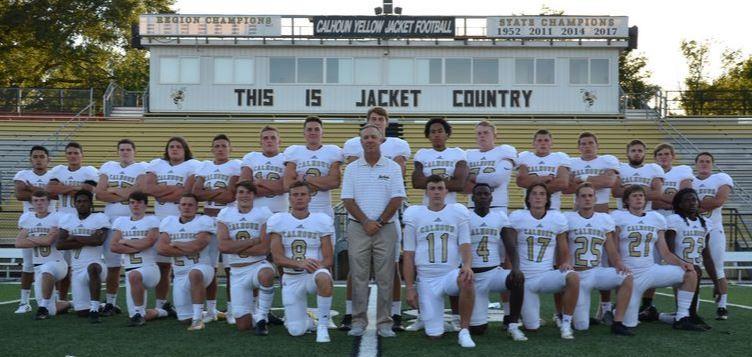 "We had a heart-to-heart with them at the half. We weren't playing very well. We were playing solid on defense - we had only given up one big run from the line of scrimmage. But we couldn't get anything going offensively. It really was a heart-to-heart. The coaches and I wanted to know where this team wanted to go since we weren't playing very well.
"I think that goes back to the gut feeling of a head coach. Sometimes, you have to settle them down and just tell them to play better. Sometimes, you need to get on them and get their attention. Last week was one of those nights."
The rest of Region 6 has Sonoraville, Haralson County, Lakeview-Fort Oglethorpe, Coahulla Creek (who snapped a big losing streak last week on their own), Adairsville, Murray County and Ringgold - who the Jackets have to prepare for this week as things went a little topsy-turvy last week.
"We had a couple of upsets last Friday night. Coming into the season, I was thinking it would be North Murray, Ringgold, and Sonoraville would be with us as the top four. But Haralson beat up Adairsville and LFO beat Ringgold. Admittedly, I haven't seen LFO or Haralson County, but I think the spots are up for grabs, for sure now."
So, no rest for the Jackets as its next team in the middle of a three-game road trip in region is that Ringgold team that lost 35-25 to LFO after a 14-7 loss to North Murray the week before.
"Last year, I think we might have snuck up on some people. But this year, folks are gunning for us (as a defending champ). It is different, but our kids are focused. We have a really close senior class that led us through the off-season. They've done a really good job of leading the football team.
"I know Coach (Robert) Akins is a really good football coach," Lamb says already in Study Hall for this one. "They've lost two in a row in the region. They're going to bring their best at us Friday night."
As Calhoun chases either win No. 1 in a row, No. 3 in a row (in Region for 2018), or No. 5 in a row (on the season) - depending on how they're going to look at it…
As the rest of us keep checking off from one hundred and thirty-two.
Secondary Content
Bottom Content